A father in Singapore recently took to Facebook to air his discontent about how a bicycle rental shop at East Coast Park allegedly overcharged his daughter and her three friends for returning their bikes late.
However, the company in question has countered the father's accusations and clarified that the late fees the girls paid were in accordance with its standard hourly rate.
What the father alleged
According to the father, Ken Chew, the girls paid S$20 each to rent their bikes for three hours, which amounted to around S$6.70 per hour.
Late returns at Coastline Leisure were calculated as such:
10 to 30 minutes late: Half an hour of the original rental rate.

More than 30 minutes late: One hour of the original rental rate.
When the girls returned the bicycles late, they were charged a late fee of S$15 — far more than what was assumed to be an hour's rental fee.
S$20 each girl paid initially was a special bundle price
In its reply to Mothership, Coastline Leisure said that signage of the rental prices are displayed prominently in store, and this includes the hourly charges for its range of bikes, from standard to premium.
The bicycles which the girls chose had a rental rate of S$15 per hour. As the four girls rented the bikes on a weekday, the second hour was free.
The cashier then suggested that the girls top up another S$5 for an additional hour. This amounted to a "special package bundle price" of S$20 each, said Coastline Leisure.
Coastline Leisure added that its cashiers will emphasise these charges before the customer confirms the rental and makes payment. Customers are also reminded that for late returns, late fees will be charged based on the first hour of rental.
How late fees are charged was also stated in their receipts, a photo of which was posted by Chew.
Staff did not "bully" girls
Chew also wrote that the four girls were "worried and terrified" as they did not have enough money on hand to pay for the late fees.
Coastline Leisure told Mothership that it takes such claims very seriously, as they do not condone any form of bullying by their staff.
After reviewing its CCTV footage of that day, the company said the girls did not show any signs of distress when making payment for the late fees with the staff, and the two parties had "barely any contact".
The entire exchange did not last longer than five minutes, Coastline Leisure said.
Issued lawyer letters
Additionally, Chew initially shared another post claiming that the late fees cost S$180 in total, which Coastline Leisure says is false, as shown in Chew's receipts in his second post.
Coastline Leisure added that he amended his posts up to 44 times.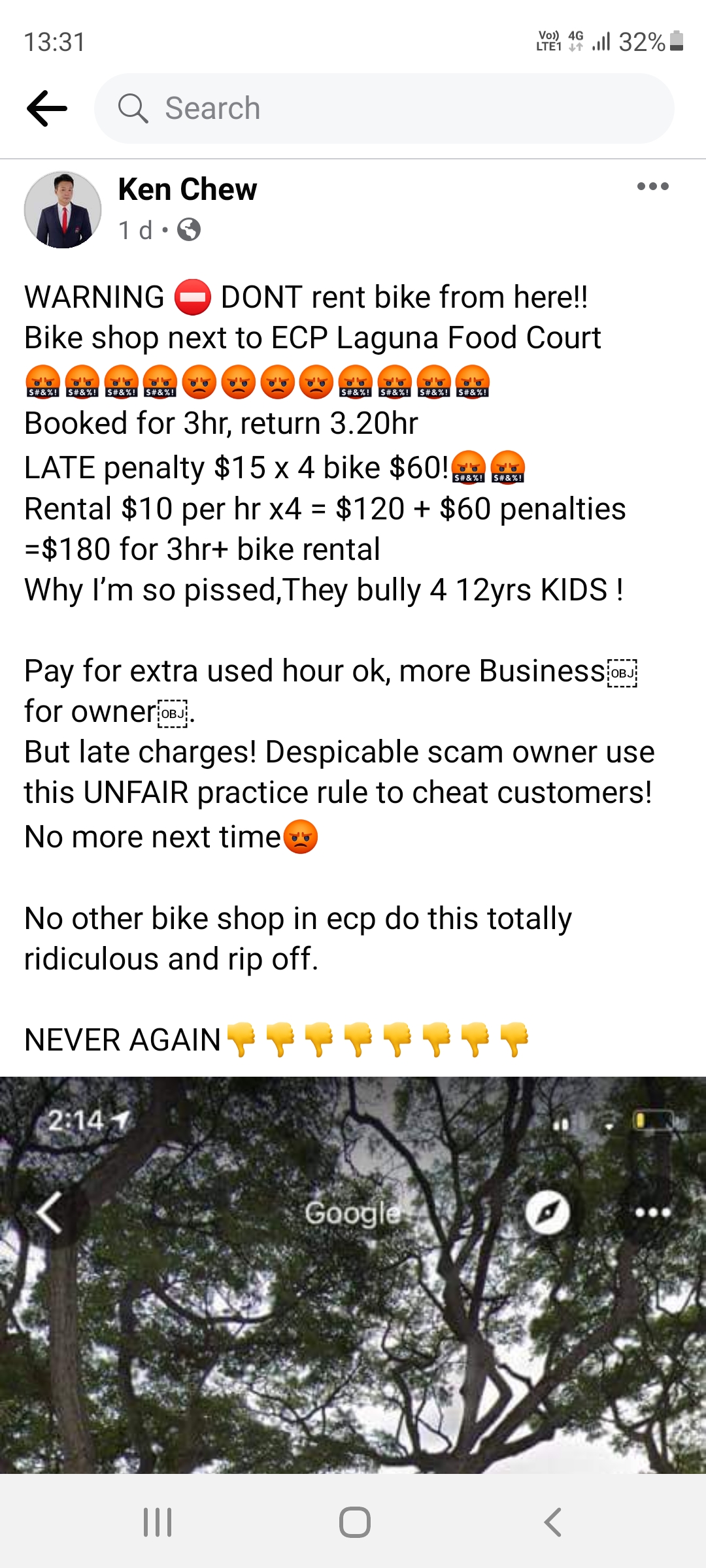 Coastline Leisure also decried how Chew did not clarify the rental charges with them, but instead chose to make a "defamatory" post about his grievances and spread "inaccurate information and lies" about it.
In response to this, Coastline Leisure has issued two lawyer letters to Chew.
The company condemned how "irresponsible and thoughtless sharing" of such a post can "break a business", especially during hard times when many businesses struggle to stay afloat.
It added that many of its staff have been with the company for about a decade, and are worried for the company and their livelihoods.
Since Chew's viral story was shared on social media, the bicycle rental shop said that it has received hate mail and messages, as well as questions of concern from its regular customers.
Top photo from jobin / Google Maps
If you like what you read, follow us on Facebook, Instagram, Twitter and Telegram to get the latest updates.