The thought of not being able to dine-in has saddened many Singaporeans.
Understandably, some took the chance to savour their favourite food one final time before the restrictions kicked in.
Knowing that she cannot enjoy her favourite curry noodles in the air-conditioned food court for the next one month, a 67-year-old woman gamely ordered 10 bowls of it at one shot on July 20.
Her favourite curry noodles
The woman named Jiang Ah Hua (translated from Chinese) would visit the food court at Block 478 Tampines Street 44 twice a week as she is a big fan of the curry noodles.
According to the Chinese evening newspaper, Lianhe Wanbao, Jiang ordered 10 small bowls of curry noodles from the stall on July 20.
There are three bowl sizes of curry noodle at the stall. The small size is priced at S$3 and it includes two to three pieces of potato, a chicken wing and a few pieces of fish cakes, the Wanbao reporter observed.
Finished 10 bowls in 45 minutes
The stall owner said that he was initially surprised to receive the order from the elderly woman, saying that a young person typically can eat up to four bowls.
He can at most eat five to six bowls so he was in disbelief initially.
He then told Jiang that if she really can finish all 10 bowls, it will be on the house.
On Jul. 21, a day before the start of no dine-in restrictions, Jiang appeared at the stall as planned.
In 45 minutes, she finished eating all 10 bowls.
The stall owner commented that he has never come across an elderly person with such a huge appetite.
No dine-in rule kicks in
July 22 marked the the start of the implementation of further restrictions in a bid to curb the spread of Covid-19 within the community.
As community cases increase, with a growing Jurong Fishery Port cluster, the restrictions are necessary to protect unvaccinated seniors who frequent the markets.
The further restrictions include no dining in, social gathering and interaction to downsize to groups of two, as well as cessation of indoor mask off activities.
Here's an overview of the latest Covid-19 rules to take note of: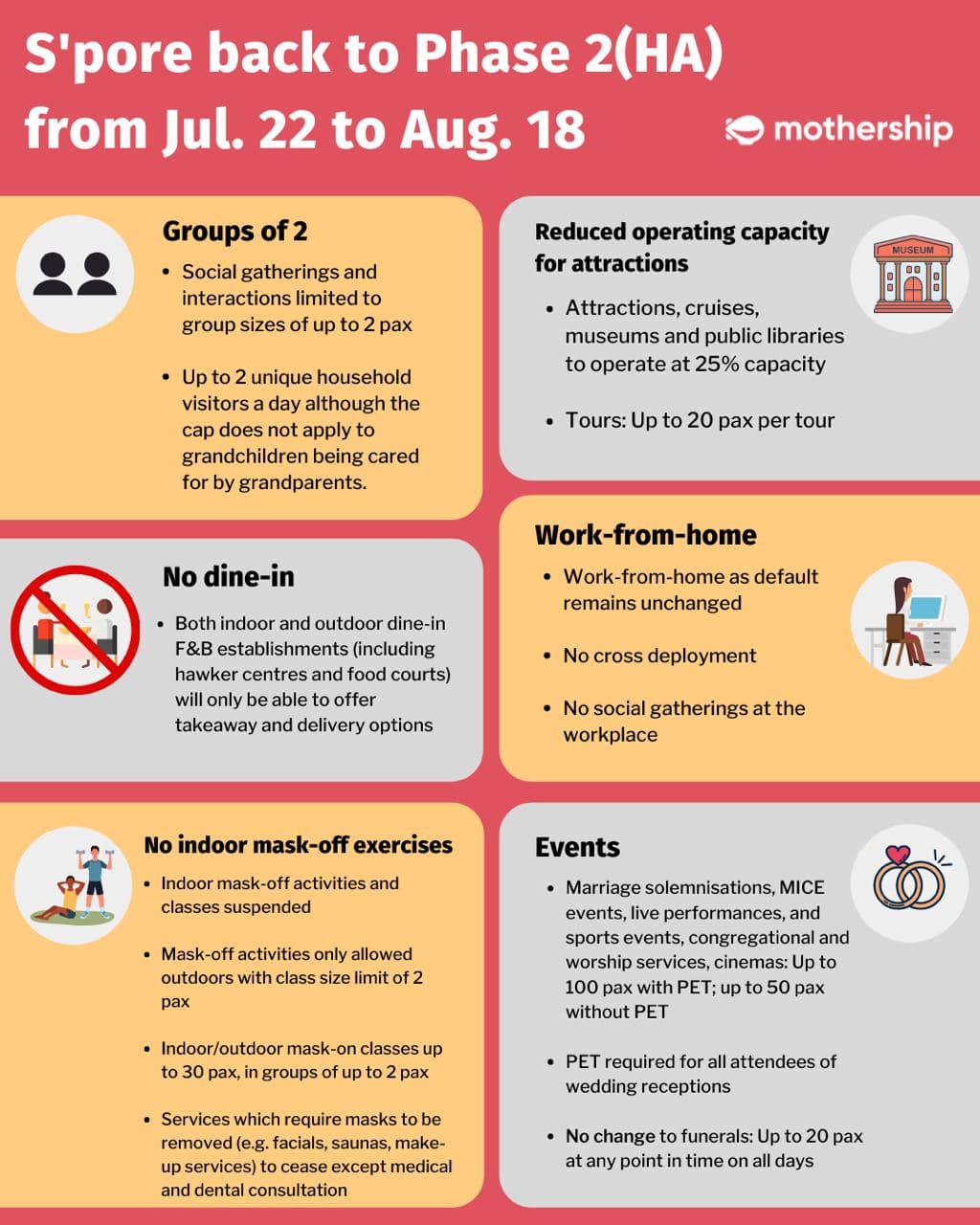 Related articles
Top photo from Lianhe Wanbao
If you like what you read, follow us on Facebook, Instagram, Twitter and Telegram to get the latest updates.