Follow us on Telegram for the latest updates: https://t.me/mothershipsg
A Singaporean woman had a rude shock to find her wedding photo being used as part of the Hari Raya decorations at Tiong Bahru Orchid estate in Bukit Merah last week.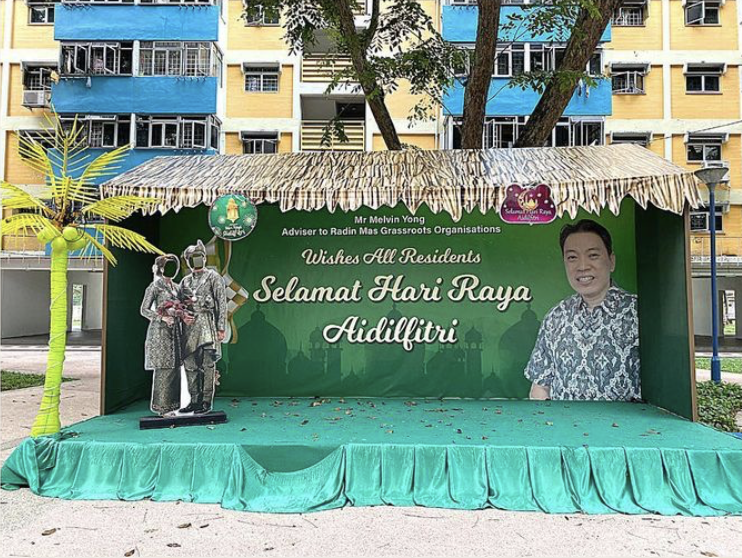 In an Instagram post on May 28, Sarah Bagharib, 30, shared that the wedding photo had been used without hers, her husband's, nor the photographer's consent.
She elaborated that it was disturbing and unacceptable to see her photo being used as "a caricature of Malay people".
Sarah also highlighted the incongruity of using a photo of a traditional Malay outfit with wedding symbols to celebrate Hari Raya, as it was "a completely different cultural event."
The People Association (PA) and Member of Parliament (MP) at Radin Mas Single Member Constituency (Radin Mas SMC) Melvin Yong subsequently issued public posts to apologise and address the matter the next day.
Prior to that, the PA and Yong had also responded directly to Sarah's Instagram post on its comment section. The standee was taken down immediately after they were made aware of the incident.
Current correspondences failed to demonstrate "concrete and sincere" efforts
In a separate Instagram post on June 1, Sarah responded to the apology made by the PA.
While she acknowledged and accepted the PA's apology, she shared that there remain "glaring gaps" that indicate a superficial understanding of the gravity of the mistake.
In her response, Sarah reiterated that aside from the issue of Intellectual Property Rights, the incident highlights a larger issue that affects the wider Malay/Muslim community, and she hopes to continue the conversation in a "real and respectful" manner so as to "move beyond superficial understanding and promote deeper cohesion".
Sarah elaborated that the correspondences she had with the PA so far failed to demonstrate a "concrete and sincere effort" by the association to "correct the processes that had allowed for this display of cultural ignorance".
She called out the association's "hastiness" in name-dropping the vendor-in-charge for the decorations, and pointed out that it sounded like an "attempt to distance and deflect blame" from the issue-at-hand.
She wrote:
"It is unfortunate that a government body that was established to 'build and bridge communities in achieving one people, one Singapore' is required to still 'guide and help (their) staff...to be more culturally-attuned and sensitive' 61 years after inception. Ethnic minorities in Singapore are equal stakeholders in the work that you do. What will you do to ensure that our interests are represented and respected through your mission?"
Clear details of next steps needed
In her post, Sarah outlined four issues that the PA can address better and share more details about:
Be more transparent about how the lapses happened

What are the improvements the PA intends to make to its current policies and processes to ensure such lapses will not occur?

How is the PA going to ensure that minorities' interests are respected and well-represented?

Is there a lack of ethnic diversity in the PA's leadership team which contributed to the lapses? If so, how is this going to be rectified?
According to Sarah, she had emailed her response to the PA on Tuesday, June 1 evening, and hopes to have a "meaningful conversation" on this matter.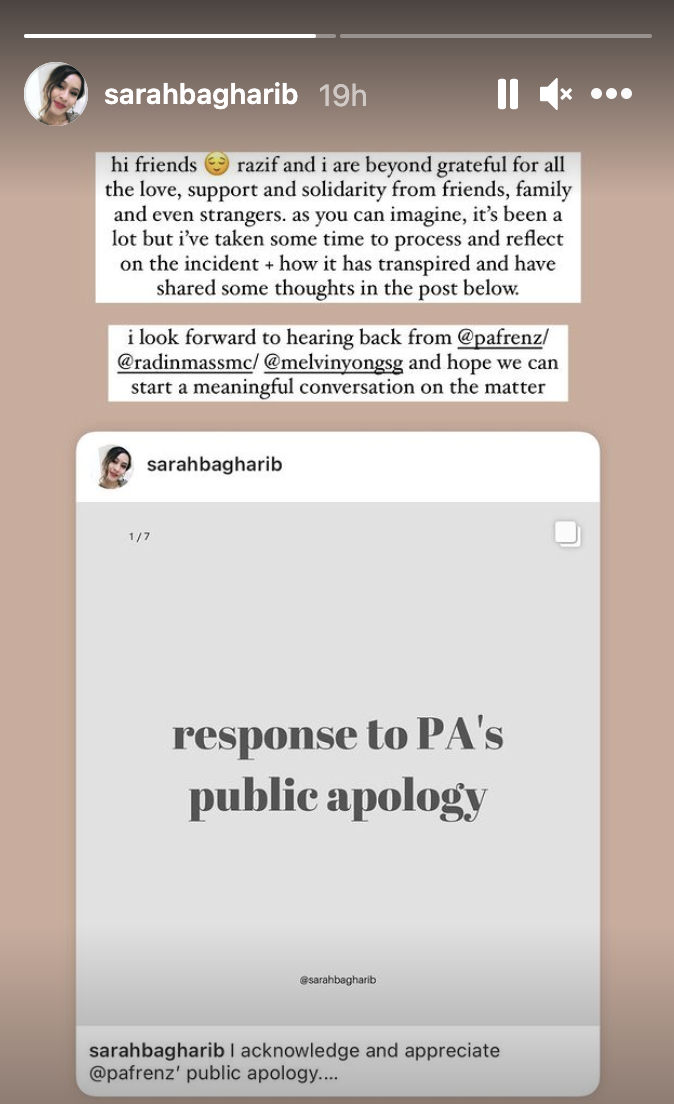 You can find the full Instagram post here:
https://www.instagram.com/p/CPkvyrCBx8U/
Mothership has reached out to the PA for comment on June 2, and will update this story with their response.
Top image from sarahbagharib/Instagram
If you like what you read, follow us on Facebook, Instagram, Twitter and Telegram to get the latest updates.