Follow us on Telegram for the latest updates: https://t.me/mothershipsg
At least one Telegram group and multiple Tumblr pages in Singapore have been distributing explicit materials of women, most of which appear to have been shot or distributed without the consent of the women.
The police confirmed that a police report has been filed, and that they are looking into the matter.
According to a Mothership reader, several other women have also filed police reports.
Exchanging explicit photos and videos of women
The Telegram group in question was started on Jun. 25, 2020.
More than 12,000 photos, 3,000 videos, and 500 files have been shared of women in varying states of undress, or engaging in sexual acts. Much of this content appears to have been taken or shared without the women's consent.
Some of the videos also appear to show sexual acts that may not have been consensual.
Other content posted in the group include downblouse photos that appear to have been taken of unsuspecting women on public transportation.
In addition to sharing sexual content of women, some members of the group posted publicly-available photos or videos of fully-dressed women and asked if others in the group had access to their nude photos or videos.
Some group members also asked if anyone wanted to "trade" voyeur videos or "local leaks" with them.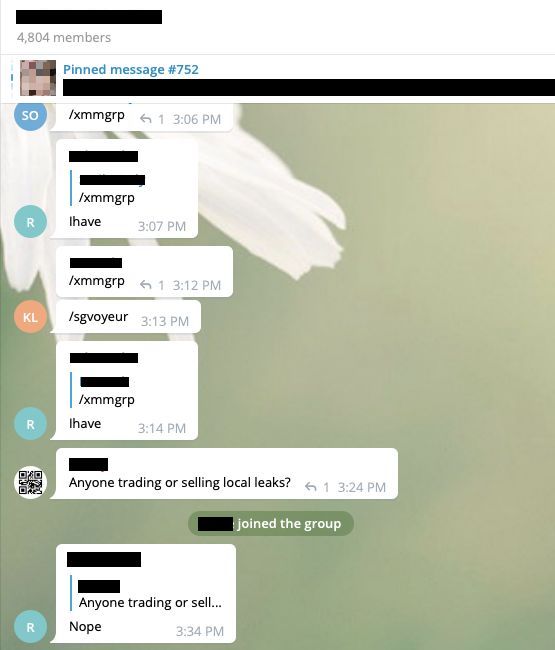 It was also common to see group members sending messages such as "/xmmgrp", "/SGvoyeur", "/sgincest", and "/unlock_bedok_85_level3_staircase".
Other channels and webpages
At the time of writing, the group has more than 4,800 members.
On Telegram's mobile application, attempts to access the group result in an error message that reads:
"This group cannot be displayed because it was used to spread pornographic content."
However, at the time of writing, the group still remains accessible on Telegram's desktop application, and members are still actively sharing photos and videos.
When a woman took to her social media and other public platforms to raise awareness about the Telegram group and encourage others to report it, members of the Telegram were none too pleased.
"Why some people so salty. Leave us alone," one member wrote in the group.
Within the group, members also warned each other to "be careful", referencing the shutdown of the SG Nasi Lemak Telegram group in 2019.
The woman also flagged several other Telegram groups and Tumblr pages that have been sharing explicit content of women. One of the Tumblr pages sells nude photos of influencers.
The woman told Mothership that she has filed a police report about the accounts, and that several female acquaintances have also filed police reports.
Police looking into the matter
The police confirmed that a report was lodged, and that they are looking into the matter.
The police also advised members of public that the circulation of obscene materials may be liable of up to three months' imprisonment, a fine, or both.
Anyone with information is requested to call the police hotline at 1800-255-0000, or to lodge a report online. All information will be kept strictly confidential, the police said.
All photos screenshot from Telegram. 
If you like what you read, follow us on Facebook, Instagram, Twitter and Telegram to get the latest updates.