Follow us on Telegram for the latest updates: https://t.me/mothershipsg
On June 11, a woman named Sabariah took to Facebook after receiving a letter from a legal firm telling her to settle her payment of S$6550.23 to StarHub within seven days.
Sabariah had allegedly been trying all means to resolve the matter since Dec. 2020, to no avail.
Phone bill charged S$747.61 for purchases she didn't make
According to Sabariah, her monthly phone bill is usually around S$500.
This includes her own phone bill, along with her husband and two daughter's phone bills.
In Dec. 2020, she found that her monthly bill was twice as high.
Sabariah then realised that an unknown person had purchased Rovio games and charged them to her account via StarHub Billing.
As a result, her phone bill was charged S$747.61 for the Google purchases.
However, she claimed that her phone's StarHub Billing option was disabled. She was also the only one with access to her Google account.
Contacted Google, DBS, StarHub and the police
Sabariah then contacted Google, who said that the purchases did not come from her phone number or Google account.
Thus, they were not able to issue her a refund. She was then asked to reach out to her financial institution.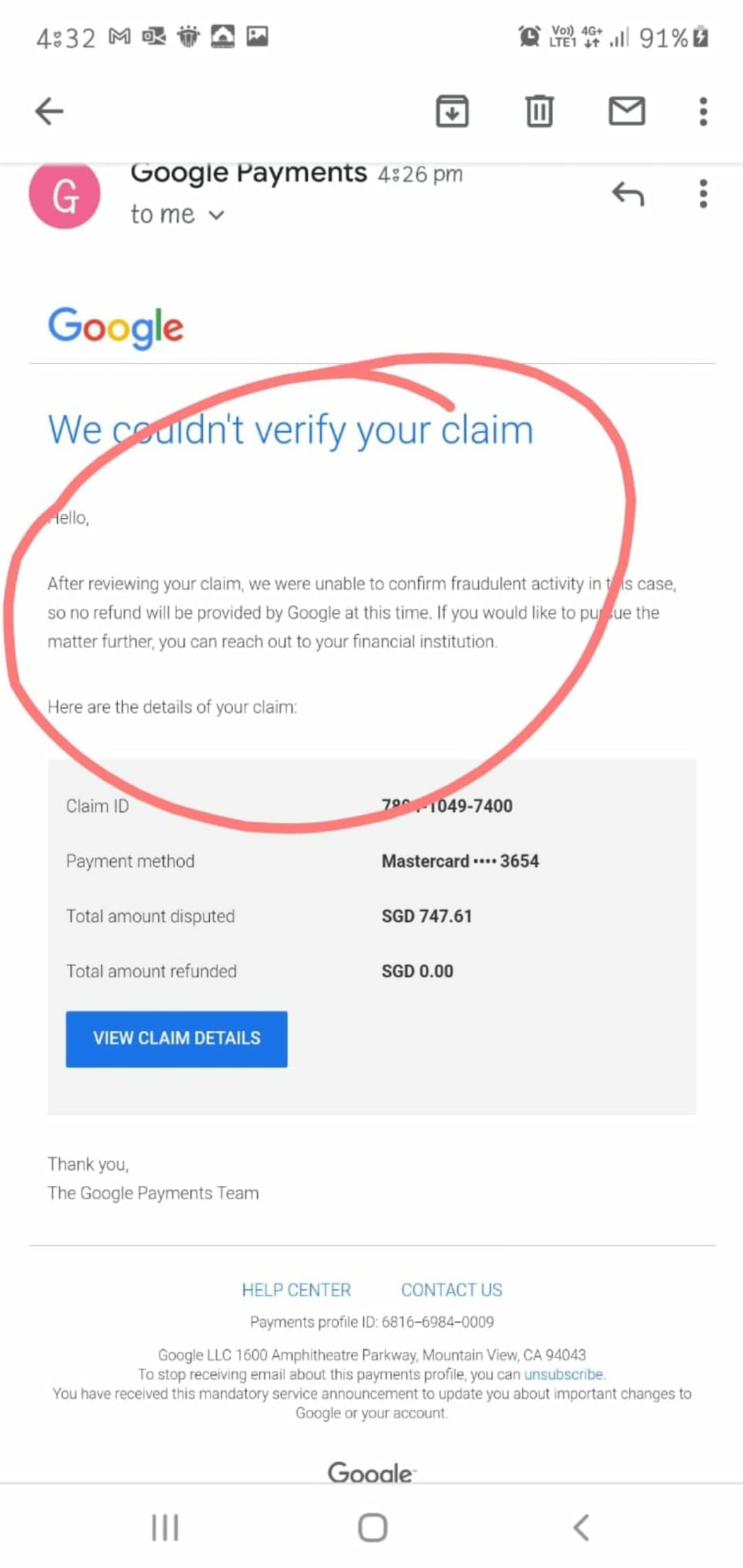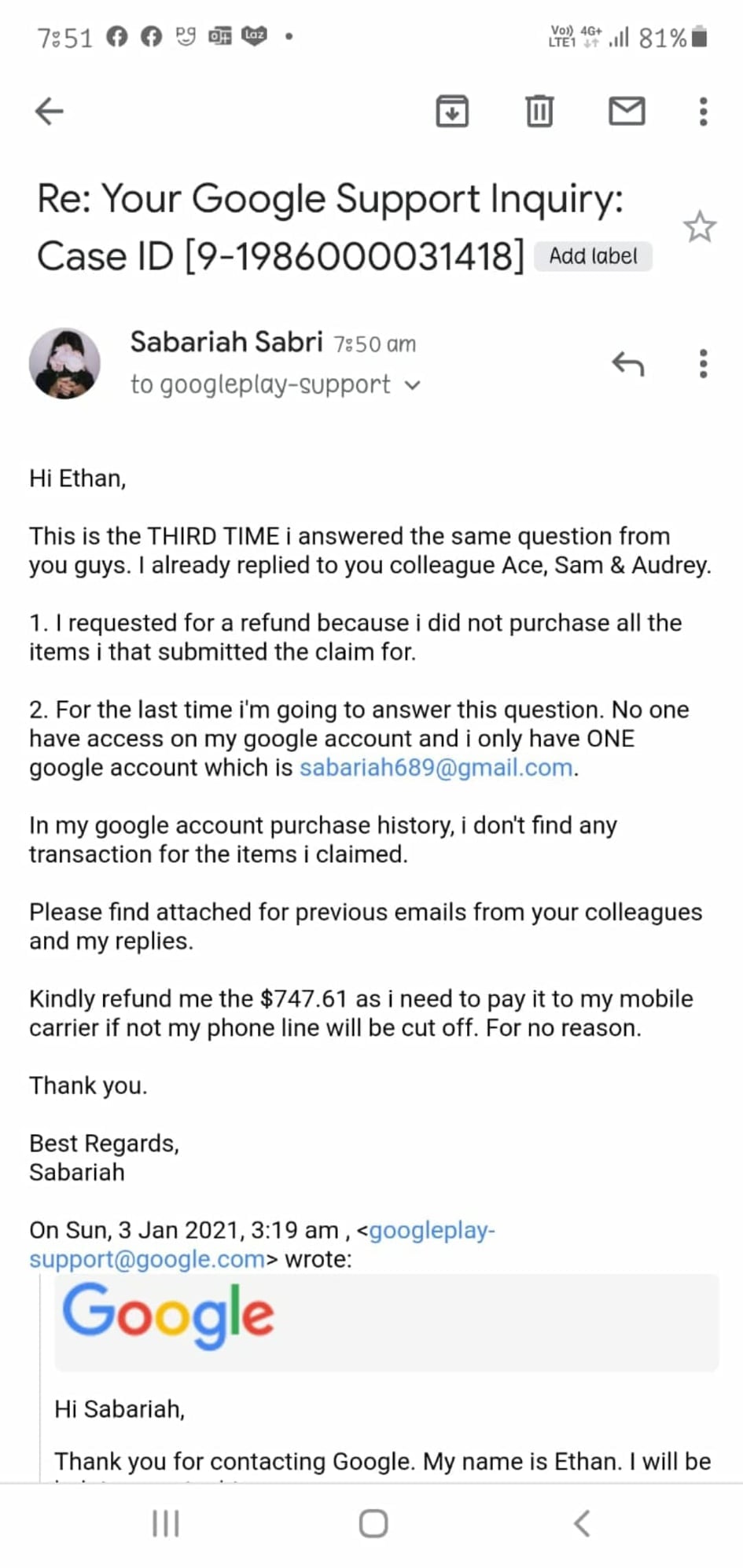 Her financial institution, DBS Bank told her that they were not able to help her as the purchases were not charged to her credit card.
Upon contacting StarHub, she was told that they were unable to do anything, and was asked to contact Google again.
Sabariah also lodged a police report regarding the incident. The police also allegedly came to her house to check her phone but could not find any of the purchases.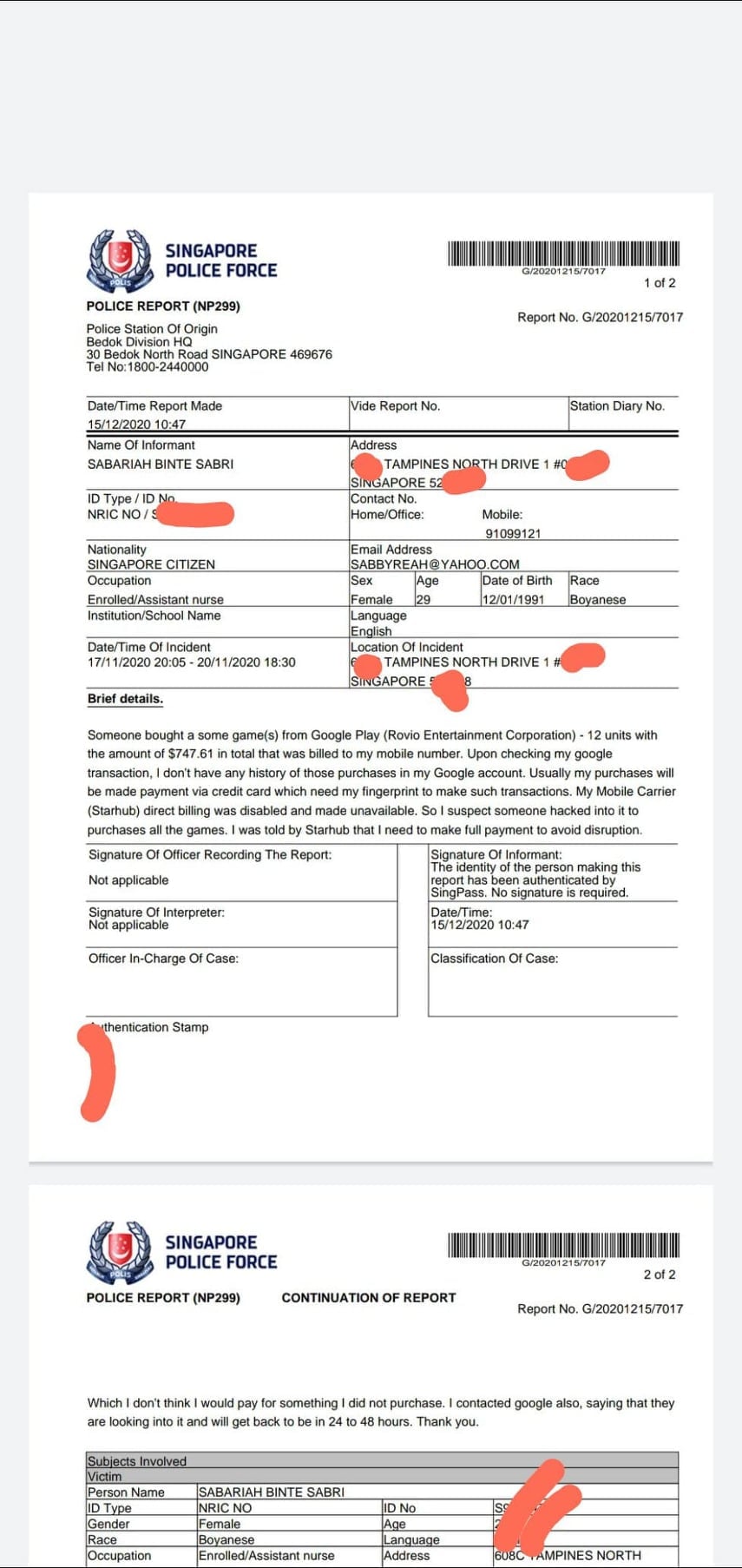 Terminated
According to Sabariah, she has continued to pay her monthly bill, except for the S$747.61 and "termination fees" totalling S$6550.23.
The lawyer's letter she received stated that her telecommunication facilities were terminated due to "consistent failure, neglect and/or refusal to make payment."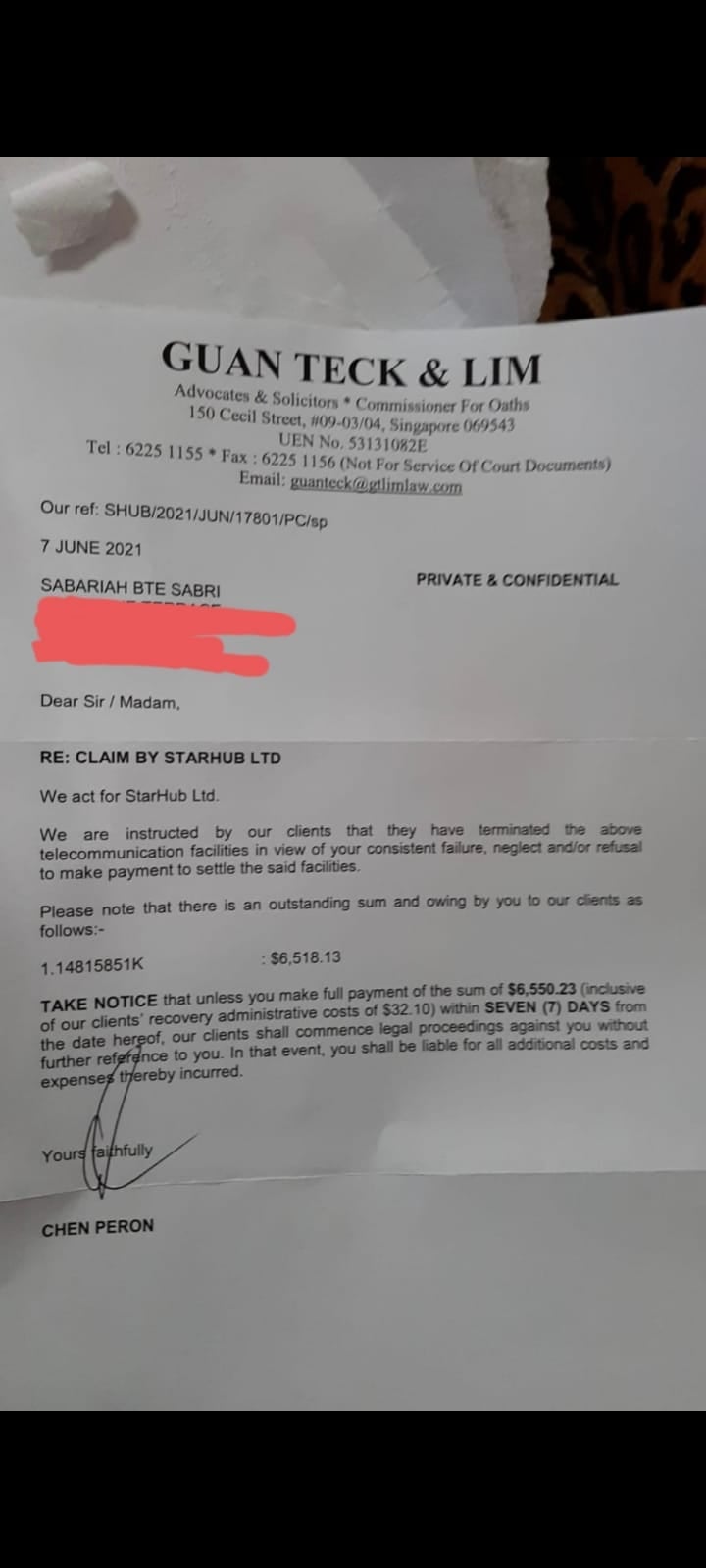 The matter has been resolved
Sabariah has updated her Facebook post to share that StarHub has since contacted her to inform her that her line will be reconnected.
In addition, she will not need to pay the outstanding S$6550.23 bill, and the law firm has been informed to "pull back".
According to Sabariah, StarHub will also put the S$747.61 charged for the Google purchases on hold for six months. If the matter is not settled then, StarHub will review it again.
Lastly, Google will also reach out to her.
StarHub's statement
In response to Mothership's queries, a StarHub spokesperson said that they have reached out to Sabariah and have provided assistance.
StarHub also confirmed that they have reconnected her mobile lines and blocked future purchases of premium mobile content:
"At her request, we have reconnected Mdm Sabariah's mobile lines and services, and activated Premium Rate Services (PRS) barring, which blocks future purchases of premium mobile content.  This will help her to better manage her non-StarHub purchases via her mobile line."
They explained that her services with StarHub were terminated due to outstanding charges, and a final bill comprising of unpaid service subscription charges, as well as early termination charges and unpaid monthly equipment instalment fees.
View Sabariah's original post here.
Top photos via Sabby Reah/Facebook
If you like what you read, follow us on Facebook, Instagram, Twitter and Telegram to get the latest updates.