Follow us on Telegram for the latest updates: https://t.me/mothershipsg
Two women in Singapore have come forward on social media to share their experience of being solicited for an obscene photoshoot.
Both women received the same message from a man who allegedly offered them S$9,000 in total for a three-hour long "bukkake-themed" photoshoot via Instagram Direct Message (DM) and email respectively.
"Bukkake" concept
Ivy Ng, 26, shared a series of screenshots about an email she received on March 22 via Instagram stories, around five weeks ago. The stories have been added to her highlights, enabling users to view them from her profile.
Titled "Concept photoshoot", the email was sent by a Singapore-based photographer who gave his name as Derrick.
Derrick offered Ng S$3,000 per hour to model for a three-hour photoshoot with a "bukkake" concept.
Originating in Japan, "bukkake" refers to a sex act that is commonly portrayed in pornographic films in which multiple participants ejaculate on one participant.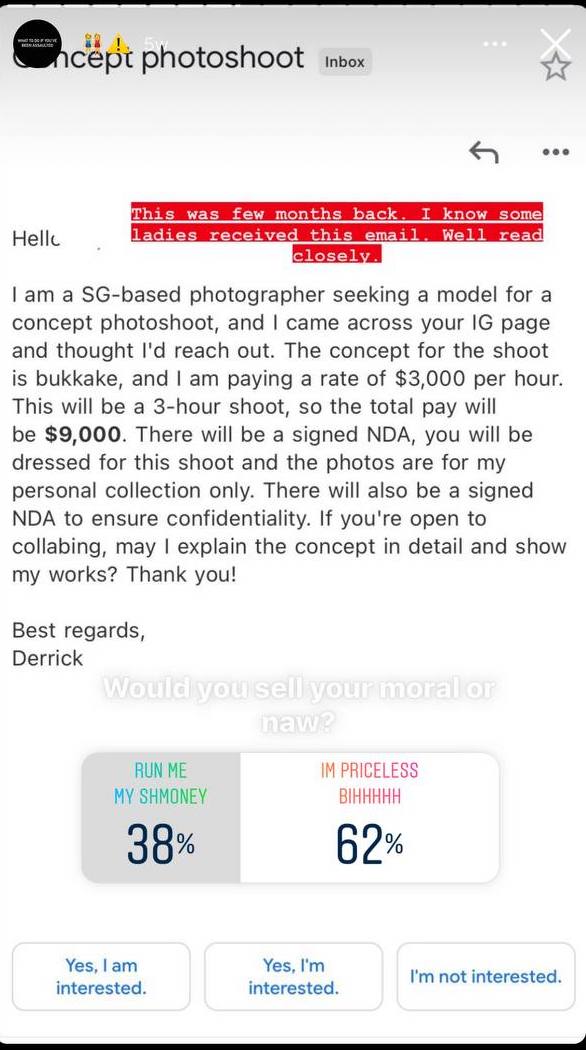 According to the email, the model would be "dressed" for the shoot and the photographs were for Derrick's "personal collection only".
It also mentions that there will be a signed Non-Disclosure Agreement (NDA).
Speaking to Mothership, Ng said she "was neutral" when she first read the email because she has received "weird emails" before. However, she and her friends were curious about this particular one, which led them to ask him for more information.
Ng also said that others had informed her that they knew of other girls receiving the same email.
She has told them to encourage those girls to lodge a police report.
60 men involved
The follow-up email from Derrick said that the photoshoot will involve "60 men, aged 21 to 30" who will be divided into ten groups of six in order to comply with the eight-person limit for gatherings in effect at the time.
All participating men would be tested for sexually-transmitted diseases (STD) within two weeks prior to the date of the photoshoot, Derrick said, with the model given the opportunity to verify the relevant documentation before the start of the photoshoot.
They would be required to show documentation of their results on the day of the photoshoot, which the model would be able to verify in-person before the photoshoot began.
Derrick claimed to have done two similar photoshoots previously, and said he was willing to share sample photographs, with the consent of the model involved.
He also said he was open to negotiate the model's pay for the shoot, "depending on the conditions". He cites "swallowing sperm" as an example of a condition that would secure a higher rate.
In addition, Derrick reiterated that the photographs are for his "private collection only", and would not be shared with others or be "shared/posted/distributed on any public platform" — a condition that he said would be stipulated in the signed agreement before the photoshoot.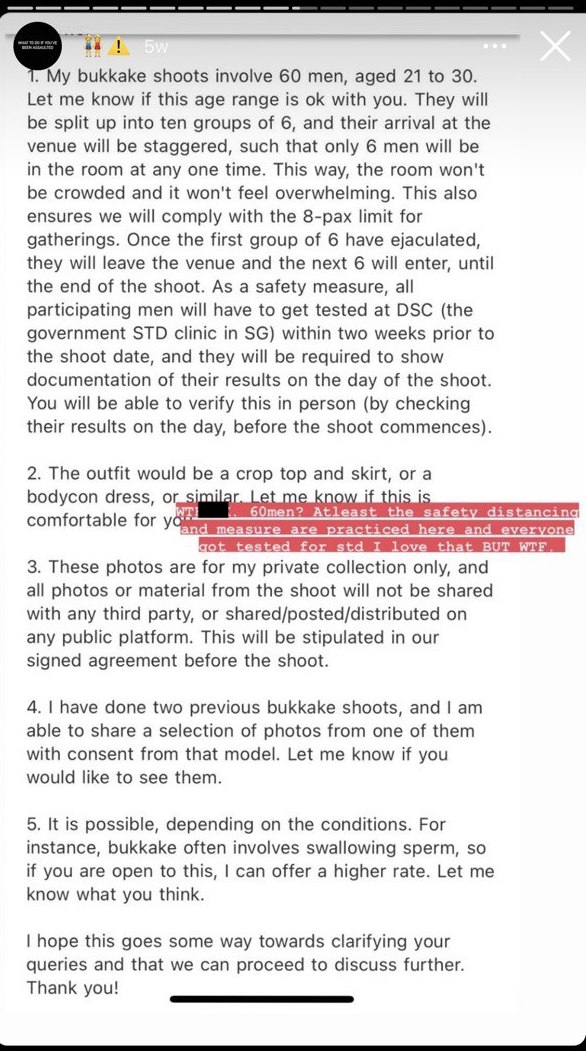 Ng told Mothership that the details disgusted her, and that she had thought about ignoring the email after receiving the details. However, Derrick continued spamming her, leading her to email him back to let him know that she was not interested.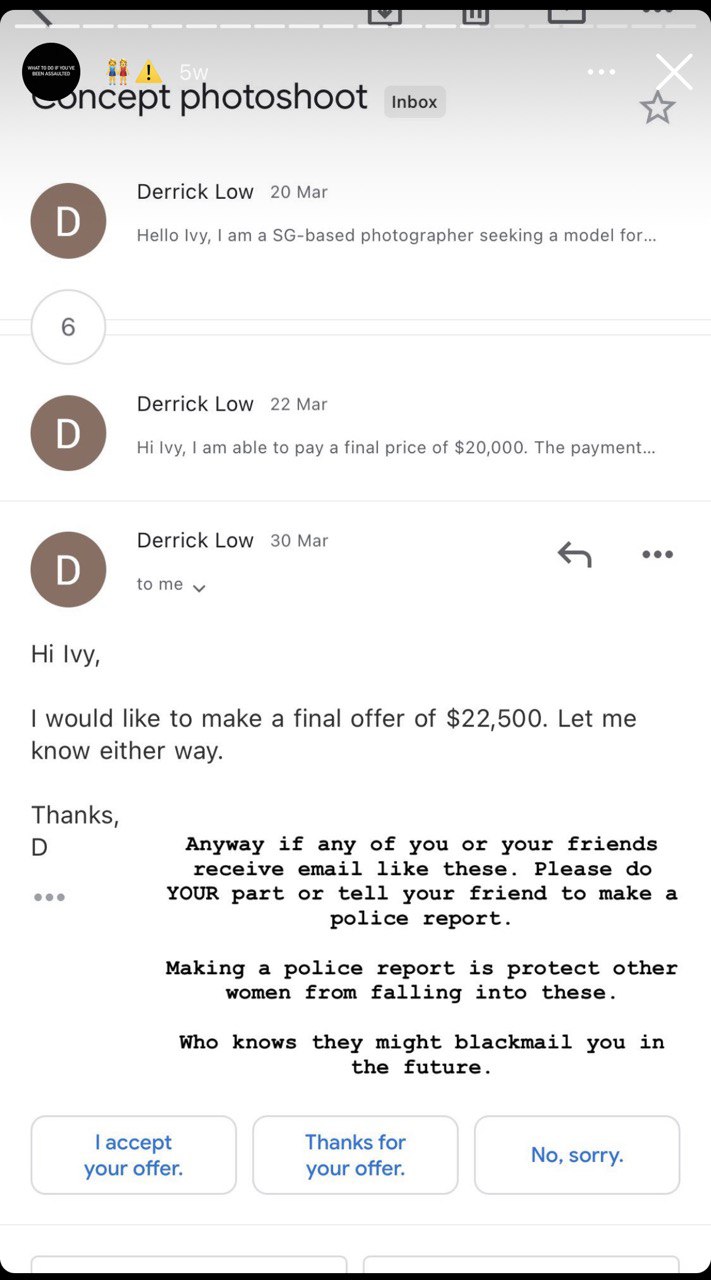 The "final offer" for the photoshoot came up to S$22,500.
Prior to that, Ng shared that Derrick said he would be "happy to make an advance deposit of five per cent of the total fee (i.e. S$750) the day before the agreed date of the shoot, as a guarantee".
Ng said that she made the Instagram stories accessible via the highlights on her Instagram profile so as to warn other women about similar incidents.
"This is one of the wildest photoshoot [offers] I've received," she said.
The initial series of Instagram stories by Ng was followed up a week later, with a screenshot of a message from the police that informed her that they had found the man and given him a warning.
Ng added to the screenshot, saying that while the police had investigated the case, there was no evidence that the man had carried out such a photoshoot previously.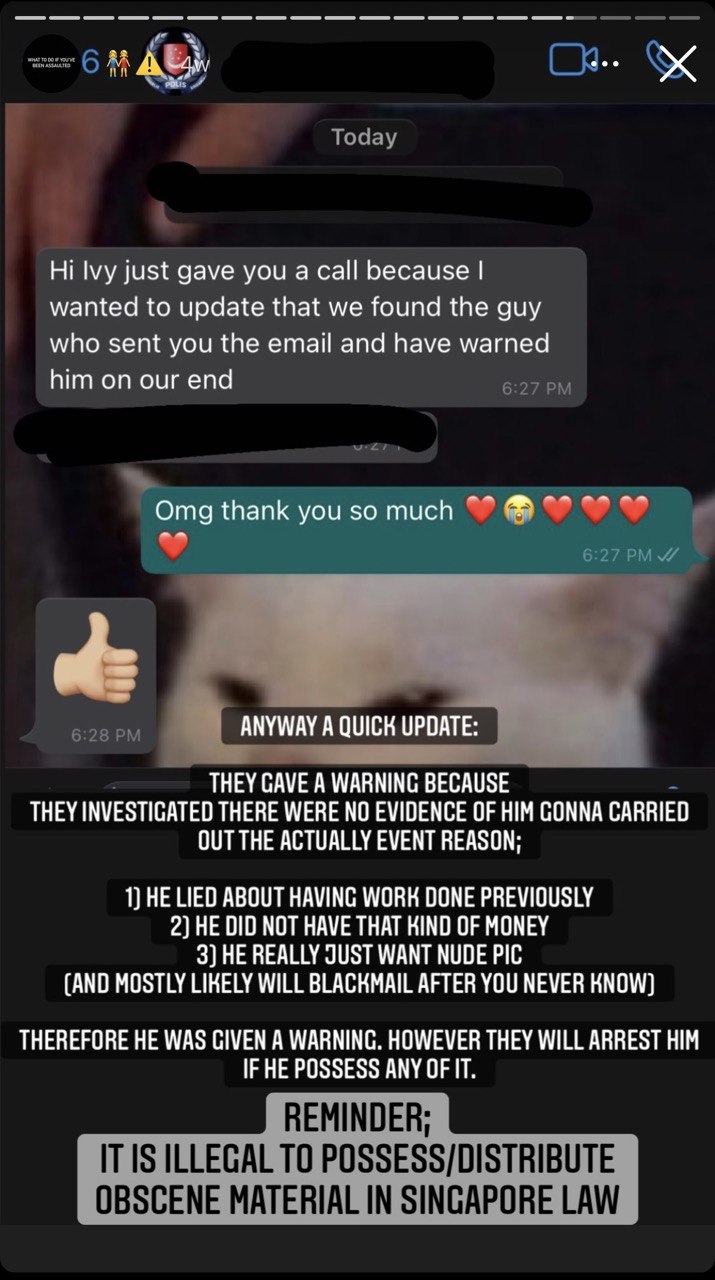 She also wrote that it was likely that the man would blackmail the model involved.
TikTok video
Another woman, Valerie Tan, 22, who received the same proposal via Instagram DM, shared a screenshot of the message in a TikTok video on June 11.
She told Asiaone that she initially shared the screenshot as she thought the "weird photoshoot" was funny.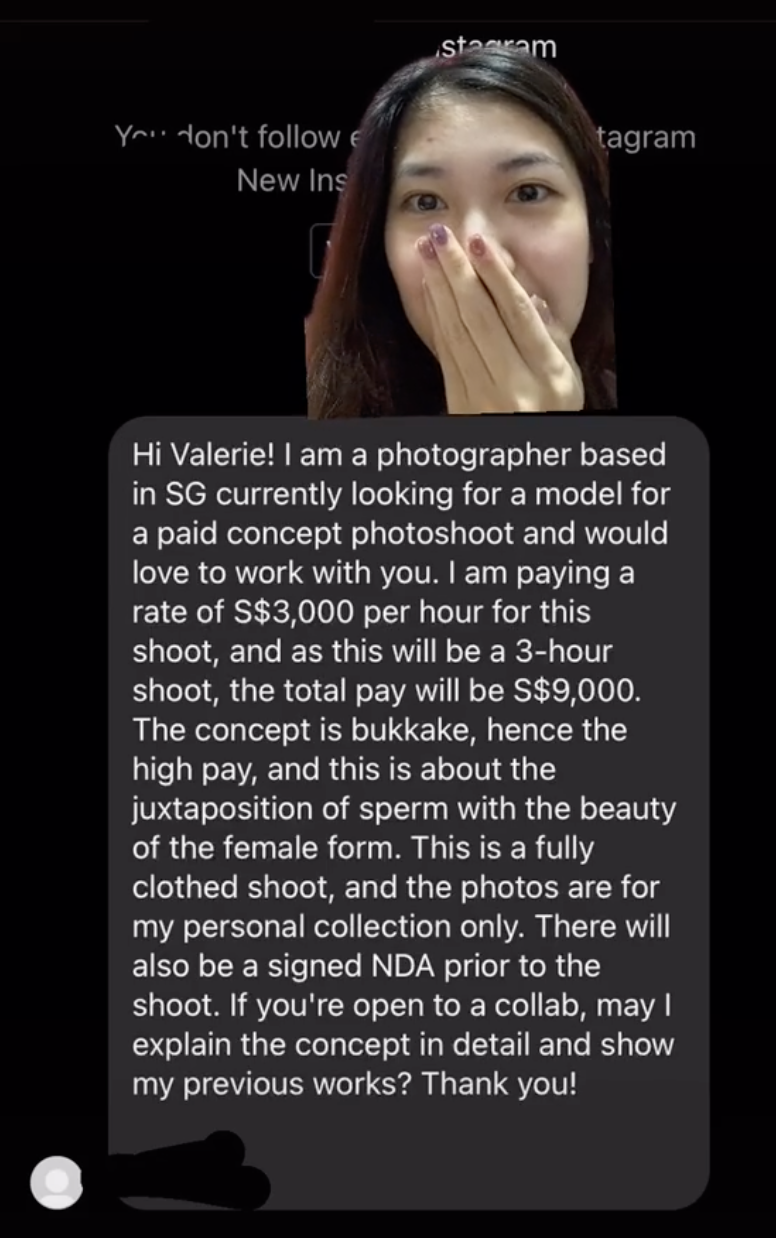 On June 22, Tan posted another video with the uncensored version of the original screenshot — including Derrick's name and Instagram handle, @fetografik, which now appears to be unavailable — and shared about similar encounters she heard from almost 10 other women, including Ng.
Like Ng, Tan wanted to warn other girls, and posted her second video to "talk about it more seriously".
Online advertisement
A similar advertisement was posted a week ago on free classified site Locanto with similar terms that were mentioned in Ng's and Tan's screenshot.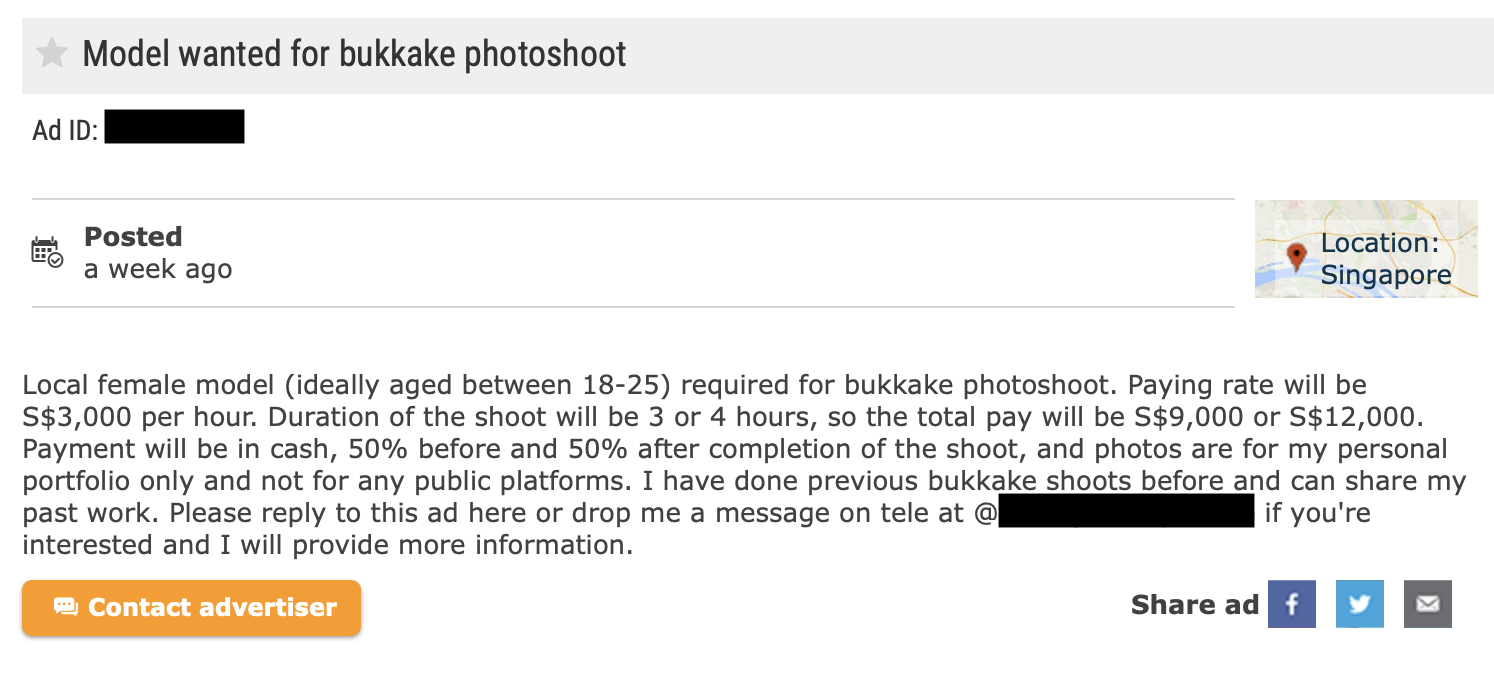 28-year-old man assisting with police investigations
On June 26, the police confirmed that reports about the photoshoot offer had been lodged, and that a 28-year-old man is currently assisting with investigations.

Top images via @ivynglz on Instagram and Alexander Dummer on Unsplash.
If you like what you read, follow us on Facebook, Instagram, Twitter and Telegram to get the latest updates.