The President and CEO of Nike, John Donahoe, said the sportswear brand is "of China and for China", the BBC reported.
Comments made after reporting a growth in revenue
Speaking to a group of Wall Street analysts in a call about Nike's latest fourth quarter earnings report, Donahoe was responding to a question on competition brought about by the rise of Chinese brands.
The report revealed revenues that were better than expected, and helped the company recover from a US$790 million (S$1.06 billion) loss at the lowest point of the pandemic, to a US$1.5 billion (S$2.02 billion) profit.
Donahoe also said China would continue to hold value to the firm as a fast-growing market due to Nike's 40 years of investment there, adding that they had always taken "a long term view" towards the market there.
"Phil (Knight) invested significant time and energy in China in the early days, and today we're the largest sport brand there," he said.
Donahoe's remarks came a few months following calls from within China to boycott Western corporations like Nike, Adidas and H&M, after a dated statement from H&M emerged, claiming that "forced labour" is used in Xinjiang to produce the cotton there.
Nike has also released a statement previously that spoke of its concern about reports of "forced labour" in and connected to Xinjiang, as well as its commitment to "ethical and responsible manufacturing".
Previously, after reporting a quarterly loss, H&M said it would like to regain the "trust and confidence" of their customers in China.
Comments derided by netizens both within and outside of China
The Nike CEO's remarks have been derided on Twitter, with many users expressing their contempt for the brand as they saw it as a firm that kowtowed to the Chinese government for the sake of monetary gains, as with many other Western companies.
Thats great Nike supports a dictatorship with huge human rights issues and gifted the world Covid, l for one wont buy Nike products

— Roddy piper (@Roddypiper9) June 25, 2021
The same comments have not gone down well with Chinese netizens either, who ironically, cited the same reason as their foreign counterparts as to why they could not respect Nike.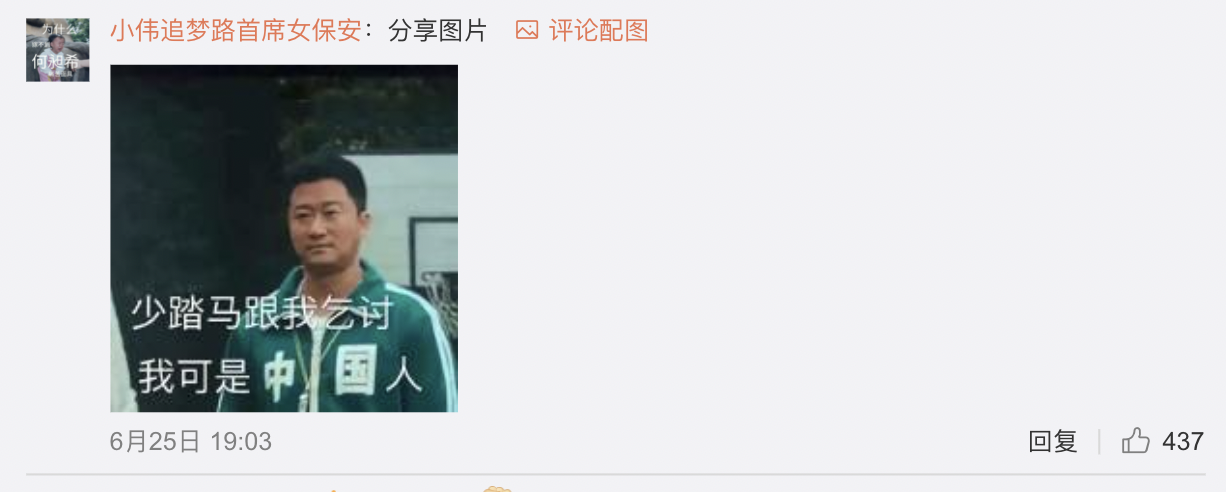 The picture reads: "(Proudly) Don't f**king beg from me, I'm a Chinese."
---

"You want to roll in the money, well you should apologise first. What are you smoking, you're just taking Chinese people for a ride."
---

"Carry on with the boycott."
---

"When the pandemic broke out, it was our motherland who gave us free vaccine doses. If we're not gonna support Chinese products, are we gonna support those brands that are boycotting Xinjiang cotton? Chinese people must grow a spine."
Nike's deep roots in China
This is not the first time that a Nike CEO has made this sort of remarks.
Back in 2019, after reporting a surge in revenue from Greater China, then-CEO Mark Parker said, "Nike is a brand of China for China and the results continue to prove it out."
Nike's roots in China date back four decades ago.
Writing about his thoughts before making his first trip to China in 1980, Knight, in his 2016 memoir "Shoe Dog", said he was thinking of being the first shoe company from the West to set up shop in China.

Nike then signed its first sponsorship deal with China's national basketball teams in the same year, and has since expanded its presence in the country with various collaborations with the government and its national athletes.
Given Nike's wide presence in China's national sports teams and consumer culture, the calls of boycott online have not exactly translated to the real world, although it's unknown if the incident will have any lasting impact for the brand in China, where many homegrown sportswear brands, such as Anta, are gaining prominence.
South China Morning Post pointed out that sports teams had refrained from commenting on the deals they have with Nike and Adidas, and that demand from Chinese consumers remained high for its products, especially those that were on sale online.
State media has also made no mention of the boycott, even directing attention to the U.S. government and blaming them for allegedly manipulating non-profit group Better Cotton Initiative into suspending its licensing of Xinjiang cotton.
Top image via Wikipedia & Jiemian News
If you like what you read, follow us on Facebook, Instagram, Twitter and Telegram to get the latest updates.