A woman's morning walk at Robertson Quay with her dog, Pumpkin, was disrupted after a jogger allegedly snatched her dog's leash and flung it to the side.
The woman in question, Grace Yeo, recounted the incident in an interview with Mothership.
Morning walk
Yeo was walking her four and a half month old Shiba Inu along the Singapore River at around 7.25am when the incident occurred.
She was walking in the middle of the path while Pumpkin was walking near the grass.
According to Yeo, a Caucasian man in his 40s to 50s with curly grey hair, came running up from behind them.
He allegedly grabbed the leash from Yeo and while swinging it, "flung Pumpkin" towards the railing, which was on the right side of the pathway.
She added that she did not realise immediately if her dog was in pain as she was in so much shock.
She also said that she did not notice the man until he grabbed the leash, as he had not said a word beforehand.
In an Instagram Story, Yeo pointed out that she was not blocking the entire pathway: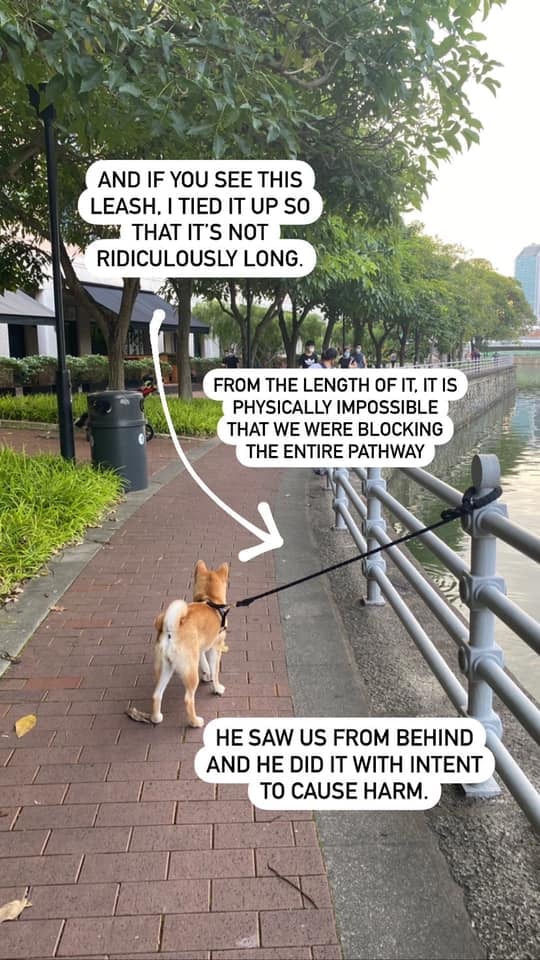 Man continued running
The man then continued running and Yeo decided to catch up with him to confront him.
When asked why he did that, the man allegedly told her: "Your dog was blocking my way! Watch your dog!"
Yeo said that although she apologised for blocking his way, she told him he did not have the right to do that to her dog.
As she was about to take a photo of him to make a police report, he ran away.
However, she managed to capture a picture of his back. She also added that he is "white, tall and slender".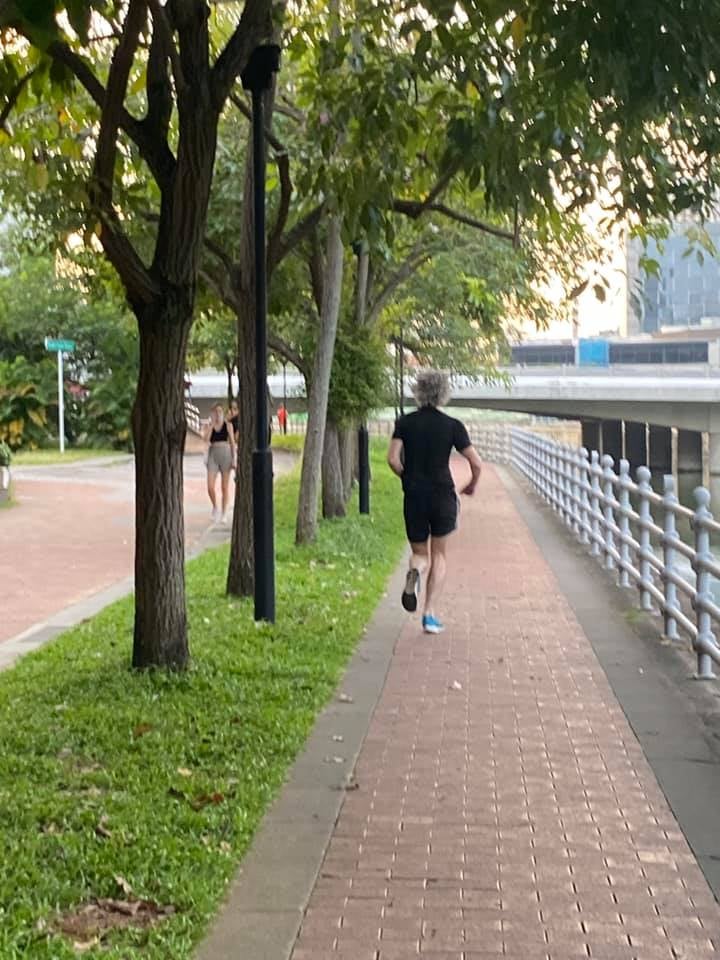 Police report made
Yeo explained that prior to the incident, Pumpkin was on medication and is recovering from a "throat issue".
She added that she no longer feels safe walking her puppy and is unsure if the incident had hurt him badly.
As Pumpkin is still an active puppy which requires more exercise, Yeo explained that she needs to walk him three to five times a day.
Yeo also told Mothership that she usually walks along the same route.
In response to Mothership, the Singapore Police Force confirmed that a report was lodged.
Here's her original post.
Top photos via Grace Yeo
If you like what you read, follow us on Facebook, Instagram, Twitter and Telegram to get the latest updates.