Follow us on Telegram for the latest updates: https://t.me/mothershipsg
With some visits to the vet, regular baths, and a whole lot of love, a woman in Malaysia transformed a scraggly stray cat into a beautiful, fluffy, well-fed pet cat in one year.
Nur Hamizah Had shared photos of the staggering transformation of her cat Meimei in the Facebook group Kelab Pencinta Kucing Malaysia (Malaysian Cat Lovers Club).
Before and after photos
The photos, which were posted by Nur Hamizah on Jun. 19, illustrated the huge difference in Meimei's state when she was first adopted by Nur Hamizah and now.
"From ugly & stinky.. now to princess", Nur Hamizah wrote.
Here's what Meimei looked like before, "ugly and stinky":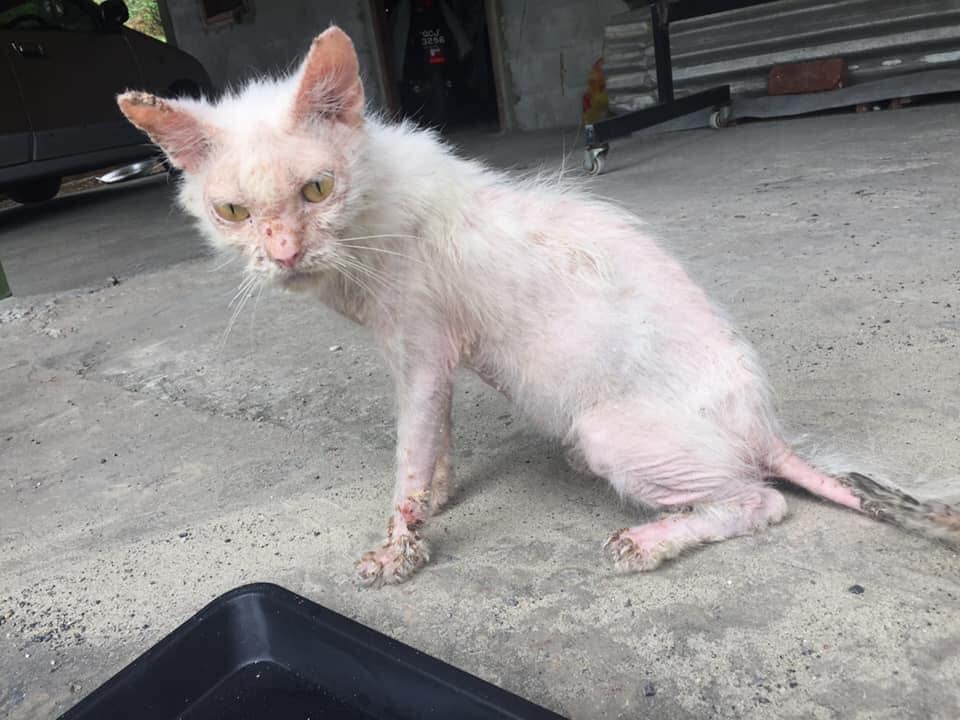 And this is what the princess looks like now: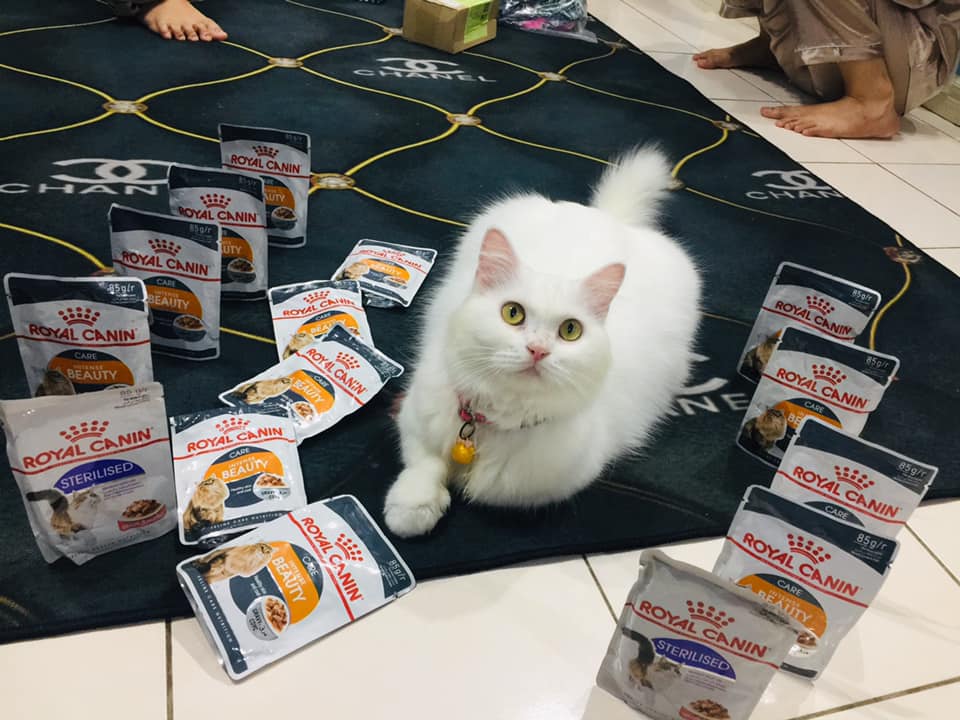 Brought Meimei to vet to treat her
Speaking to SAYS, Nur Hamizah said that she found Meimei in quite a bad condition in May 2020, wandering outside Nur Hamizah's home and begging for food.
Meimei was extremely skinny and "pitiful to look at", Nur Hamizah said. In addition, her skin was infected and wounded, and she smelled "very bad".
Nur Hamizah decided to bring Meimei home to take care of her, which she did by coaxing her into a cardboard box.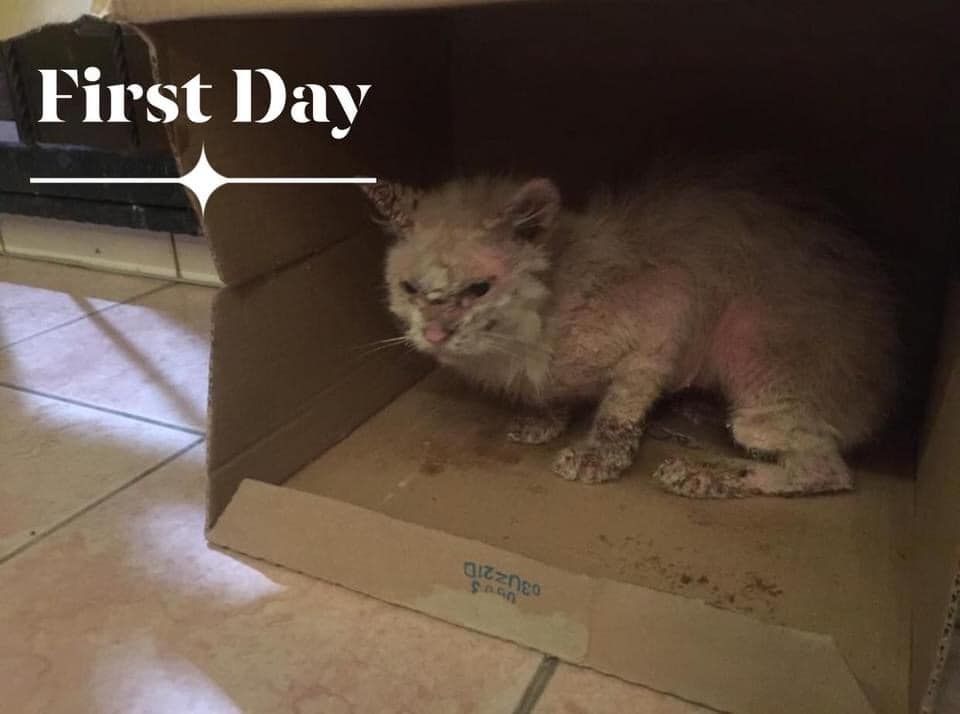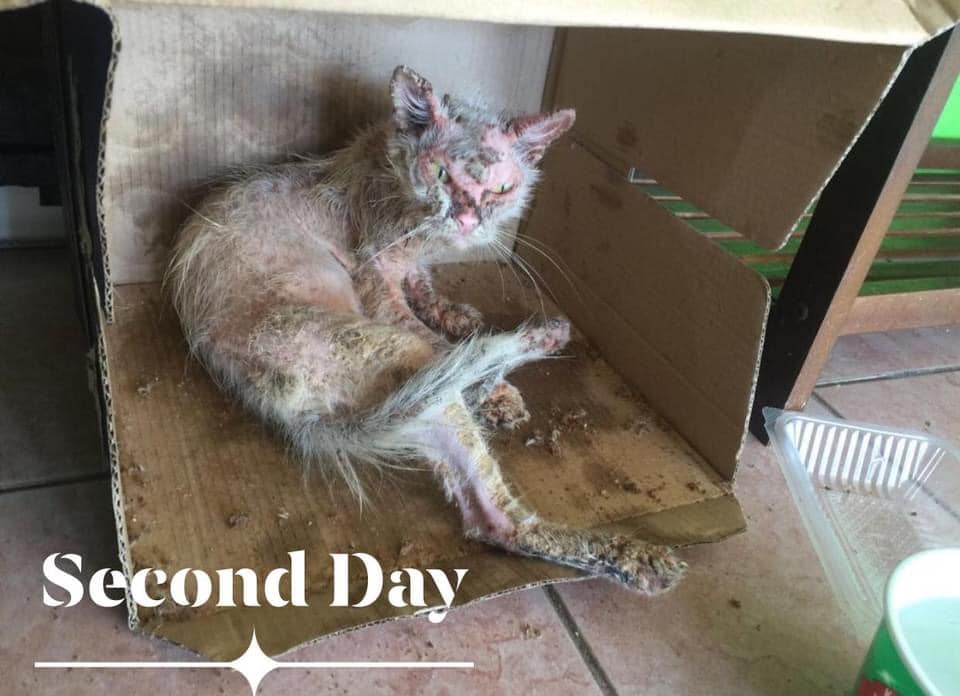 She told SAYS that Meimei was initially very scared of her and her husband, which she suspects may be because Meimei might have been previously abused or abandoned.
Nur Hamizah and her husband then fed her, gave her water, and brought her to a vet to treat her wounds and skin infection. They found out at the vet that Meimei was extremely malnourished, and weighed barely 2kg.
World of Buzz reported that it took about four to five visits to treat her, and Meimei fully-recovered after about five months.
Fur grew back, now fluffy and full
Meimei's fur began to grow back about five to six months after being taken in by Nur Hamizah, SAYS reported.
Now, one year later, she is healthy and fluffy.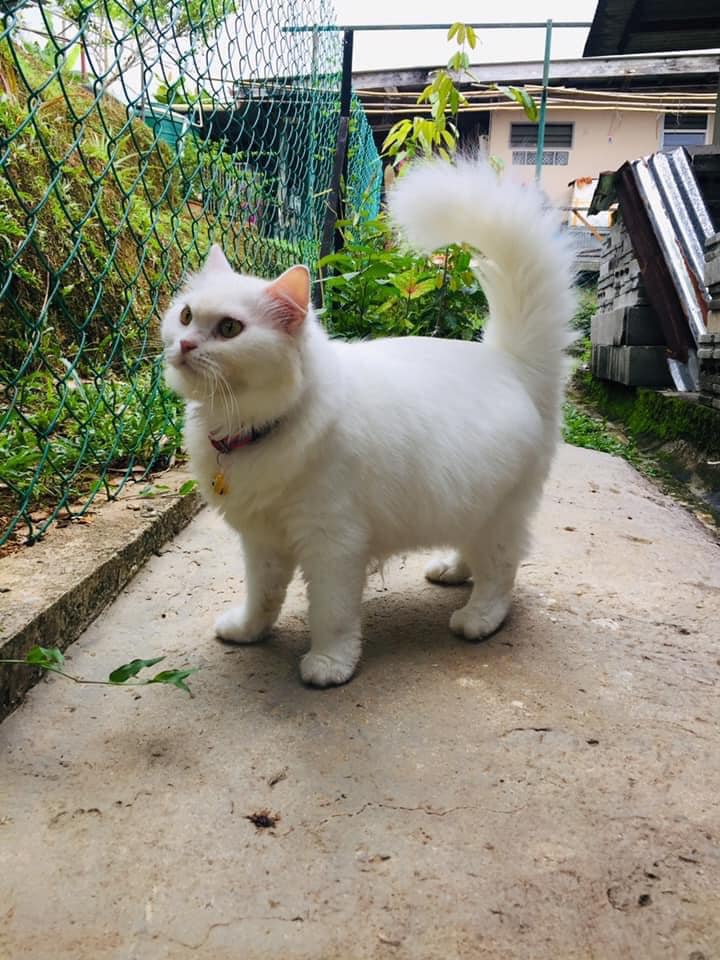 The secret to Meimei's luscious fur? Nur Hamizah made sure to bathe Meimei once a week and to brush her fur daily, she told SAYS:
"Meimei doesn't have a special diet but she eats about four to five times a day. And after she eats, she always sleeps."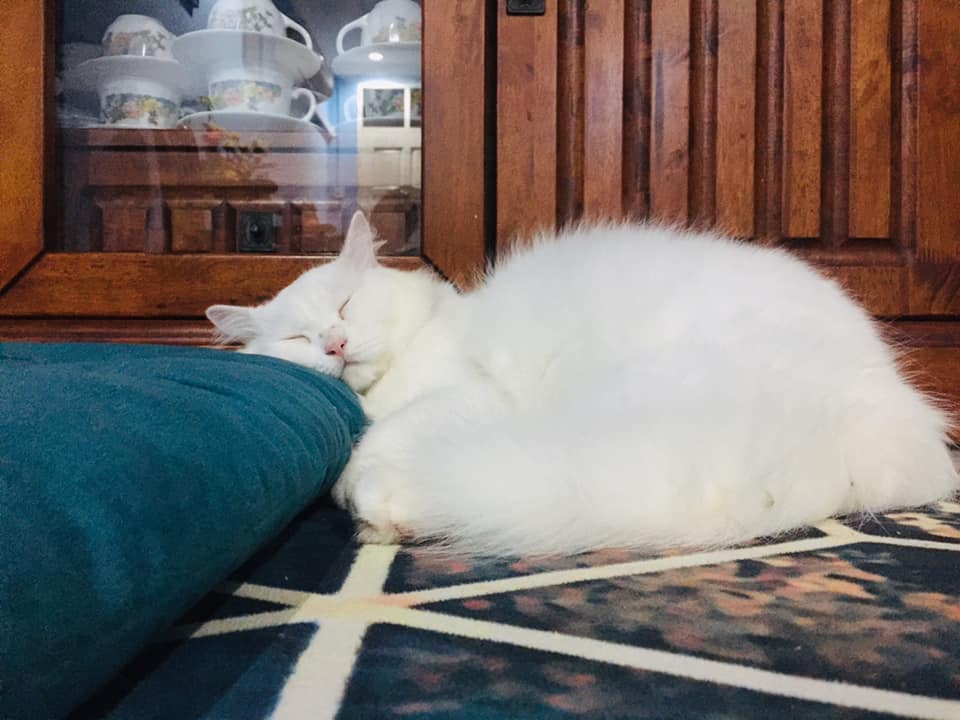 Very intelligent, trusts Nur Hamizah and her husband
Nur Hamizah told World of Buzz that Meimei is still not used to new people, and runs away if she sees someone unfamiliar. However, she has gotten very comfortable with Nur Hamizah and her husband.
SAYS reported that Nur Hamizah said that Meimei will always look for her around the home, and lay next to her as she does house chores.
Nur Hamizah also said that Meimei is "very intelligent".
Here are some more pictures of Meimei for your viewing pleasure: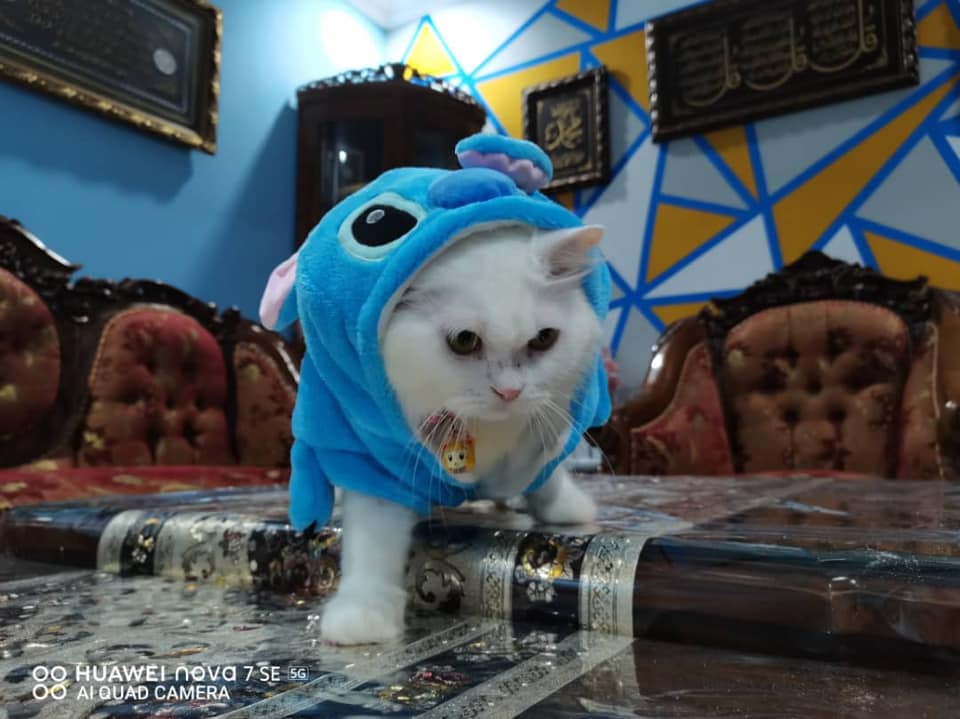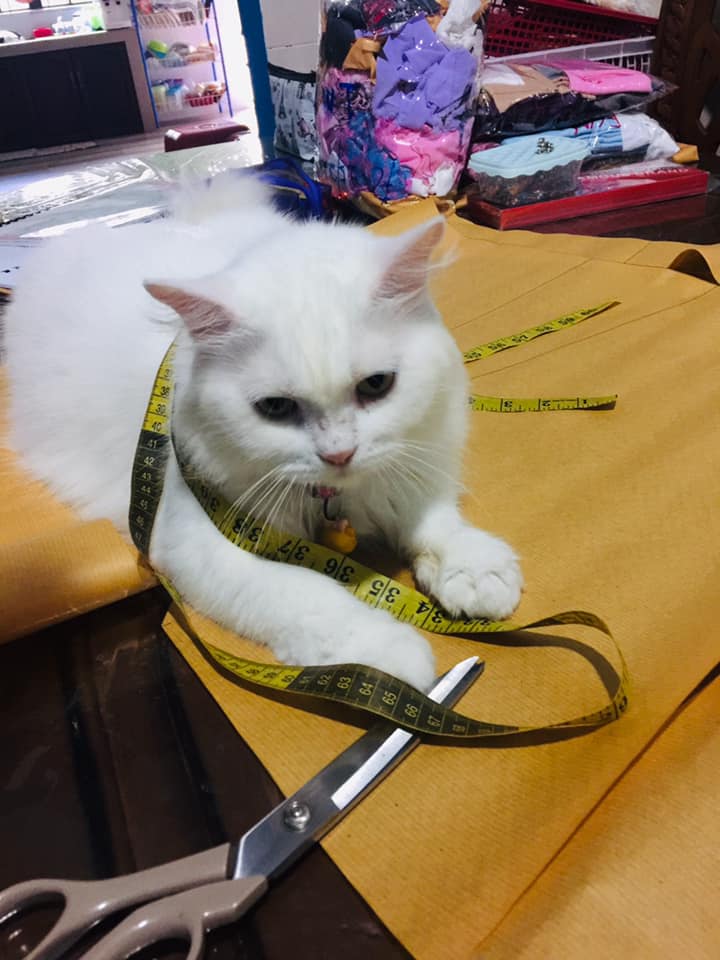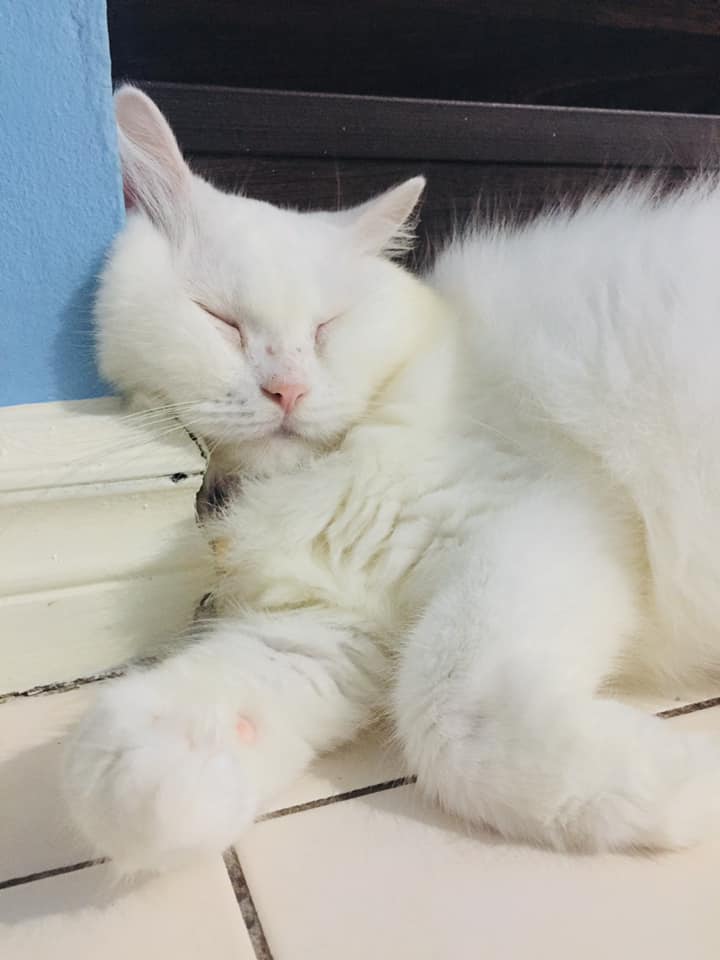 Top photos via Facebook / Meimei Cat.
If you like what you read, follow us on Facebook, Instagram, Twitter and Telegram to get the latest updates.