A Malaysian man stuck in Singapore due to the border closures received a shock -- accompanied by more hunger pangs and some trauma -- after his order of Maggi goreng here showed up as a packet of red noodles with an egg on the side.
The man shared his bewilderment and disappointment in a Facebook post on June 16 -- to the amusement of Malaysians and Singaporeans already accustomed to this style of cooking.
The Malaysian man implied in his post written in Chinese and some English that the noodles was unappetising, as this is not how it is done in Malaysia.
He wrote that this was the first time he ordered Maggi goreng in Singapore, and he would not dare to order it again as he did not know it would turn out like this.
Responses
Commenters responded that Maggi goreng is done differently in both countries, but there is the option of ordering it in Singapore without the red sauce added.
Those who commiserated with him asked what was the red sauce or colouring that was added, and remarked the noodles looked like blood worms used for feeding fish.
Those who were shocked that someone could be shocked that Maggi goreng is served in this style reacted with a forehead-slapping emoji.
What is the red sauce?
The red sauce is known to be homemade and ingredients differ from stall to stall, but it is added to enhance the flavour of the food -- both real and imaginary.
A stall owner revealed previously that the red colour gives the impression that the food is spicier than it looks and better suited to the taste buds of customers who prefer spicier fare.
However, ordering the dish without the sauce is not a faux pas.
One way of ordering it without the deep red sauce is to opt for "Maggi goreng putih", which is the way to go in Singapore if you want your noodles yellow-brown after being fried.
In his own defence
In his defence, the Malaysian man wrote in the comments section that he did not say the red version of Maggi goreng was not nice, just that he had a stronger reaction to it as he was seeing the dish for the first time.
He also qualified that he was aware that different countries do their cuisines differently.
Ordered it again the next day
Despite having been bitten once, the Malaysian man, was not twice shy.
This was so as he returned to order Maggi goreng again the next day, but this time emphasising he wanted it "Malaysia style".
And it turned out just as he expected.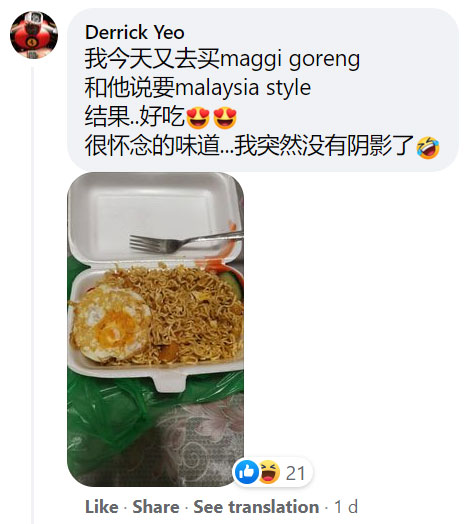 He wrote in the comments section in Chinese: "It was nice. A taste that has been missed. Any feeling have trauma has disappeared suddenly."
All photos via
If you like what you read, follow us on Facebook, Instagram, Twitter and Telegram to get the latest updates.