While many countries around the world continue to struggle to put a lid on Covid-19 infection numbers, some 67,000 spectators thronged the Puskas Arena in Budapest, Hungary on June 16, 2021 for the Euro 2020 football match.
Images of the packed stadium were broadcast globally, where football-mad Hungary played defending champions Portugal.
It was both teams' opening match.
The 67,000-seater stadium was at full capacity.
This was a significantly greater turnout than the 18,497 fans who showed up at Wembley three days earlier on Sunday to watch England beat Croatia 1-0 at home.
The one question international audiences had in mind as they saw the crowd: Is this hubris or a return to some semblance of normalcy?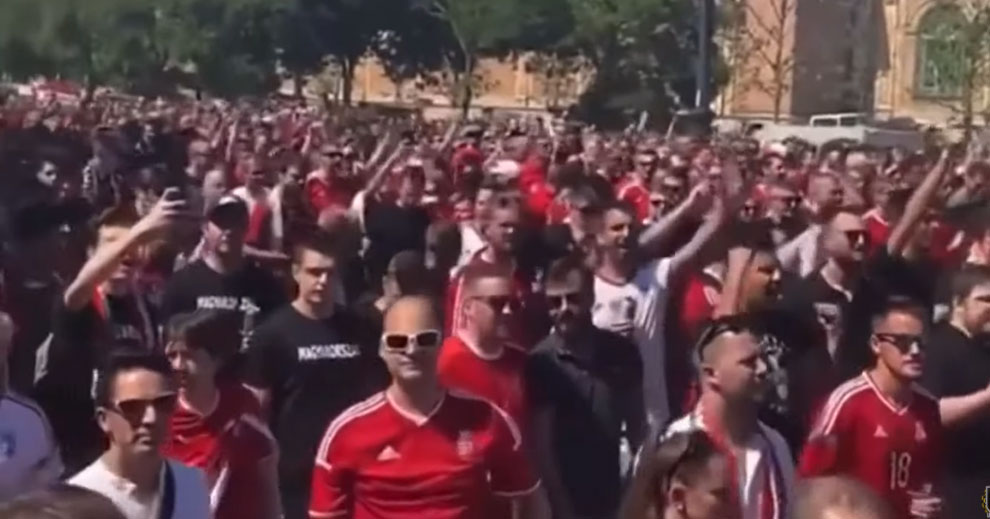 Hungary to have largest turnout
It turns out it could be a bit of both, but what is certain is that Hungary is allowing the most number of spectators to show up at its national stadium.
The host cities, stadiums and Euro 2020 crowd limits are as follows:
Johan Cruyff Arena, Amsterdam, Netherlands (12,000)
Olympic Stadium, Baku, Azerbaijan (34,000)
Arena Nationala, Bucharest, Romania (13,000)
Puskas Arena, Budapest, Hungary (67,000)
Parken Stadium, Copenhagen, Denmark (12,000)
Hampden Park, Glasgow, Scotland (13,000)
Allianz Arena, Munich, Germany (14,500)
Wembley Stadium, London, England (22,500)
Stadio Olimpico, Rome, Italy (17,500)
La Cartuja, Seville, Spain (13,165)
Krestovsky Stadium, Saint Petersburg, Russia (34,000)
How it works at the stadium
According to The Athletic, football fans in Hungary have to produce a certificate confirming they have had the Covid-19 vaccination jab.
The Hungarian Football Federation told The Athletic that entry into the stadium will be staggered.
But why this matters is not clear, given the situation outside the stadium where fans were packed shoulder to shoulder on the streets without masks.
Regardless, staggering entry is designed to avoid large gatherings and help maintain social distancing, the football federation said.
Each ticket holder has to enter the stadium within a designated timing.
But masks are mandatory up until the spectator takes a seat.
This is similar to the policy for Hungary public transport commuters to be masked up while travelling, but are free to remove the face covering when they get off.
Copious amounts of hand sanitiser will be made available at the stadium, it was also reported.
Travelling fans have to be Covid-19 negative or vaccinated
There are two ways to gain entry into the Puskas Arena.
A travelling fan can skip quarantine by showing a negative PCR test result taken within 72 hours before entering the country.
This must be certified in Hungarian or English.
Alternatively, the fan can prove vaccination and have a certificate issued by a country that has a reciprocal agreement with Hungary.
Prime minister of Hungary loves football
At the end of the day, the reason football is allowed in Hungary at this staggering magnitude could be due to politics.
Hungary is led by prime minister Viktor Orban, 58, the far-right populist leader.
Orban loves football and has invested heavily in the sport over the past decade.
The Euro 2020 would be the chance for him to project Hungary across Europe and give his own people something memorable as Orban is seeking his fifth term when elections are held in 2022.
Orban said before the tournament: "Everyone who is registered will definitely have been vaccinated, and with their vaccination card will have the opportunity to take part in this event."
The Puskas Arena was used to host the UEFA Super Cup between Champions League winners Bayern Munich and Europa League champions Sevilla in September.
But that match was only a quarter full for Bayern's 2-1 win.
One source told The Athletic the Hungarian government and prime minister loves football, and they know how important this Euros is for the national team and country.
Another source suggested that stricter rules to contain the spread of Covid-19 would be in place in Hungary if it wasn't for Euro 2020.
The Hungarian Football Federation put it down to the success of the country's vaccine rollout, The Athletic reported.
Three more matches to go
The Puskas Arena was built in 2019 at a cost of around £500 million.
It is named after 1950s Hungarian football great Ferenc Puskas.
A total of four Euro 2020 matches will be played at the stadium.
After Hungary vs Portugal, the next game is on Saturday, June 19, with Hungary playing France.
European champions Portugal and world champions France will then meet there in their group-phase finale on Wednesday, June 23.
The final fixture is a last-16 tie on Sunday, June 27, between the winners of Group C and a team that finishes third in either Group D, E or F.
If you like what you read, follow us on Facebook, Instagram, Twitter and Telegram to get the latest updates.