Follow us on Telegram for the latest updates: https://t.me/mothershipsg
It was towards the last lap of the Phase 2 Heightened Alert (HA) period that small business owner Kimberley Yeo posted this to her Instagram Story: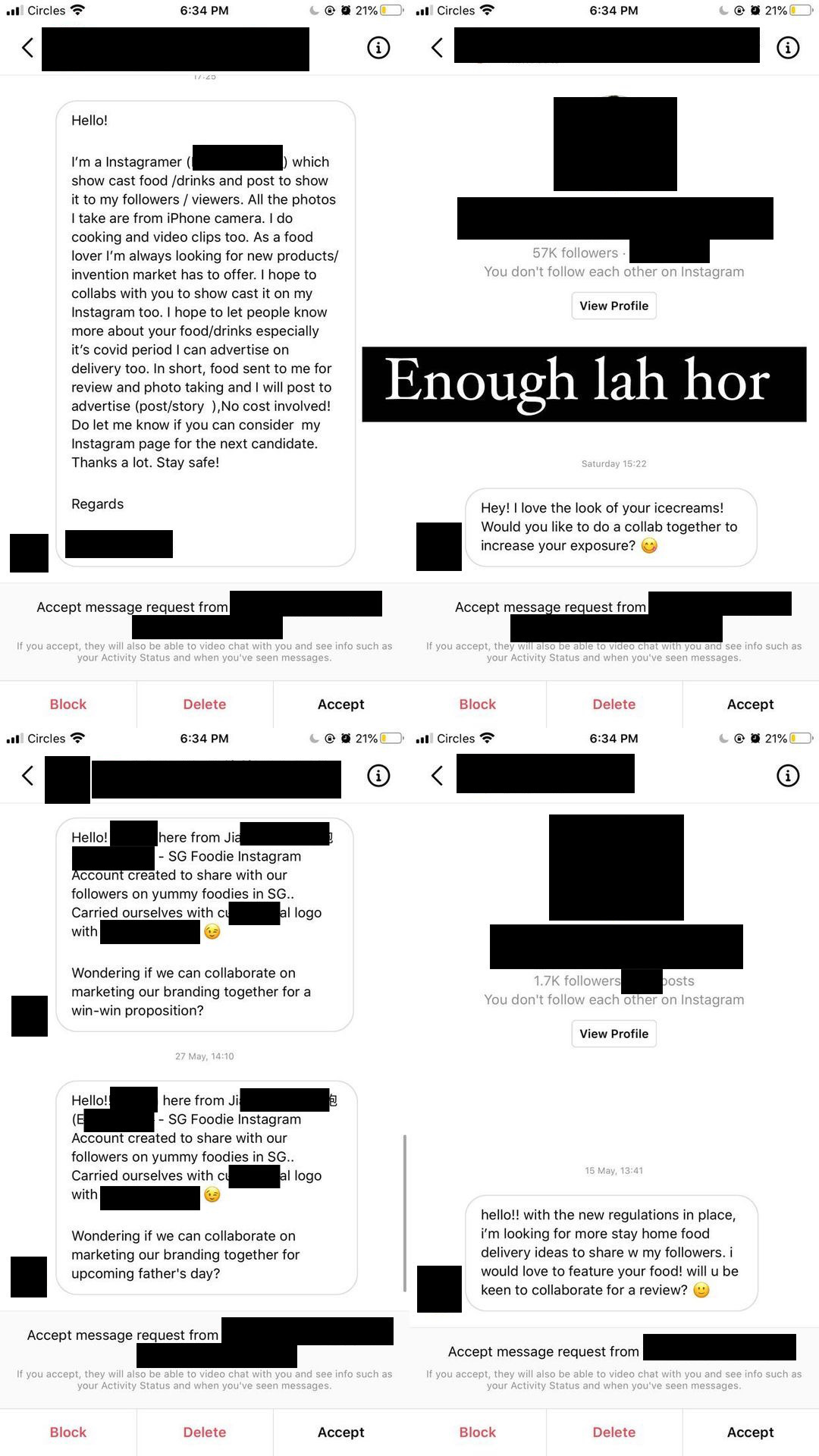 A closer look at some of the individual requests: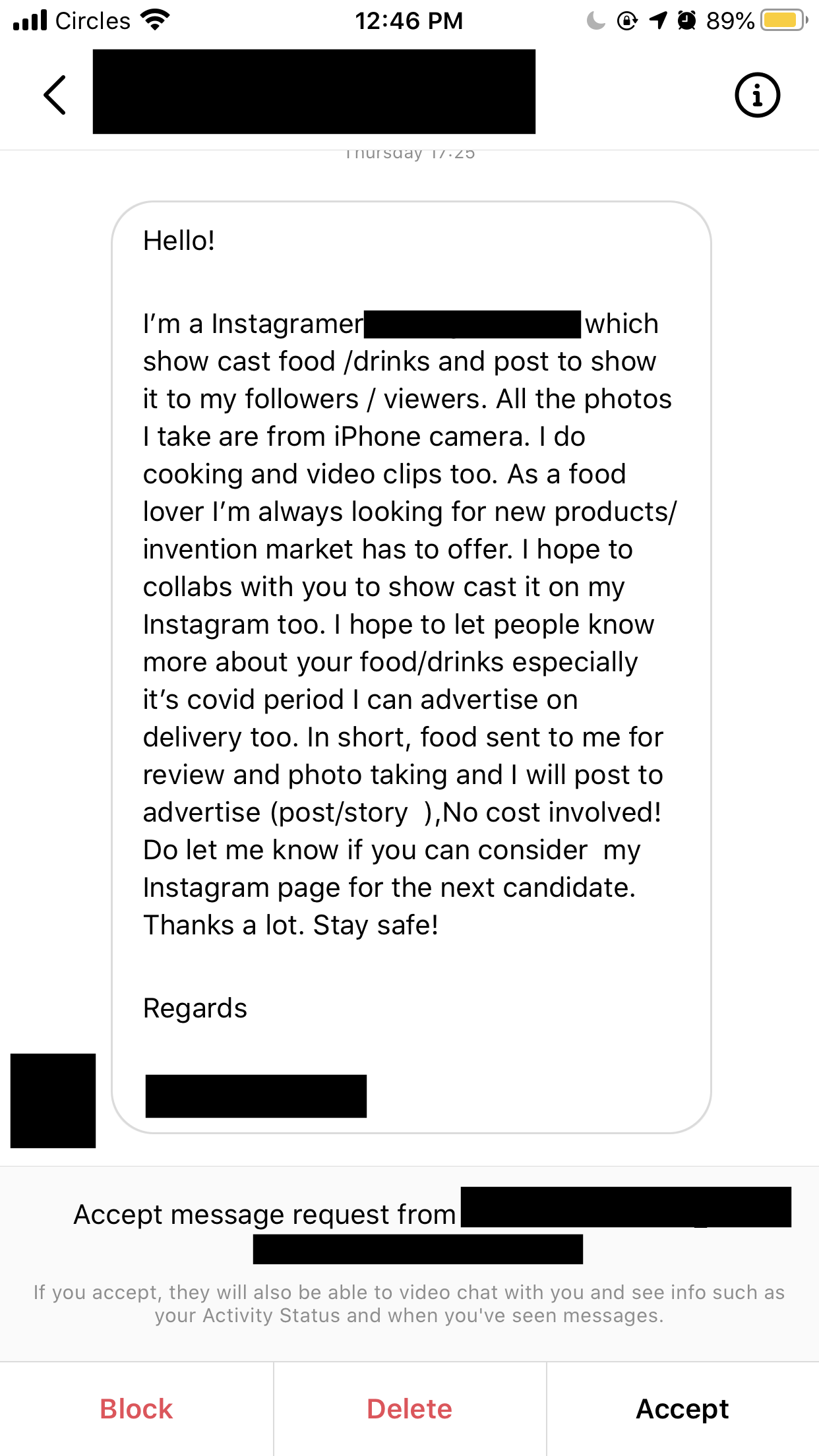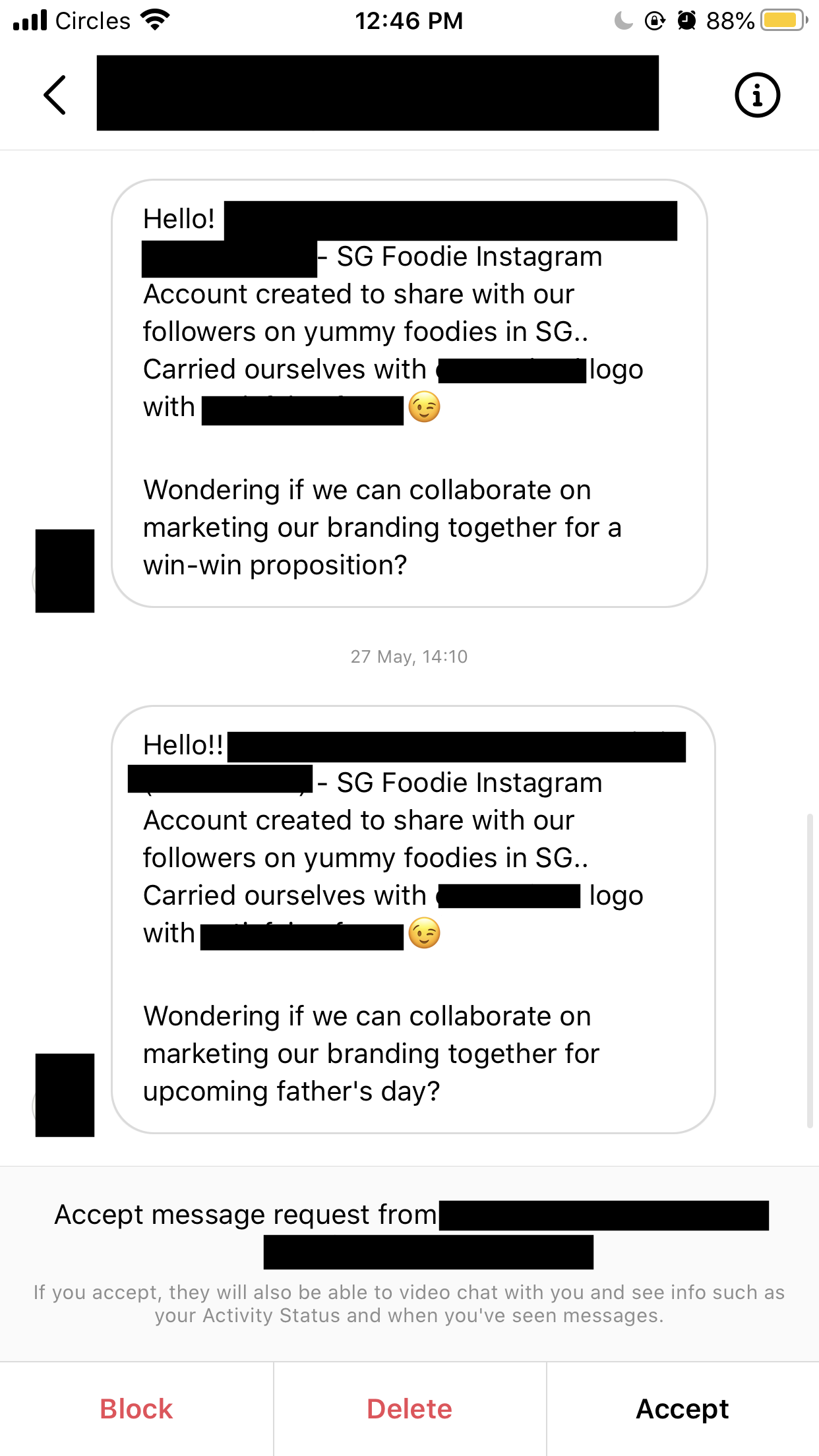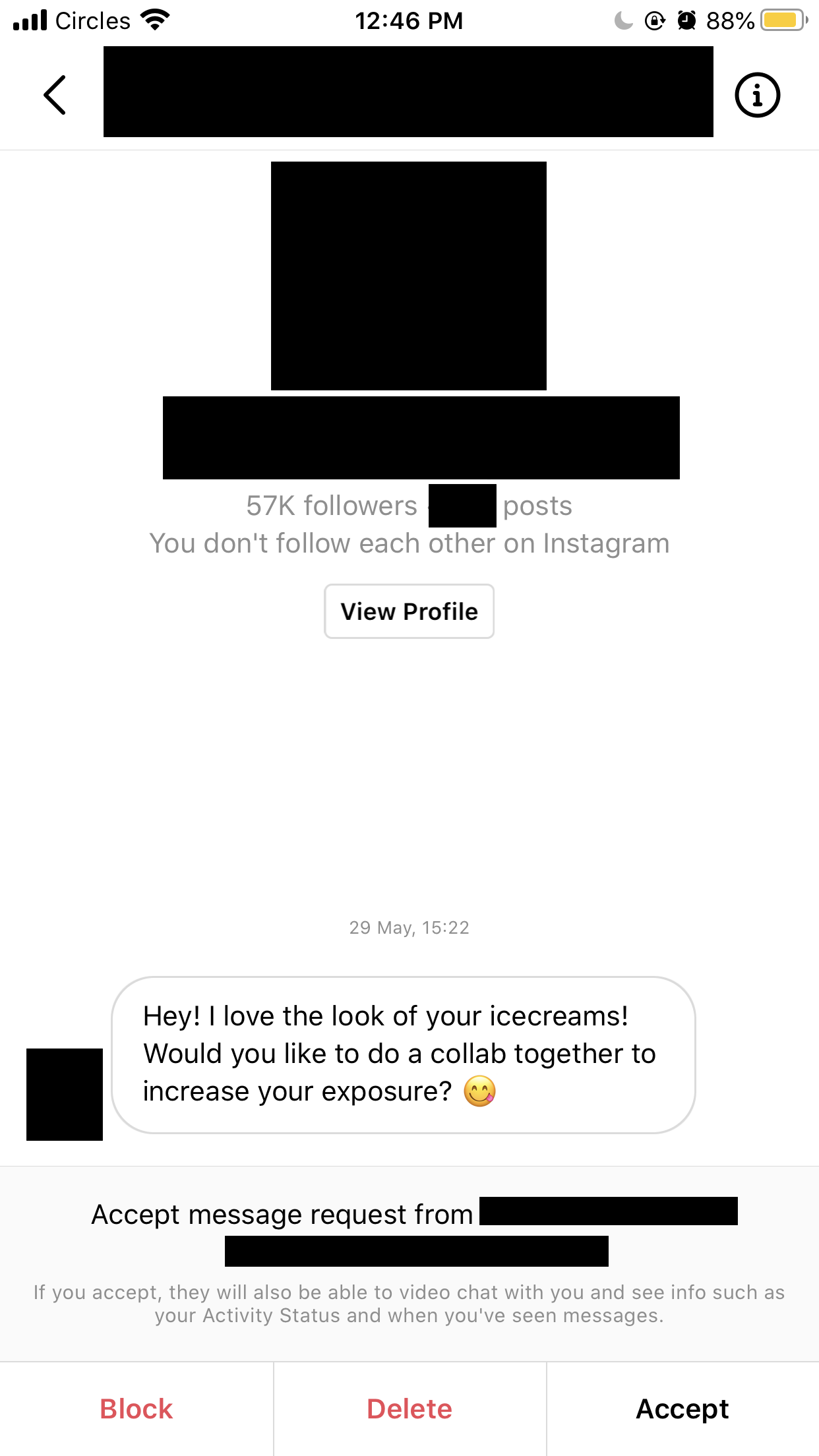 Such requests are not uncommon, but 30-year-old Yeo has seen a significant spike in them during stay-home periods.
She owns two F&B concepts: Don Play Play, which specialises in Japanese rice bowls, and Twice Young, an ice cream brand that caters to both humans and pets.
Black sheep
Yeo tells Mothership that Don Play Play received more than 10 requests during Circuit Breaker last year, while Twice Young, which was recently established, has gotten about five of such messages during the HA period.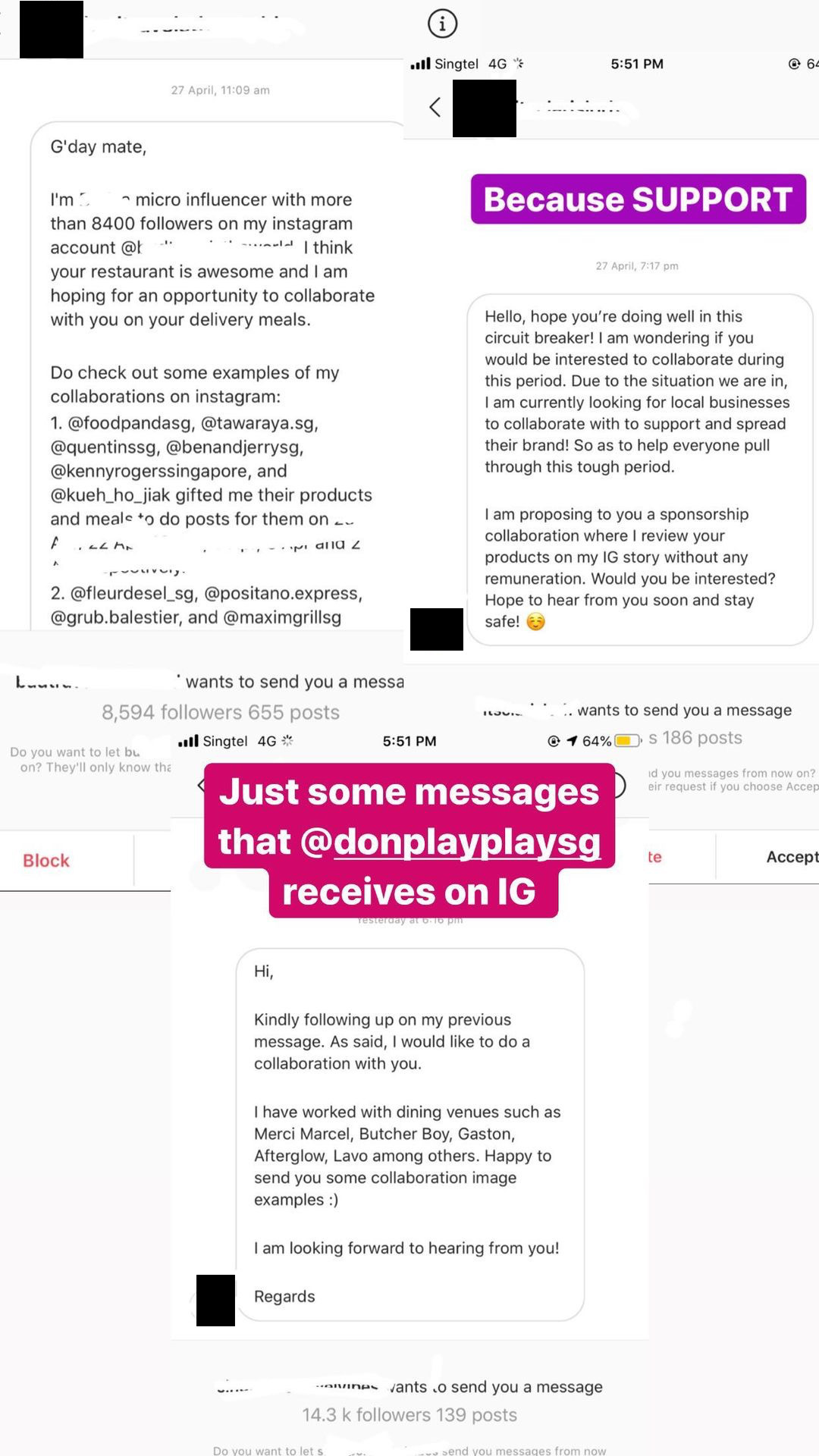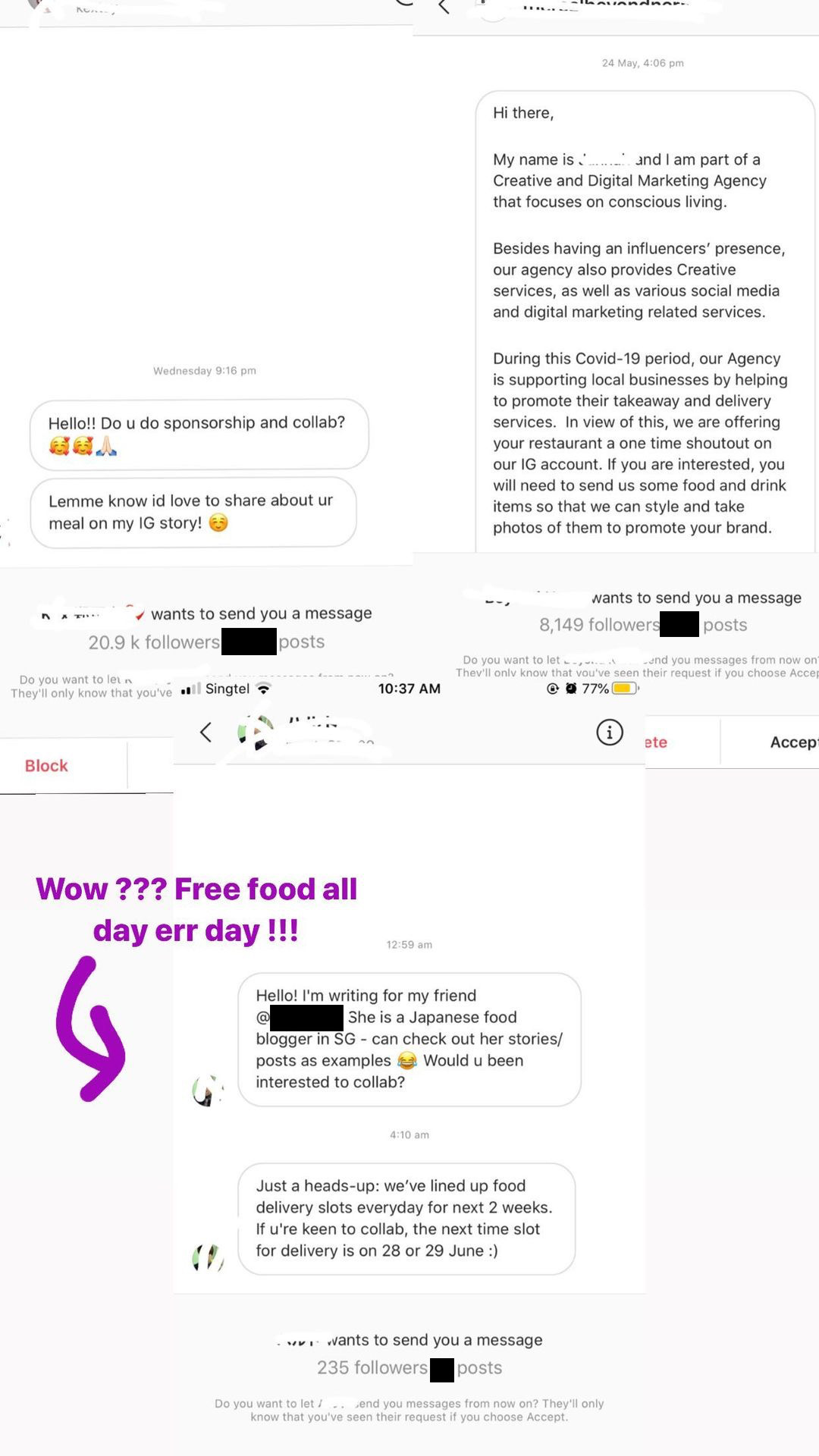 When she doesn't respond, some of the "influencers" even "check in" on their requests, Yeo continues.
After the first Instagram Story was posted, one of the influencers in the screenshot sent a direct message (DM) to Yeo, asking her to take the frame down.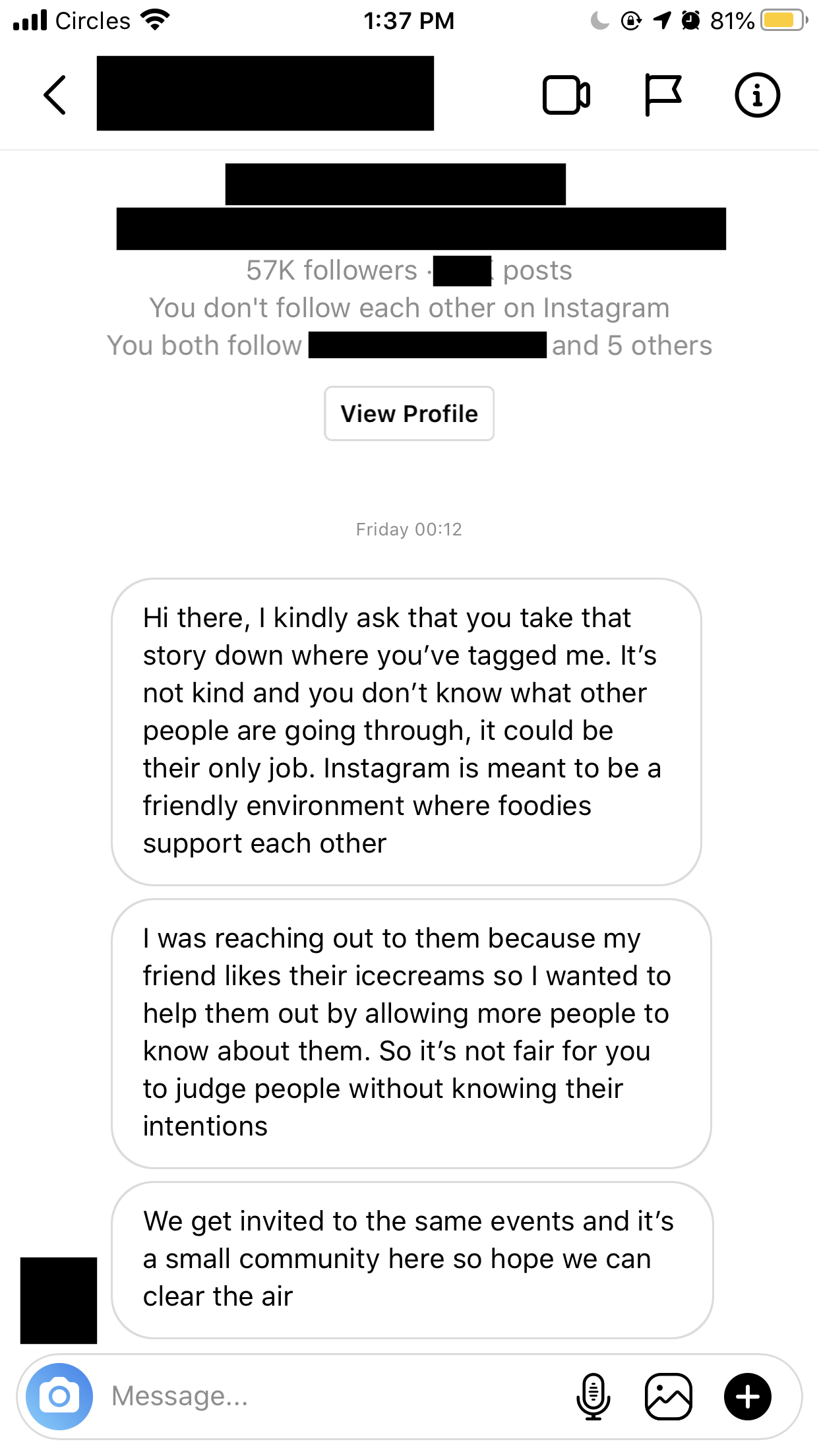 Yeo does not mince her words in our interview: "[...] Whatever her intention was, she's asking for free food lah okay please."
As Yeo doesn't usually engage such "influencers", such requests do not affect her businesses, and in fact provide the occasional dose of amusement or entertainment.
If one can overlook the element of self-entitlement, that is.
But it does have wider repercussions for the industry, as Yeo explains:
"[...] It really brings shame to the food blogging/Instagramming industry in Singapore where people think that anyone with a higher-than-average number of followers are just out for free food and products. For sure, there are such people around, but not everyone in the community is like that."
However, Yeo suspects that a lot of small businesses, especially home-based ones, end up working with personalities who have little to no influence.
This leads to an unnecessary increase in cost that has no ROI (return on investment).
For those who really want to "help" and "support" small businesses, Yeo suggests paying for your own food.
The real deal
Now, this is not a hit piece on food bloggers or influencers. What we're tackling is the issue of people approaching businesses for free things in exchange for "publicity".
In fact, Yeo has not only worked with several names in the industry, but can also be considered a food influencer herself, with followers on her personal/foodie account spilling over the 10,000 mark.
The low-down? Legit influencers don't need to ask for it.
"I have never worked with, and do not intend to work with anyone who approaches my businesses asking for free stuff under the guise of 'collaborations'. Honestly, the really influential folks never ask for free stuff. I have worked with influencers like Miss Tam Chiak (whom Yeo also writes for), QiuQiu, and JianHao Tan who I know are the real deal."
For those who are interested in working with influencers, however, it can be hard to tell who's the "real deal" based on following and engagement rates alone.
The reason for this, according to Yeo's observation, is because followers can be bought, and some "influencers" are not beneath doing so.
Rather, a better benchmark is to gauge the real-life effects of of any content put out by these personalities — if it causes a queue at a stall, for instance.
Another measure is how long they've been around, as well as their reputation for recommendations (e.g. are their content mostly paid? Have their recommendations failed you multiple times?), if we might add.
Not a guarantee for increased sales
Yeo has personally worked with brands like Raffles Courtyard and Wan Hao Chinese Restaurant on media drops, featuring their offerings on her Instagram feed.
She puts forth candidly that while such posts are not a guarantee for conversion to sales, it is still important for each influencer to be transparent with their reach and engagement levels.
What this means to Yeo is showcasing the brand's image and objectives, without lying to her followers about whether something is actually good or not.
In fact, she thinks that influencers should also be "honest, ethical, and responsible" — qualities that are quite intuitive — when collaborating with brands.
"I feel that we have a responsibility to the brands to be truthful in this sense, so that they don't get significantly worse results than they're expecting," she said.
"The marcomms (marketing communications) people have to churn out reports for every campaign to their bosses, and they are going to get into trouble if the results are way off from their projected numbers which are based on the fake numbers offered by 'influencers.'"
Yikes.
Top image courtesy of Kimberley Yeo
If you like what you read, follow us on Facebook, Instagram, Twitter and Telegram to get the latest updates.