Follow us on Telegram for the latest updates: https://t.me/mothershipsg
Many people know the pain of dealing with a bad boss.
But very few have been told to call their boss "Master", or had to deal with being called "dog" and "slave" as part of the job.
A young female dance instructor in Malaysia claimed that she had the misfortune of dealing with this, as well as sexual harassment from her boss — a man supposedly married with kids.
She has since reported the incident to the police, who are investigating.
Asked to be a dance instructor at new studio
In a video posted on Facebook on Jun. 12, 26-year-old Ker Qian said that in April, the father of one of her ex-students told her that he had recently invested money into opening a new dance studio.
He wanted her to be a dance instructor there, as well as the studio's "owner".
When Ker Qian visited the studio in Denai Alam, Selangor, the man introduced her to renovation workers as the future owner of the studio, despite Ker Qian not yet agreeing to it. This shocked her, she said, but she stayed quiet.
The man later explained that he had spent about RM100,000 (S$32,214) on the studio, and needed someone who was passionate about dancing, who loved children, and who wanted to earn an income.
He thought of Ker Qian as his perfect choice.
Ker Qian said she didn't immediately trust the man, and claimed that several friends who had collaborated with him previously ended up with unhappy outcomes.
She went home to think about it and discuss the offer with a friend. She suggested that Ker Qian agree to be an instructor at the studio for six months, but not to take up the studio owner role.
Helped recruit other instructors
Ker Qian then began working for the man in May. However, she noted in the video, she was not paid for this work. She helped him look up how to best track attendance and recruit other dance instructors. His requirements for the instructors were "odd", though, she noted.
Firstly, he allegedly wanted only female instructors. Next, they had to be between the ages of 18 and 25. And finally, Ker Qian claimed that he said that it would be better to find instructors from broken families or girls who urgently needed money.
When Ker Qian asked him why these were his requirements, the man responded that it was because they would have more passion for the job, and would be more serious, since they needed the money.
Told to call him "Master"
In the beginning of June, Ker Qian said, things began to escalate after the man told her that because she was ready, they would take the "training" to the next step.
In her video, Ker Qian showed WhatsApp screenshots, purportedly between the man and herself, in which he told her to keep their Zoom meetings and WhatsApp conversations confidential and private.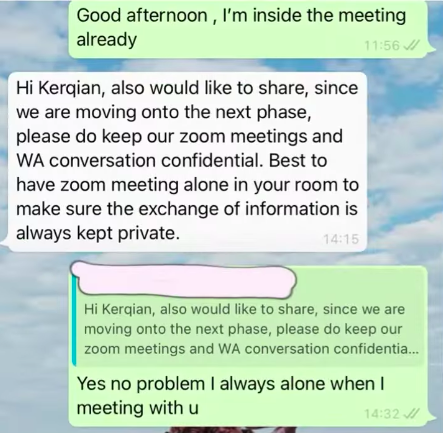 The man also told her that he felt she was being rude to him and not being respectful by calling him by his name. When Ker Qian asked him what he would prefer, he told her to call him "Master". In turn, he would refer to her as "dog slave".
"It will solidify the process," he wrote.
He also added:
"I am here for you. I believe you know by now that No one around you understand you and can help you. Not even your family and close friends.

So you leave all of you to me. Your mind body and soul and I will guide it."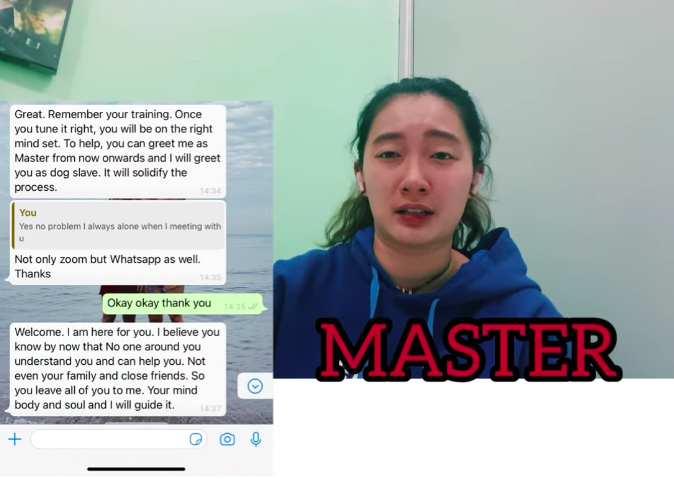 Instructed to report on everyday ongoings
Ker Qian's boss also allegedly told her about the 12 times, 12 weeks methodology, which he claimed was based on overseas research. He said that if she followed the method, she would be successful more quickly and would have a better mindset.
The full phrase that she was told to repeat 12 times per day for 12 weeks was:
"I am Ker Qian. I am [the man]'s dog. I will 100 per cent listen to [the man]."
Ker Qian said that upon hearing this, she began to laugh. But the man told her to not laugh and think it was funny or ridiculous. He told her that if she wanted to be successful, she needed to trust him.
The man said that on Aug. 31, he would see if Ker Qian's mindset had changed or not.
He also instructed Ker Qian to "make it as a habit to greet your master every morning when you wake up", and to inform him about everything she did and everywhere she went — including when she was going to eat, shower, and go to sleep — so that they could work together.
"Understand b*tch?" he wrote.
Ker Qian responded by telling the man that these things were her own private matters.
However, he apparently told her, "As a successful person, you have no privacy. You have no private time."
The derogatory name-calling also continued, with the man telling her to "be a good slave" in one message: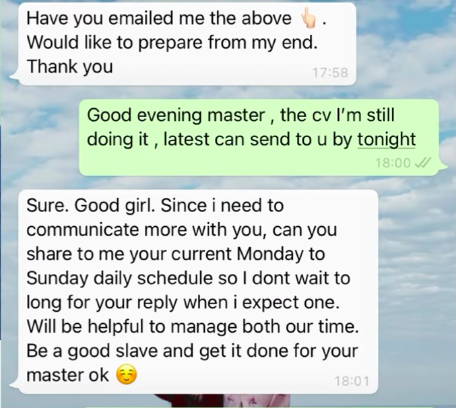 Voiced her discomfort
When Ker Qian voiced her discomfort to the man, saying that the training was too extreme for her and that she was not comfortable, the man said that he would explain more to her when they had their next Zoom meeting.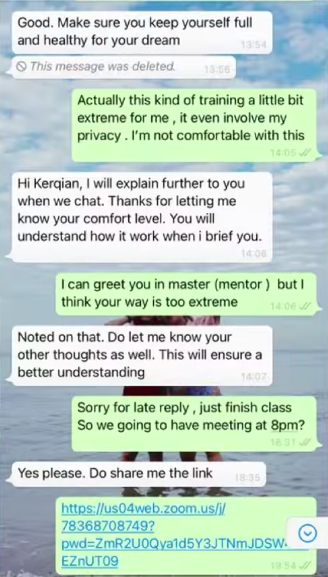 During the call, Ker Qian once again told him that she was uncomfortable. The man then allegedly scolded her, saying that her mindset was very childish.
He told her that as a successful person, she wouldn't have that kind of mindset, and that if she wanted to be successful, she needed to "be 100 per cent empty, 100 per cent obedient to me".
"Why can't you give me your body?"
The man then began to talk about Ker Qian's past relationships, saying that when her ex-boyfriends bought her flowers or brought her to the movies, she would be very happy and "give them your body" and "make out" with them.
"Then why can't you give me your body when I can give you a bright future? Why do you want to be so far from me?"
Ker Qian said that she was silent, and he continued:
"You see lah. I'm a capable person and also very rich. If today I want you to suck my c**k, you will suck til very comfortable, more happy, and more proud, right?"
He allegedly then asked her why she would want to "help those useless man and poor man to suck c**k" when she could feel very proud and happy for doing that for him instead.
Ker Qian said that she felt like something was wrong.
Recorded conversation for evidence
After hanging up, Ker Qian called her friend to tell her about what happened. Her friend told her that this was sexual harassment, in addition to the insulting language, and encouraged her to make a police report.
However, she suggested that Ker Qian gather some evidence first before filing the report.
Thus, Ker Qian recorded her next meeting with the man. She said that she "acted dumb" during the meeting so that the man would say everything.
She published the recording of the purported call, in which the man could be heard reminding Ker Qian how important it was for her to be "grateful":
"And when it comes to grateful, right, grateful is something that you need to repay in any way you can."
He also told her, "It's okay to have admiration towards the person that is teaching you one, it's okay one. There's nothing wrong with that. So don't have to feel shy about it."
The man reminded her that she should feel "proud" to be serving someone "capable" rather than someone useless.
"How many people wants to be like you? Able to serve a capable person? But they don't have that opportunity or the chance.

Now you have the opportunity and the chance. And also able to utilise your mind, body, and soul to do it. Then shouldn't you be grateful and appreciate this opportunity and be 100 per cent owned by me?"
"To put it bluntly," he said, "treat as though I am your boyfriend. You can treat it like that. Where you can share everything."
Made police report
The next day, Ker Qian said that she made a police report.
She claimed that the police officers were also shocked as to why a man who was married and had children would do this to a young woman.
She said that the police said that they will investigate the situation.
At the end of the nearly-13-minute video, Ker Qian shared with a message to others: if you face sexual harassment, don't be afraid to report it to the police or to face the problem.
She said that people should confide in friends and family, and shouldn't have to face it alone.
"After this incident, I became a bit silent, and also very helpless. Because I was thinking, was it actually my fault? But my friend told me it's not my fault."
Ker Qian's claims about her harrowing experience can be viewed here:
Top photos via Facebook / Ker Qian. 
If you like what you read, follow us on Facebook, Instagram, Twitter and Telegram to get the latest updates.