Follow us on Telegram for the latest updates: https://t.me/mothershipsg
The Ministry of Health (MOH) has confirmed nine new cases of Covid-19 in Singapore on Friday, June 11.
This brings the total number of Covid-19 cases reported in Singapore thus far to 62,245.
Three unlinked community cases
There are three cases in the community today, all of whom are unlinked to previous cases.
Case 64135 is a 57-year-old female Singaporean who works as a promoter at Guardian (ION Orchard).
She developed a dry throat on June 7, but did not seek medical attention.
She subsequently developed an ear ache on June 10 and sought treatment at a polyclinic, where she underwent both an antigen rapid test (ART) and a polymerase chain reaction (PCR) test.
Both results came back positive for Covid- 19 infection on June 10.
Her serology test result is negative.
Case 64139 is a 50-year-old female Singaporean who is employed by Campaign Complete Solutions Pte Ltd as a janitor at Raffles City Tower and One Raffles Quay.
She is asymptomatic, and was detected when she was tested for Covid-19 on June 10 as part of surveillance testing for mall cleaners.
Her test result came back positive for Covid-19 infection on the same day.
Case 64139 received her first dose of Covid-19 vaccine on May 1, and the second dose on May 29.
Case 64149 is a 38-year-old male Indonesia national who is employed by Marina Offshore Pte Ltd as a sea crew on board tugboat Marina Ariel.
He developed a fever on June 7 but did not seek medical attention.
He then developed a loss of smell and taste on June 9, and subsequently a headache and chills on June 10.
He reported his symptoms on June 10, and was conveyed to a hospital and tested for Covid-19.
Prior to that, he had not disembarked from the vessel.
His test result came back positive for Covid-19 infection on June 11.
His serology test result is pending.
Six imported cases
Amongst the six imported cases,
Three (Cases 64136, 64150 and 64151) are Singaporeans and two (Cases 64137 and 64152) are Singapore Permanent Residents who returned from India and the US.

One (Case 64134) is a Special Pass holder who is a sea crew. He arrived from Indonesia on a vessel and was tested onboard without disembarking.
They have all already been placed on SHN upon arrival in Singapore and were tested while serving SHN or during isolation.
Four new locations
MOH regularly updates a list of public places visited by confirmed cases for more than 30 minutes during their infectious period.
New locations were added to the list today.
This is the latest list of locations visited by confirmed cases within the last two weeks: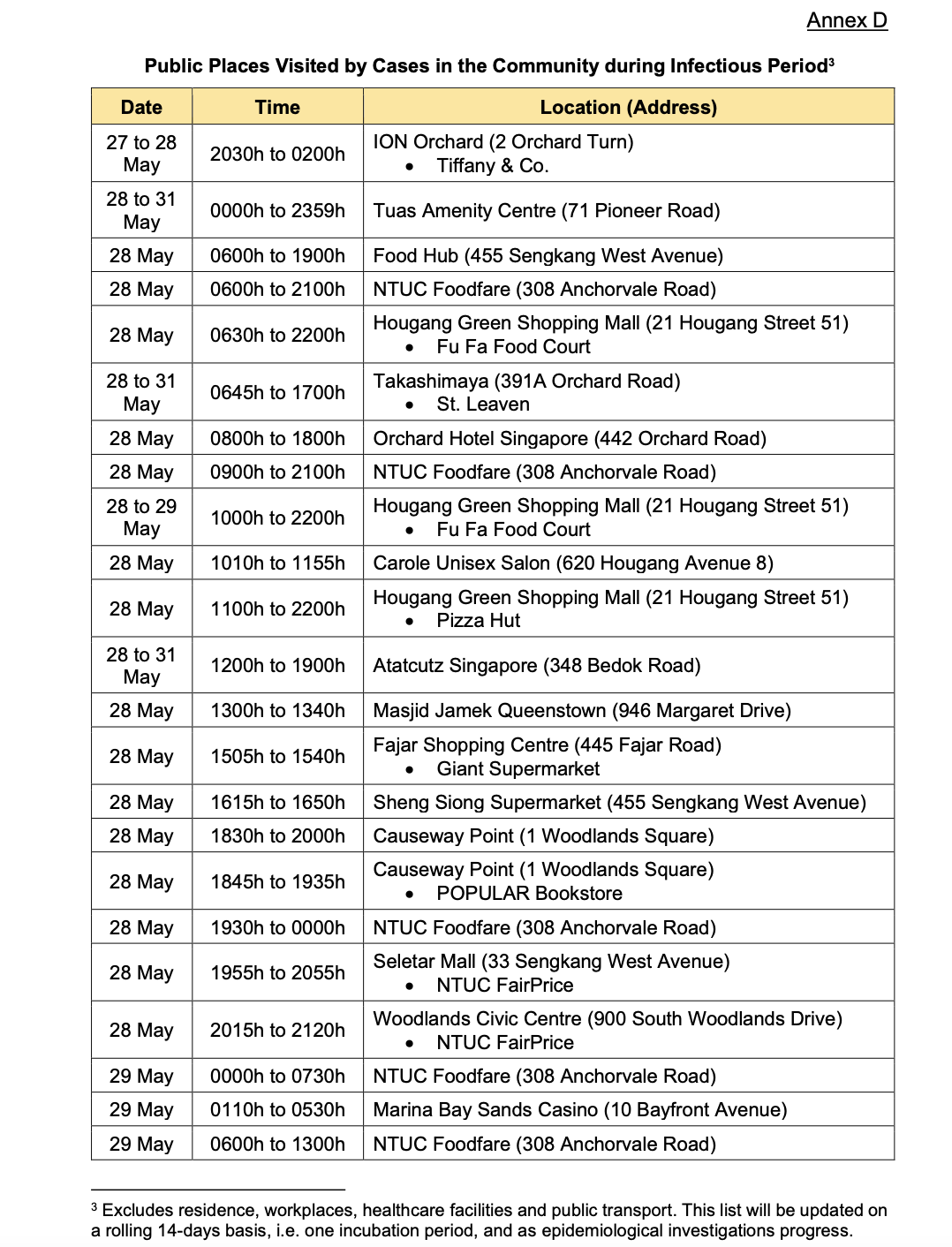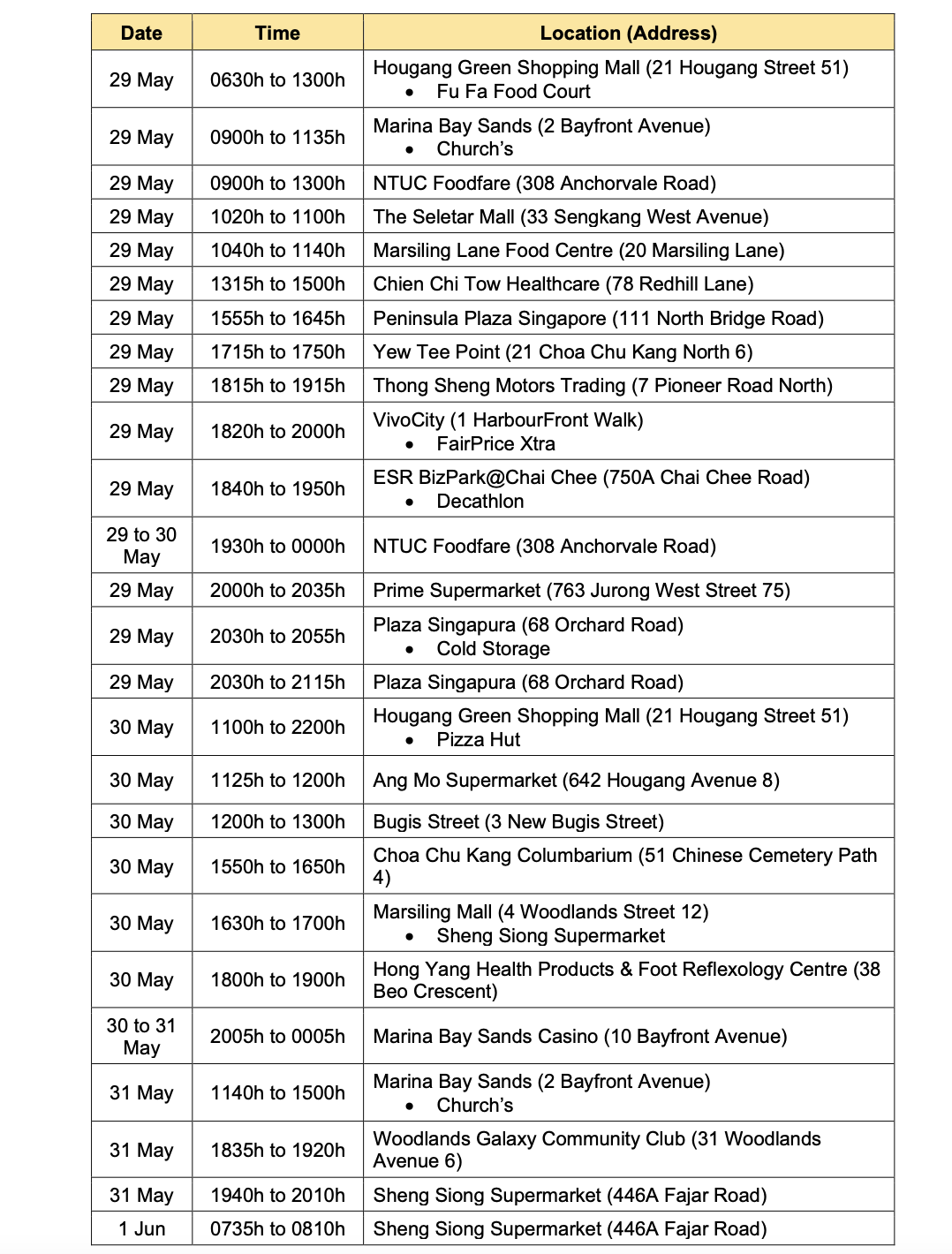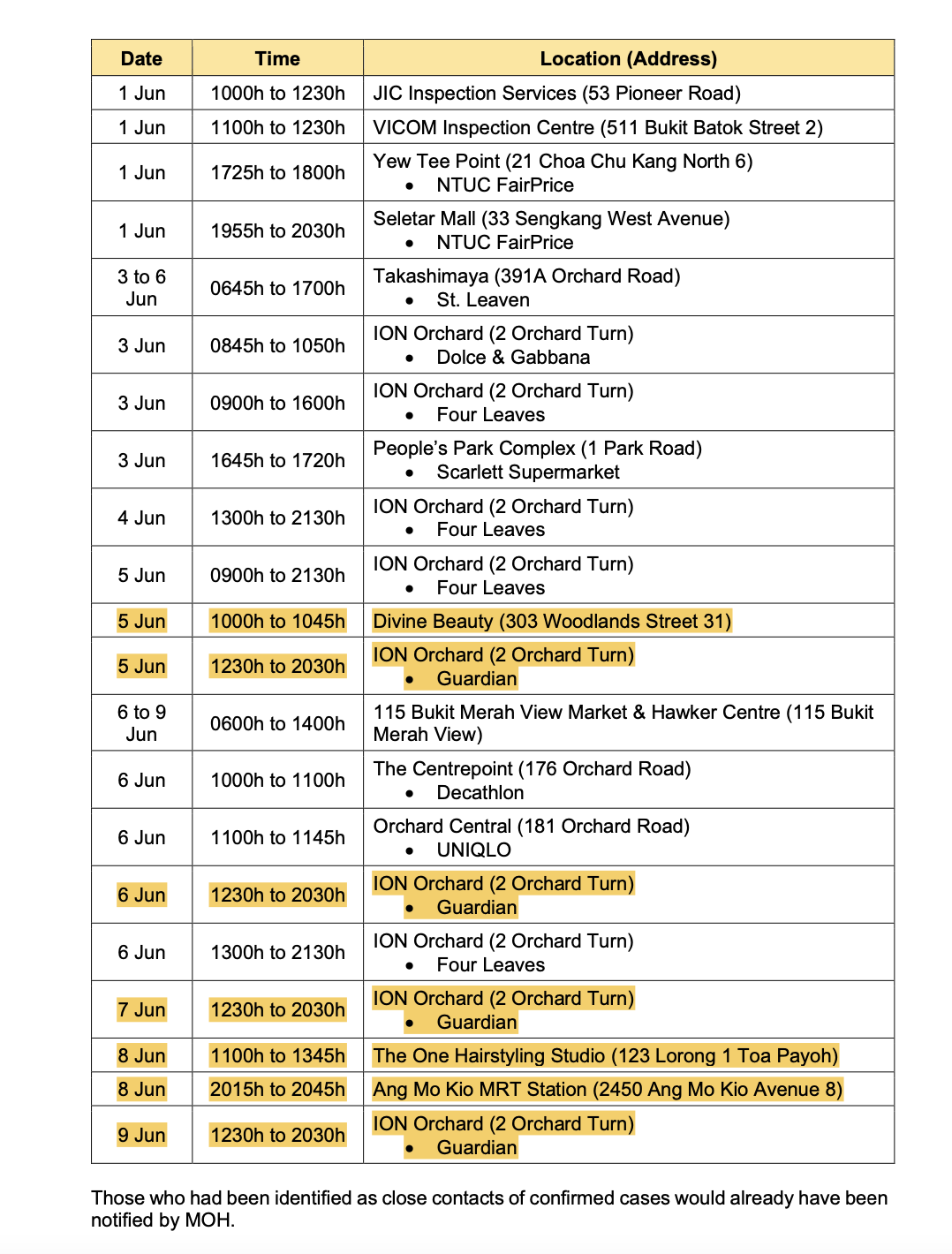 Overview
Here's an overview of the Covid-19 situation in Singapore in May: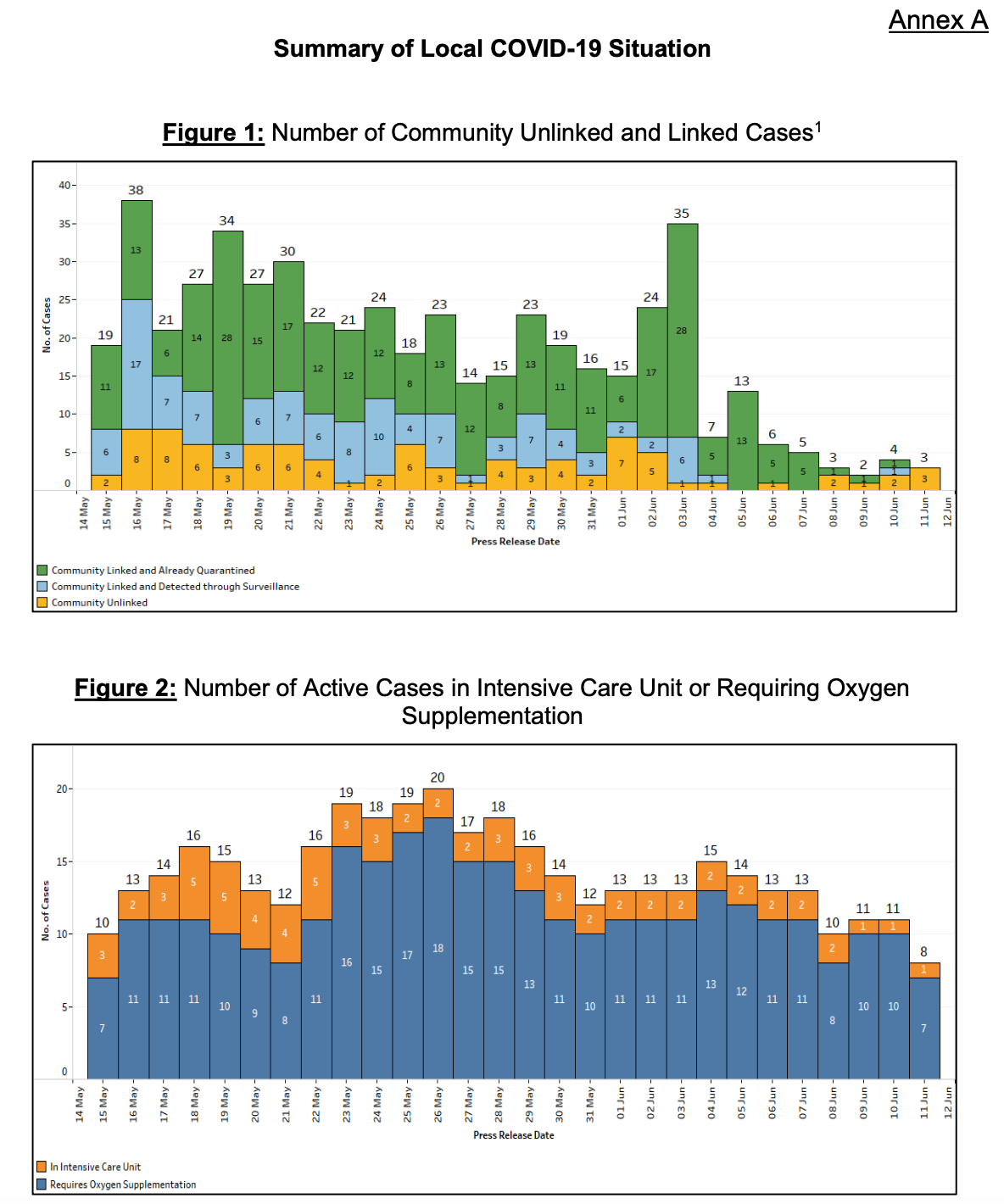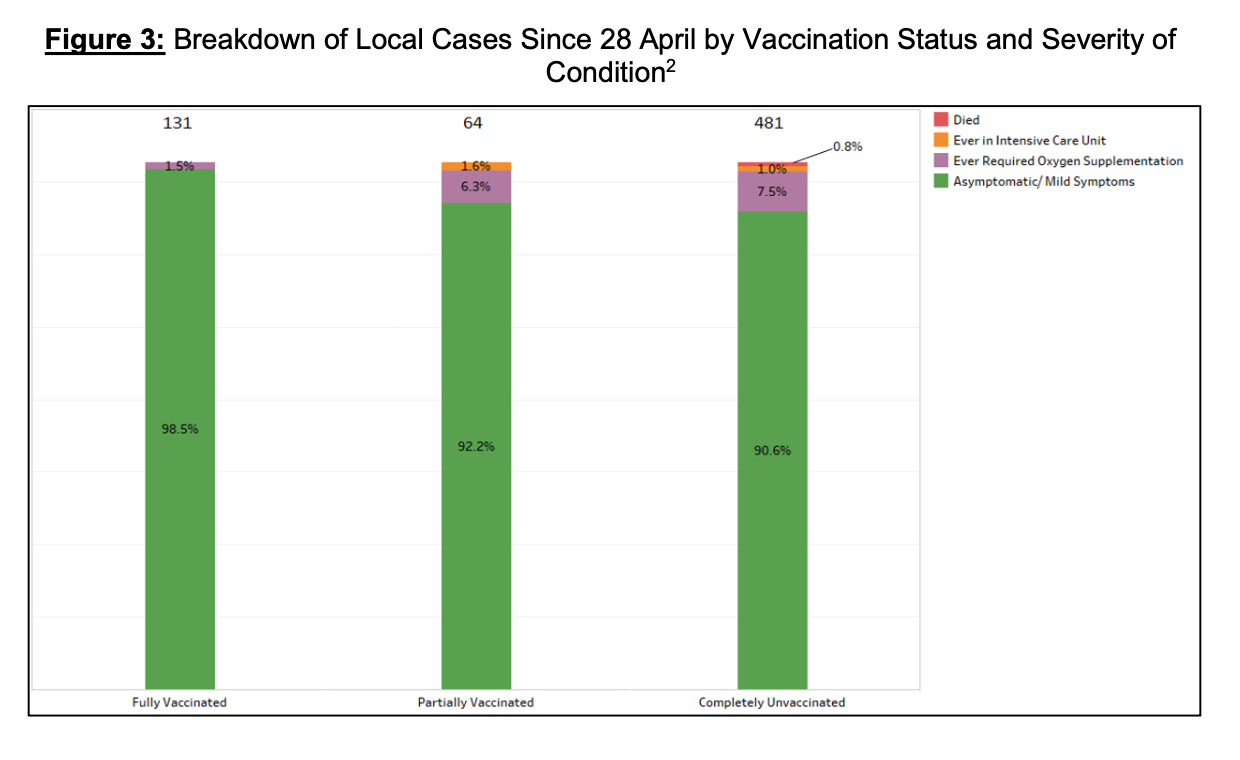 34 cases discharged
34 more cases of Covid-19 infection have been discharged from hospitals or community isolation facilities.
In all, 61,799 have fully recovered from the infection and have been discharged from hospitals or community care facilities.
There are currently 133 confirmed cases who are still in hospital. Of these, most are stable or improving, and one is in critical condition in the intensive care unit.
279 are isolated and cared for at community facilities. These are those who have mild symptoms, or are clinically well but still test positive for Covid-19.
34 have passed away from complications due to Covid-19 infection.
Update on Covid-19 testing at Hougang Ave 8 vicinity
On June 3, MOH announced that voluntary PCR testing will be conducted for selected blocks in the vicinity of Hougang Avenue 8.
MOH updated on June 11 that it has concluded mandatory PCR testing in the vicinity of Hougang Avenue 8 on June 10.
4,384 visitors of 506 Hougang Avenue 8, and residents and visitors of neighbouring blocks (511 Hougang Avenue 10; 681, 683 and 684 Hougang Avenue 8; 682 Hougang Avenue 4; 685 and 698 Hougang Street 61) had voluntarily stepped forward for testing.
All were found to be Covid-19 negative.
Top images from Andrew Koay.
If you like what you read, follow us on Facebook, Instagram, Twitter and Telegram to get the latest updates.