About 40,000 cleaners in Singapore will see sustained wage increases to their base pay over a period of six years, from July 2023 to June 2029.
A joint statement from the Ministry of Manpower, the National Environment Agency, SkillsFuture SG and Workforce SG, released on June 7 also disclosed that cleaners will be subject to enhanced mandatory training requirements.
It added that the government would be pushing ahead with the changes after accepting recommendations from the Tripartite Cluster for Cleaners (TCC), which includes representatives from the government, unions and business interests.
It also said, "The TCC's recommendations for sustained wage increases and enhanced training will ensure significant wage growth and skills upgrading for cleaners, and develop a more competent and productive cleaning workforce."
Wage increase for cleaners
The government accepted the TCC's recommendation for a six-year schedule of sustained wage increases, taking effect on July 1, 2023. This will last until June 30, 2029.
According to a media release from the National Trades Union Congress (NTUC), the first adjustment in 2023 will see the base wages of General Cleaners increase to S$1,570, up from S$1,312 in 2022.
You can see more details of the base wage adjustment below: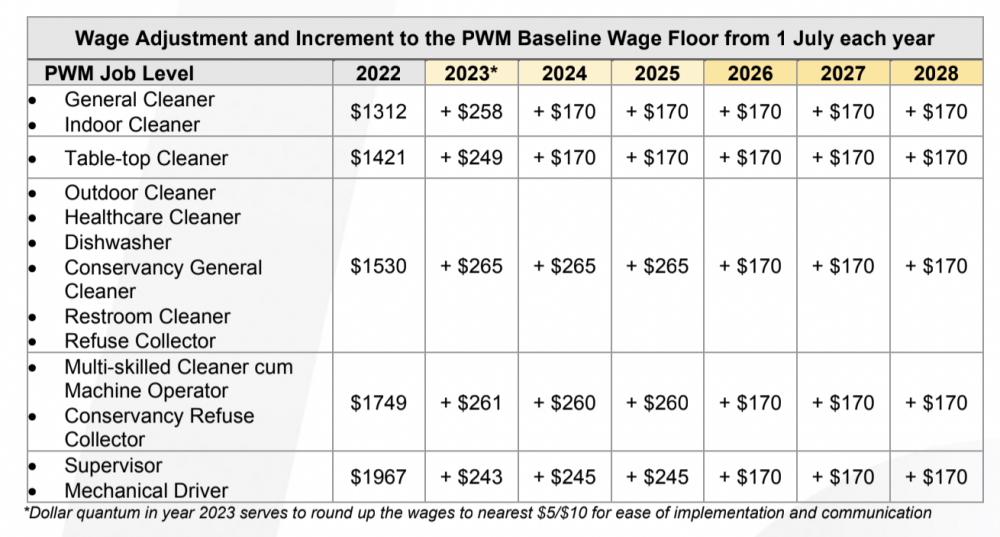 These increases are to the base pay of cleaners, which means that some cleaners could be earning more and won't be affected by this move.
NTUC added that wage adjustments in the first three years reflects a stronger desire to uplift cleaners' wages and narrow their income disparity with other workers.
The joint statement also added:
"Paying resident cleaners progressive wages stipulated under the PWM (Progressive Wage Model) is an existing condition under the National Environment Agency's licensing regime for general cleaning businesses, through the Order imposed by the Commissioner for Labour."
This comes after the raise which was announced in 2018.
Then, the government agreed to increase the wages of cleaners by about 3 per cent every year between 2020 and 2022.
Training for cleaners
In addition to the wage increase, the government also accepts TCC's recommended mandatory training requirement under the Skills Framework for Environmental Services.
This means that cleaners will have to go for training classes that will equip them with the skills to carry out their work safely, and achieve higher productivity and better service delivery.
With effect from December 31, 2022, all licensed cleaning businesses have to ensure that their cleaners attain one Workplace Safety and Health related module, and one core module endorsed by the TCC.
According to the press release, this will help cleaners adjust as the cleaning industry adopts more technology in its day to day operations.
The TCC also recommended that all cleaning businesses should meet the enhanced PWM training requirements by December 31, 2022.
NTUC said, "This will help cleaners ensure their personal safety when carrying out cleaning tasks, especially with the increased cleaning demands and standards brought on by Covid-19."
Top image from Amy Khor's Facebook page.
If you like what you read, follow us on Facebook, Instagram, Twitter and Telegram to get the latest updates.