The Original Botak Jones opened on Monday, June 14, at Yue Hua Eating House at 118 Depot Lane in Bukit Merah.
And business was very good.
Sold out in 4 hours
The Muslim-owned business officially opened at 11am, but there was already a short queue that had formed before that.
This was despite the dine-in option being unavailable during this Phase 3 (Heightened Alert) period, as it will only be allowed from June 21 onwards.
1.5-hour waiting time
Just after 12pm, a line formed and extended beyond the confines of the coffee shop.
The waiting time to place an order and collect the food had increased to 90 minutes.
By 3pm the food was sold out, according to a Facebook post put up by Botak Jones.
Pre-orders the way to go
Pre-orders made up the bulk of the stall's orders on the first day.
These advanced orders poured in since the night before the start of business.
Those who want to place orders in advance from now on can do so via e-mail ([email protected]) or call 93805339.
Self-pick-up of orders during non-peak hours is recommended.
No dinner served until June 18
The current opening hours will also be limited owing to the great demand.
Botak Jones said in the post that it will not be opening in the evenings for now so that they "can prep for tomorrow's lunch", while the first dinner service will only start from Friday, June 18.
What is 1.5-hour wait?
One die-hard Botak Jones fan, who wrote on Facebook about his experience queuing up, was unfazed when told about the wait of one-and-a-hours for the food.
He quipped in response: "I've been waiting since 2013! What's another 1.5h?"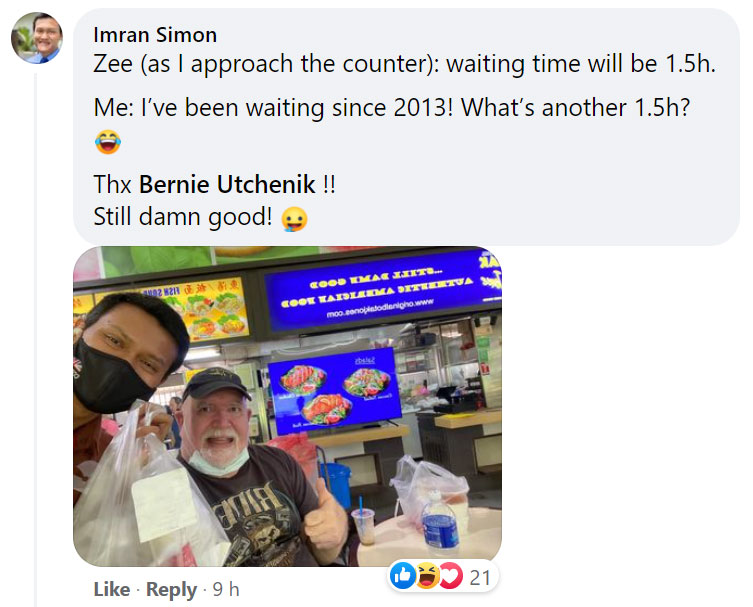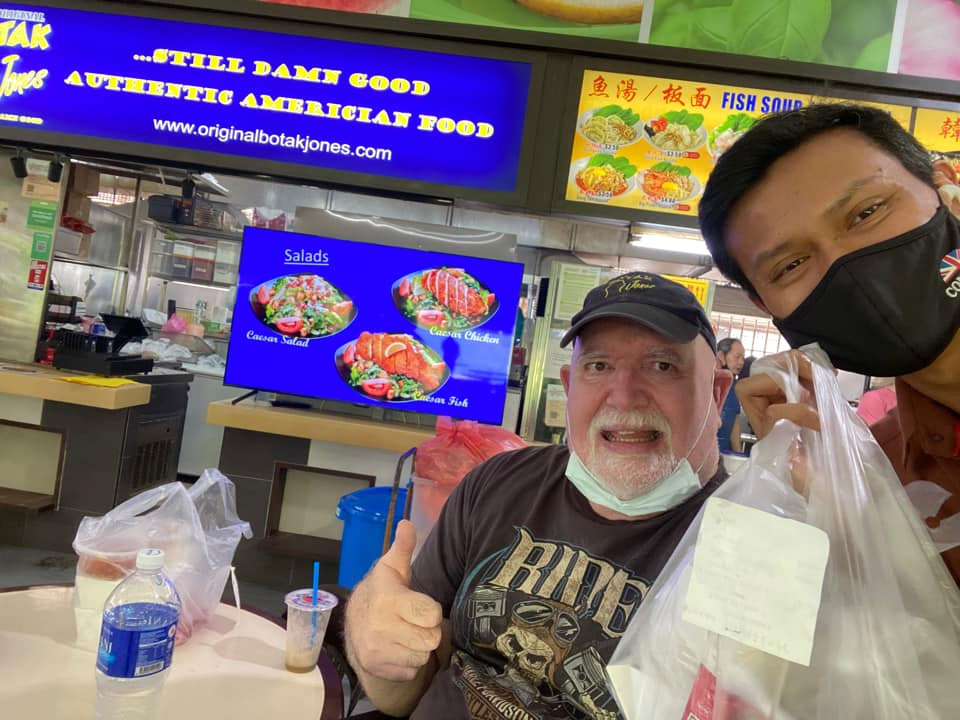 Background
Bernard Utchenik, 69, founder of Botak Jones, made yet another foray into the cutthroat F&B world with this latest venture, The Original Botak Jones.
The western food eatery is making a comeback this pandemic.
Utchenik is an American-turned-Singaporean.
He opened his first Botak Jones stall in Tuas in 2003.
Botak Jones had 13 outlets islandwide at its prime.
Utchenik then decided to sell off his shares in 2013.
Utchenik and his wife, Faudziah Mohd Ali, bought over the Botak Jones Stall along Balestier Road and opened a new restaurant, BJ's American Diner and Grill.
This was later renamed Big Bern's American Grill.
However, unable to turn profit, they closed their Big Bern's stall in June 2011.
In October 2014, Big Bern's reopened at the Mapletree Industrial Estate food court at Toa Payoh North.
It later also closed down but another outlet opened at Timbre+ in April 2016.
This was followed by the opening of an additional outlet at Gluttons Bay in 2020.
But these two outlets at Timbre+ and Gluttons Bay closed down in April and May 2021 due to the pandemic, which brought about financial difficulties.
The Botak Jones business is now revived as The Original Botak Jones.
The current fare is largely similar to the original menu, with previous staples, such as Fish & Chips, U-Crazy-What?! burger, Cajun Chicken, Double-Baked Cheese Potato and Chili Con Carne making their return.
Top photos via Botak Jones & Imran Simon
If you like what you read, follow us on Facebook, Instagram, Twitter and Telegram to get the latest updates.