Follow us on Telegram for the latest updates: https://t.me/mothershipsg
Tray return is now mandatory in all public dining places in Singapore.
An advisory period has kicked in as of June 1, with Safe Distancing Ambassadors (SDAs), SG Clean Ambassadors, Community Volunteers and NEA officers deployed at hawker centres to remind diners to clear their dirty trays, crockery and litter.
No enforcement action will be taken during this period.
Queen's Street Hawker Centre photo
A photo of Queen's Street Hawker Centre's messy tray return area had gone viral recently, prompting the National Environment Agency (NEA) to provide a clarification saying that the photo was actually taken in 2016.
In a Facebook post, the agency uploaded a photo collage, showing the 2016 photo alongside one taken in 2021 for contrast.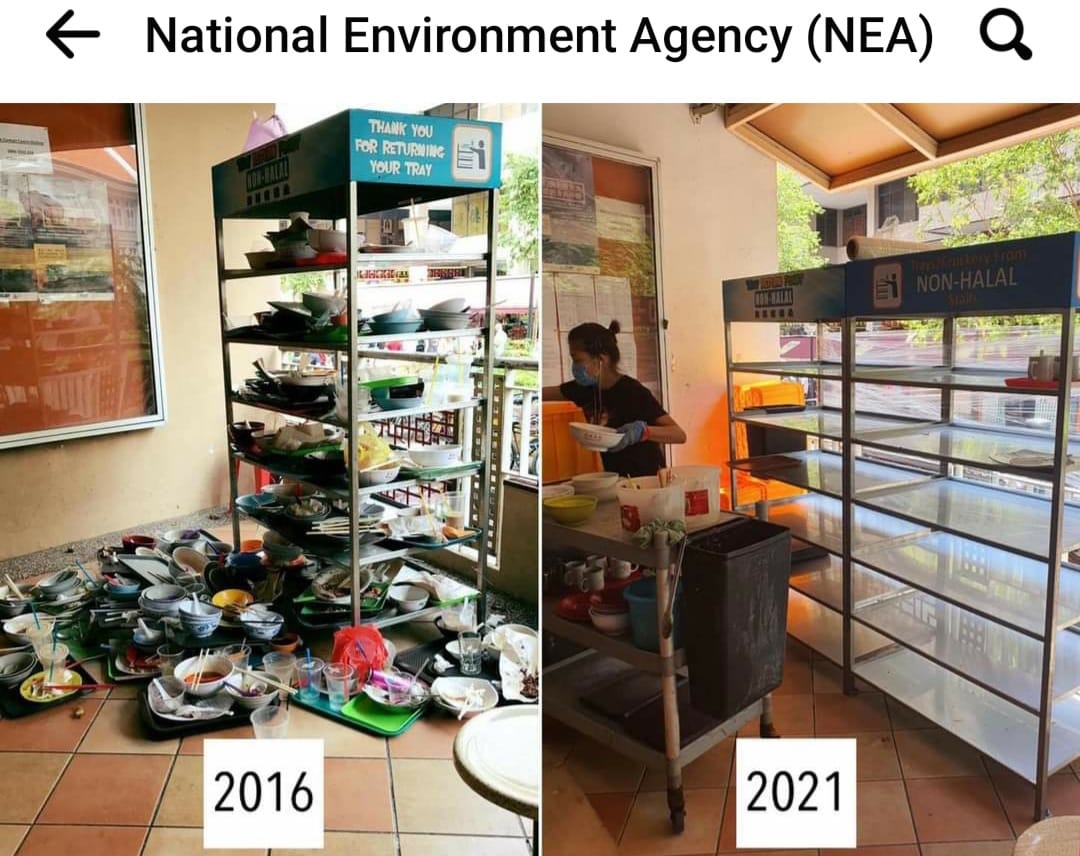 NEA said that a "dramatic transformation" was achieved after better tray infrastructure and a new cleaning workflow were implemented after consulting stakeholders.
Photos from Boon Lay
On Jun. 26, however, another social media post by one Jane Lim garnered some attention.
Her post shows photos of yet another messy tray return area — this time at a hawker centre in Boon Lay.
The four photos were apparently taken sometime in March this year, with a person seen wearing a mask in one of the photos.
As the tray rack was full, crockery and trays had to be placed at whatever space was left in the surrounding areas, including ledges and neighbouring seats.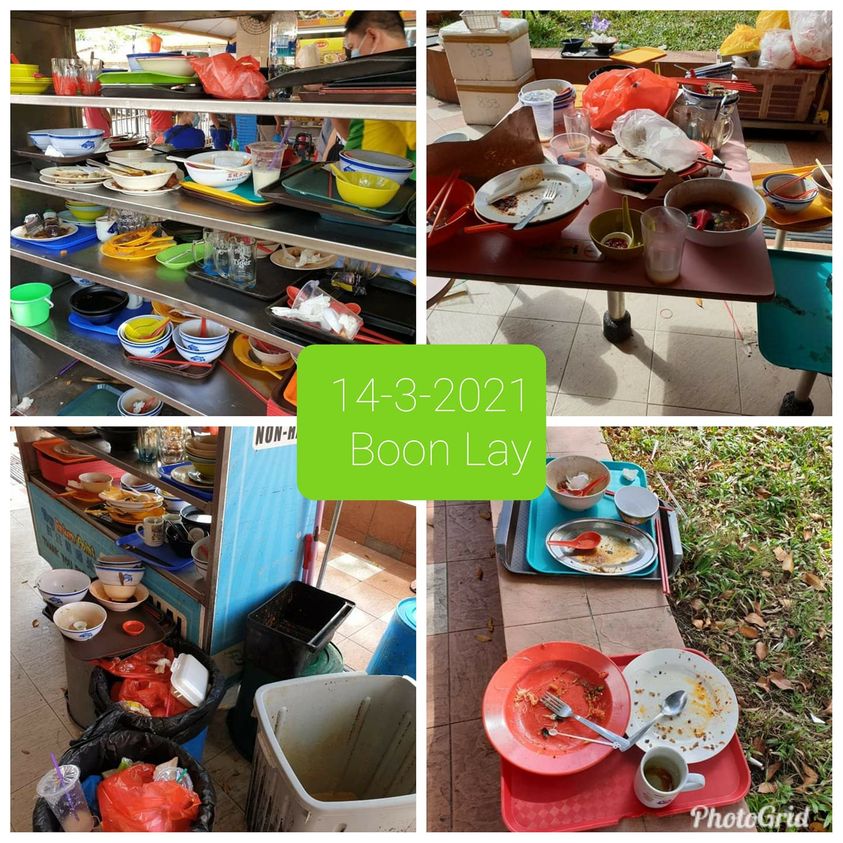 According to NEA, the tray return initiative was in response to calls for higher table cleanliness standards at public dining areas.
Referring to hawker centres in general, Lim questioned whether they were sufficiently equipped to handle cleaning processes, and asked if NEA officers regularly visit hawker centres to check on hygiene standards.
The issue of whether hawker centres have the infrastucture to handle tray returns is an important one, given that the success of this initiative is also contingent on dining areas having sufficient tray return racks and efficient cleaning processes.
Setting up more tray return stations
As of Jun. 22, the National Environment Agency (NEA) had reminded more than 4,500 diners to return their trays, The Straits Times reported.
Restrictions on dining out had previously been imposed earlier this year as part of Phase 2 (Heightened Alert) from May 16, and were lifted on Jun. 21.
Senior Minister of State for Sustainability and the Environment Amy Khor said on Jun. 22 that NEA will be working with stakeholders, such as the Hawkers' Associations and cleaning companies, to improve the table cleaning workflow for cleaners.
Cleaners will focus on sanitising tables and managing tray return stations instead of clearing dirty trays and food remnants, she explained.
The NEA will also be setting up 75 more tray return stations at hawker centres, in addition to the 900 available now.
Top photo via Jane Lim/FB.
If you like what you read, follow us on Facebook, Instagram, Twitter and Telegram to get the latest updates.