The open-air hawker centre located on the fourth floor of Beauty World Centre is home to both long-time hawkers and newcomers to the food and beverage (F&B) industry.
Among this group of relatively new hawkers include Janson Chew, the owner and chef of Big Boys Sizzling Western Hotplate.
The hawker stall specialises in generously-portioned Western food, including mentaiko salmon pasta and original creations like crispy cornflake chicken.
https://instagram.com/p/Br-EEJ5lC-o/
https://instagram.com/p/CMaz6LNnwkb/
In the kitchen since he was 13
Although Chew is only 32, he brings an expanse of experience with him, having been in the F&B industry since 13.
Since entering secondary school, he has worked part-time at various restaurants.
He started at the bottom, washing load after a load of dirty dishes.
Slowly, he was given more tasks like chopping vegetables and serving tables.
But he was not working out of passion, but necessity.
As he comes from a "humble background", the F&B industry is one of the few avenues for Chew to earn his own pocket money back then.
When asked how he juggled between school and work, he sheepishly laughed and said: "I... I didn't really pay attention in school."
"When I was in ITE, I spent a whole semester and skipped school. I went back [to school] on the last week of school and my lecturer actually asked me who am I because he's never seen me."
But that doesn't mean that he was always going to be a truant student.
Enrolled in culinary school
After working in a kitchen since he was practically a child, he knew that he wanted to open his own restaurant one day.
So upon completing his National Service, Chew enrolled into At-Sunrice GlobalChef Academy.
"That's where we go in-depth into cooking. I didn't read books last time. But from then until now, I read books all about cooking. That's how my knowledge grew and how I fell in love with cooking."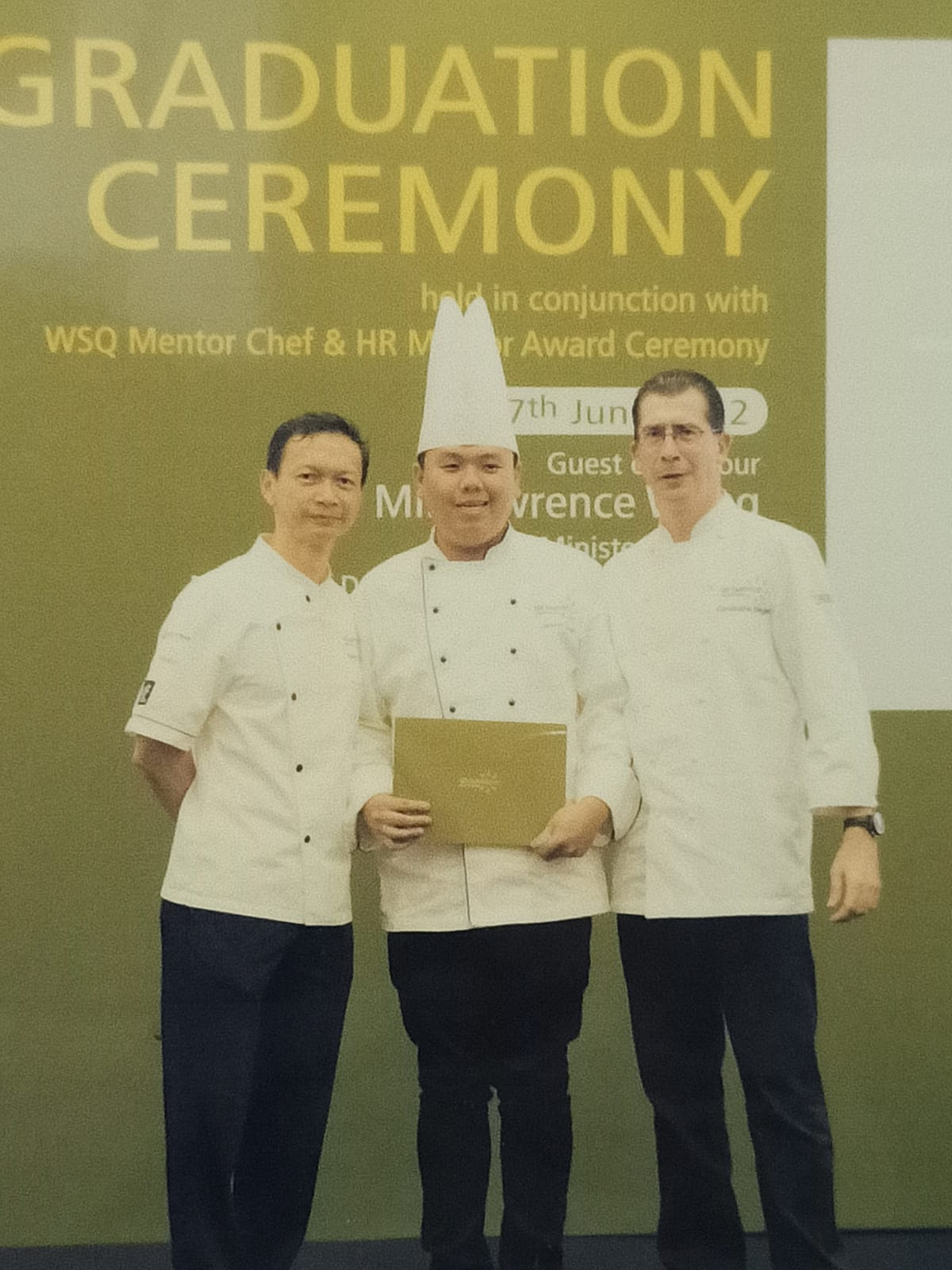 After gaining some experience as a chef at Swiss Club Singapore and The Ritz-Carlton, he opened his own Western food stall at a coffee shop in Hougang six years ago, in 2015.
Unfortunately, that venture didn't last and he had to close it down after a while, citing poor location and the lack of a creative menu as reasons for the stall's failure.
Became a hawker at 29
In December 2018, Chew tried again and opened Big Boys Sizzling Western Hotplate with his wife.
In the first three months, business was so bad that they only earned less than S$100 per day on good days.
On top of that, he had to factor in the S$3,000 he had to pay monthly to the bank for a six-figure credit card debt that he incurred since early 2018.
While he declined to share much on this, he said that he got into debt because he signed up for a credit card to pay off his house and furniture.
Just as Chew was about to reach his wits' end, a steady stream of customers came his way after his stall was featured on various media channels.
"It was so crazy, that we sold out almost every day," he said.
Paid off six-figure debt
Thanks to the power of social media, he managed to pay off a six-figure credit card debt that he incurred in early 2018, by December 2019.
Of course, that didn't happen without hard work and the unwavering support of his wife.
"We wanted to clear the debt fast, so my wife and I worked 14 to 16 hours every day. Also, my wife told me because I have the support from social media, I have the responsibility to not let them down."
They've been working so hard, Chew's wife often suffers from backaches due to the long hours in the kitchen.
He quipped: "I want to find more people so I can cook properly. Sometimes she nags me and I cannot focus on my food."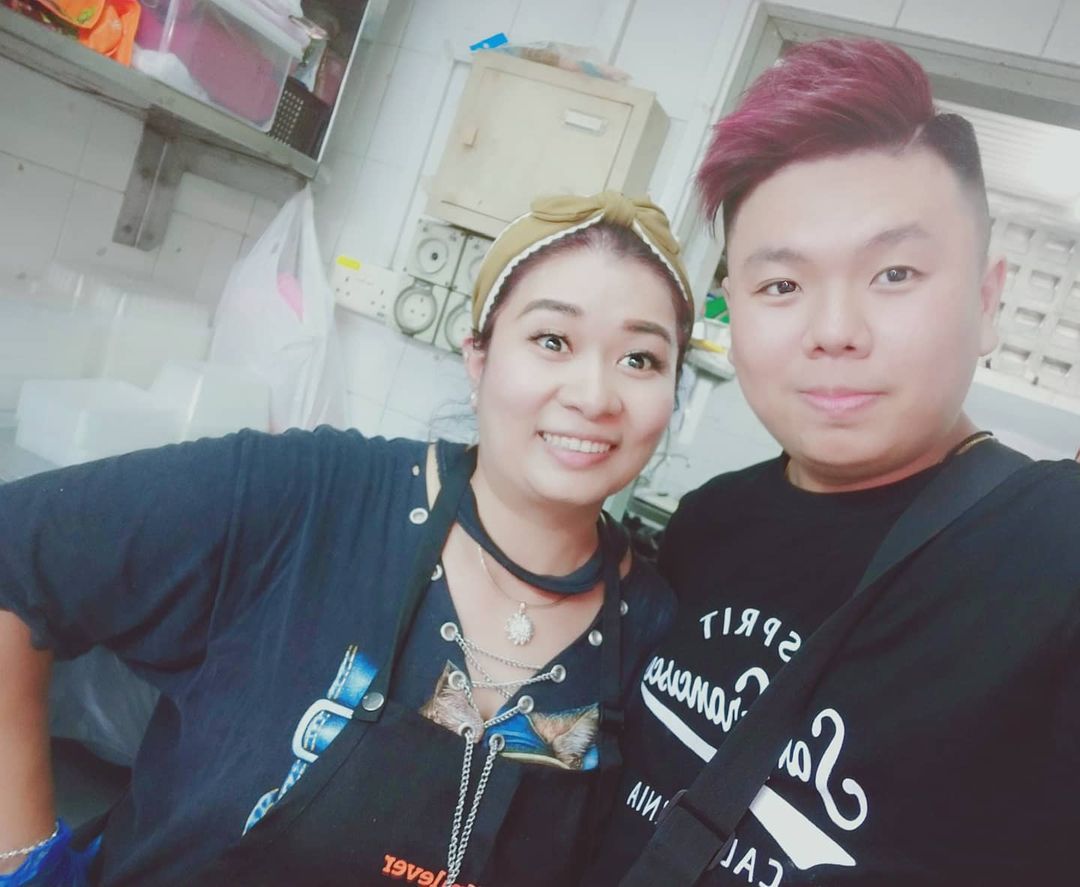 Earned S$80 a week during CB
But just as they overcame one big hurdle, they were hit with another one just months later: The Covid-19 pandemic.
When the government announced the circuit breaker (CB) back in April 2020, Chew didn't think he would be affected that badly.
But it did.
"On the first day of CB, there were more Beauty World staff than customers. On the first week, I only sold S$80 [worth of food]. Much more jialat than when I first opened. Then I asked my wife: 'How eh?'"
Chew said that he began sharing his offerings on Hawkers United - Dabao 2020 and offered islandwide delivery via various food delivery providers.
Sharing social media posts in the Facebook group, which has over 300,000 members, brought about word-of-mouth business and helped to tide them over the difficult time.
But when Phase 2 (Heightened Alert) kicked in this year, Chew faced a different set of challenges.
Because of the restrictions on dining in, the stall saw a 50 per cent drop in customers.
This time, though, they were better prepared.
To cater to those who prefer food to be delivered, Big Boys Sizzling Western Hotplate has been offering 20 per cent discounts on delivery platforms.
He said: "We don't really earn much because of the vendor commission, but this time around, we handled things better."
Can't wait to wash hotplates
On June 18, it was announced that dine-ins will be allowed from June 21 onwards.
Chew jokingly said that he is eager to start washing more hotplates once dine-ins are allowed again.
"A lot of my customers complained and said at home no hotplate and when they dabao, it's a different feeling. So I'm looking forward to [serving] more hotplates again."
But seriously, he's really looking forward to serve his customers a hearty hotplate meal again.
"I cannot give up on this location and my customers. They've helped me so much, so we will just keep on hustling and see what we can do."
Big Boys Sizzling Western Hotplate
Address: 144 Upper Bukit Timah Road, #04-25, Beauty World Centre, Singapore 588177
Opening Hours: 11:30am to 8:30pm on Tuesdays to Sundays. Closed on Mondays.
Top image from Janson Chew and @herdarksecret on Instagram.
If you like what you read, follow us on Facebook, Instagram, Twitter and Telegram to get the latest updates.