Follow us on Telegram for the latest updates: https://t.me/mothershipsg
Another cat abuse incident has been brought to the forefront of the community.
On May 31, one Lee Siew Yian alerted members of Facebook group Sayang Our Singapore's Community Cats to a youth attempting to cane a cat in Sengkang.
Lee said the contents of her post were from a Facebook user named Qayyum Rizqullah.
Captured in Instagram Story
The main evidence comes in the form of an Instagram Story showing a young male hitting the ground next to the cat with a cane and saying, "He not scared leh."
The crack of the pseudo whip was clearly audible in the footage.
As there was no reaction from the cat, the youth decided to take things further by attempting to hit it.
The cane appeared to make contact with the feline, who sprinted away.
The youth then chased after it with enthusiasm.
The Story was uploaded by user @sehffy.duckk, but the account has since been deactivated.
A screenshot of a confrontation between another user and @sehffy.duckk was also uploaded.
@sehffy.duckk denied knowing the youth in question, even adding that they did not know the youth was intending to hit the cat before it happened.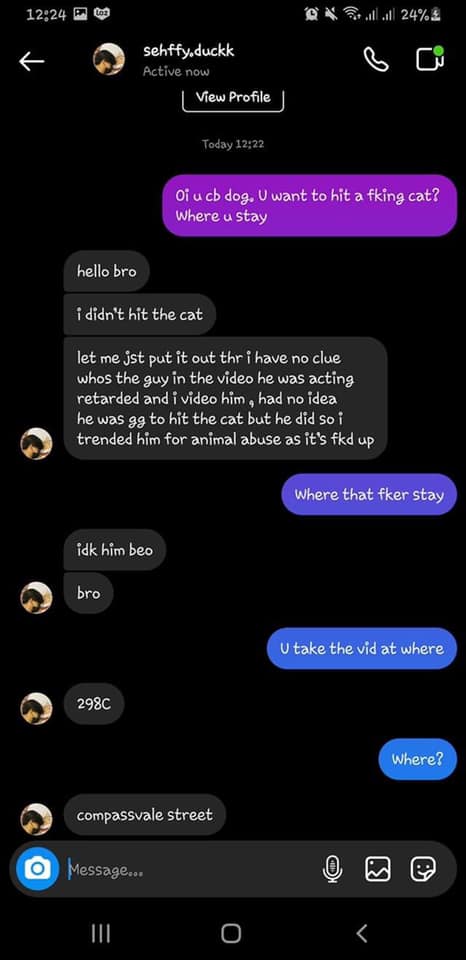 However, one commenter supplied that it is possible the video-taker is acquainted with the alleged abuser, going by their verbal exchange.

Another canvassed for reports to be made to the Society for the Prevention of Cruelty to Animals (SPCA)
Those found guilty of animal cruelty in Singapore are liable to a fine of up to S$15,000, or imprisonment for up to 18 months, or both.
Top image via @sehffy.duckk on Instagram
If you like what you read, follow us on Facebook, Instagram, Twitter and Telegram to get the latest updates.