Taiwanese celebrity Barbie Hsu, popularly known as "Big S", dropped the bombshell on Saturday, June 5, that she's divorcing her husband of 10 years.
She also told the media that she has already started divorce procedures, Newtalk reported.
Hsu's mother and manager said the couple merely had a fight
Hsu's mother, however, told Apple Daily that Hsu had only mentioned divorce in a fit of anger, and that she had advised her daughter to give more thought to the divorce.
"If they split, what will happen to the kids?" she said.
She added that her son-in-law, Wang Xiaofei, had not seen the divorce coming, and that he had already apologised to Hsu.
Her manager also claimed that the couple is not actually going through with the divorce.
"They simply had a tiff, which couple doesn't? There's nothing much to this," her manager said.
Taiwanese producer Angie Chai, who is reportedly on good terms with Hsu, had claimed otherwise.
In a reply to her text asking if Hsu was really going through with the divorce, Hsu had supposedly replied in the affirmative, and said she's doing well regardless, according to Sina News.
Wang said he's simply too worried for his family in Taiwan
A day after news of the divorce broke, Wang wrote on popular microblogging site Weibo that he "loves all his family" and that his wife is in "first place".
However, the post has since been taken down, according to Hexun News.
Previously on June 5, Wang had said in another post that he was simply too worried about his family in Taiwan, which resulted in him making some rather "unpleasant" comments.

"It's not easy to keep your emotions in check during the pandemic, I wish my family good health and safety," he said.
While he did not say which comments he was referring to specifically, Wang had criticised the Taiwanese government's response to the pandemic in two prior posts before his latest one.
The two posts, made on June 5, were also written shortly before Hsu announced her divorce on the same day.
According to Formosa TV News, Hsu has unfollowed Wang on Weibo.
Difference in political views speculated to have contributed to divorce talk
Speculations about the reasons for the couple's divorce talk were abound, with Taiwanese media raising the possibility that the two do not see eye to eye on sensitive cross-strait politics.
Media reports have also claimed that a close friend of the couple had previously revealed that this was not a rash decision as Hsu was already thinking about divorcing Wang since last year.
The reasons were allegedly due to a difference in personal values, as well as the pair's living arrangement -- the couple lives apart for extended periods of time as Hsu lives in Taipei while Wang, a Chinese national, regularly travels to mainland China for work.
The couple, who famously married each other in 2010 after dating for just 20 days, has also been living apart for most of the pandemic.
In one of the posts he made on June 5, Wang commented on news of two passengers who, despite testing positive for Covid-19, managed to board a flight heading to the Chinese city of Xiamen.
"We (China) hold a heart of sincerity, but they (Taiwan) have continuously made use of us and maligned us. After witnessing this for so many years, I simply could not bear it any longer. Going by what we Beijing people say, this will go into history books in infamy."
In a second post, Wang compared China to Taiwan, and said that while the former has recovered from the pandemic and is prospering, the latter is still struggling with vaccines.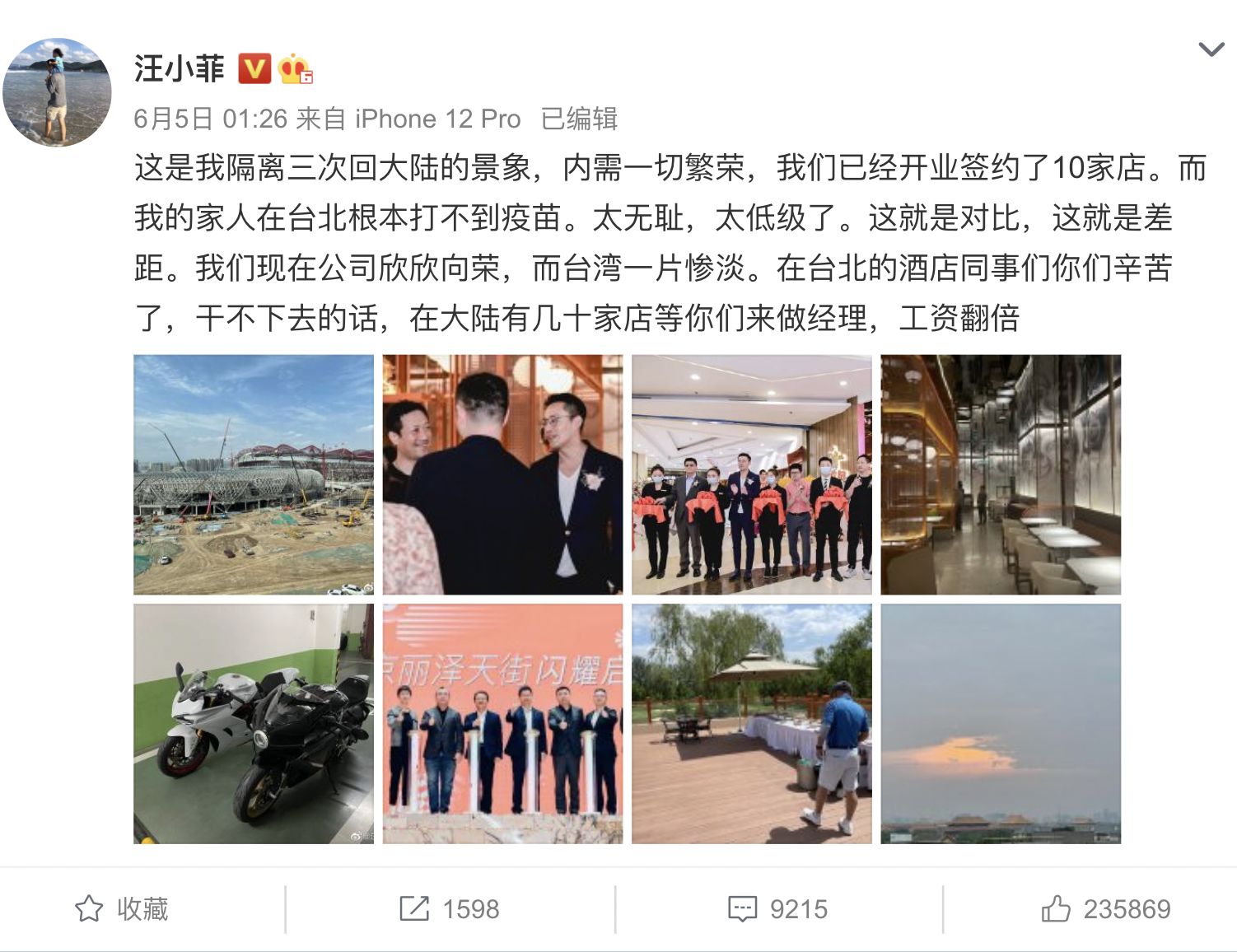 "This is the scene that greeted me for the third time since I returned to the mainland and completed my quarantine. Everywhere's prosperous and thriving. We're already back in business and have just inked deals for 10 new stores.

But my family in Taiwan can't even get their vaccine shots. This is too despicable and crass. This is the contrast, this is the gap. Our company is doing better day by day, but Taiwan is in an absolute state of disarray.

My colleagues in the hotel business in Taipei, if you simply can't hang in there any longer, we have dozens of stores here for you to come manage. Your salary will be doubled."
Chinese netizens, commenting on Wang's most recent post, took his side, and appeared to criticise Hsu and the Taiwanese media for its unfavourable reporting on the couple's relationship.

"I understand, so Big S doesn't want to bring the kids to Beijing."

"(Sighs) Just like this, a bout of hot-blooded nationalism is being suppressed."

"The kids can't stay in such an immoral society as Taiwan!"
Top image via Wang Xiaofei/Weibo & Barbie Hsu/Instagram
If you like what you read, follow us on Facebook, Instagram, Twitter and Telegram to get the latest updates.