The People's Association (PA) came out with a public response on June 14 to a Singaporean named Sarah Bagharib, whose wedding photo was used as part of a Hari Raya decoration at Tiong Bahru Orchid estate, without her permission.
PA now strongly rejects Sarah's accusations of racism, and said it withdrew its offer of a meeting with Sarah Bagharib as it believes that from her actions, her purpose of meeting with PA has "gone far beyond" the original incident.
PA has previously apologised to Sarah and her husband, and had initially offered to also do so in person.
You can see it here.
Amrin Amin warns about opportunists
PA's response was shared by former People's Action Party (PAP) Member of Parliament (MP) Amrin Amin on his Facebook page.
Amrin, a former Senior Parliamentary Secretary, appeared to support PA's message, saying there was a "lesson" in what happened.
"It's wrong to use someone's photo without permission. And of course, wedding does not equal Hari Raya - but that's not 'racist'. As we call out racism, we must be careful not to label every error as borne out of racism or 'racist culture'."
Amrin also said that it is important to call out shortcomings but not be too quick to "cancel".
He also warned against "opportunists" eager to "score points" without regarding "sincere ongoing ground efforts", but did not specifically name anyone.
He concluded by saying that "grace is important in building harmony in a diverse society".
Interaction with Facebook user
A Facebook user by the name of Adam Hussain commented on Amrin's post, saying that "just because you don't see it as racist don't mean the rest of us minorities have to agree with you. Stop being out of touch."
To which Amrin replied, "don't take offence too easily, snowflake."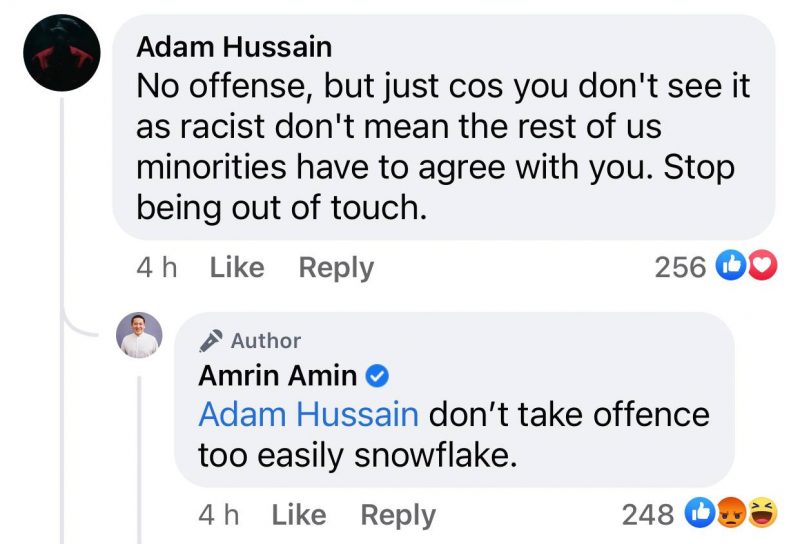 There were a few follow-up comments about Amrin's reply, with some criticising it while others supported him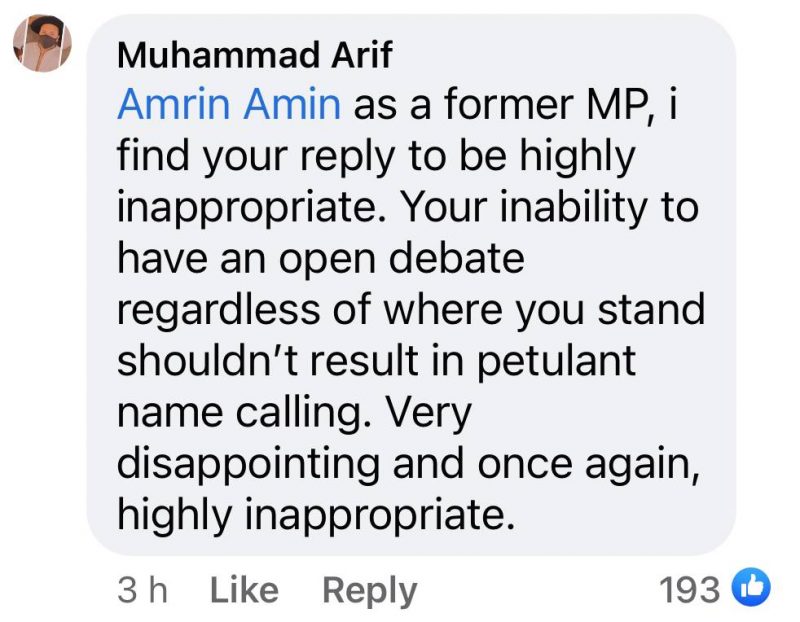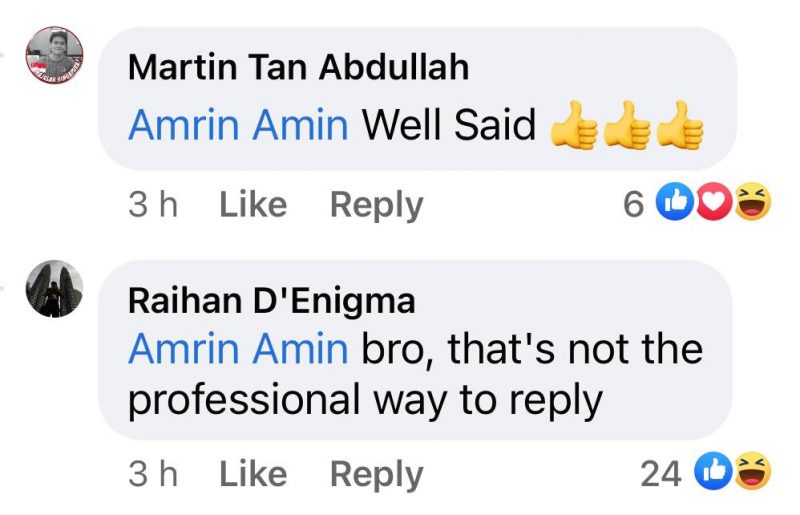 Mothership has reached out to Amrin for comment.
Top image from Amrin Amin's Facebook page.
If you like what you read, follow us on Facebook, Instagram, Twitter and Telegram to get the latest updates.