For someone in her early 20s, it seemed like Chanel Li's life was going according to plan.
The 23-year-old loved her job as a flight attendant with Scoot and was poised to start a new job with her dream airline.
Volunteered to bring Singaporeans home
One of the last things she did as a Scoot air stewardess was to volunteer herself to be part of a team bringing home Singaporeans who were stranded in Wuhan in Hubei, China in Jan. 2020.
She went on two of such round trips before flights to Wuhan were put to a halt due to the increasingly worrying Covid-19 situation.
While it was a short experience, she said,
"I remember feeling very worried about the situation. At the same time, I felt very honoured and proud that I got to be on those flights to help out other Singaporeans to bring them back home."
Career halted
Unfortunately, the Covid-19 pandemic threw a curveball at Li's livelihood and career progression.
As the borders started closing, Li found herself in a difficult predicament — she had tendered her resignation with Scoot to join another airline right before Covid-19 hit our shores.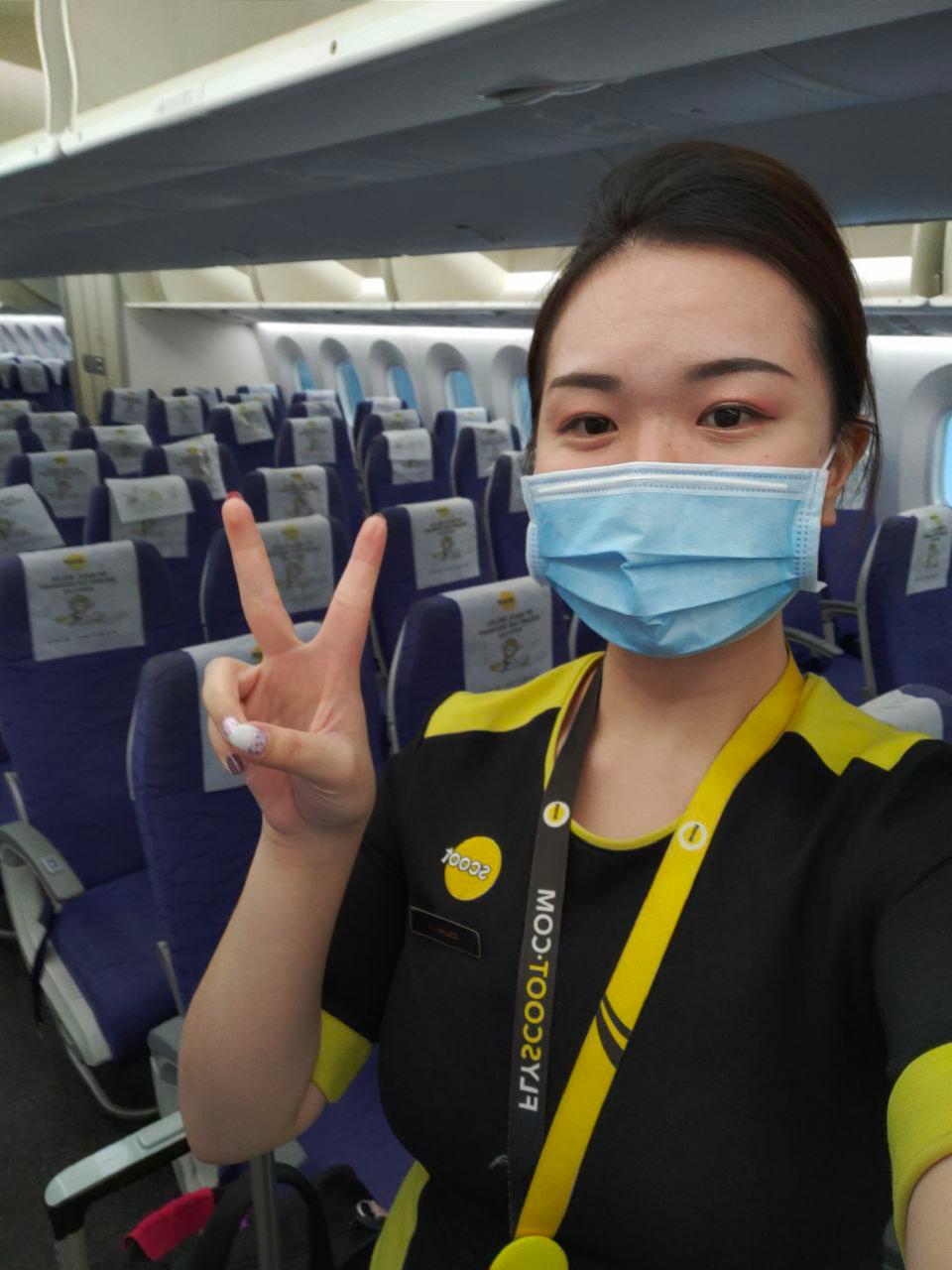 While she managed to retain her new position as a trainee, she has been put on an indefinite hold from work given the current situation.
"In the past year, I didn't get any pay at all. Since I'm a trainee, unless I complete my training, I cannot do any flights at all. So that's a bummer as well."
To say that she was devastated would be an understatement, so she gave herself some time to grief before picking herself back up again.
Just like a lot of Singaporeans who had a lot of free time on hand during the circuit breaker period in April 2020, she devoted her time to baking.
The problem is, however, she baked too much.
"I love baking so much but the problem is that I always bake too much. Even after feeding my family and friends, I still have extras," she said.
Business dependent on trend
It was only after she received positive feedback and getting egged on by her friends to sell her bakes that she considered starting her own home-based business (HBB).
In May 2020, she started Whisking Bakes and mainly sold burnt cheesecakes, which were exceedingly trendy then.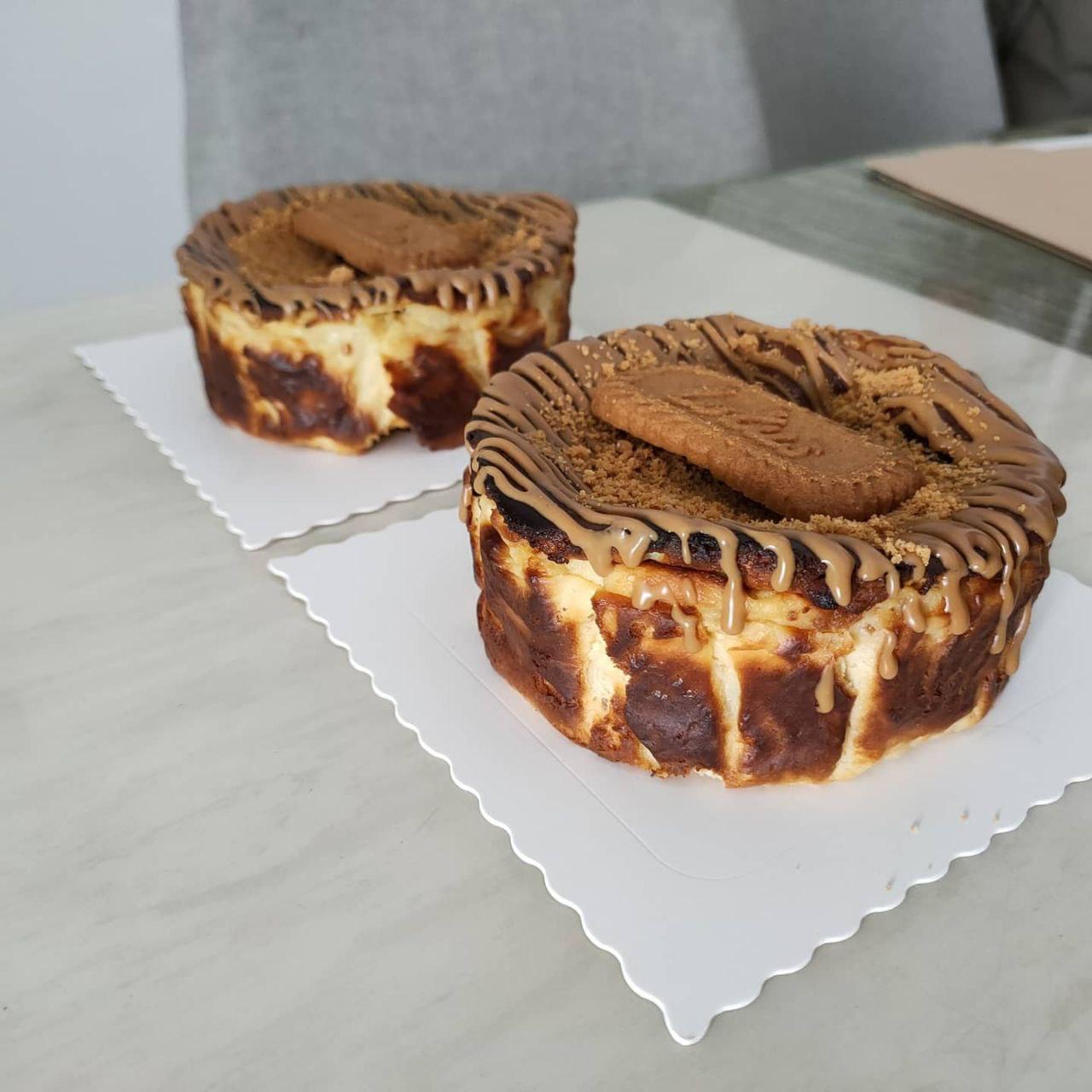 Knowing that the market was saturated with other burnt cheesecake sellers, Li set herself apart by selling the rich and creamy dessert per slice instead.
"It was a huge trend throughout the circuit breaker. I leveraged on that and was one of the rare HBBs that sold it in slices. It enabled customers to have that chance to purchase a single slice and send it to their friends since they couldn't meet up. At that time, I think that was what helped me gain a bit more attention than other HBBs."
But business wasn't always brisk.
As the trend waned, so did the orders for her burnt cheesecakes.
At its lowest point, Whisking Bakes received only one order per week.
On top of that, Li began to feel uninspired since she's been whipping up the same things over and over again.
She said: "I didn't know how I wanted to continue my business, or even how to continue my career. I was so tempted to just give up on everything and stay home to watch Korean dramas all day."
However, Li couldn't bear to see herself wasting her life away so instead, she took a two-month break from Whisking Bake and did several temporary jobs, and also used the time to come up with new ideas.
Coming up with orh nee tarts
Thankfully for her, she got her Eureka moment just as the Chinese New Year period was approaching.
Instead of selling the seasonal pineapple tarts, she thought of something less conventional: Orh nee (yam paste) tart balls.
"Pineapple tarts are very common, almost all home bakers would do pineapple tarts. I like them too, but why would I want to step into such a concentrated market and fight with so many other good bakers as well?"
A small bottle with 11 pieces of orh nee tarts cost S$14.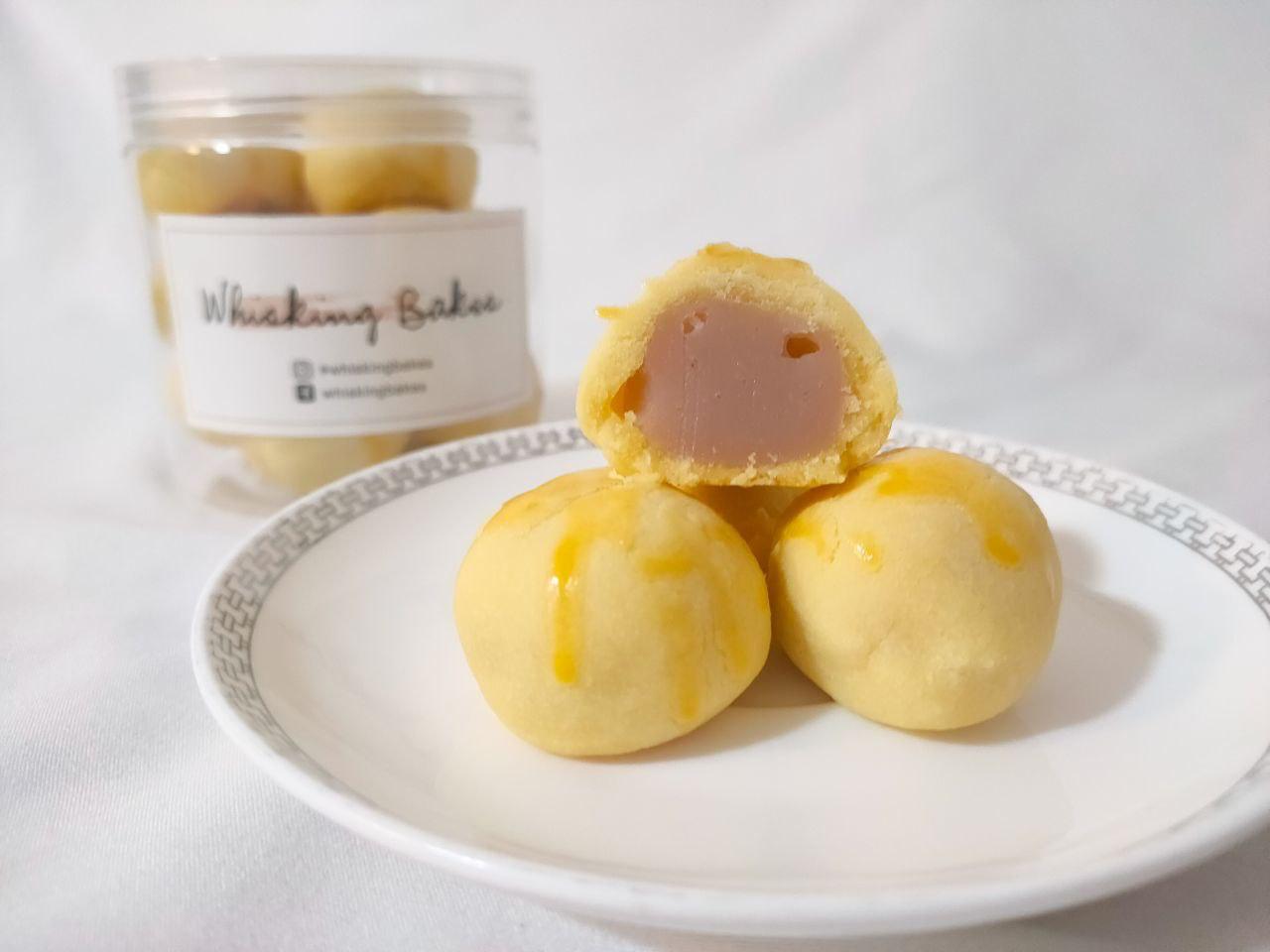 https://instagram.com/p/CM4QlJxnu71/
While the price may seem a little steep, Li shared that making the orh nee tarts requires a lot of hard work and time.
It takes two persons (Li and her mother) a total of 24 hours to do the following:
Wash the yam thoroughly to remove dirt before skinning and cutting the yam into smaller pieces.

Fry the yam.

Prepare the yam to make the filling.

Roll the yam into ball shapes.

Prepare the dough.

Roll the dough with the yam filling.

Baking the tarts.
This doesn't include the processing of orders and the bottling of the tarts.
It was worth all the time and effort, though as she was totally overwhelmed by the surge in orders for the Chinese New Year period.
For the first three weeks, they had to bake up to 700 tarts a day to keep up with the orders.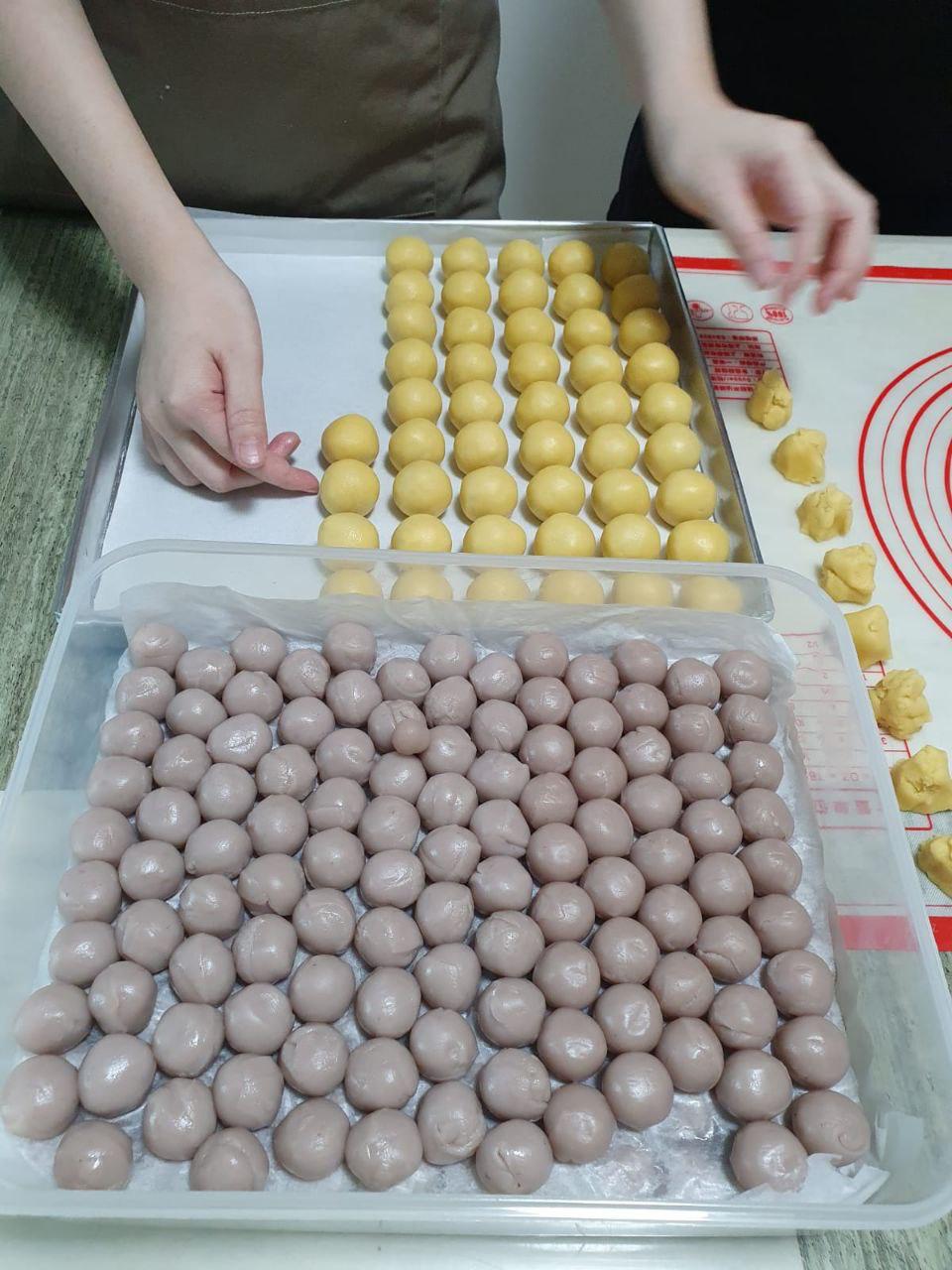 She added: "When we got closer to Chinese New Year, the demand was higher so we were doing about 1,000 tarts each day. That was the period where we couldn't sleep much [just to make the tarts]."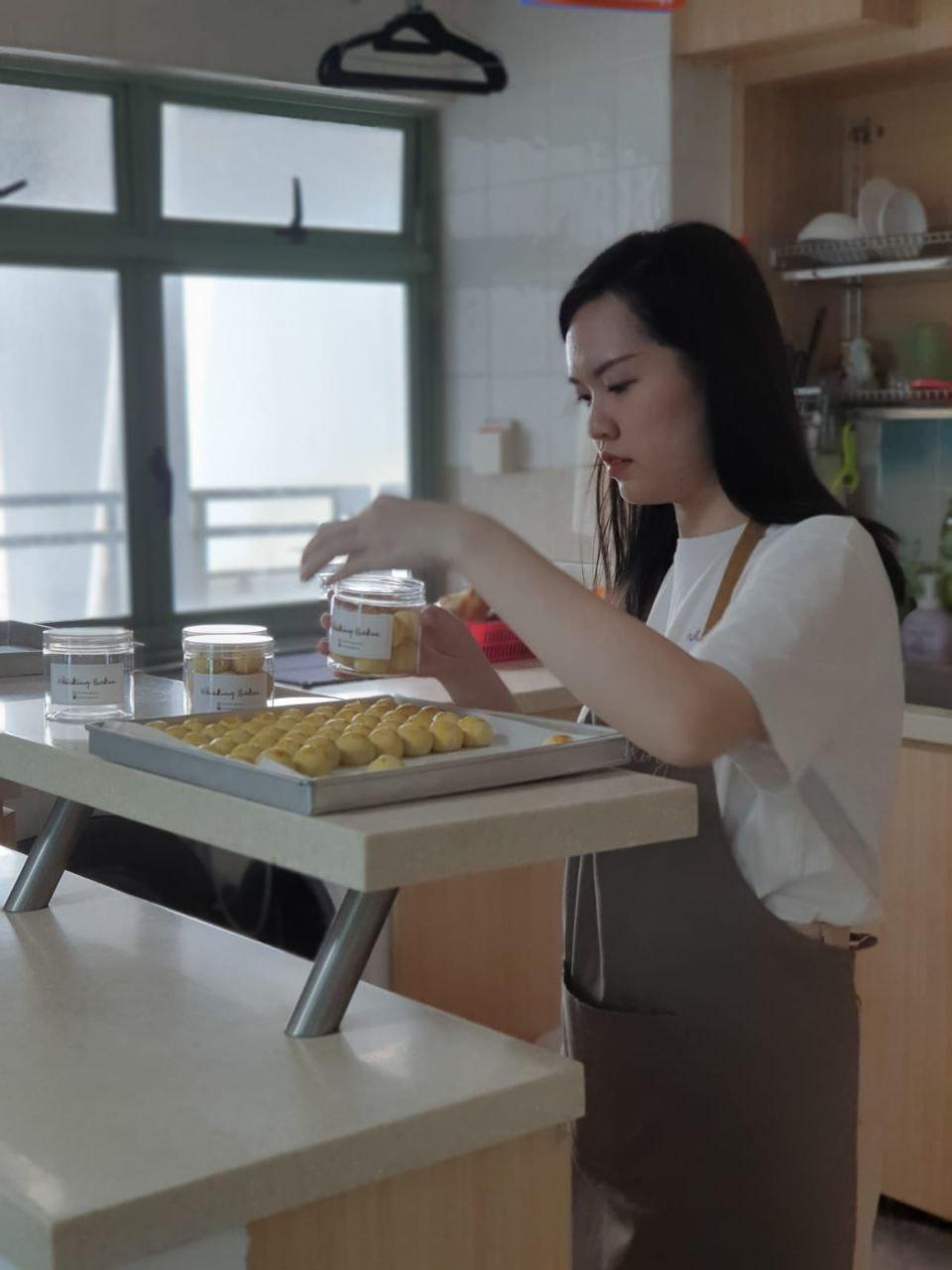 More orh nee bakes
Li initially thought that the orh nee tart balls were just going to be a seasonal special.
But since her customers can't seem to get enough of it, she now opens preorders weekly and can churn out up to 3,000 tarts a week.
In fact, Whisking Bakes primarily sells yam-based items including:
Yam jam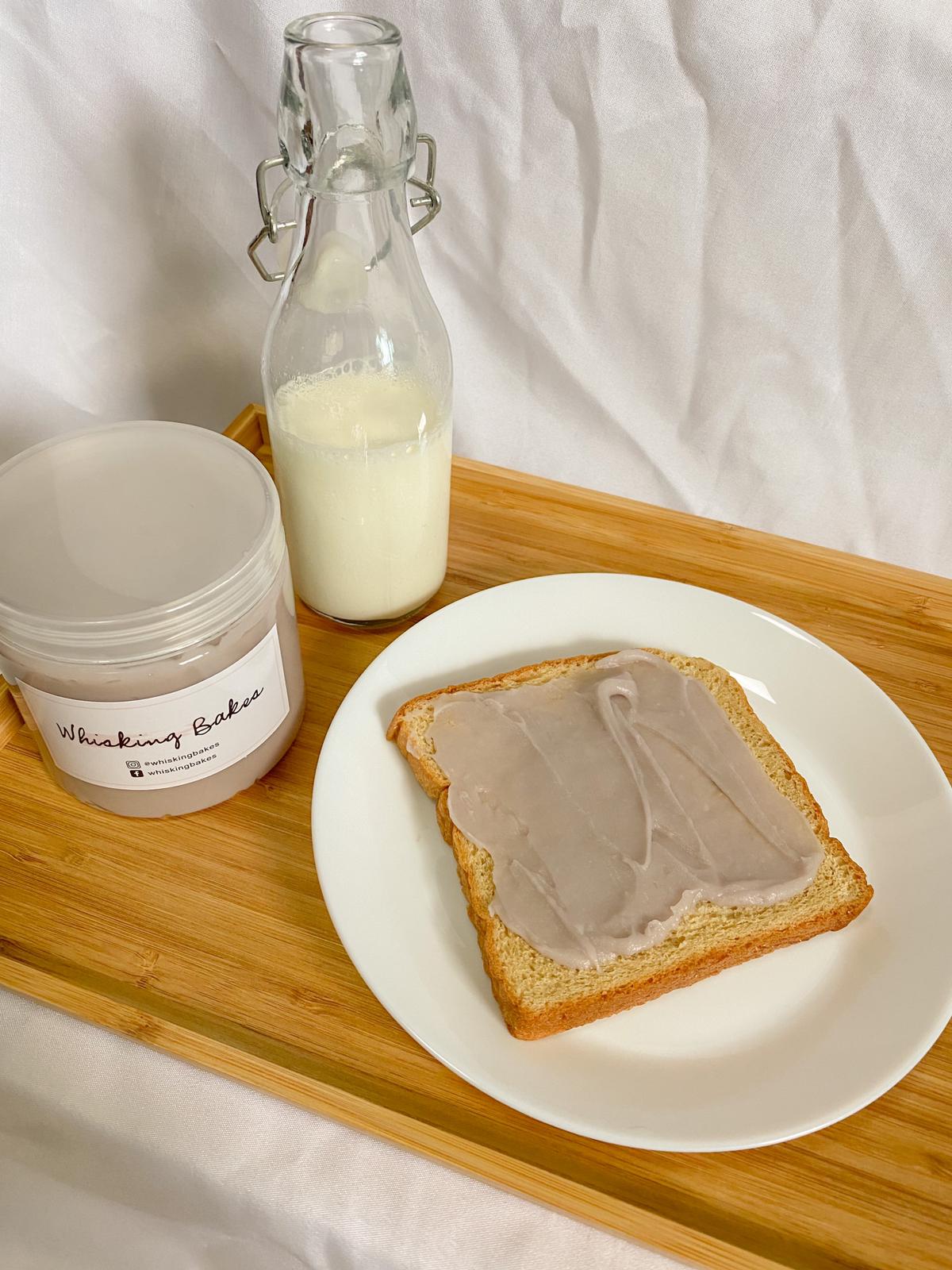 Think kaya spread, but yam.
100 gram bottle: S$7
380 gram bottle: S$22
Taro burnt cheesecake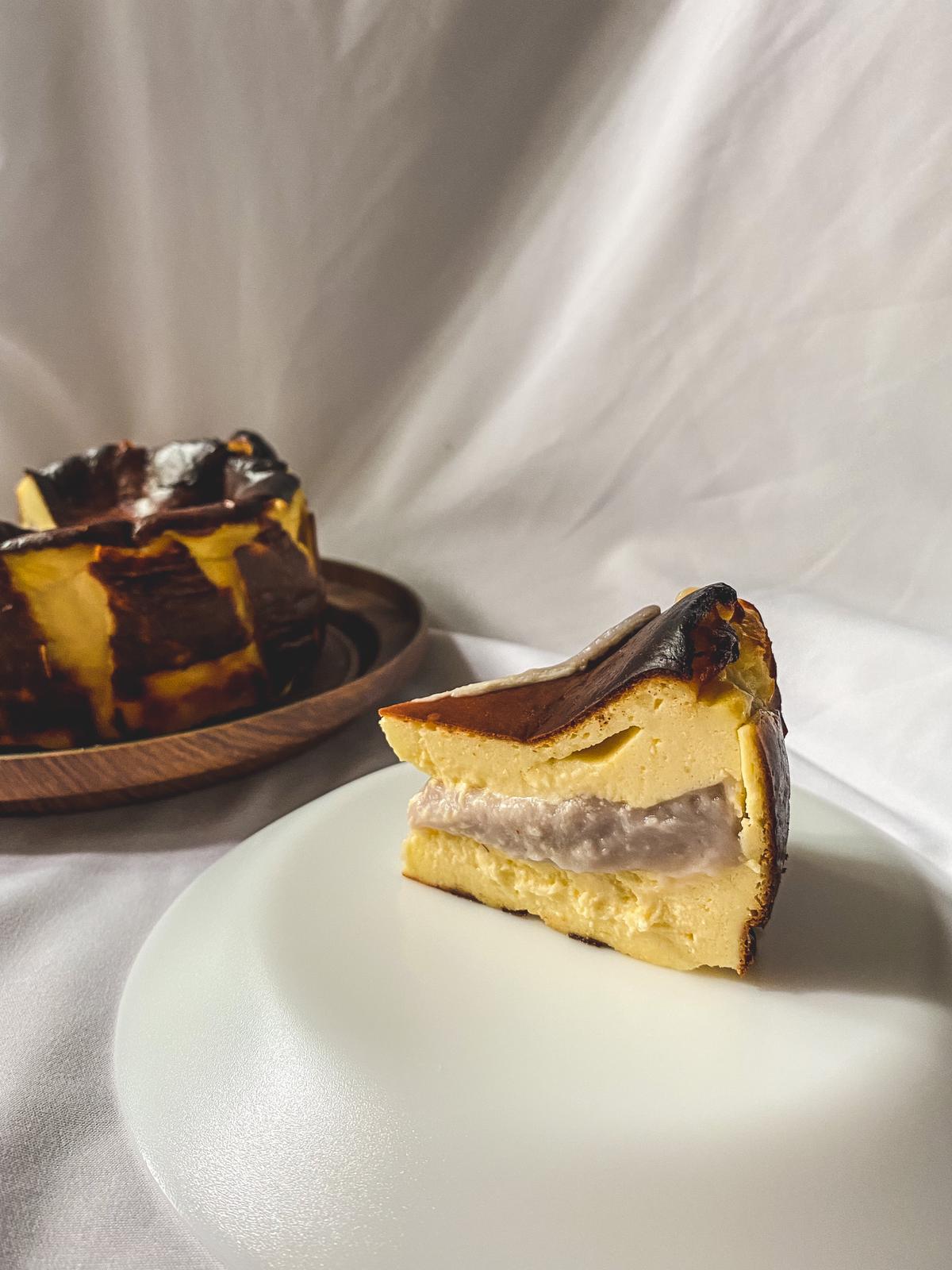 5-inch cake (two to four pax): S$27.50
6-inch cake: (six to eight pax): S$42
Taro spring rolls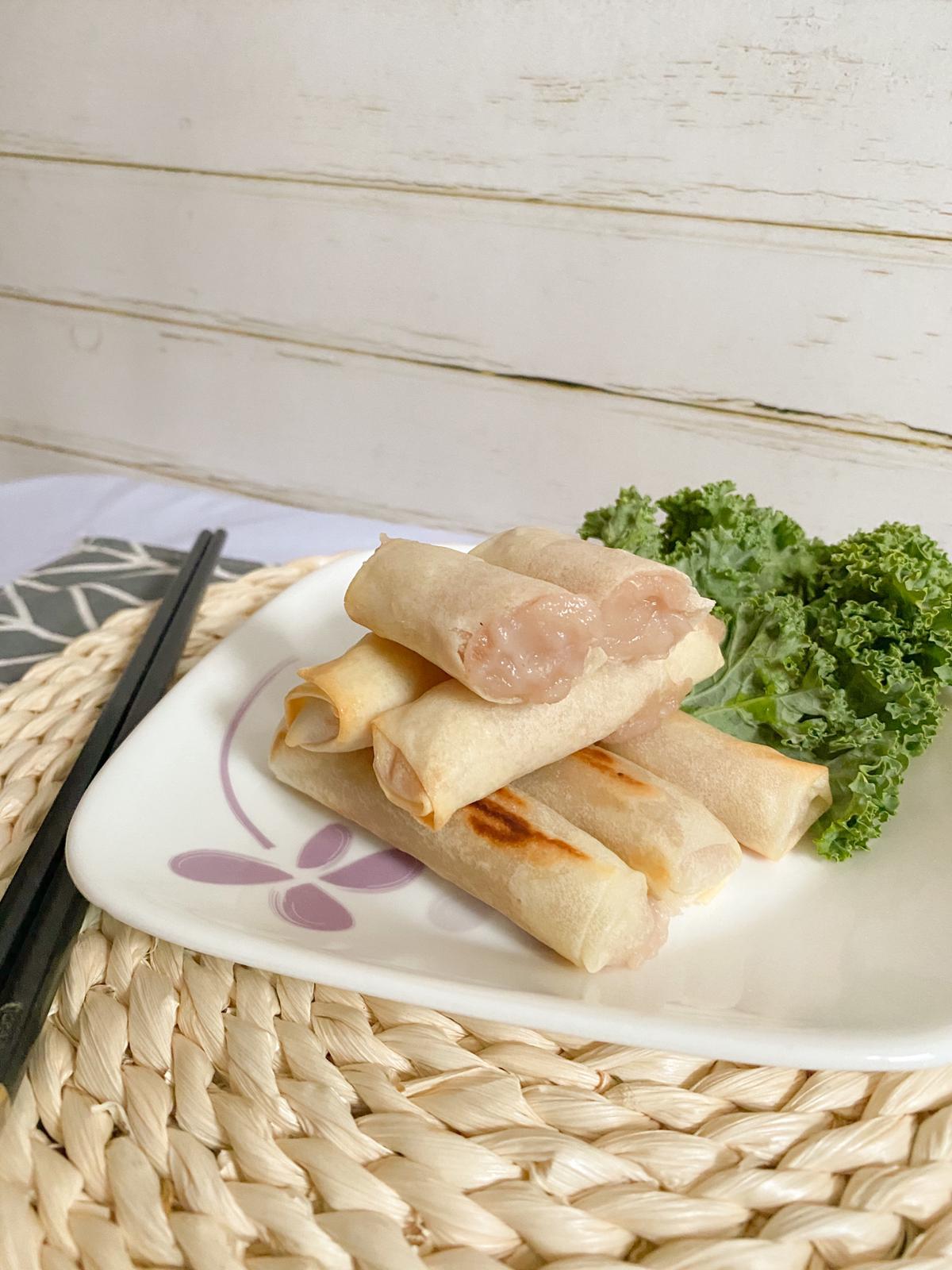 12 pieces (frozen): S$13.50
Buying lots of yam
Even the supermarket aunties recognise her as a loyal customer who buys a load of yam almost every morning.
With a laugh, she said:
"They're very cute, I always go down to buy [yam]. Everyone in the supermarket remembers me and the aunties would talk to me and say 'Oh you're here to buy yam again!' It's quite embarrassing!"
But with every flourishing business, there are bound to be some not-so-nice customers.
As Li only sells the orh nee tarts for preorders, she told us that the slots would usually be taken in under 10 minutes.
Sometimes, she would receive angry messages from those who didn't get to order her bakes.
"I would get a ton messages asking 'Why can't I get it? Why is it sold out? I've been trying for weeks, can't you just slot me in?'"
Thankfully, her background as an air stewardess comes in handy.
She said: "With my experience working in the airline industry, working with demanding passengers and customers is a norm for me."
However, Li considers herself lucky, as such customers make up just a small percentage of her customer base.
From customers to friends
In March 2021, Li intended on taking a break for a few days to celebrate her birthday and shared this information on Whisking Bakes' Instagram page.
To her surprise, she received birthday gifts from her customers when they dropped by her place to self-collect their purchases.
"Some of them even put it in their calendars to wish me a happy birthday on the day itself. I don't know what I did to deserve all these, bringing me gifts like Mr Coconut. I mean, the fact that this customer put in effort to queue for that is very thoughtful.

I felt like I must have been doing something right for them to feel this way about me, that I'm not just another business owner to them."
Mother helped despite dislike for baking
It's a given that she is grateful for more than 2,000 followers on her Instagram page, but she also stressed that she wouldn't have been able to pull it off without the help of her mother.
Especially since the latter doesn't like to bake.
"My mom, she has been helping me a lot with the business, and she doesn't even like to bake. She never wanted anything to do with baking until I needed her help."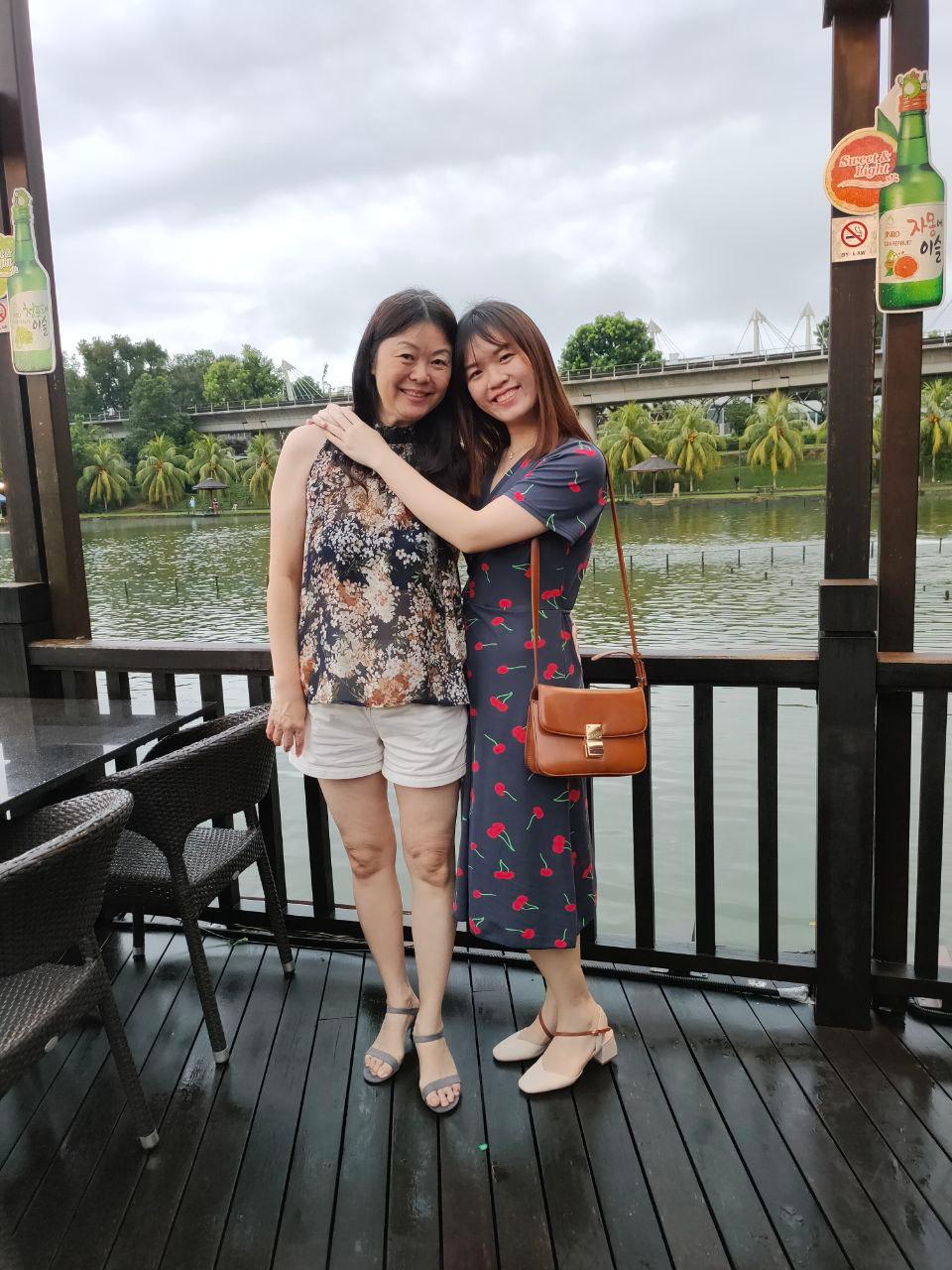 Big ambitions
So what will happen to Whisking Bakes when one day, fingers crossed, the world is able to travel again?
Li shared that she still loves her job and would start flying again the moment she's given the opportunity.
However, she's not thinking of giving up Whisking Bakes any time soon.
Instead, she has bigger ambitions for her baking career.
For one, she started the SG Home Based Business Telegram channel, which now has over 600 subscribers, to give other HBBs a platform to promote their goods.
She's also in the midst of finding a shop in the north-eastern part of Singapore to increase production and accept more orders to keep up with the demand.
Apart from that, she also hopes to create more jobs for single mothers, having been raised by one.
"I hope that one day, when Whisking Bakes have a better footing in the industry, we can open a physical shop where I can hire single mothers and empower them.

[I could] teach them the skills for them to sustain themselves and their. children. It's just a hope for us to be able to give back to that same community that we were once in, especially now that we are comfortable and doing well."
Top image courtesy of Chanel Li.
If you like what you read, follow us on Facebook, Instagram, Twitter and Telegram to get the latest updates.