Come July 2021, those in Singapore will have access to hundreds of e-waste recycling bins scattered around the country.
This move is part of the National Environment Agency's (NEA) e-waste Extended Producer Responsibility (EPR) Scheme, which will kick in on July 1.
The EPR scheme ensures that producers take responsibility for the waste they generate by collecting, treating, and disposing it.
Recycling bins soft launched at four locations
From July 1, more than 300 e-waste recycling bins will be deployed around Singapore.
These bins will be located at public places such as town centres, shopping malls, government buildings, residents' committee centres, community centres, supermarkets, and retail outlets.
The bins will replace receptacles from existing voluntary recycling programmes led by various industry organisations.
Members of the public can deposit their used electronic products such as printers, computers, laptops, mobile phones, tablets, network equipment, set-top boxes, and desktop monitors, light bulbs and portable batteries for recycling.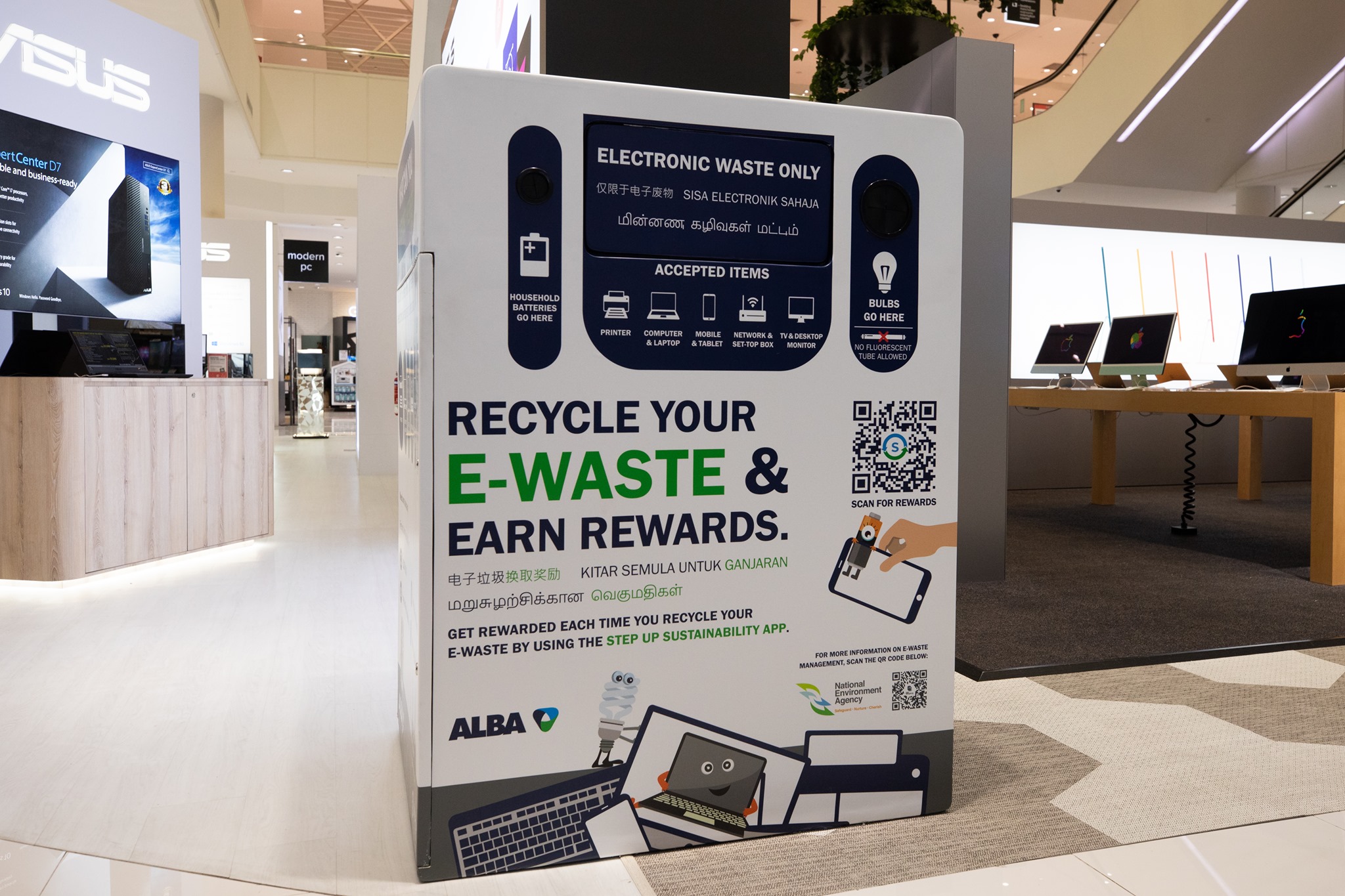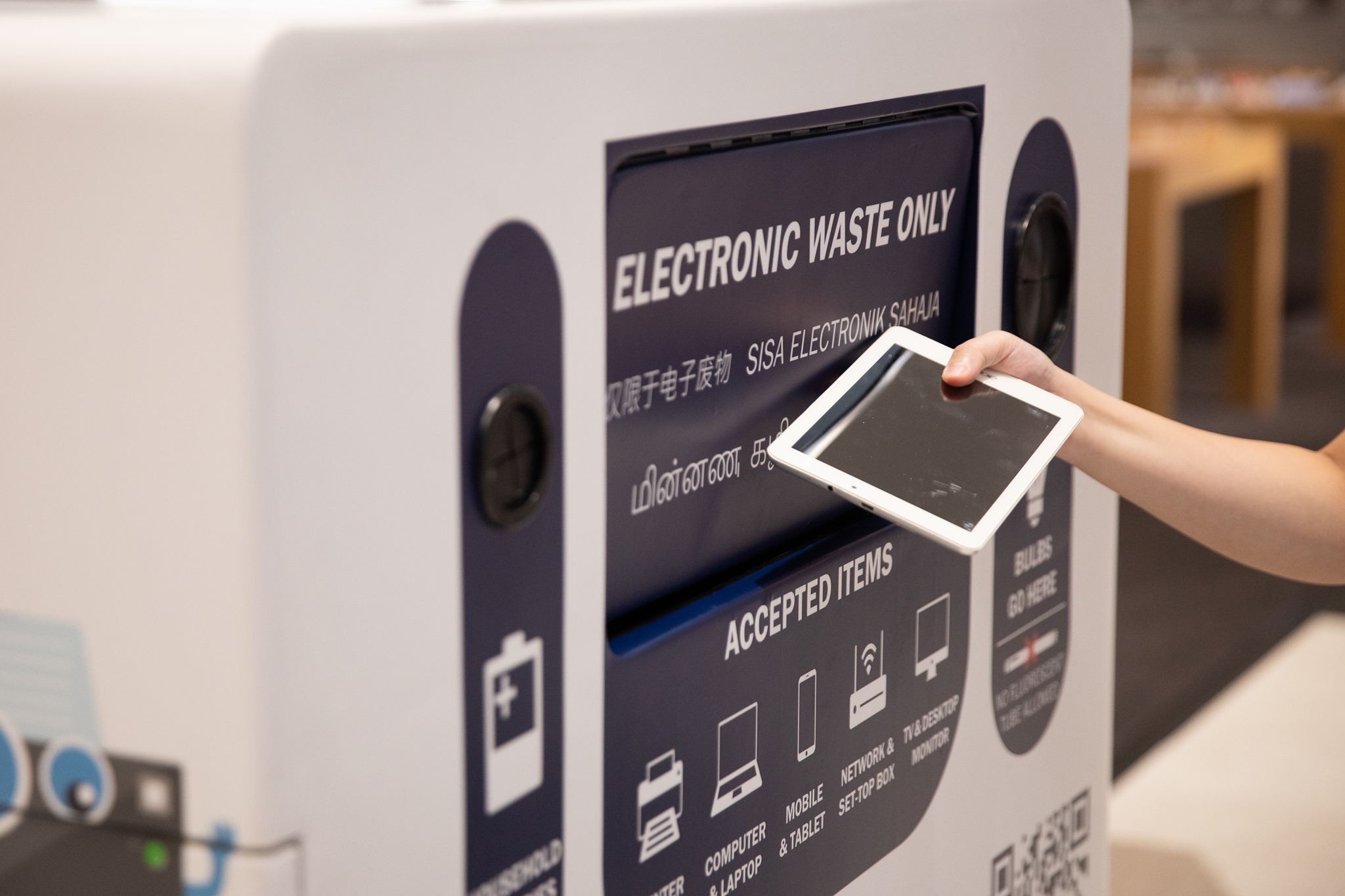 In return for recycling, members of the public can earn points which can be redeemed for shopping vouchers.
Currently, NEA and German waste management firm, ALBA — which is NEA's appointed Producer Responsibility Scheme (PRS) operator — have soft launched recycling bins at four locations.
More bins at five other locations will be deployed on June 14.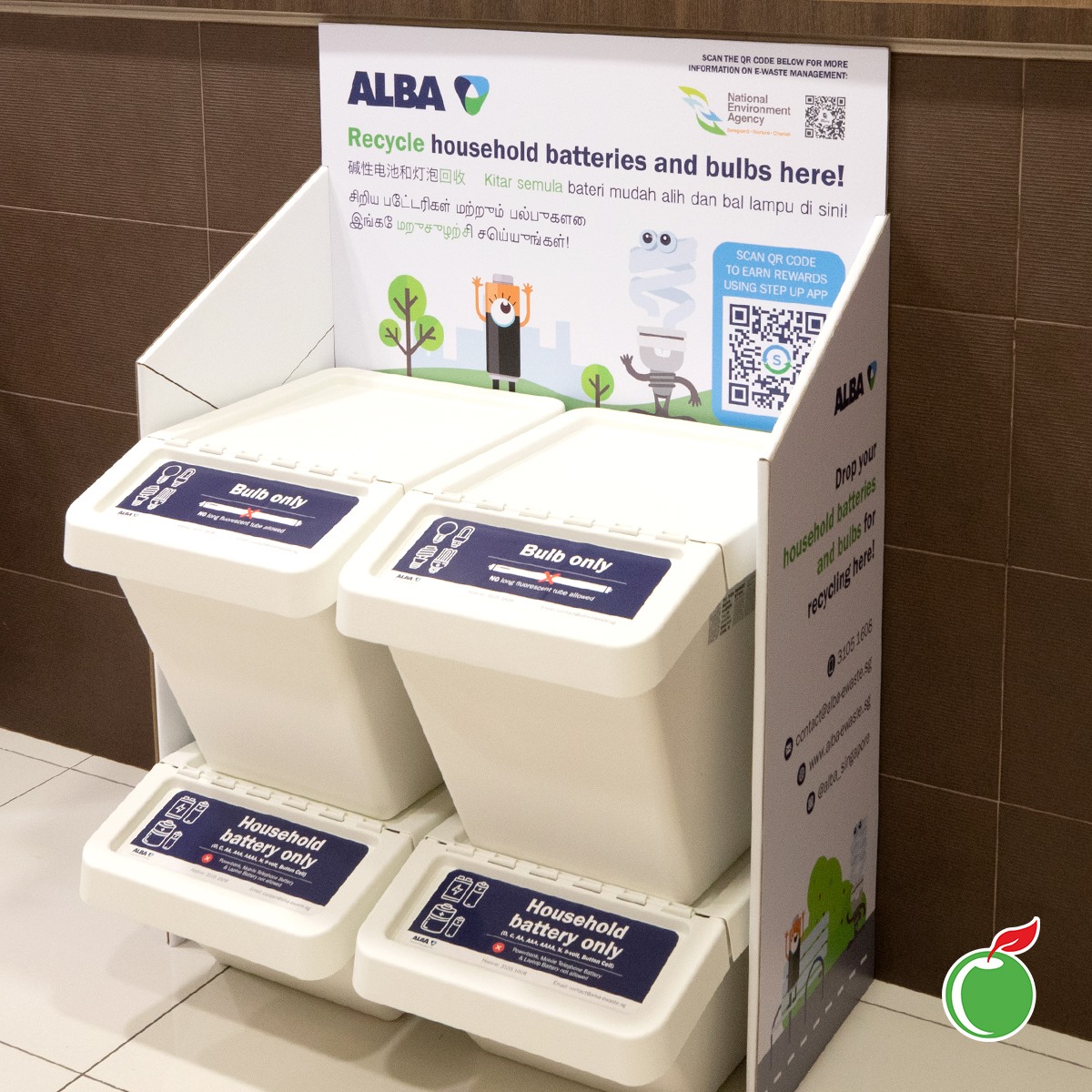 These nine locations are selected Dairy Farm Group (which manages Cold Storage and Giant supermarkets) and Harvey Norman outlets:
Cold Storage, Leisure Park Kallang

Giant Hypermarket, 521 Tampines North Drive 2

Harvey Norman, Millenia Walk Flagship Store

Harvey Norman, Suntec City

Harvey Norman, Northpoint City

Harvey Norman, Parkway Parade Superstore

Harvey Norman, Bedok Point

Harvey Norman, ESR Business Park

Harvey Norman, Djitsun Mall
The recycling bins at Cold Storage and Giant Hypermarket outlets mentioned above only accept smaller electronic products, such as batteries and light bulbs.
You can find a list of all the locations of the recycling bins on NEA's website or ALBA's website, on July 1.
E-waste doorstep collection
Major retailers like Dairy Farm Group and Harvey Norman play an important role in the management of e-waste under the EPR scheme.
Under the Resource Sustainability Act (RSA), retailers that operate outlets with a floor space of 300 sqm or more have to set up in-store e-waste collection services.
The retailers can collect the e-waste via over-the-counter services or recycling bins.
These retailers will also offer their customers free take back services for discarded end-of-life products of the same type on a one-for-one basis.
In addition to recycling bins, members of public will have other avenues to recycle their e-waste.
ALBA will organise scheduled collection drives in housing estates to remove bulky e-waste like refrigerators and television sets, and perform doorstep collection for a fee.
After collection, ALBA will channel the e-waste collected by retailers to licensed e-waste recyclers.
These e-waste recyclers will ensure that all data stored on data-containing devices are permanently erased or destroyed before the device is prepared for reuse or recycled.
Aside from conducting outreach programs to raise awareness of the issue of e-waste, ALBA will be organising electrical and electronic equipment repair workshops and donation drives for the community.
This is to promote a repair and reuse culture in Singapore, with the aim of shifting towards a zero-waste nation.

Top photo from Grace Fu / FB and Cold Storage Singapore / FB
If you like what you read, follow us on Facebook, Instagram, Twitter and Telegram to get the latest updates.