Individuals in Singapore will soon be able to receive the Sinovac-Coronavac Covid-19 vaccine, should they choose to, from a number of private healthcare institutions here.
24 of these institutions will be licensed providers under the Private Hospitals and Medical Clinics Act (PHMCA), under the Special Access Route (SAR), according to the Ministry of Health (MOH)'s press release on June 16.
However, the Sinovac vaccine has not yet been approved as part of Singapore's national vaccination programme.
Vaccination fees differ between providers
These providers will draw from the MOH's existing stock of 200,000 doses, and can administer the vaccine to Singapore Citizens, Permanent Residents and persons holding Long-Term Passes.
The providers were selected by MOH based on their abilities to administer the vaccines safely, properly and efficiently.
MOH also considered the providers' proposed vaccination administration fees, experience in vaccine administration and its compliance history at past licensing inspections.
Full list of 24 providers
Here is the full list of all 24 providers, and their vaccination administration fees per dose.
As these vaccines are being provided to the providers at no cost, individuals should take note that the providers should not charge them for the vaccine cost.
The vaccination administration fees listed below are inclusive of consultation and seven per cent GST. There should not be any additional costs (beyond the vaccination administration fees listed) charged by these providers.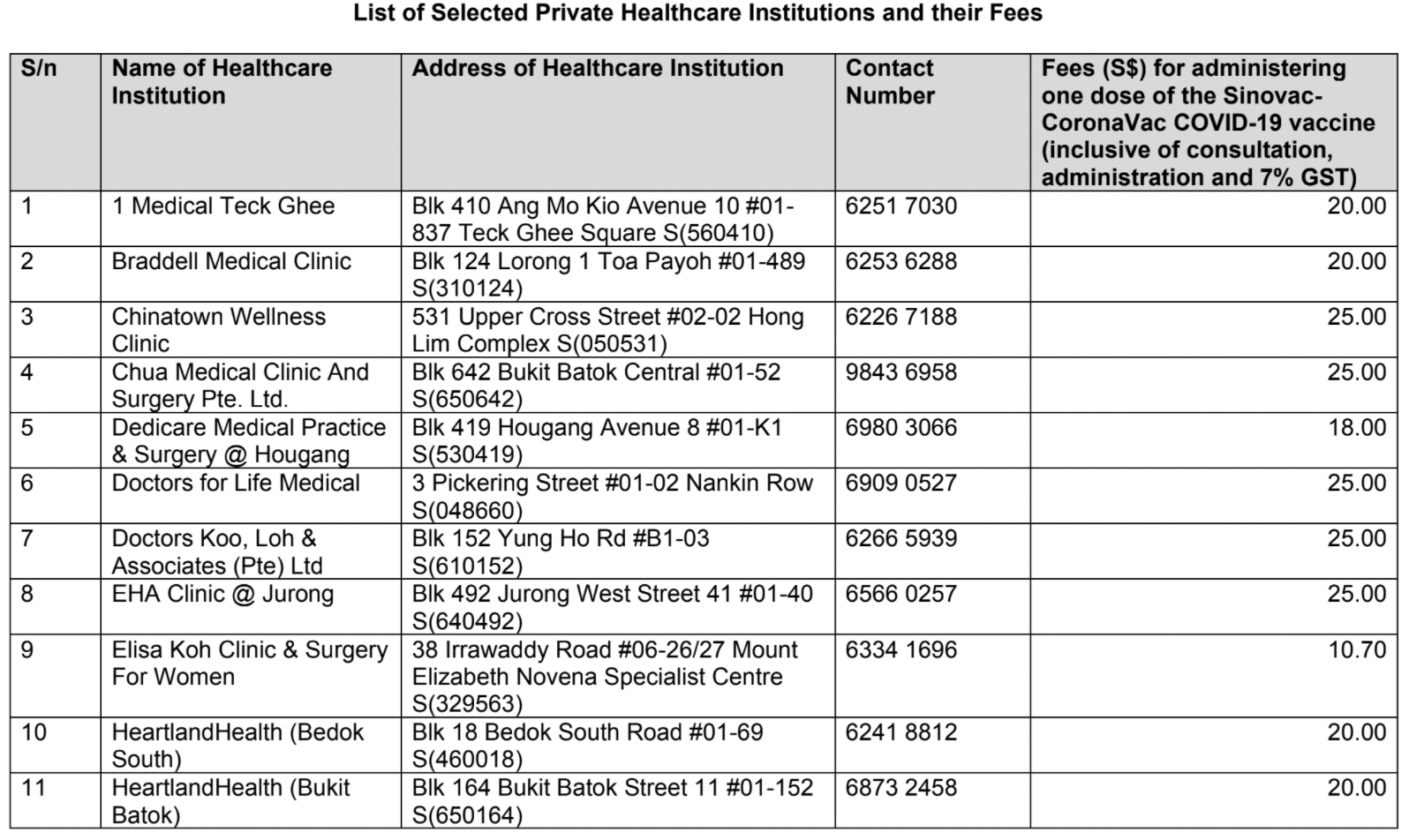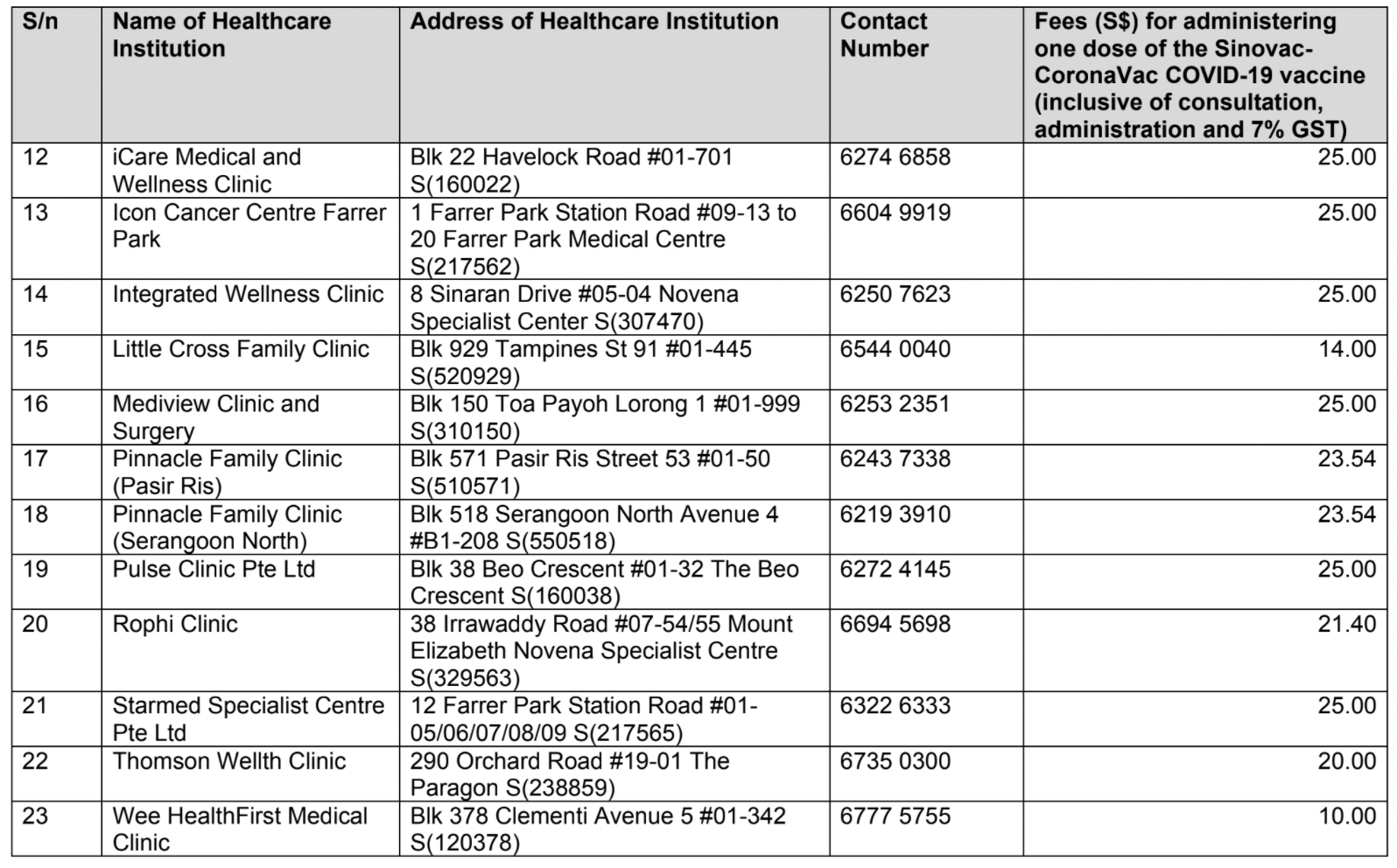 Interested individuals may contact these providers directly from June 18 onwards for more details on how they may receive the vaccine.
Sinovac vaccine unregistered and not authorised by HSA
The Sinovac vaccine currently remains unregistered and is not authorised by the Health Sciences Authority (HSA) for use under the Pandemic Special Access Route.
The vaccine is to be provided only under the SAR framework, and hence will not be covered under the Vaccine Injury Financial Assistance Programme (VIFAP) meant for the national vaccination programme.
MOH advises individuals who still wish to receive Sinovac vaccinations under the SAR framework should discuss with their doctors in the selected private healthcare institutions the risks and benefits of using the Sinovac vaccine, and jointly make an informed decision.
In a press release on June 4, MOH noted that some people with allergies or anaphylaxis may not be able to take the mRNA vaccines, and may want to apply for Sinovac under the Special Access Route. It said:
"For the 34,000 individuals who were previously rejected from taking the mRNA vaccines or who were allergic to the mRNA vaccine, the government will reimburse them this fee if they decide to receive Sinovac-CoronaVac. Details will be made known to these individuals in the coming week."
Although the Sinovac vaccine has been approved under its Emergency Use List (EUL) in adults by the World Health Organisation, MOH explained that the "WHO EUL pathway focusses on the needs of low- and middle-income countries with limited access to COVID-19 vaccines."
It added that "healthcare regulators in many developed jurisdictions, including Singapore, typically conduct further rigorous evaluations beyond WHO EUL approval before approving a vaccine for general use".
Top photo by Wang Zhao/AFP via Getty Images
If you like what you read, follow us on Facebook, Instagram, Twitter and Telegram to get the latest updates.