Editor's note, May 27, 6:33pm: The police has confirmed with Mothership that a report was lodged and investigations are ongoing.
---
Screenshots of an offensive poll questioning which Singapore women asatizah or ustazah (Muslim religious teacher) "should be gang-banged" has been circulating online.
A screenshot seen by Mothership showed that there were 12 women asatizah listed in the poll. 245 people have casted their vote on the poll.
Two other screenshots seen by Mothership showed pictures and videos of the asatizah compiled in a gallery labelled "ustazah Singapore".
Strong criticism from local asatizah
One of the first few people who brought attention to the poll was Singapore Muslim religious teacher Ustaz Muhammad Zahid Mohd Zin.
He posted a censored version of the poll on his Instagram page on May 26, and wrote:
"I got a distress call from an Ustazah and were shocked!! All listed here in an app are our local Asatizah!!! Who did this must be held accountable! Ive promised them to make sure those involved will be hold responsible!!"
https://www.instagram.com/p/CPVmVeCjfEv/
The deputy director from the Office of the Mufti at the Islamic Religious Council of Singapore (MUIS), Ustaz Irwan Hadi, also made a similar Instagram post on May 26, saying that he was "utterly disgusted" by the poll.
He added that "sick people" must be punished by "whatever legal means possible".
https://www.instagram.com/p/CPVr56ohhn4/
Local asatizah Ustazah Shameem Sultanah published a post on her Instagram page on May 27 to condemn the poll and give words of encouragement to the affected victims.
She emphasised that the victims have not done anything wrong and should "stand strong".
"We have nothing to be ashamed of. Don't let anyone make us feel that way. We have done nothing wrong. Their disgusting act is a reflection of themselves, not us. We are not the victim here. They are in actual fact harming themselves more.

Ladies, stand strong and show those men with 'sick' brains out there that we are not defined by their crude words.

We shall not be affected by their disgusting fetish and lowly acts.

We are higher than that. Allah and His Prophet has honoured us ladies so much that it takes much more than these actions to tarnish our reputations.

Remember, if they do not respect ladies, it's their loss, never ours."
Shameem also addressed the men who have sexualised women, saying that they have a "huge problem".
She added: "I don't pity the ladies that you sexualise. You are the one that need to be pitied."
You can read her full post here:
Victims speak up
Some of the female asatizah listed on the poll have also commented on the incident on their social media accounts.
Ustazah Fatin Afika posted a screenshot of the poll on her Instagram page on May 27. The screenshot showed that more people have voted on the poll.
Fatin, who is one of the female asatizah listed in the poll, started off her Instagram post by saying that "this is not something new".
She then went on to recount her negative experiences over the years.
She said that when she was younger, she also received similar "nasty comments/photos" even though she had dressed modestly.
Fatin added: "I'm overwhelmed and I'm sure all other victims are too. Dearest followers from all walks of life, in rough times like this, please be kind?"
Fatin also commented more about the incident in a series of Instagram stories, explaining that some of the pictures on the poll were taken from Islamic-related videos.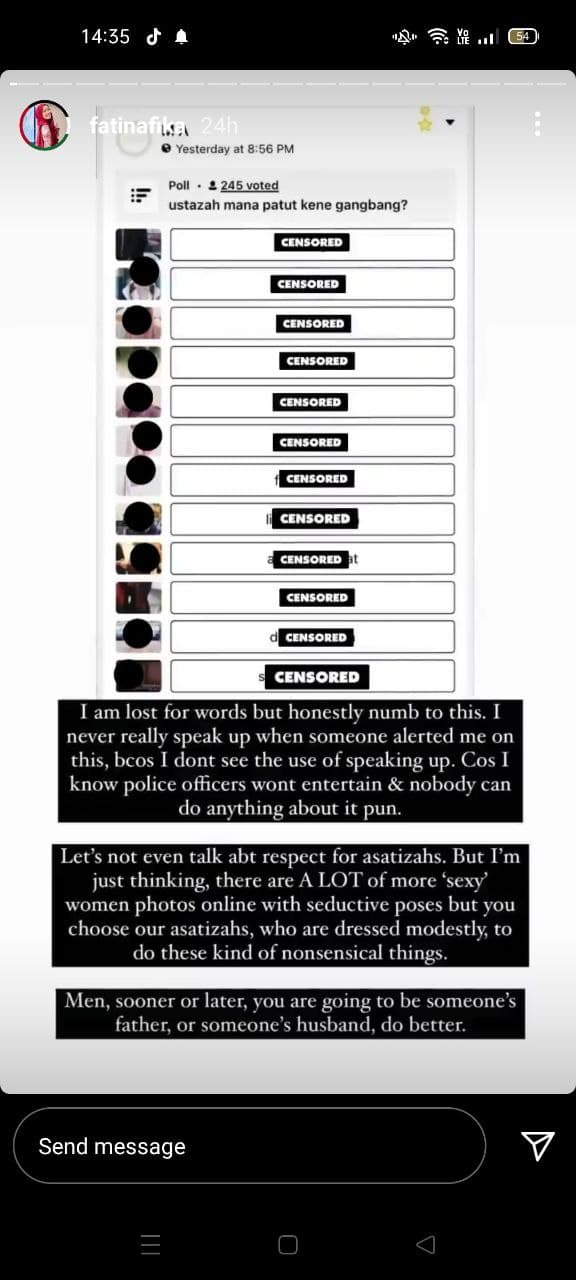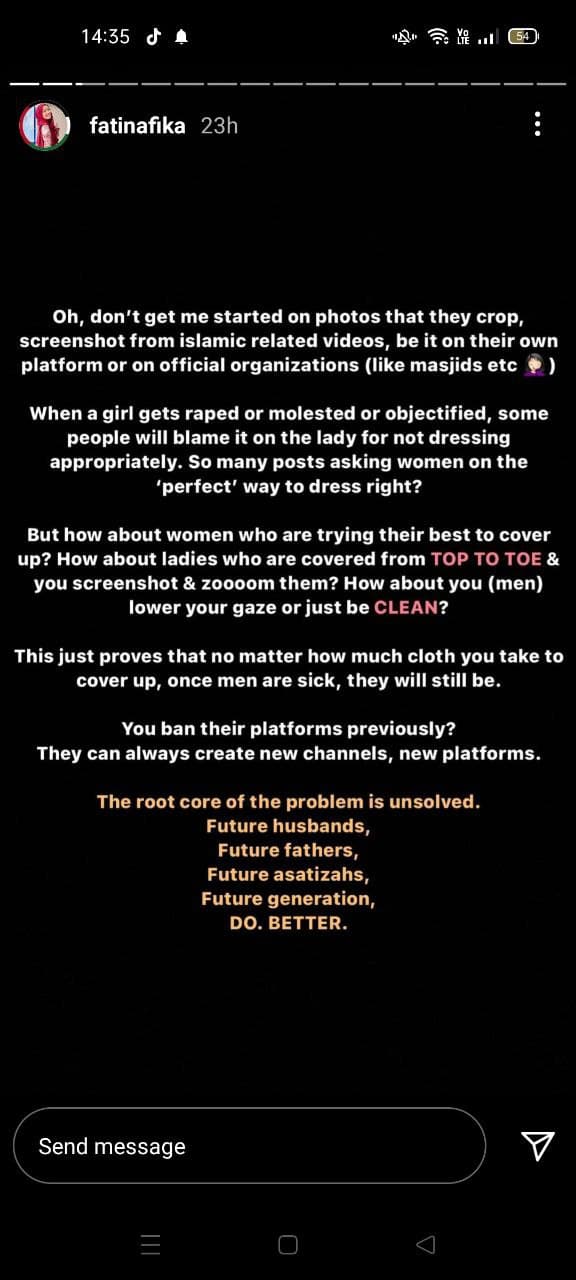 Another victim, Ustazah Nur Nasuha, said in an Instagram story that a photo of her without the hijab was also obtained.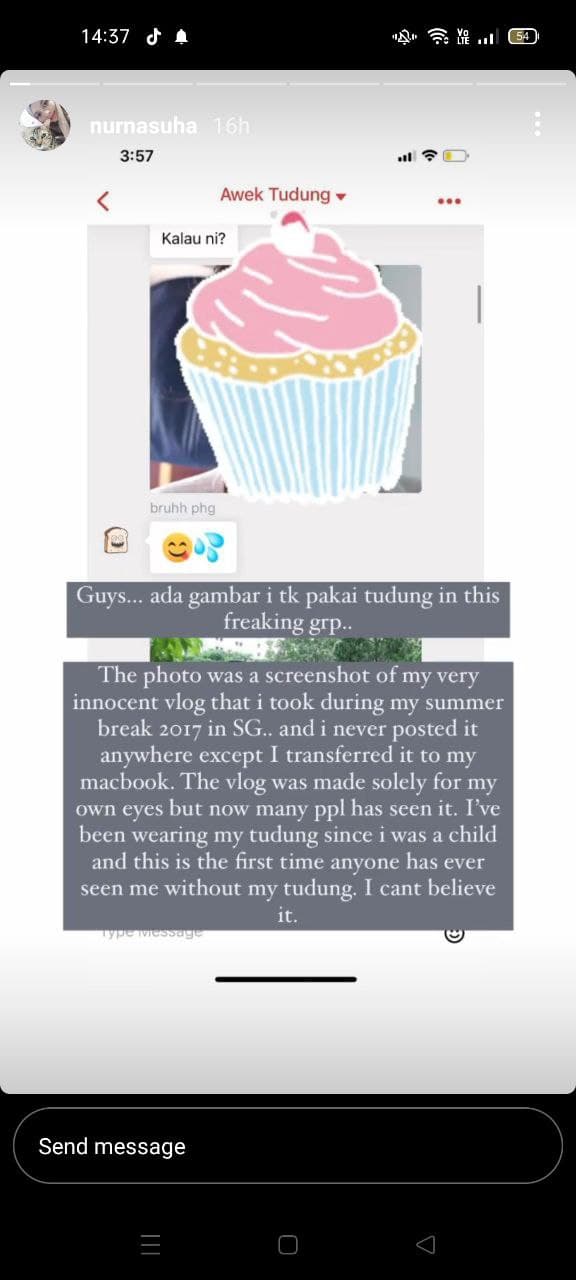 She posted a subsequent Instagram story showing that there were unusual attempts to log into her social media accounts.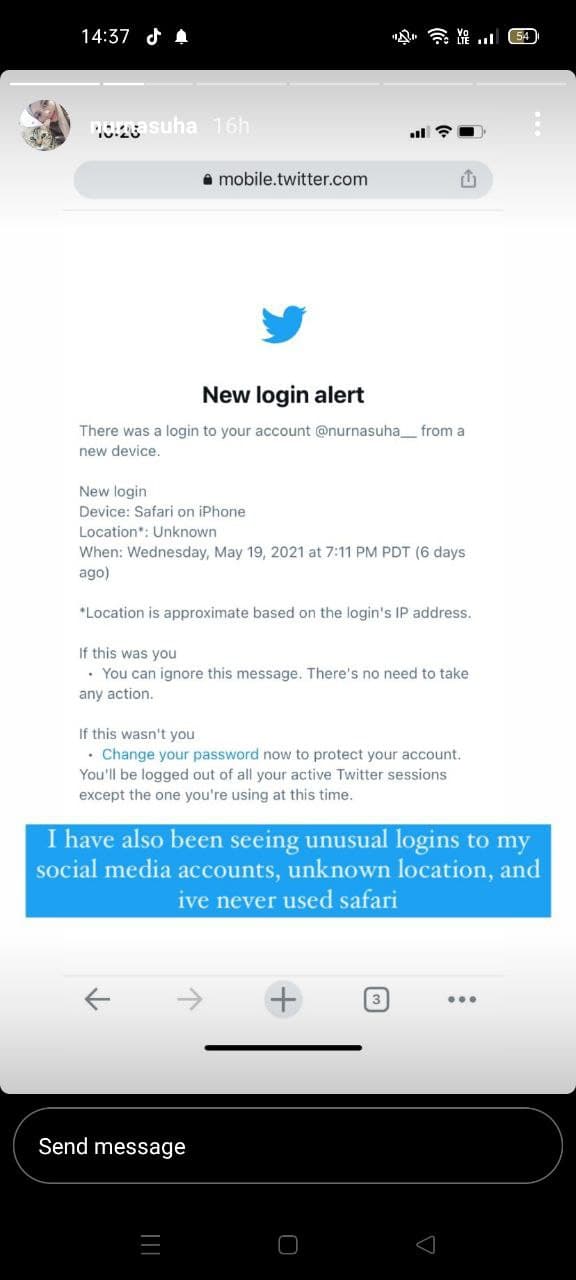 Muslim MPs condemned the poll
Minister-in-charge of Muslim Affairs Masagos Zulkifli has come out to say that he is "repulsed" by the poll.
Masagos added that he has urged authorities to investigate this matter "expediently".
Here's his full statement:
Chua Chu Kang GRC Member of Parliament (MP) Zhulkarnain Abdul Rahim has also come out to condemn the incident.
In a May 27 Facebook post, Zhulkarnain said that he was "appalled, disgusted and disappointed". He also hoped that the people behind the poll would be held accountable.
Zhulkarnain added:
"I'll continue to work to see to it that our women and daughters get the respect and protection that they deserve. Especially for this case in particular, to see what awareness can be raised to change mindsets in the community and increase whistleblowing and protection for female asatizah, congregants, staff or students."
You can read his full statement here:
Police report might be lodged
Mothership understands that the poll was allegedly made on social media platform MeWe, and that a police report might be lodged.
Responding to queries from Mothership, the police confirmed that a report was lodged. Police added that investigations are ongoing.
Mothership has also reached out to MUIS for a statement.
Top images from Zahid Zin's Instagram page and a Mothership contributor.
If you like what you read, follow us on Facebook, Instagram, Twitter and Telegram to get the latest updates.