A recent video by socio-political site The Online Citizen Asia (TOC) alleging that Singapore Police Force officers bullied an elderly woman is "despicable" said K Shanmugam, the Minister for Home Affairs and Law yesterday (May 25).
His comments came after the police took the rare move to release two clips of body-worn camera footage of the incident that shows that one of the police officer was buying food for the lady and not bullying her.
The minister told the media at the police headquarters at New Phoenix Park about TOC's actions:
"I would say this is despicable, and how low people will stoop. Unethical, cynical. This whole exercise by TOC is quite malicious to attack the police."
Shanmugam added that it is "regrettable that these very false statements are being made".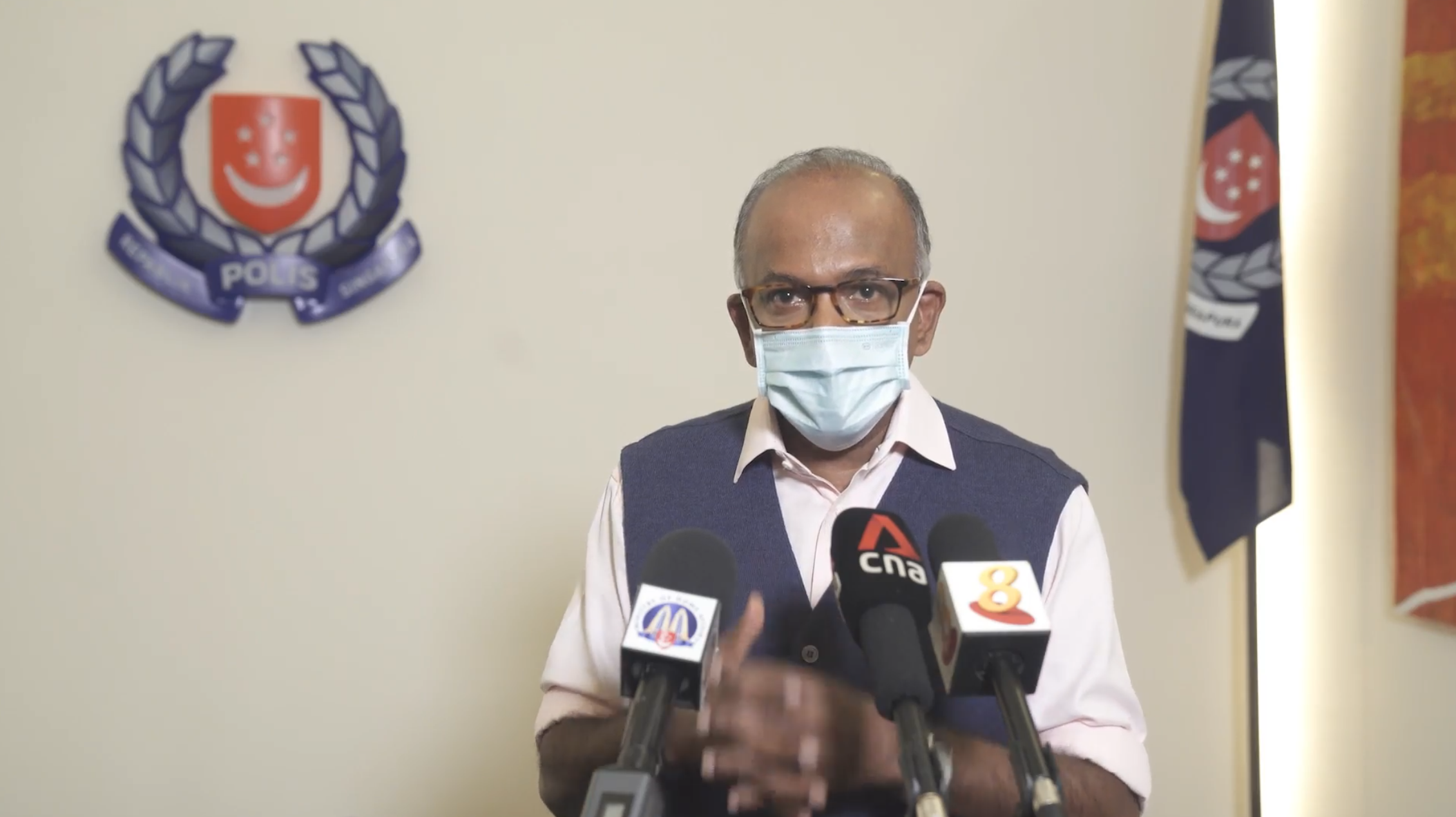 According to the minister, the old woman's daughter told the police that she was upset that her mother has been taken advantage of by TOC to  "spin the story" and confirmed that her mother has dementia. He said,
"People who have dealt with people who have dementia will know that you can sometimes get them to say many things they will not remember what they had half an hour earlier."
Shanmugam said that the police are regularly called to help elderly people with dementia who get lost.
"So TOC took one such incident, which I say is not unusual, twisted the facts, and said police bullied her, chased her away," said Shanmugam.
Shanmugam added that the officer was not even speaking to the old lady, but the lady's helper. This is because the elderly lady speaks Hokkien.
"TOC has done this to cast doubt on the police, to damage the trust that people have in the police, and it's really a disservice to the thousands of police officers who have been fighting in the frontlines", he said.
He added that police officers who do wrong will face disciplinary action and "dealt with seriously".
"But when they're wrongly maligned, I won't sit by and do nothing."
"Officer with a heart"
Shanmugam described one of the two officers, seen speaking in the video, as "an officer with a heart" who helps out at family service centres in his spare time and does community work.
The officer has 23 years of service in the police force and 21 years with the Yishun South neighbourhood police post.
"You maliciously attack police officers like this who spend their entire life servicing Singaporeans. He is an officer with a heart," Shanmugam said.
He added,
"It's not part of a police officer's duty to go and buy food for people who are lost, but he does that, but instead he gets branded as a bully. It's really quite sad."
Background
A video was uploaded on May 18, showing a group of police officers conversing with two individuals, one of whom was the elderly woman.
It was originally posted by an Instagram user who accused the officers of "cluster[ing]" the elderly woman and bullying her verbally.
The claims were later reproduced by TOC and Singapore Uncensored.
The Instagram user, TOC, and Singapore Uncensored were then served with correction directions by the POFMA office.
The police also issued a statement to debunk the accusations, clarifying that police officers attended to the woman because she looked lost. They helped her find her way home and bought her food.
TOC subsequently interviewed the elderly woman and wrote in a Facebook post that "she was not given food by the police officers" and "she was chased away from her spot", contradicting what the police said.
On May 25, in a rare move, the police released body camera footage of the incident to address two allegations:
The elderly woman was not given food, and

Police officers reprimanded her
Body camera footage showed police officers buying a packet of food.
The officer can be heard ordering two chicken wings with chilli from a food stall, adding that the elderly woman "requested" for it.
The footage also showed a police officer advising the elderly woman's domestic helper to remind the woman to wear a mask, and was not, as alleged, taunting or reprimanding the elderly woman.
The Singapore Police Force also said of the TOC post:
"The online post which carried an interview with the elderly woman also did not present the full context as the elderly woman has dementia... Police resources can be better used to deter and solve crimes, or to assist members of the public, rather than to address these malicious and baseless allegations. It is also very sad, and in fact reprehensible, that The Online Citizen Asia should exploit an elderly woman with dementia, to sow falsehoods to further its own agenda."
Top images via SPF, TOC/YouTube.
If you like what you read, follow us on Facebook, Instagram, Twitter and Telegram to get the latest updates.