Singapore cannot afford to close its borders for a long duration because the country depends on migrant workers for a wide range of essential services, from building homes to cleaning, and even caring for senior citizens, said co-chair of the Multi Ministry Taskforce (MTF), Lawrence Wong in an Instagram post yesterday.
"That's why our approach in this pandemic is not to shut our borders permanently, but to manage them on a risk-based approach. That's why we have been controlling the inflow of these workers tightly since last year, and they must be quarantined before they can start work here."
He also pointed out the latest round of border restrictions on arrivals from the Indian sub-continent will affect HDB BTO projects, delaying them by a year or more.
Border restrictions will be tightened again come May 7, at 11:59pm. The Stay-Home Notice (SHN) for travellers with recent travel history to higher-risk regions will be increased from 14 to 21 days.
This includes travellers from all countries and regions except Australia, Brunei, Mainland China, New Zealand, Taiwan, Hong Kong, and Macao.
Risk-based approach
At the MTF press conference yesterday, Wong explained that Singapore has always taken a "risk-based approach" in managing our borders from the start, consisting of the following measures:
1) Controlled inflow of arrivals
2) Stay-Home Notice regime to ensure that visitors are isolated upon arrival
3) Prioritising vaccination for officers who are working at borders and checkpoints to minimise the risk of transmission
However, Wong added in his post that Singapore cannot rely on border restrictions alone to control the Covid-19 infection spread. He urged Singaporeans to reduce interactions and observe safe distancing rules.
On May 4, the MTF announced tighter community measures which will take effect in the coming days.
These measures include reducing maximum group sizes from eight to five, bringing forward TraceTogether-only SafeEntry to May 17, and closing indoor gyms and fitness studios.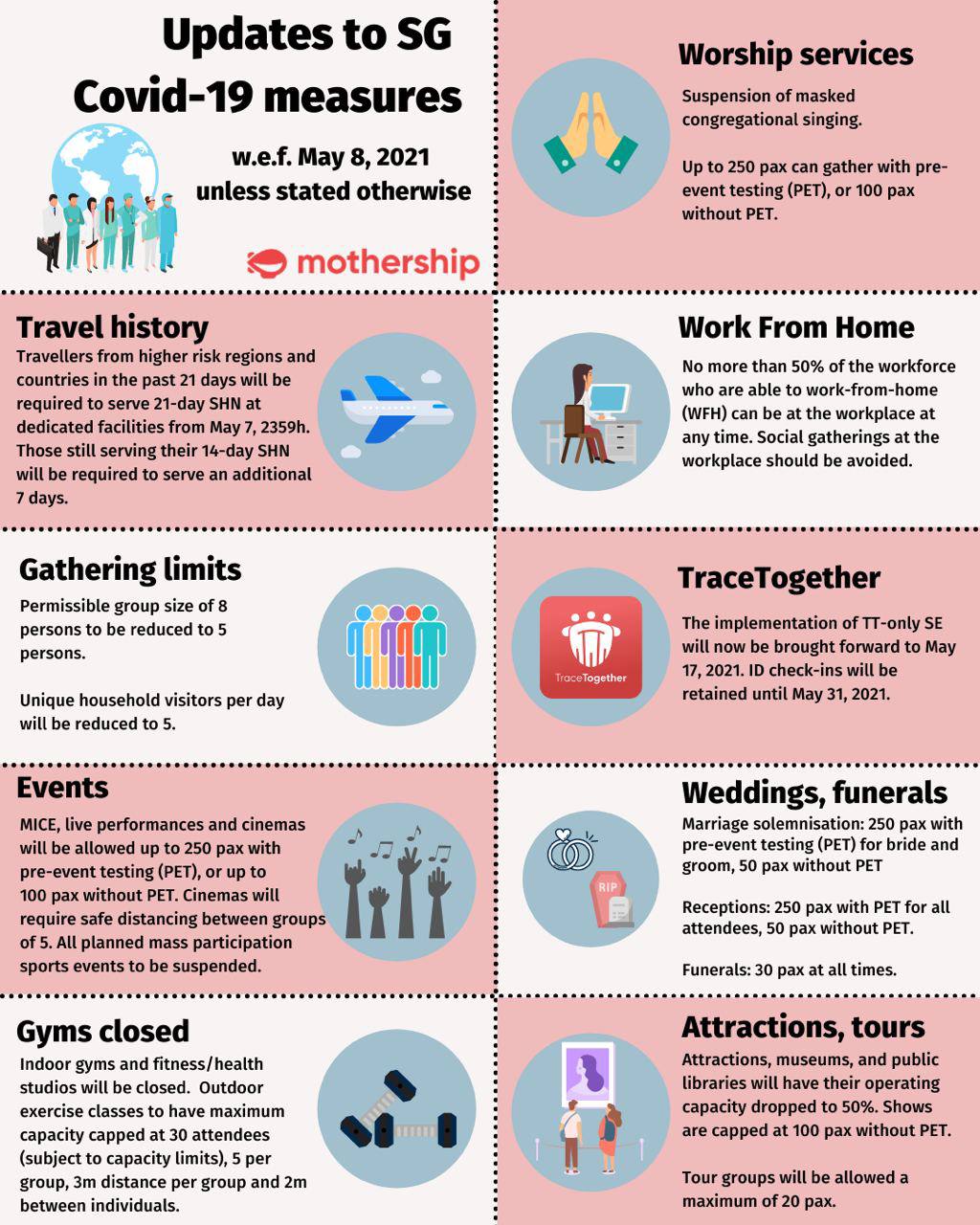 You can read Wong's post below:
Top images via Mediacorp video screengrab, Changi Airport.
If you like what you read, follow us on Facebook, Instagram, Twitter and Telegram to get the latest updates.