Sheng Siong stock price jumped 11 per cent in one day on May 14, 2021 before trading closed, following news that Singapore will disallow dining out at all F&B establishments.
Sheng Siong stock price rebound
Sheng Siong stock price experienced a sharp rebound from its healthy but downward trending momentum.
During afternoon trading, Sheng Siong stock price stabilised at S$1.67.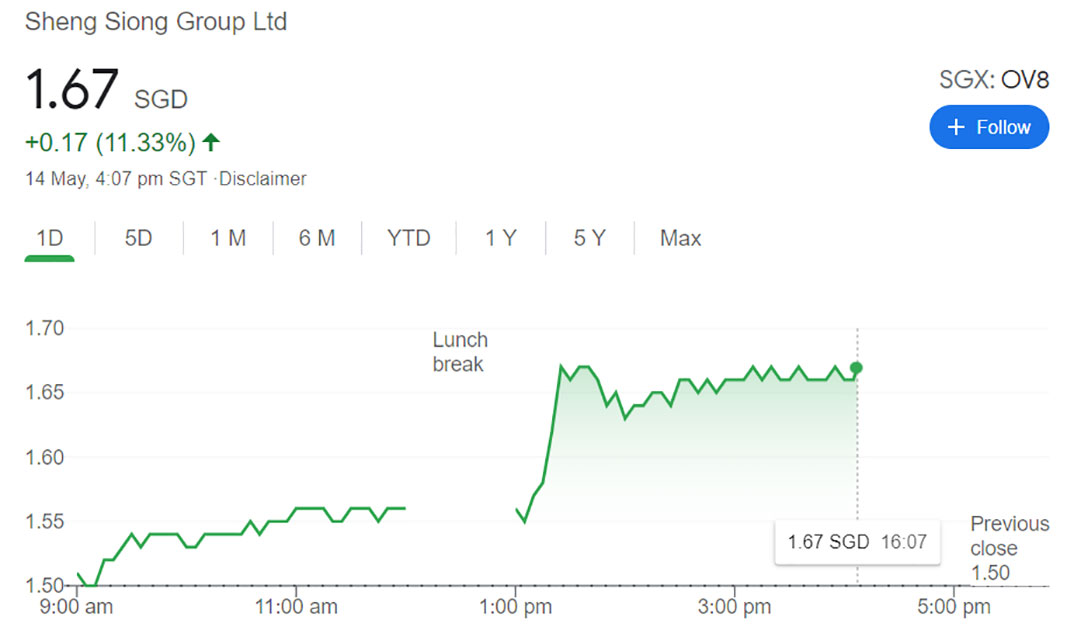 Over the past nine months since August 2020, the supermarket chain's stock price dipped from a high of S$1.85 in August 2020 to S$1.49 per share just before Friday morning's sudden announcement.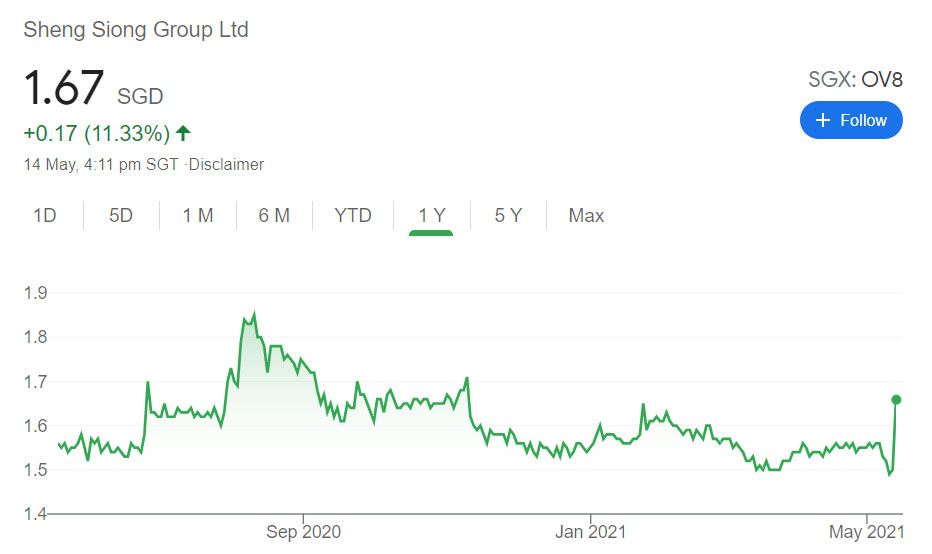 Green in a sea of red
Across the board, Sheng Siong emerged the rare leafy green stock blinking in a sea of red on price charts on Friday.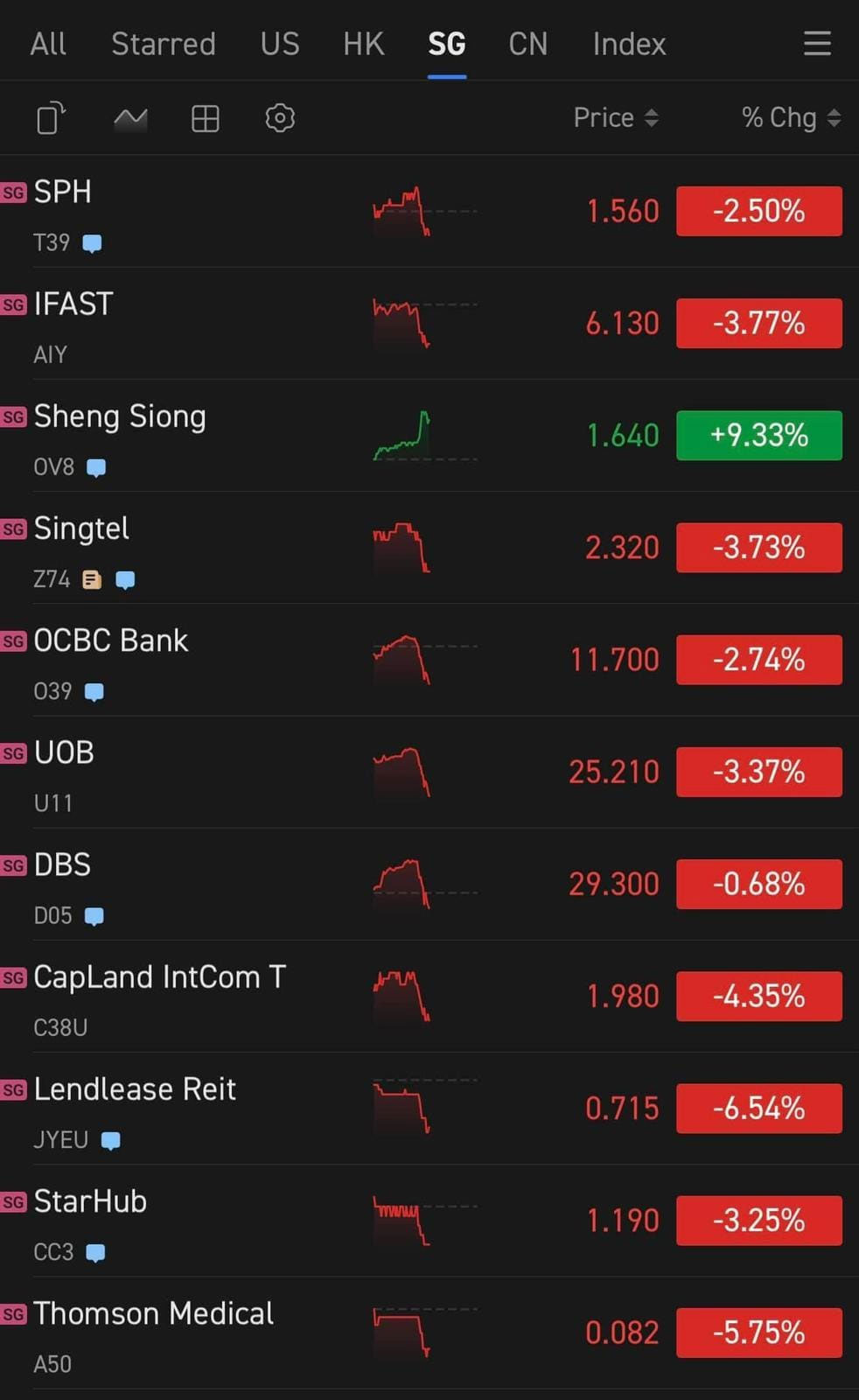 Blue chip stocks bled out in the short term as pessimism reigned, with OCBC and Singtel share prices falling 2 to 3 per cent.
The Phase 2 (Heightened Alert) measure has put a dampener on Singapore's recovery, at least in the short term.
Sheng Siong dividend per share
Investors who bought Sheng Siong stock at a then-high of S$1.30 per share prior to the Covid-19 pandemic in March 2020 have reaped or are reaping the profits wrought by the worldwide effects of the coronavirus on consumer behaviour.
Sheng Siong revenue hit S$1.39 billion for 2020.
Its net profit stood at S$139.1 million for the full year ended Dec. 31, 2020, the company said in a Singapore Exchange filing on Feb. 24, 2021.
Following that announcement, Sheng Siong proposed a final dividend of three cents per share, subject to shareholder approval, taking its full-year dividend payout to 6.5 cents per share.
This dividend payout represents 70.5 per cent of the company's full-year net profit.
Shock announcement
The latest shock announcement in Singapore came as the Phase 2 (Heightened Alert) measure is set to take effect from May 16 through June 13, and will affect hawker centres and food courts, both indoors and outdoors.
All F&B establishments will only be able to offer takeaway and delivery options.
This measure will force people to remain home more often, which will see grocery purchases increase in volume.
Even wedding banquets have been hit by this sudden rule and made to cease because they are considered a dining activity.
Group gatherings will be reduced from five people to two people.
Strenuous indoor exercise classes, or strenuous individual and group indoor sports and exercise activities, will also be halted.
Personalised services that need masks to be removed, such as facials and saunas, singing and playing instruments that need "require intentional expulsion of air" like wind or brass instruments, will also not be allowed.
However, medical and dental services can continue.
Sheng Siong news
https://mothership.sg/2021/03/lessons-on-leadership-lim-hock-chee-sheng-siong-interview/
https://mothership.sg/2021/05/work-from-home-antigen-test/
All photos via Google Maps
If you like what you read, follow us on Facebook, Instagram, Twitter and Telegram to get the latest updates.