The Ministry of Health (MOH) has invoked the fake news law in response to a statement online claiming a new Covid-19 variant has its origins in Singapore.
Ong Ye Kung, the minister for health, instructed the Protection from Online Falsehoods and Manipulation Act (POFMA) Office to issue a correction direction to the SPH Magazines-owned HardwareZone forum, as well as tech giants Facebook and Twitter.
All three platforms will have to carry a mandatory correction notice visible to all users from Singapore, a MOH press release issued at about 1am on Thursday morning, May 20 said.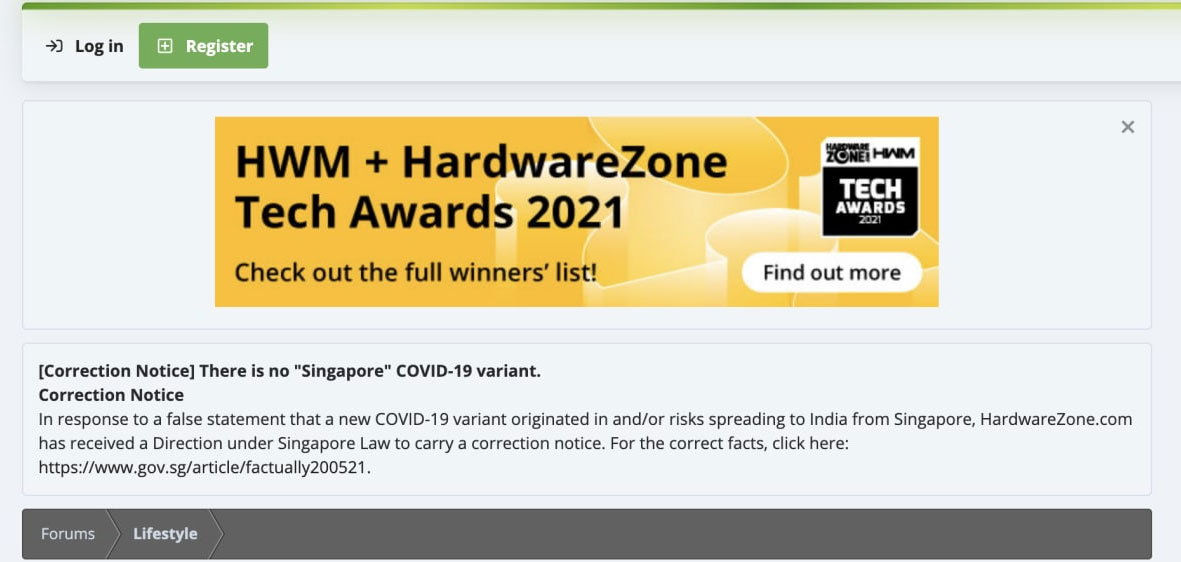 MOH: B16172 variant prevalent in Singapore originated from India
The MOH release added: "The Ministry of Health (MOH) is aware of a false statement circulating online by multiple media outlets and social media platforms, which implies that a new, previously unknown variant of Covid-19 originated in Singapore and/ or risks spreading to India from Singapore."
No new Singapore variant of Covid-19 exists, MOH also said.
The health ministry also pointed out that the "strain that is prevalent in many of the Covid-19 cases detected in Singapore in recent weeks is the B16172 variant, which originated from India".
There is also no evidence of any Covid-19 variant that is "extremely dangerous for kids", MOH continued.
Background
Dehli's Chief Minister Arvind Kejriwal wrote on Twitter in Hindi on May 18 calling on India's government to cancel flights with Singapore.
सिंगापुर में आया कोरोना का नया रूप बच्चों के लिए बेहद ख़तरनाक बताया जा रहा है, भारत में ये तीसरी लहर के रूप में आ सकता है।

केंद्र सरकार से मेरी अपील:
1. सिंगापुर के साथ हवाई सेवाएं तत्काल प्रभाव से रद्द हों
2. बच्चों के लिए भी वैक्सीन के विकल्पों पर प्राथमिकता के आधार पर काम हो

— Arvind Kejriwal (@ArvindKejriwal) May 18, 2021
He claimed a "new form of corona" from Singapore could cause a third wave of infections in India.
His remarks were reported by Hindustan Times and NDTV, a broadcaster in India.
Both media have immense followings both inside and outside of India.
Singapore's swift response
In response, MOH and the Ministry of Foreign Affairs (MFA) issued statements within several hours to debunk the claims made by the politician in India about the supposed new variant.
MOH said in a statement on the same day the tweets were made that there was no truth to his claims.
MFA on May 19 said it "regrets the unfounded assertions" made by Kejriwal on social media.
Top photo via
If you like what you read, follow us on Facebook, Instagram, Twitter and Telegram to get the latest updates.