Follow us on Telegram for the latest updates: https://t.me/mothershipsg
Otters from the Zouk family are probably the most adept at navigating through urban spaces among all otter families in Singapore.
That's because this family has failed to secure a territory of its own unlike other otter families, such as the Bishan and Marina otters.
14 otters visit two dogs at Pasir Panjang estate
Despite the Heightened Alert measures, the family was caught out and about in a group of 14.
The Zouk family was spotted paying two dogs a visit at a private residential estate in Pasir Panjang last Saturday (May 22) morning.
The dogs clearly did not intend to break the rule of two to host such a large group of visitors.
The Zouk otters then left quickly, without the dogs letting out a bark.
A resident named Laura Elford took a video of this sight at around 9am on Saturday:
Speaking to Mothership, Elford who has been living at Chwee Chian Road for the past two years, said that this is her first time she saw otters.
Zouk otters managed to take a dip in the paddling pool of a house and in a bucket of water that was prepared for a car wash, she told Mothership. The otters also knocked over some plants as they entered residents' gardens.
Elford said that she is very fond of the otters and was hoping to see them at the zoo just a few weeks ago so this came as a surprise to her. Her neighbours had also sighted them at the Hort Park recently.
Seeing that the otters are in the vicinity, she quickly asked her helper to shut their front door which was left open initially.
Elford, her three-year-old daughter and helper also stood at the corner and observed the otters from a distance.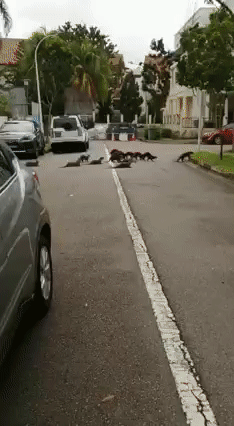 Residents excited by otters' visit
The residents in that estate were pretty thrilled by this encounter.
Elford told Mothership:
"My neighbours, who have a two-year-old girl, were on their drive, they came out to see the otters, we were all quite excited as they are famous! There are some other young children who have since heard about the encounter and asked to see the videos!"
She also noted that there were some negative online comments, calling otters "pests" that destroy koi ponds.  However, she added that, from her understanding, there are no koi ponds at the houses in this estate.
She is more concerned about the otters' welfare, she said, as it was difficult to guide them back to the canal.
A Zouk otter pup died on the road after that day
Mothership understands from an otter watcher that the Zouk family were hanging out at Labrador Park and Hort Park over the past few days.
The Zouk family should consist of 14 otters, not 18, the otter watcher said.
The family has since returned to the Singapore River.
Sadly, as the family moves from place to place in an urban environment, the young otters might not be able to keep up with the adults.
One pup has died on the road on Sunday (May 23) and another is still missing.
The nomads
The Zouk otters have been wandering around for quite a while.
In the past one year, they had been spotted in Newton and Little India areas a few times:
Yup, these are all sightings of the same Zouk family.
Unfortunately, most water bodies in the central watershed of Singapore have been taken up by other otters.
If the Zouk family cannot find an alternate territory to settle down, they might engage in territorial fights with other otter families. This has happened before:

Top image via Laura Elford's video screenshots
If you like what you read, follow us on Facebook, Instagram, Twitter and Telegram to get the latest updates.