Follow us on Telegram for the latest updates: https://t.me/mothershipsg
Korean-American artiste Jay Park came under scrutiny after getting called out for rapping lyrics which compared himself to Allah.
The 2020 song "Mukkbang! - Remix" contained lines which read "Worship mе like Allah / Get it done like wallah", in a verse where he also calls himself "a young god".
A tweet on May 27 by user @hwangover, which called attention to the lyrics, attracted over 1000 retweets and 1,200 likes:
sorry non skz but just found out about jay parks SUPER offensive lyrics about comparing himself (astaghfirullah) to Allah and even terribly trying to rhyme it with wallah and it's just .. sorry but if u genuinely support this man plssss block me bc i'm super weirded out by him pic.twitter.com/IQsJ8GqBBo

— aya (@hwangover) May 26, 2021
Park has now made a second apology for the lyrics, after his first apology drew criticism from those who felt that it lacked sincerity.
Initial apology panned, eventually deleted
Park's first apology, posted on Twitter on May 27, offered the explanation that the lyrics "were never meant to be offensive or disrespectful".
He also addressed comments that he was "dragging a religion" and which called him a racist, labelling them as a "bull shit false narrative".
He wrote: "To me [it's] just lyrics, to some [it's] more serious."
Park also said in a follow-up tweet that he was not aware of the significance of the word "Allah", saying that "everyone takes things in differently depending on where you are, how you grew up," according to Malay Mail.
He also wrote:
"Love all my REAL Muslim fans and I hope it don't make you think of me any different.

To those who wanna hate, let 'em hate."
The initial apology has been deleted, although Twitter users continue to circulate screenshots.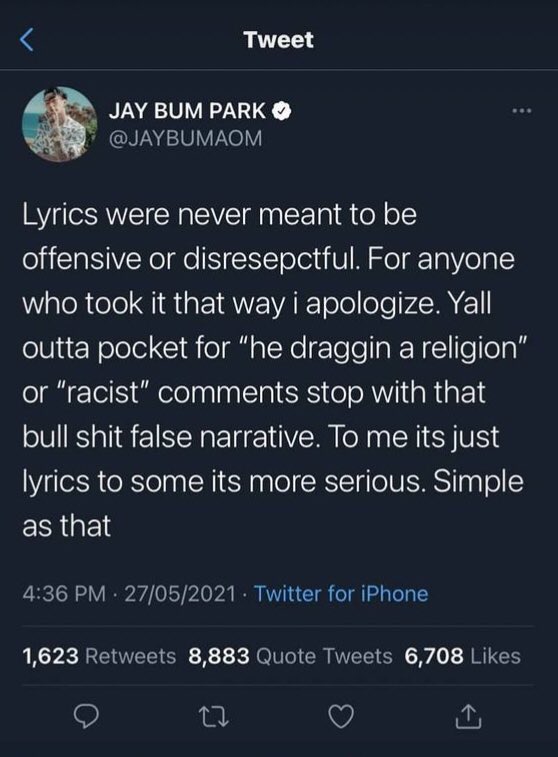 Second apology
In a subsequent apology posted later that evening, Park once again reiterated that "the intent was never to disrespect or offend," but acknowledged how the line caused offence.
"At first I didn't see the problem but as I read the comments (not the hateful ones but the ones who are actually trying to educate on why its offensive) I see that I used a word some are willing to die behind in my lyrics," he wrote.
"It's not my place to use something that means so much to the Muslim people in my rap lyrics freely," he added, apologising to his Muslim fans.
The apology came in the form of a screenshot, with Park adding the caption "I humbly apologise." when posting it on Twitter.
🙏❤️ I humbly apologize. pic.twitter.com/uOUwxzqdN0

— JAY BUM PARK (@JAYBUMAOM) May 27, 2021
Top image from 박재범 Jay Park (AOM) on Facebook and @JAYBUMAOM on Twitter
If you like what you read, follow us on Facebook, Instagram, Twitter and Telegram to get the latest updates.