Follow us on Telegram for the latest updates: https://t.me/mothershipsg
Jade Rasif and the Ministry of Manpower (MOM) clashed heads after the former uploaded a series of Instagram Stories on May 16, 2021.
Jade, who is a Singaporean online personality and healthcare worker, had questioned why her Indonesian helper was released from quarantine just days after her arrival in Singapore, only to test positive for Covid-19 later.
Another set of Instagram Stories
After MOM responded and labelled Jade's account as "inaccurate", the personality did not back down.
Besides responding on the ministry's Facebook post to accuse them of being "inaccurate" as well, Jade also uploaded another set of Instagram Stories on the night of Monday (May 17).
In these stories, she pointed out parts of MOM's statement that tallied with her own experience, for members of the public who doubted her story.
In her last Story, Jade said she found "two glaring inconsistencies" in MOM's statement, and was in the midst of compiling evidence for it.
However, the personality had also asked followers not to attack MOM, and added that she appreciated their apology.
Some time between the morning and afternoon on May 18, however, the entire set of Instagram Stories was made unavailable.
It was replaced by an update on the same night, with Jade saying that she had spoken to MOM and presented her "receipts" (evidence) to them.
According to Jade, the ministry had apologised and admitted that their statement was "inaccurate" and made without sufficient research.
She has also extended an opportunity to MOM to release a joint statement, the Instagram Story wrote.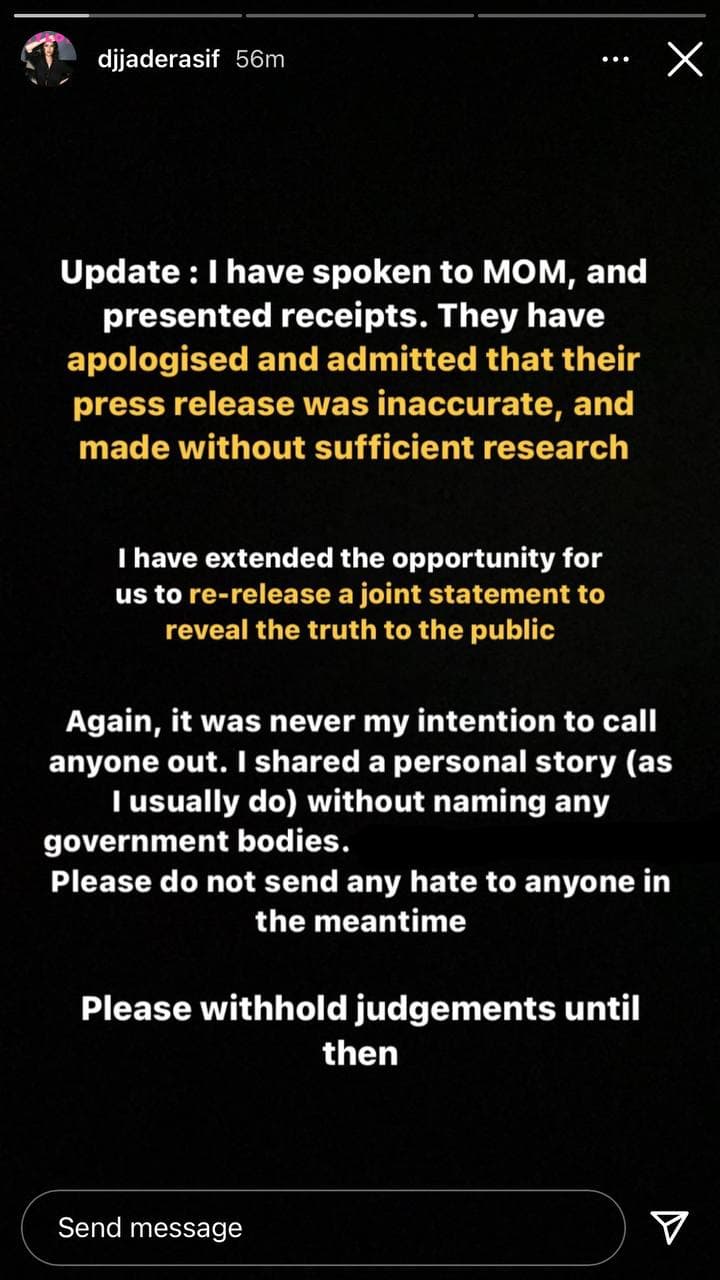 The next five days
In the subsequent days till Saturday (May 22), Jade continued posting about the situation on her Instagram.
About 40 more Instagram Stories were uploaded in relation to the controversy.
In addition to doubling down on her rebuttals on MOM's statement, Jade also showed further correspondence between her and the ministry.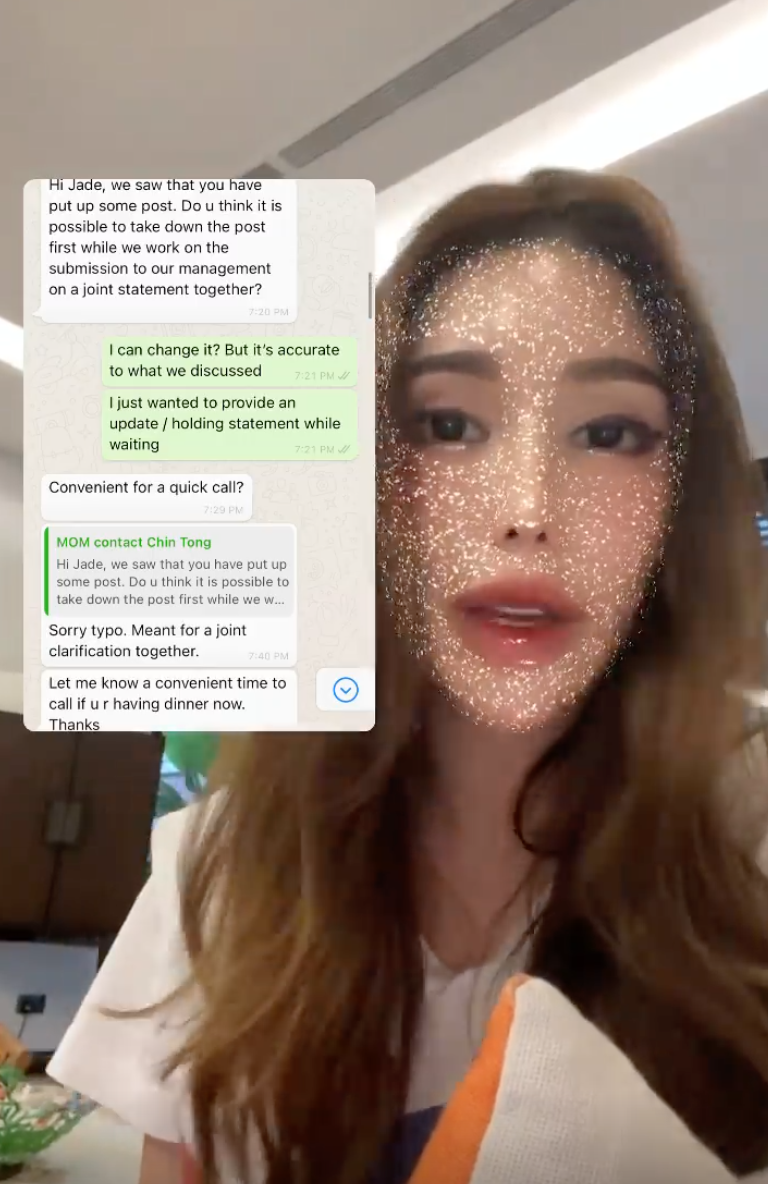 Videos showed snippets of her conversation with at least one MOM officer over a phone call on May 18, where Jade confronted him over the ministry's accusations of her inaccuracies by going over their statement.
In one instance, when the two parties were discussing the alleged police investigation, the officer let out a hearty laugh after admitting that the ministry had not gotten a response from the police yet.
For context, Jade had previously claimed that she was being investigated for breaching a quarantine order that she was never given, while the MOM disputed her claim in their initial statement.
In another Story, Jade recorded her conversation with a member of the police, who confirmed that she was under a "preliminary investigation", but not an official investigation.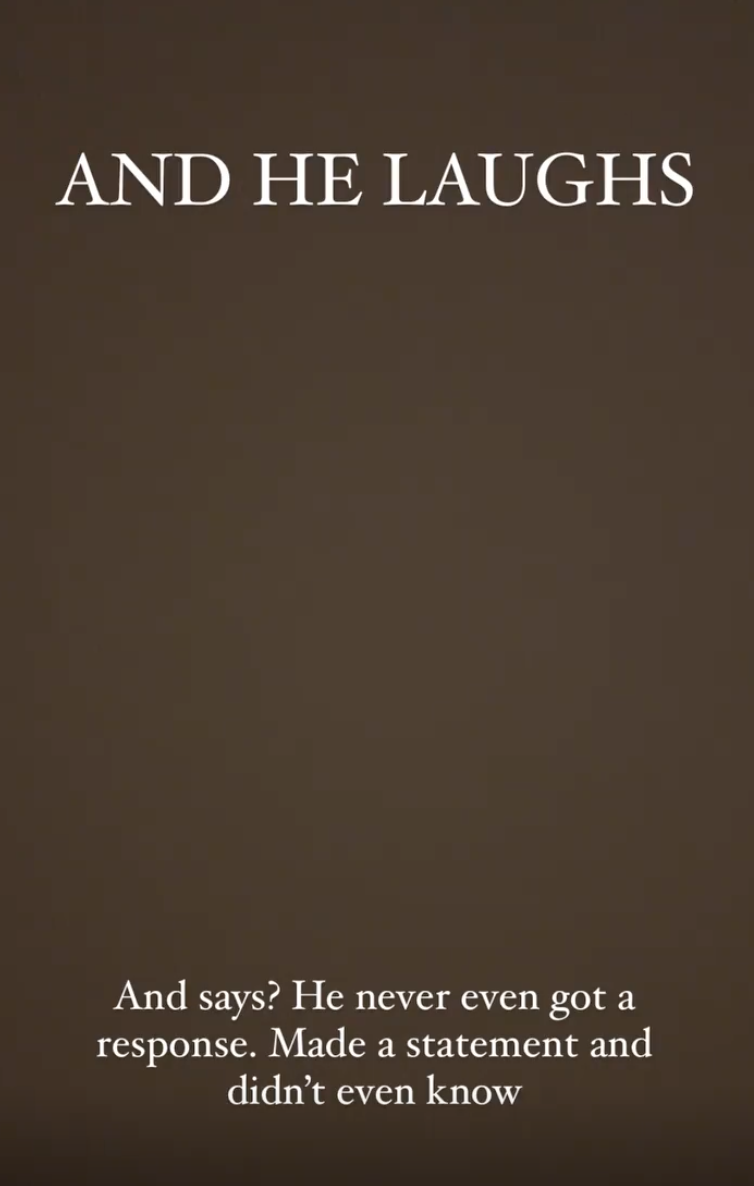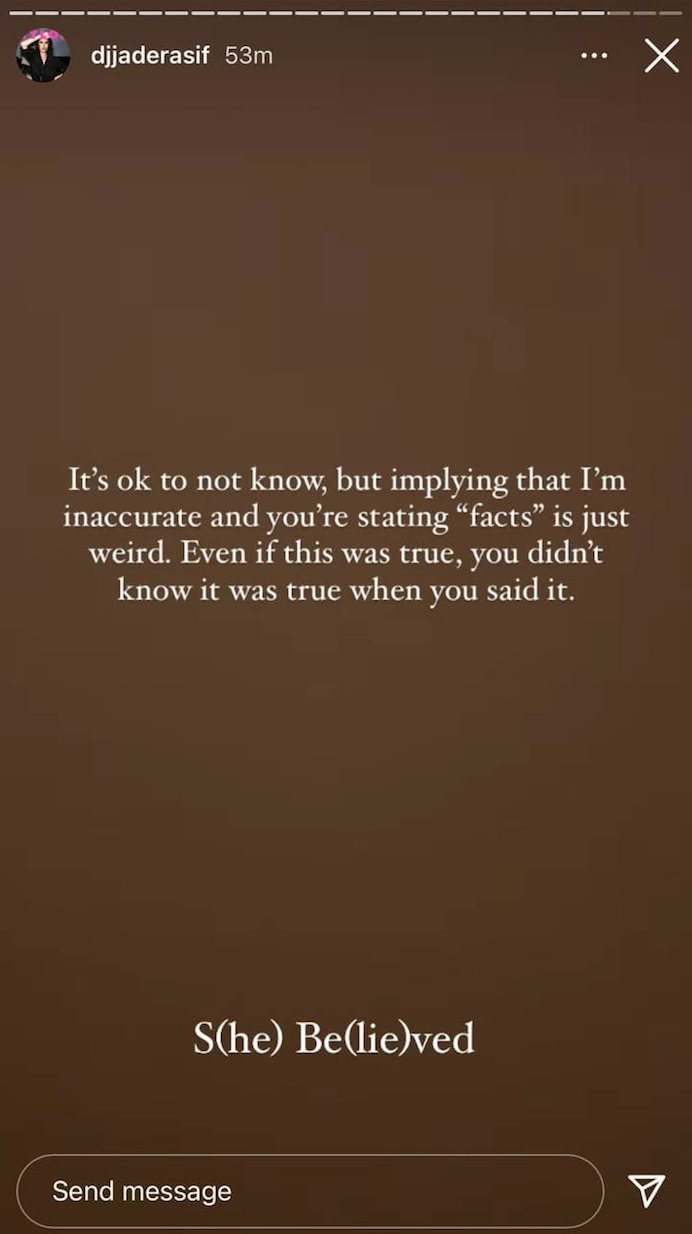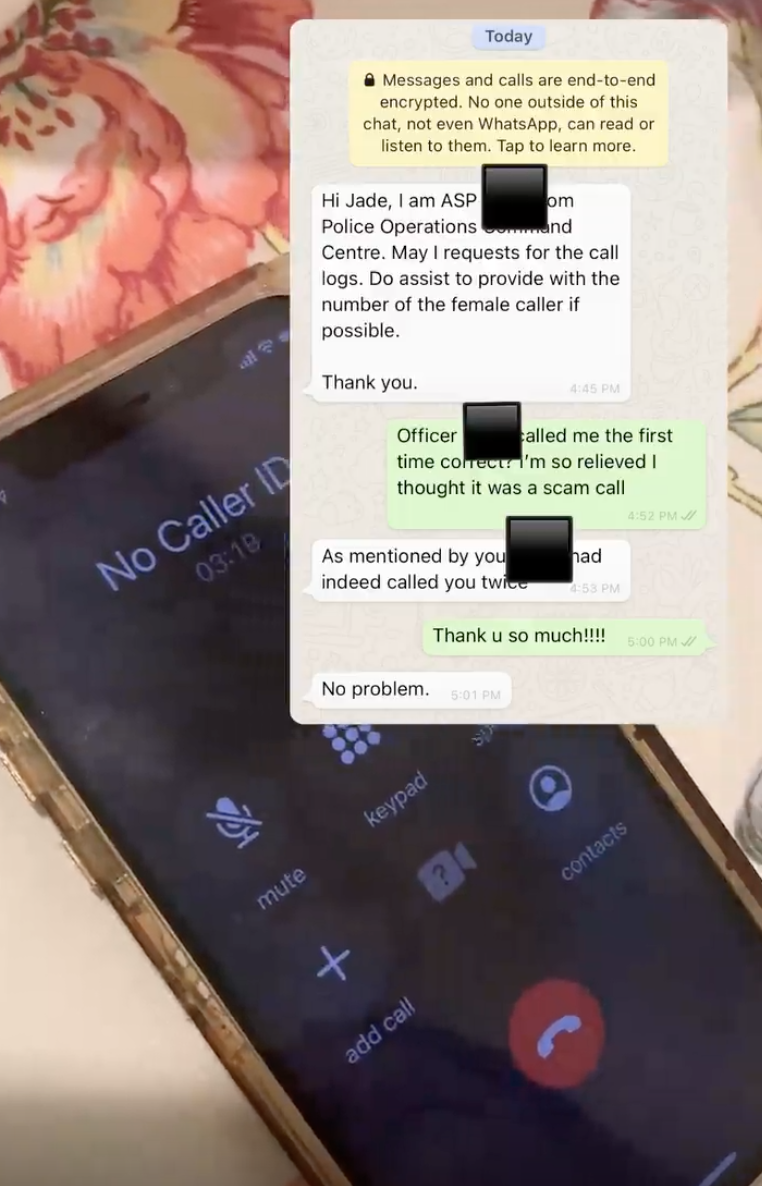 The former DJ also claimed on May 20 that the ministry had "ghosted" her after two days of speaking online, and recorded a video of herself scrolling down the chat.
Jade had sent a barrage of messages on the same day, asking them for updates on the situation. However, it is not clear when the messages were sent.
MOM addresses previous statement and Jade's Stories
The ministry has released another statement on Saturday night (May 22), after another phone call with Jade on the same evening.
Two things were discussed during the call:
MOM's statement on May 17

How their officers handled the phone call with Jade on May 18
On the first matter, MOM said that the police have clarified with Jade the purpose of their calls, and that she is not under investigation for any breach of Quarantine Orders.
The ministry has redacted its use of the word "inaccurate" in the previous statement as well, as it "could have portrayed Ms Rasif to be providing an inaccurate account on the Quarantine Order investigation."
MOM then apologised for affecting Jade negatively over this incident, following her feedback on her emotional well-being.
The ministry also retracted their previous point about MOM reaching out to Jade about her complaint against the ambulance driver.
Officers could have done better
On the second point, MOM acknowledged that their officers could have handled the May 18 phone call better, by being more tactful.
The ministry then promised further updates, as well as an internal review of their processes:
"Ms Rasif also provided feedback on several other matters in the call. We have noted them down and will get back to her with more details.

We will conduct an internal review of our communications and service delivery processes, so that we can better serve citizens and provide greater clarity on their concerns."
Top image via Jade Rasif's Instagram page, MOM's Facebook page
If you like what you read, follow us on Facebook, Instagram, Twitter and Telegram to get the latest updates.