Follow us on Telegram for the latest updates: https://t.me/mothershipsg
A series of Instagram Stories by former DJ/ current healthcare worker Jade Rasif has sparked increased concern over the spread of Covid-19 cases in the community.
Uploaded on May 16, Jade wrote that her helper from Indonesia, who arrived in Singapore "a while back", was released from quarantine just three to four days after arrival.
The helper later tested positive for Covid-19, which meant that there was a chance of her infecting Jade and her family while she was staying with them.
Thankfully, Jade and her family, including a toddler, eventually tested negative.
Here's a quick rundown of what happened:
Helper arrived from Indonesia. Jade paid S$2,500 for her quarantine.

Jade received a phone call three to four days later, informing her that she had to pick up her helper within 12 hours.

The person on the phone, whom Jade did not identify, said that the helper did not need to be quarantined as she had already been infected and subsequently recovered from Covid-19 infection.

About two weeks later, the family received a sudden phone call, asking for their helper to undergo a test for Covid-19. The helper had been going about Singapore all this time.

The helper tested positive. An ambulance picked up the helper.

Jade contacted her family, friends, and healthcare colleagues to tell them the news. She did not receive a quarantine or Stay-Home Notice.

When she tried texting the ambulance service's number, a person on the other end told her to "f*ck off". According to Jade, that was the only number available to her, and had no one/ nowhere else to reach out to regarding the situation.

Jade was subsequently called up by the police for investigations on violating a quarantine order. She emphasised that a quarantine order was never issued.

Jade then paid S$200 for each of her family member to take a voluntary Covid-19 test, as no one tested them.

She also received a call to update her on her helper, who was "non-infectious" and "asymptomatic." However, the helper will need to stay in quarantine for three weeks. Jade was apparently told that her helper could have potentially infected their family while they were staying together.

According to Jade, the helper had actually tested positive on her arrival in Singapore. However, the case was deemed "non-infectious".

Jade and family tested negative. Everyone in her household had already been vaccinated, except for her child. She added that it's "been a while" since the entire incident happened.
After her harrowing experience, Jade asked for members of the public to show more empathy for healthcare workers, as the source of the infection could have been out of their control.
A couple of followers have also sent Jade accounts of similar experiences.
You can view all her Stories here: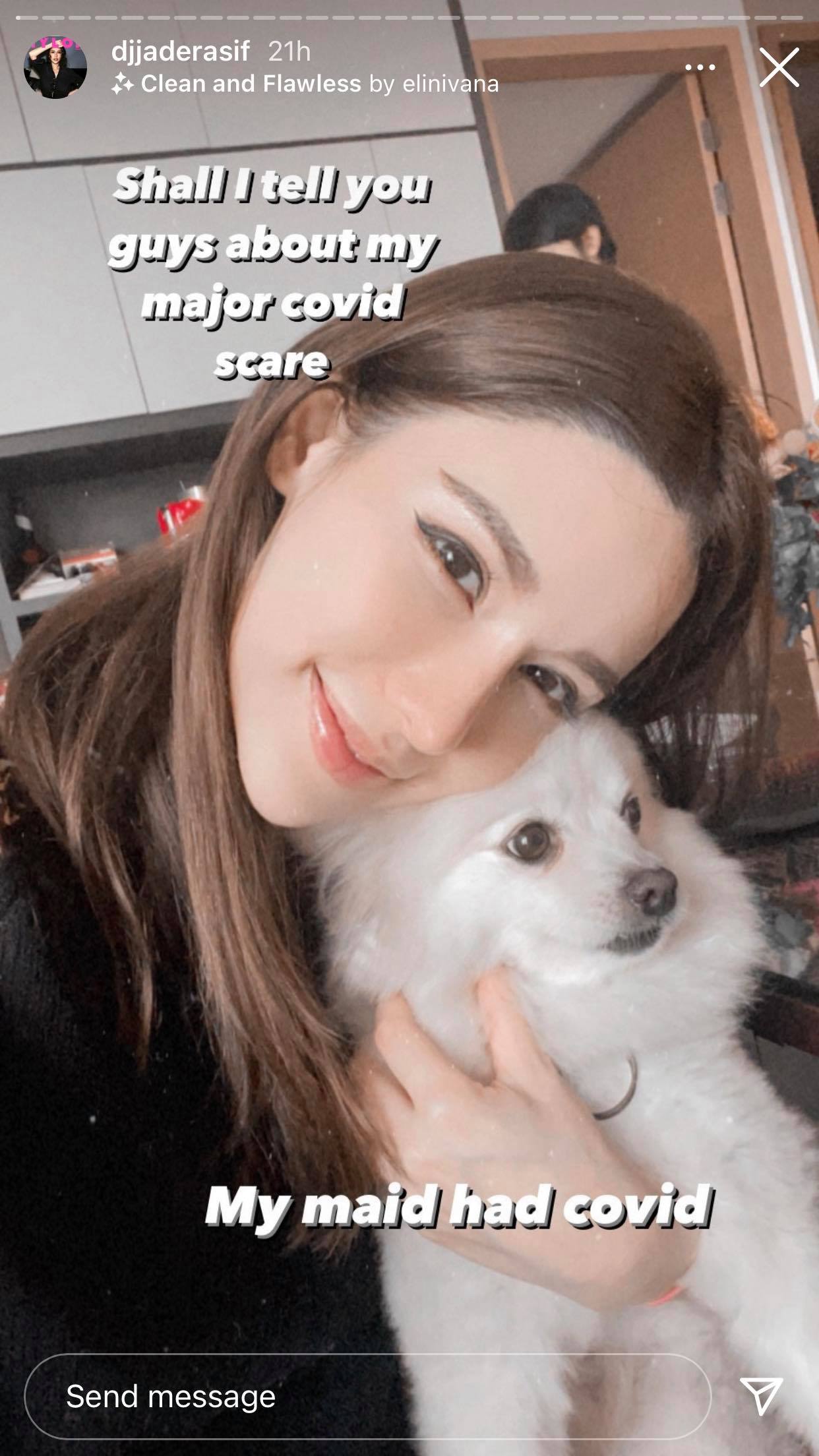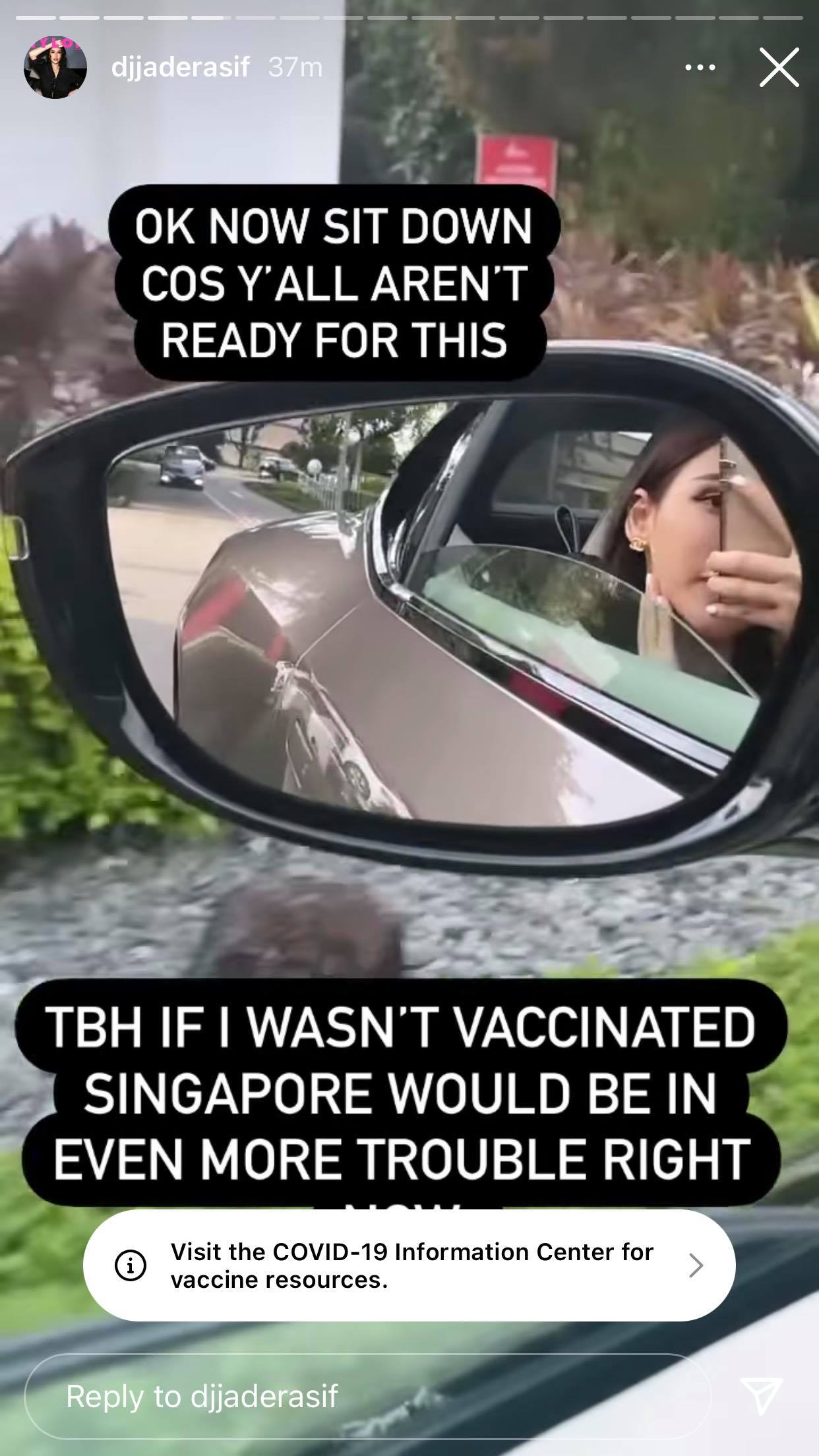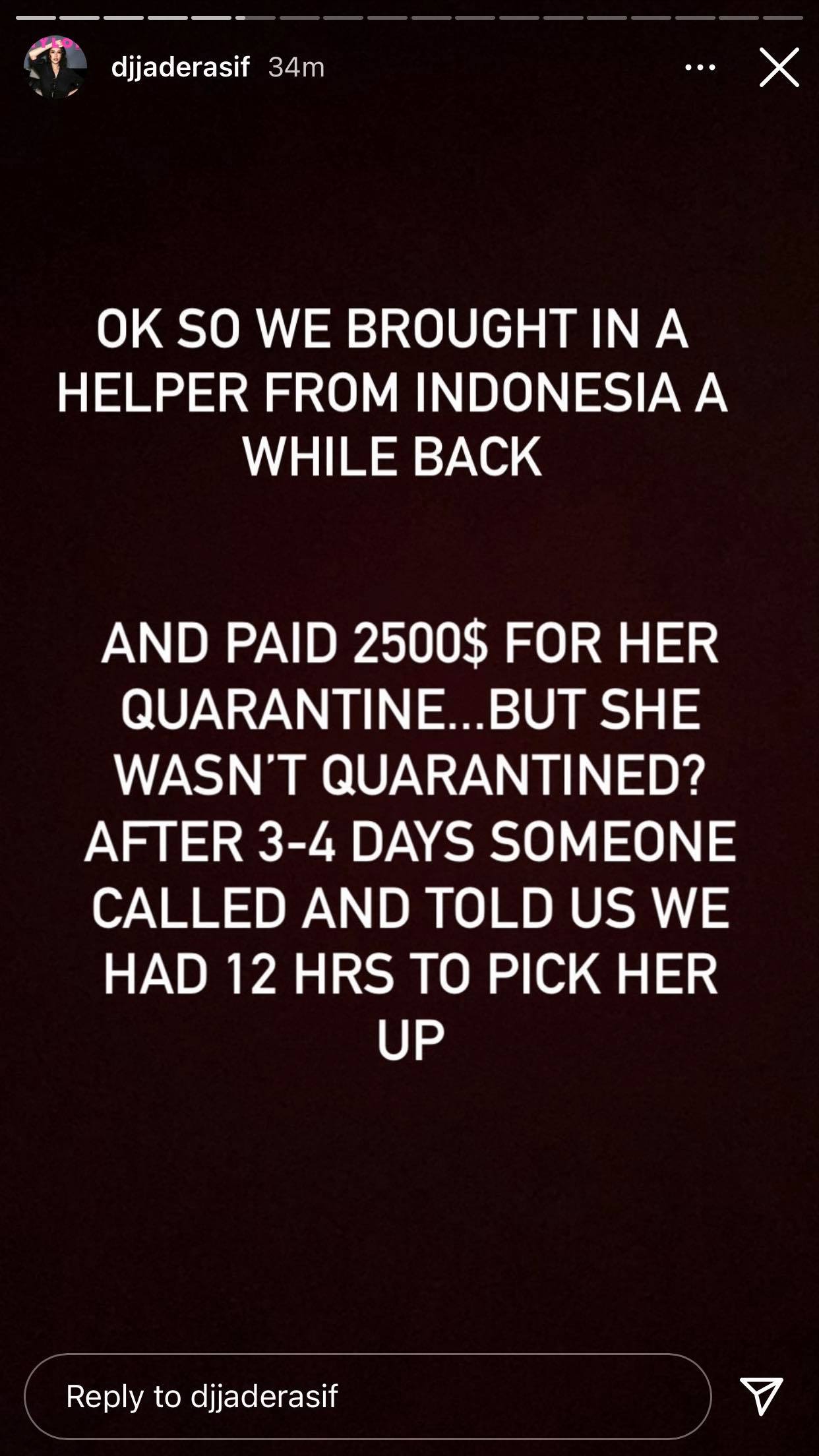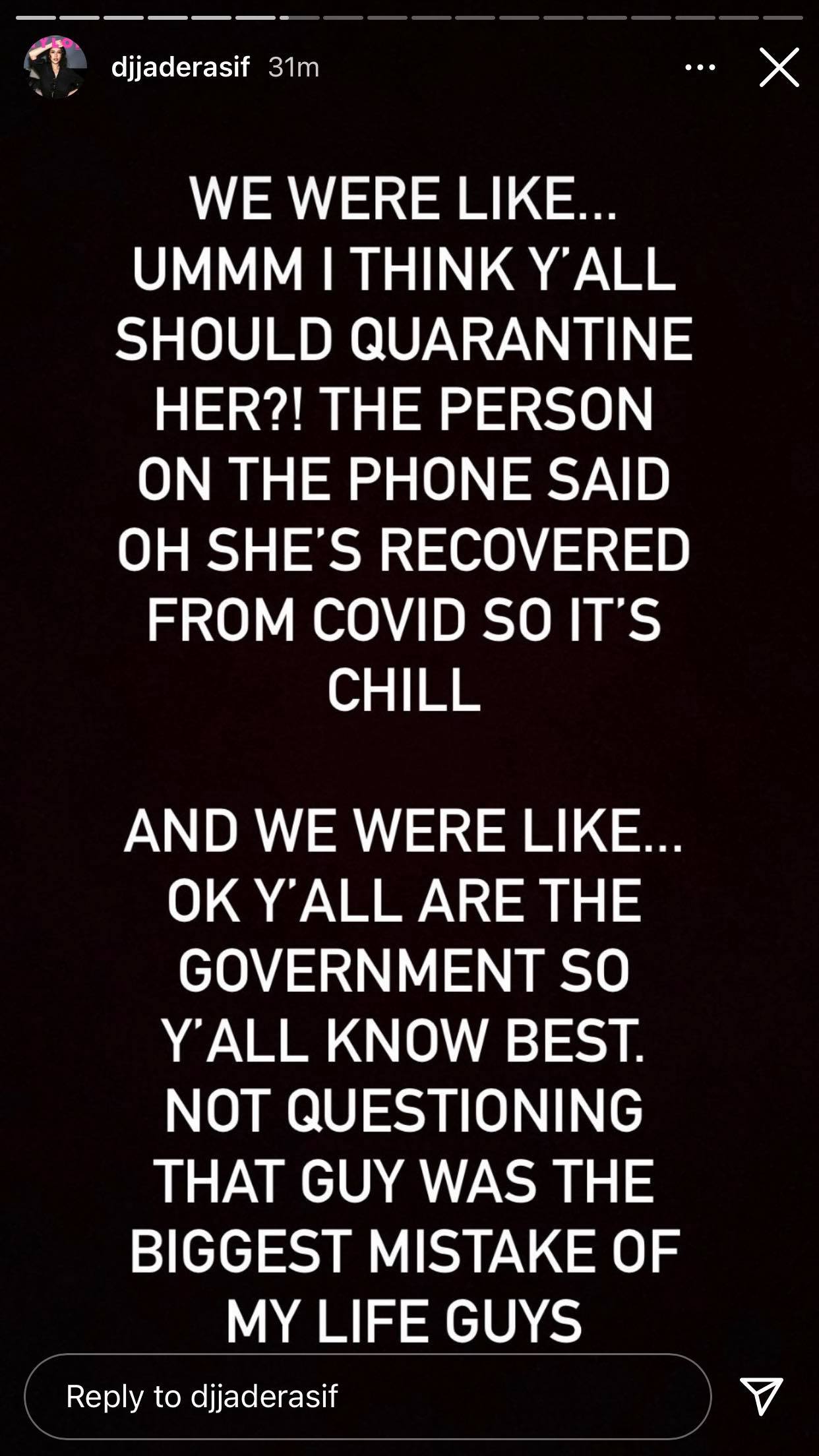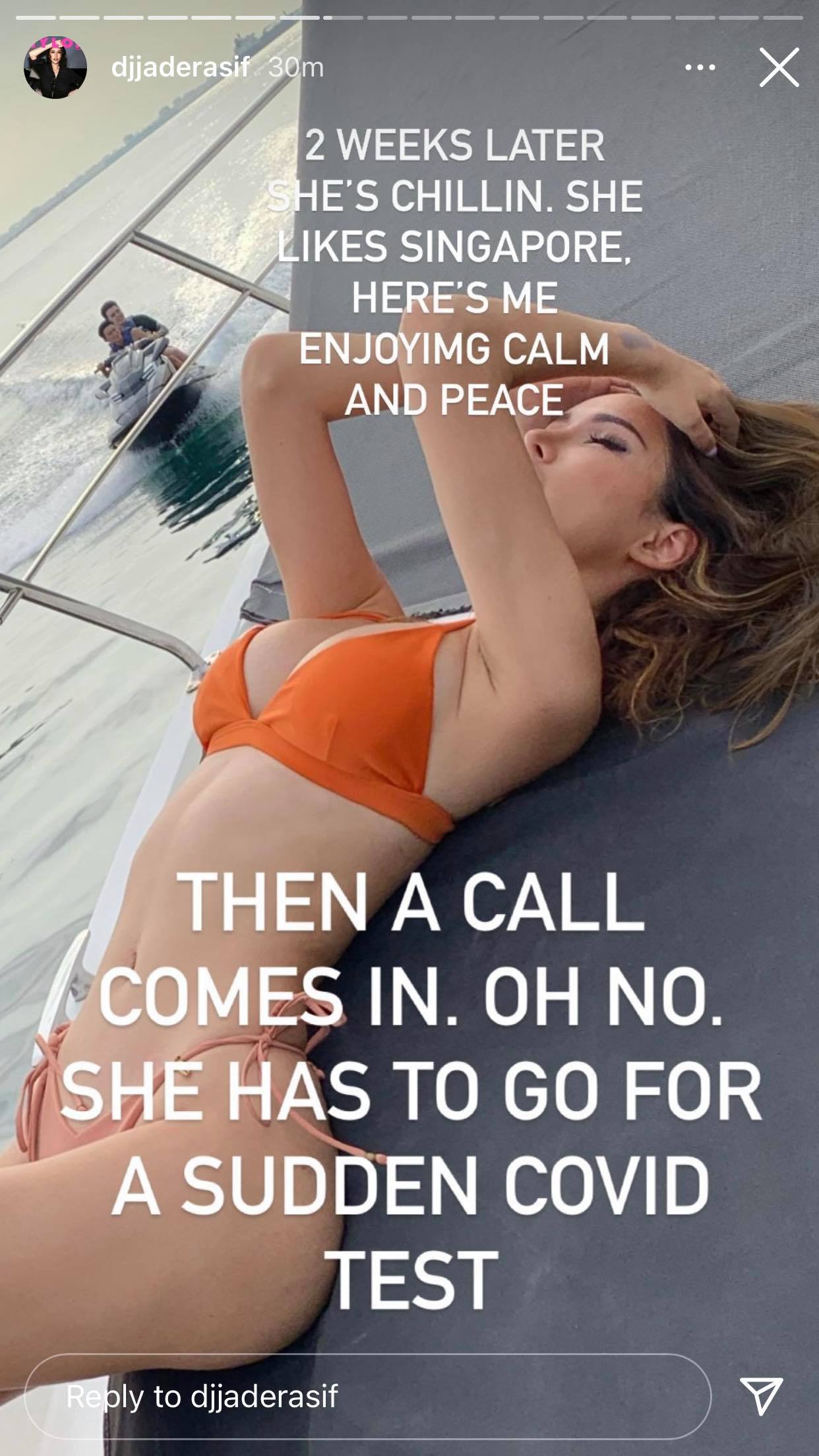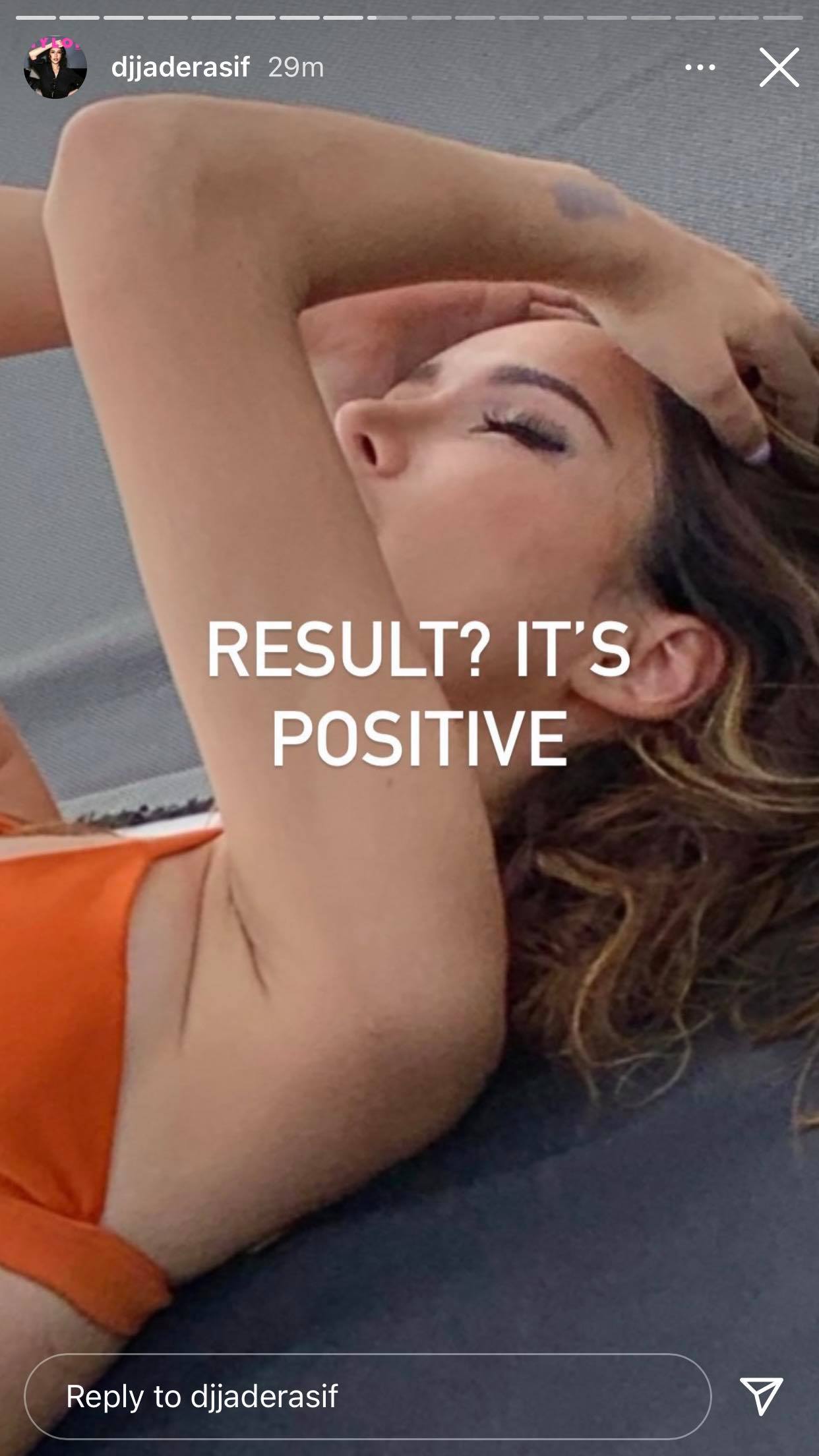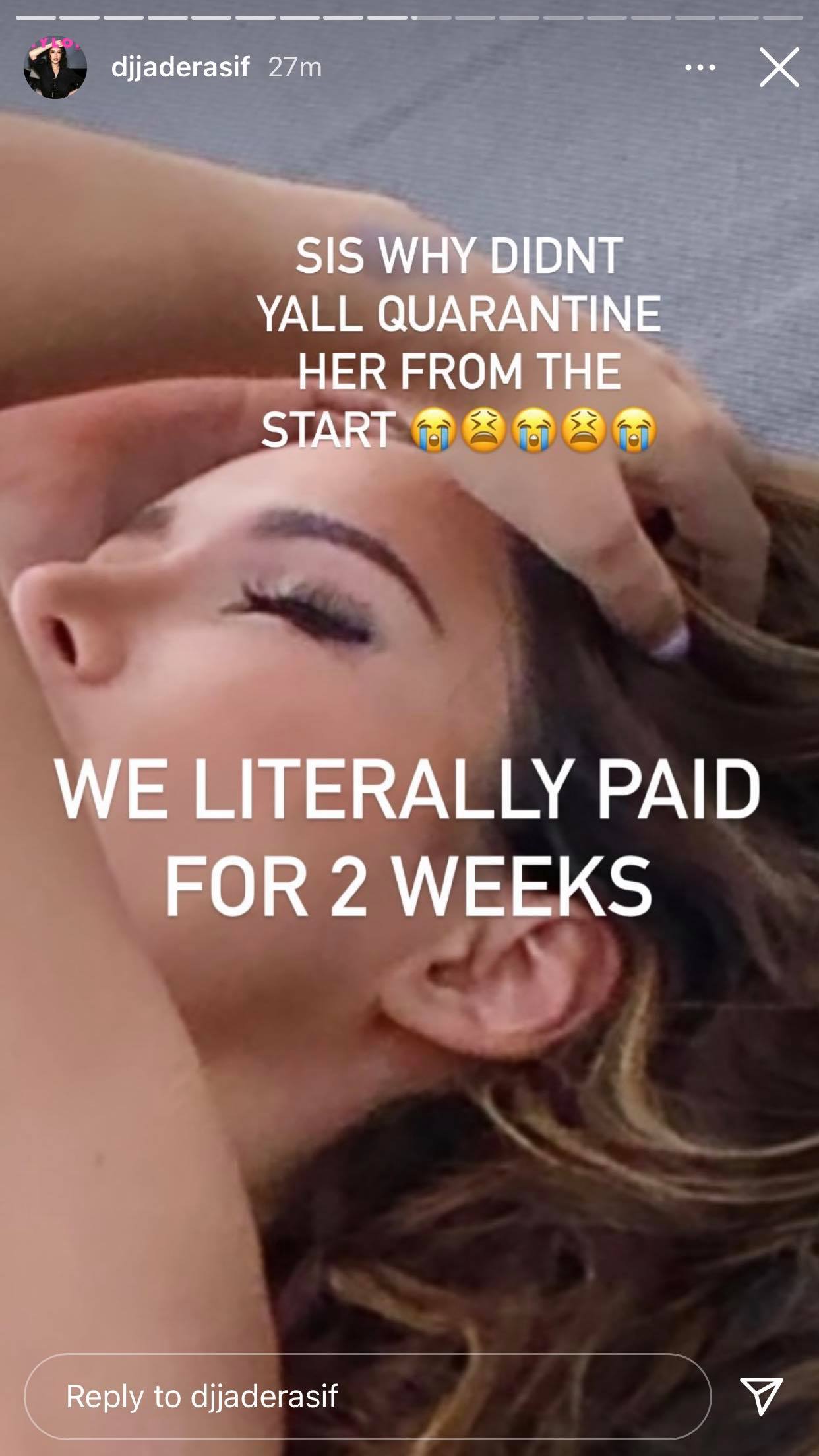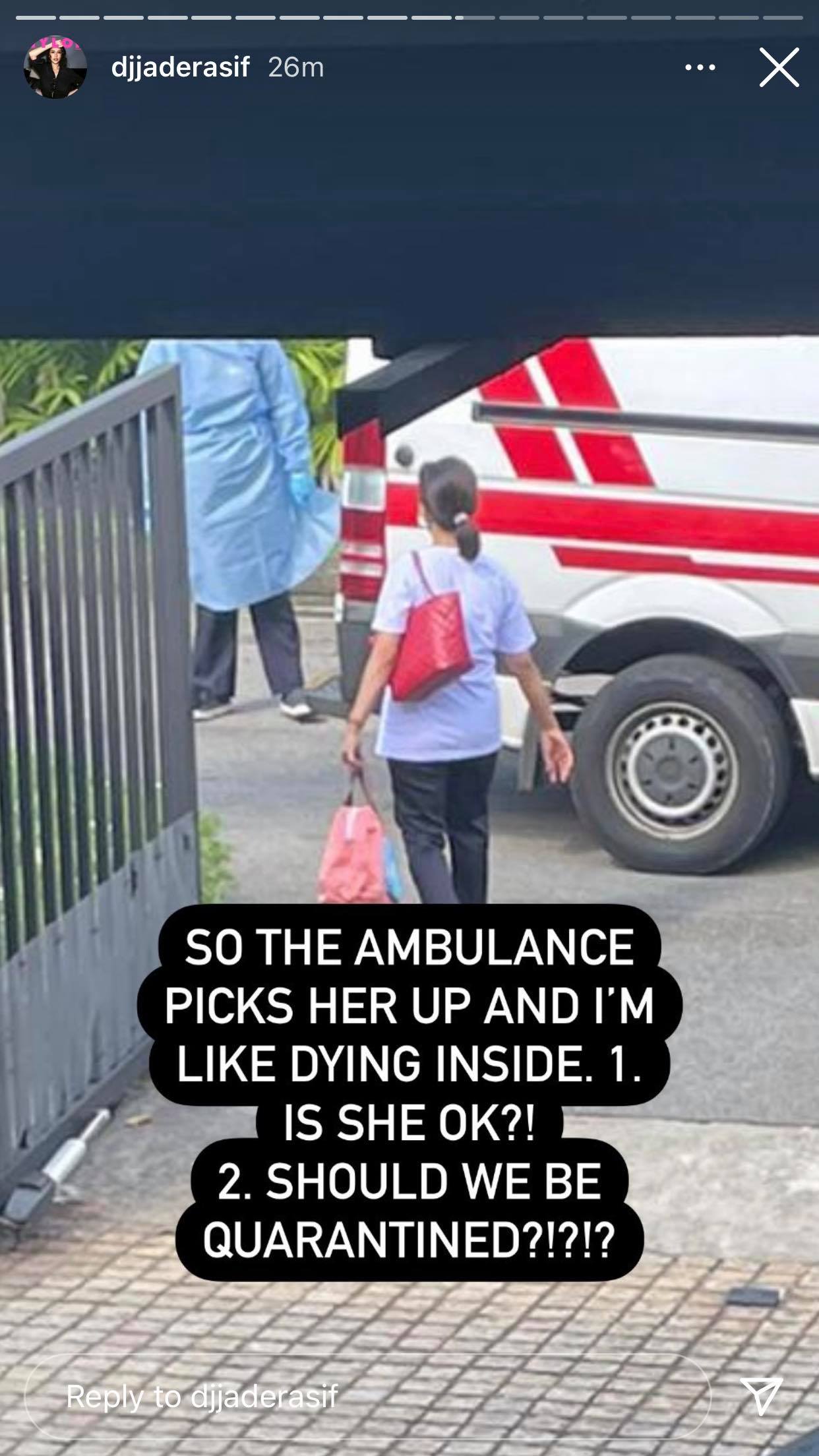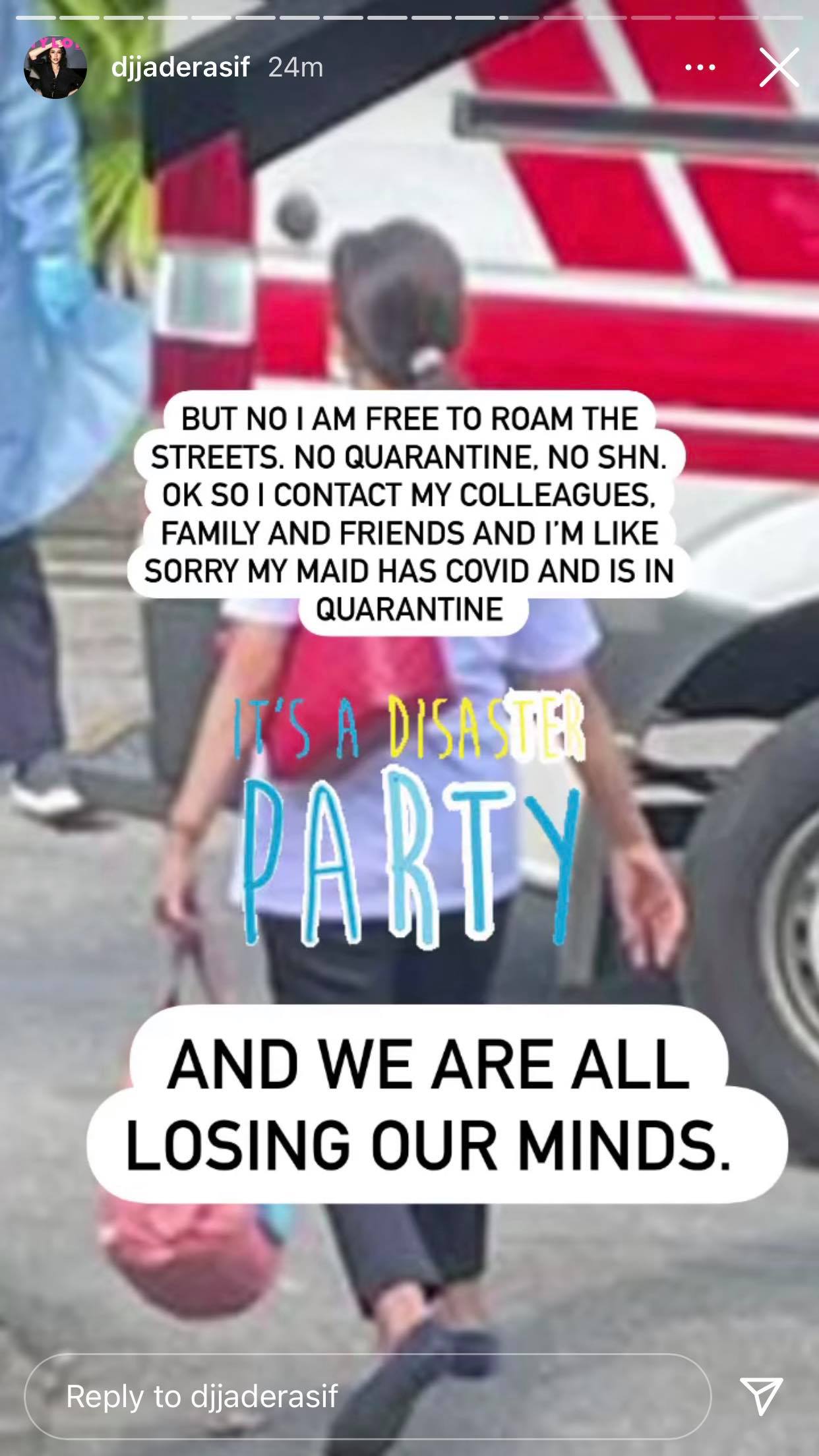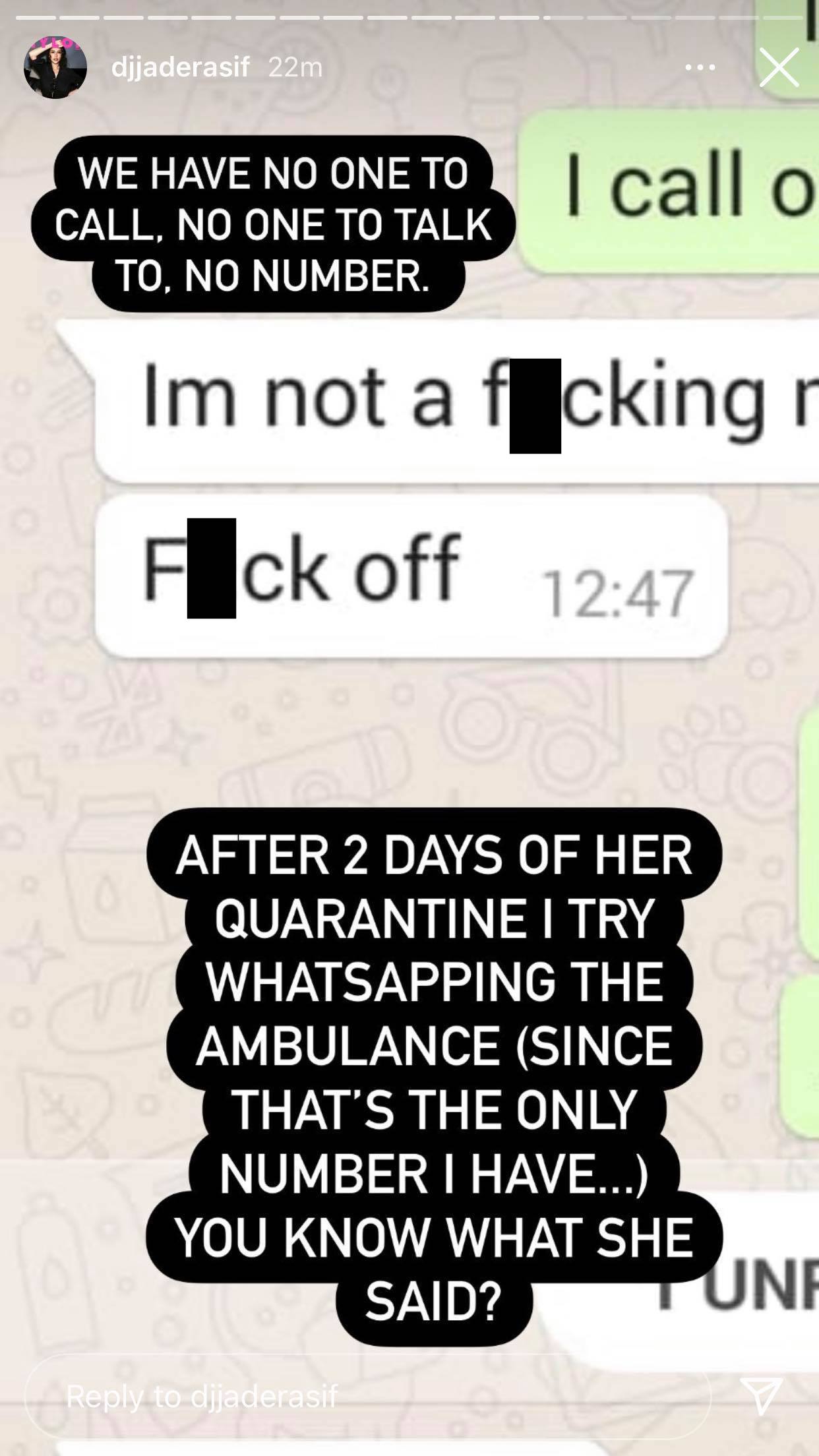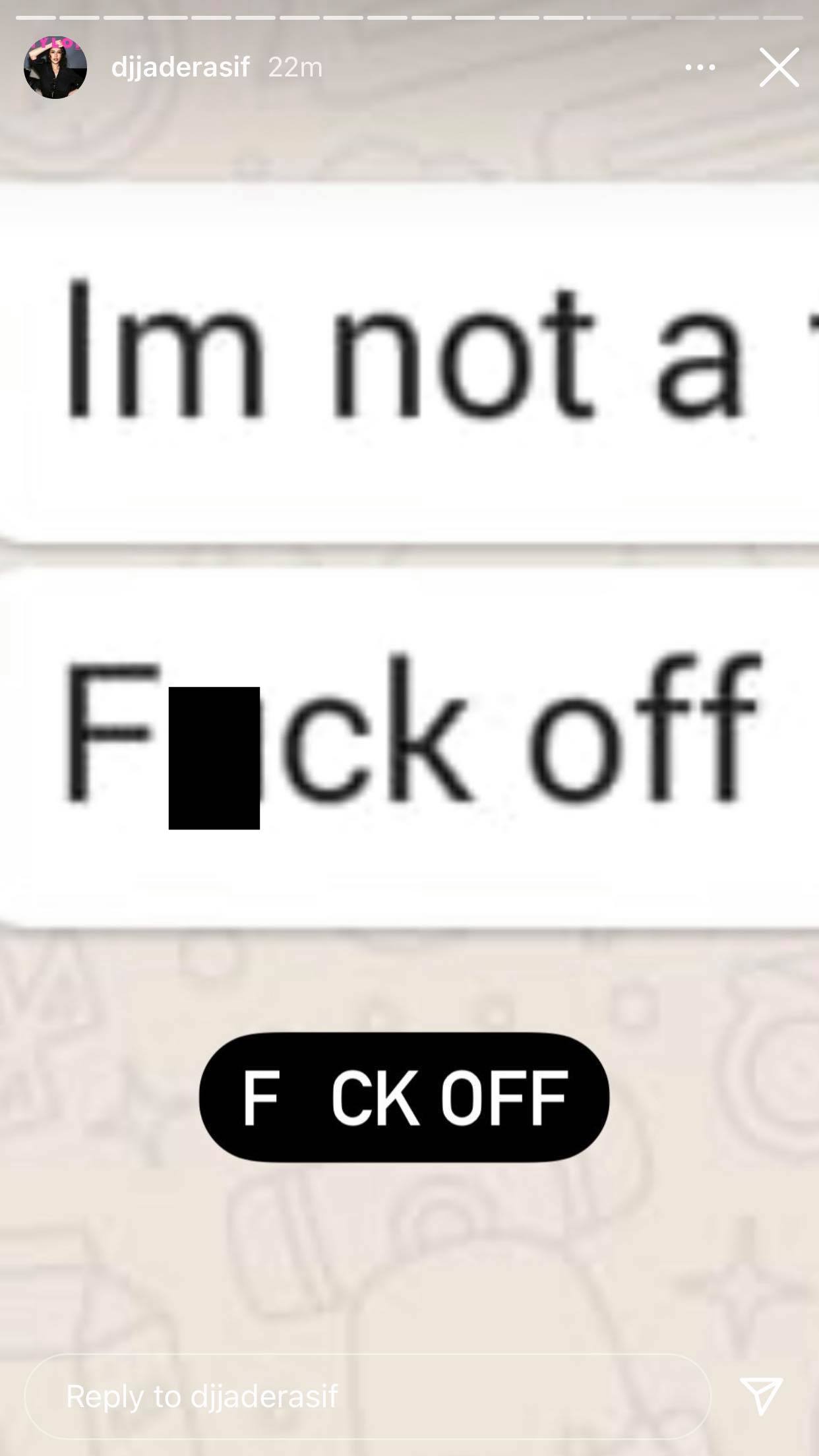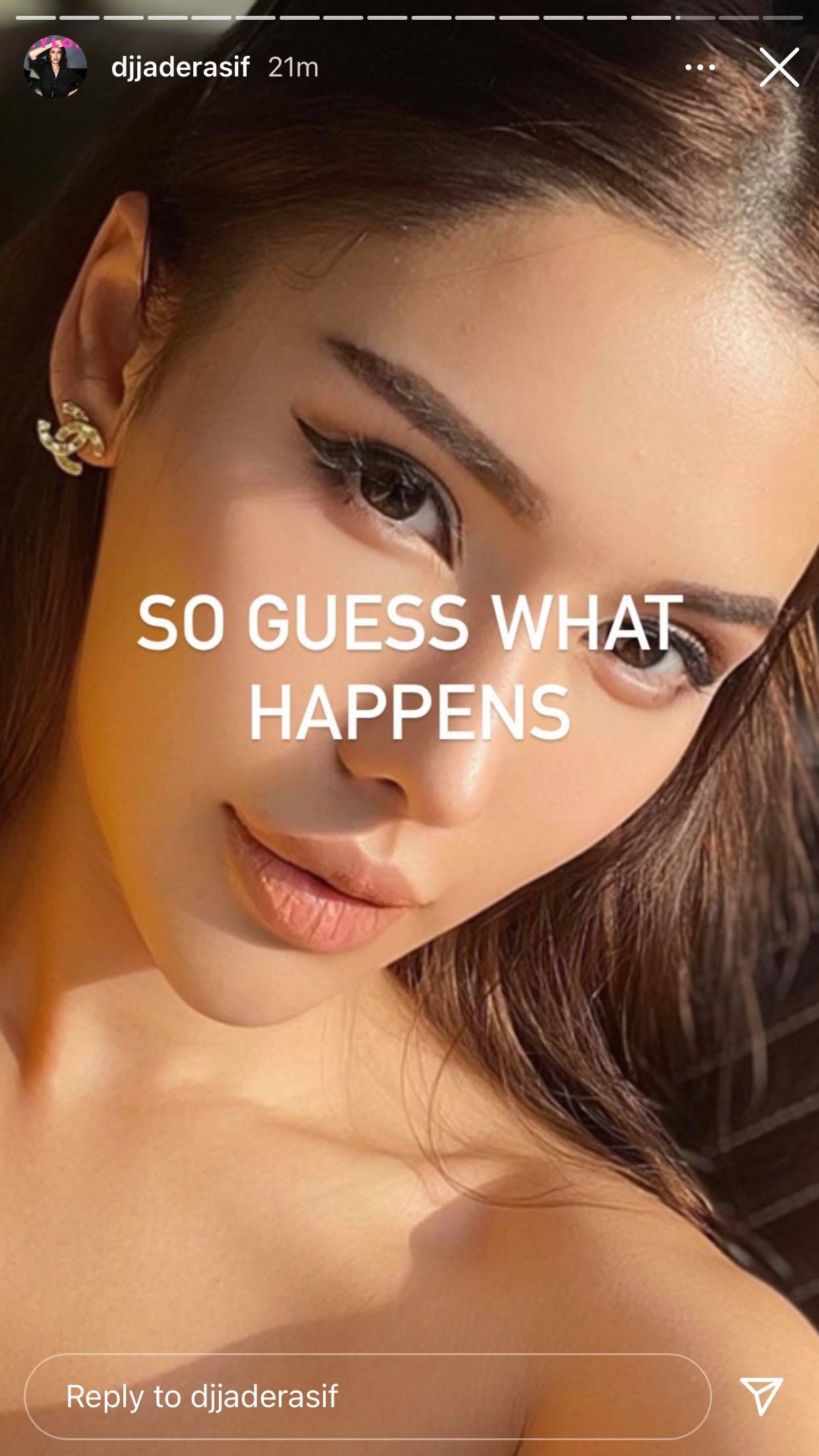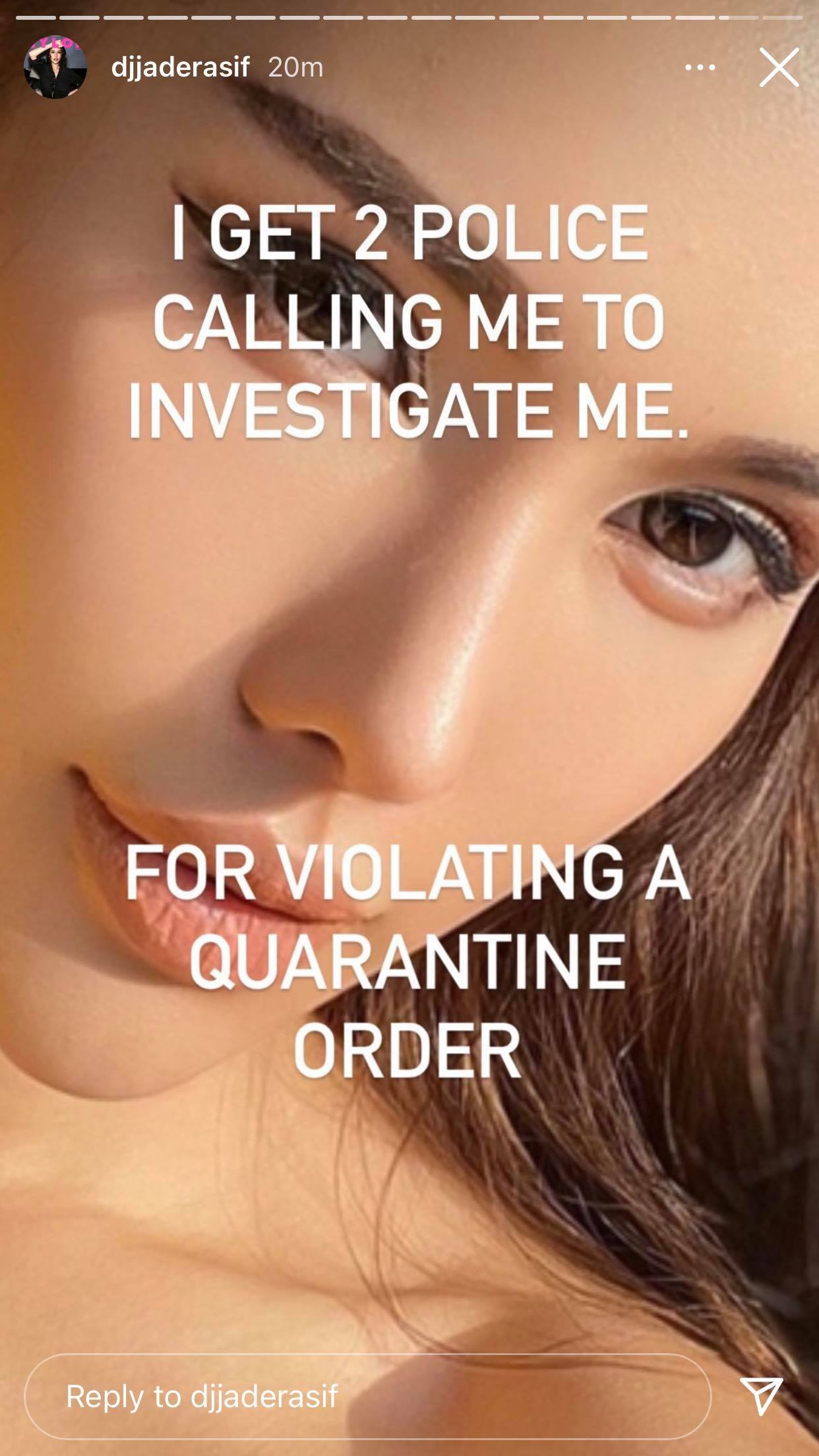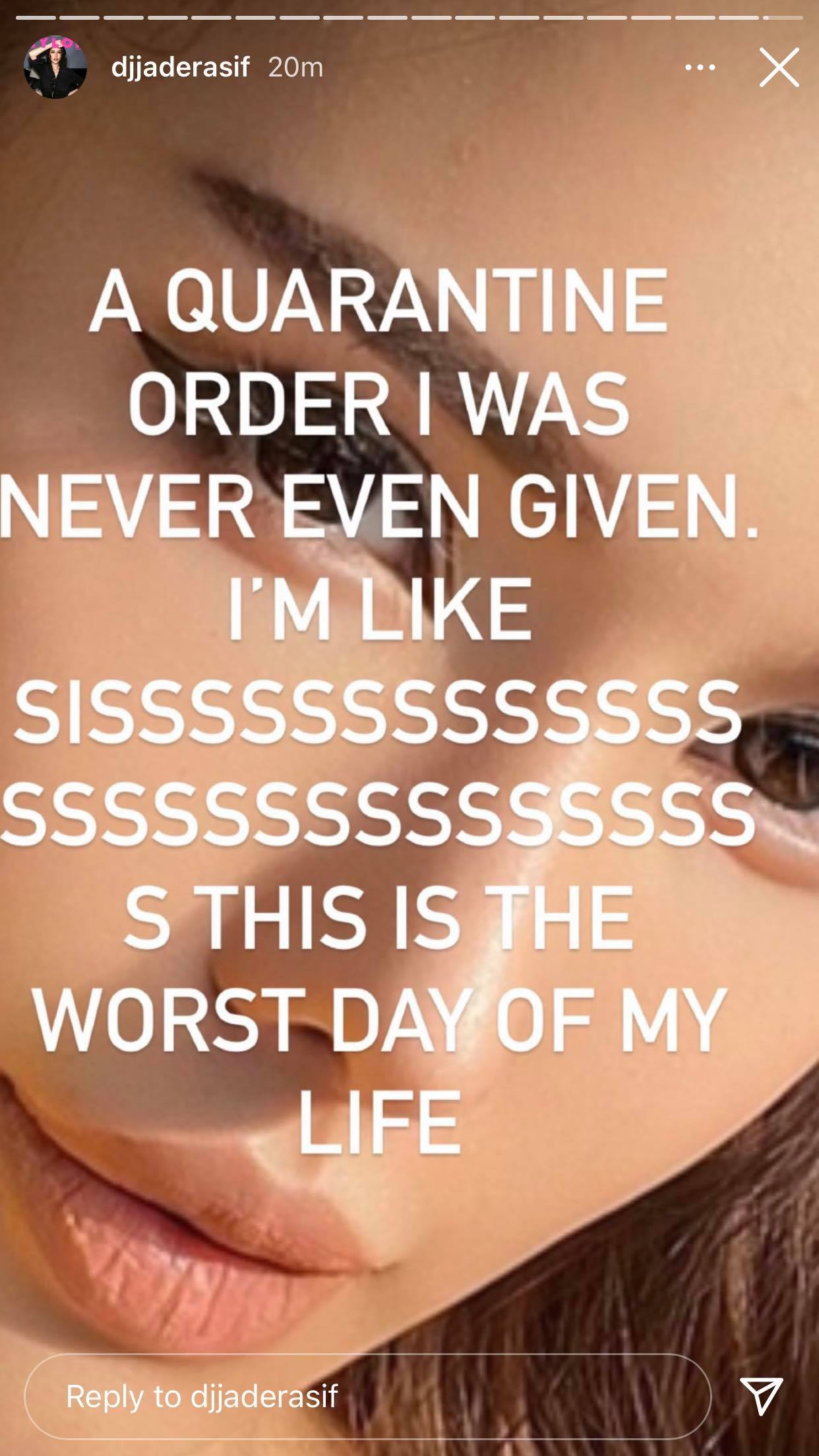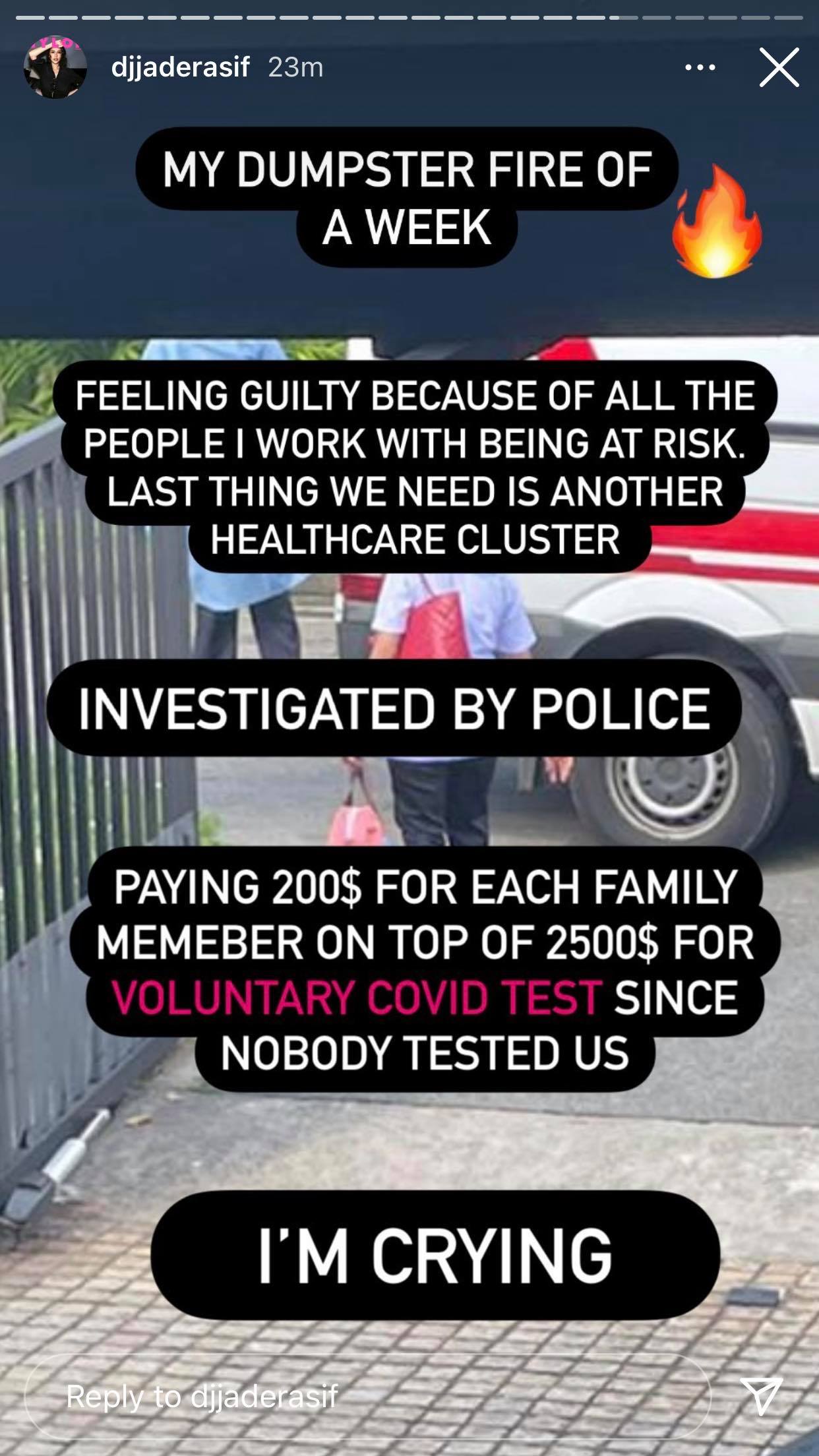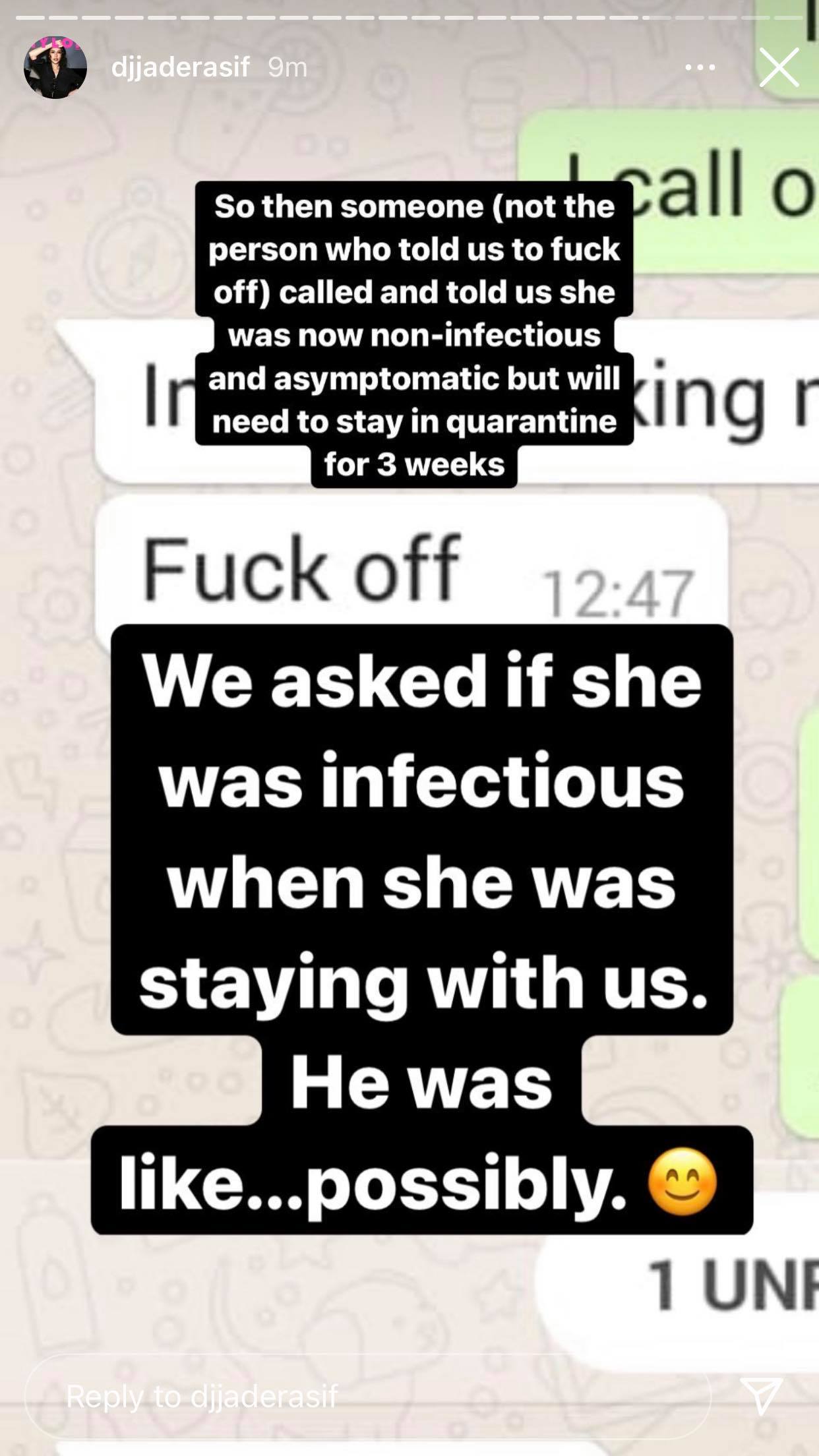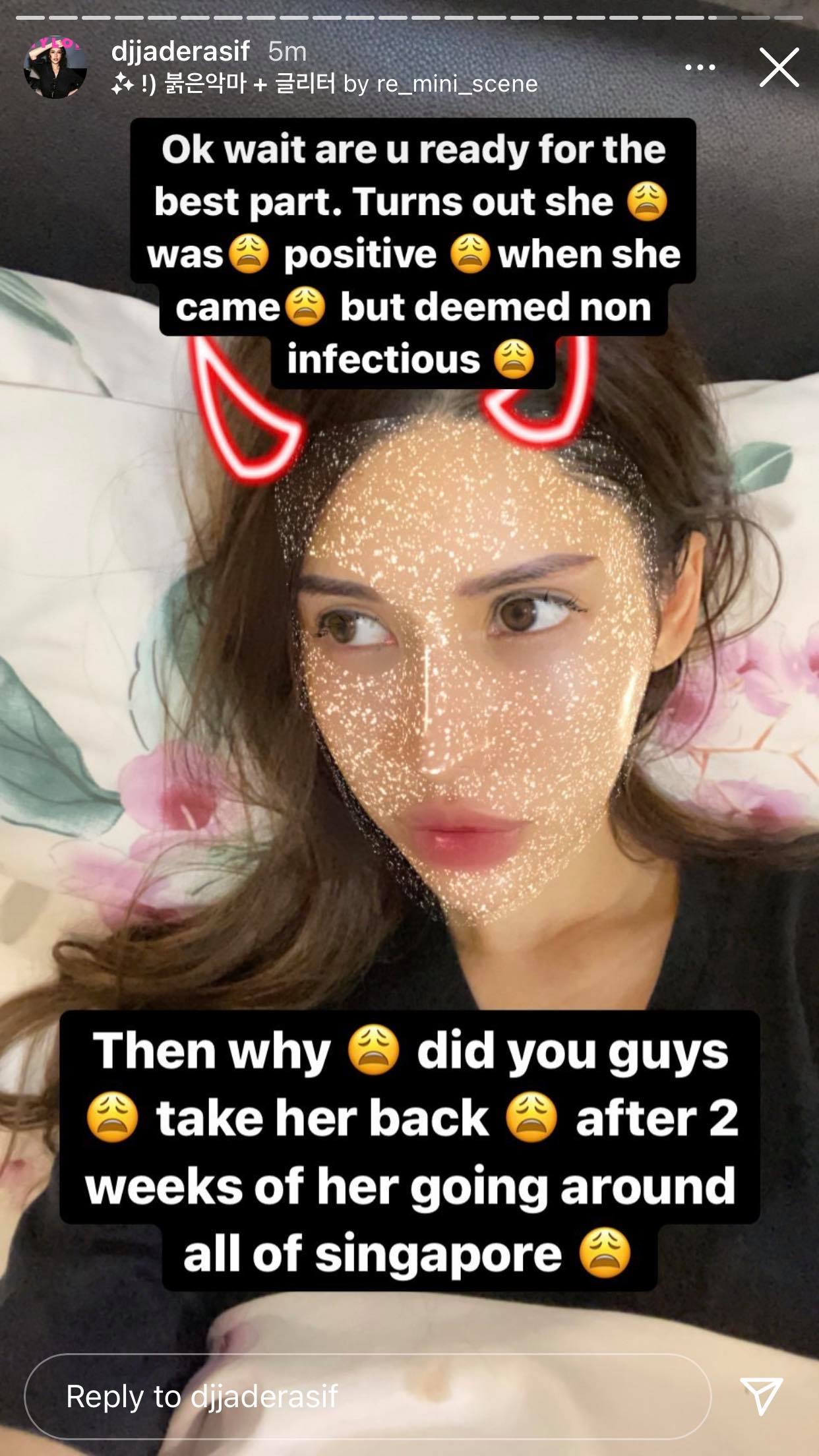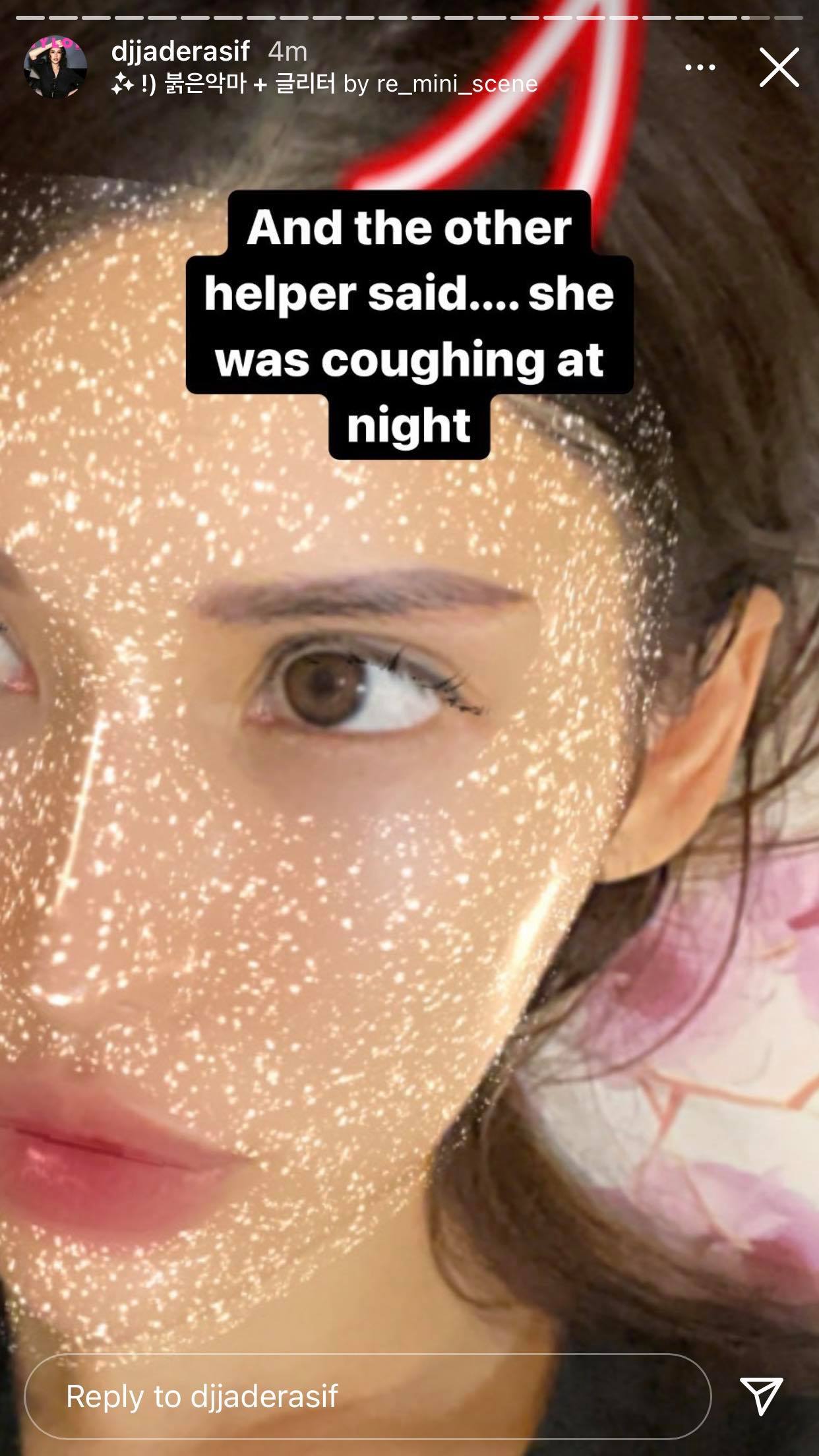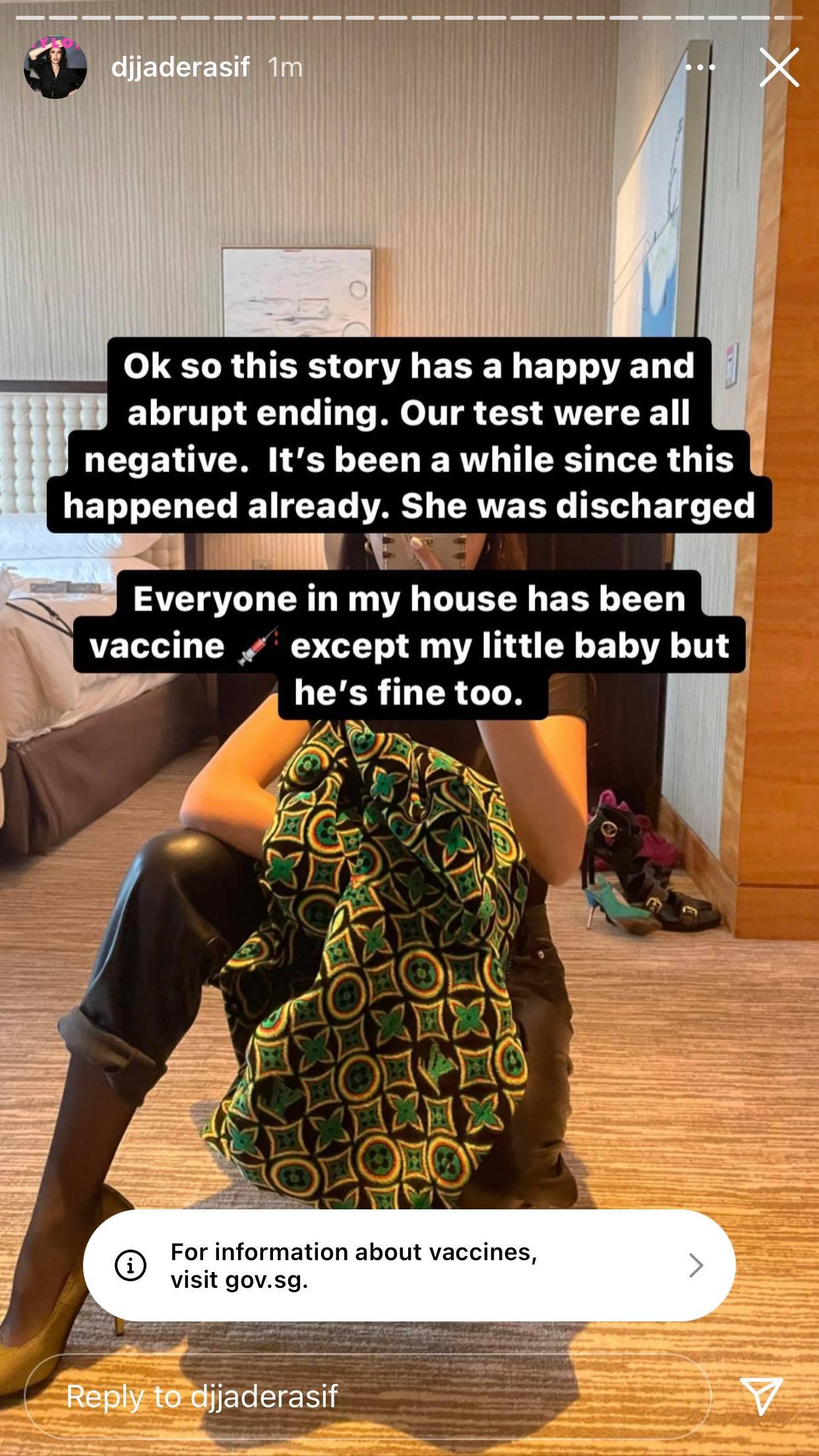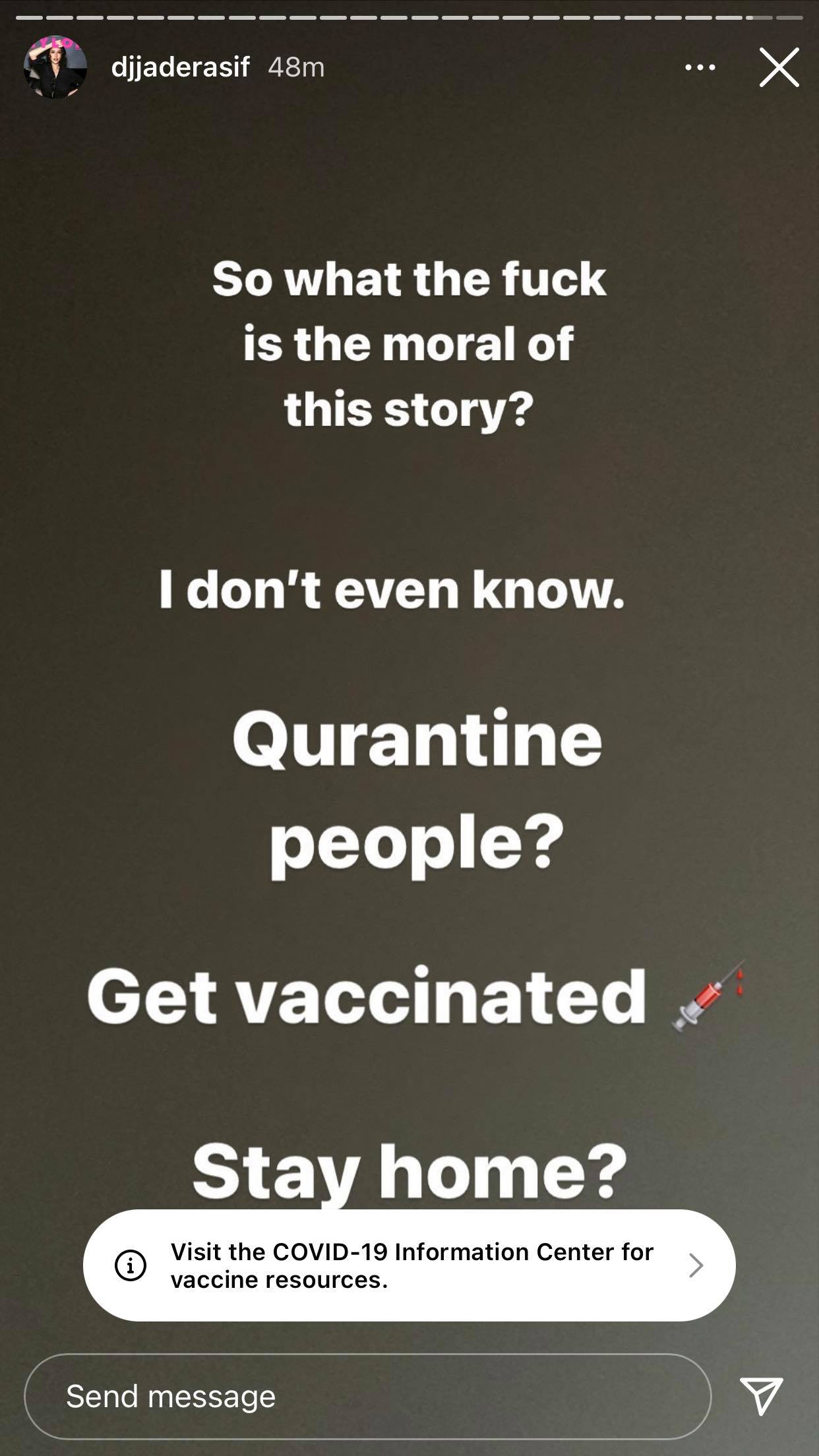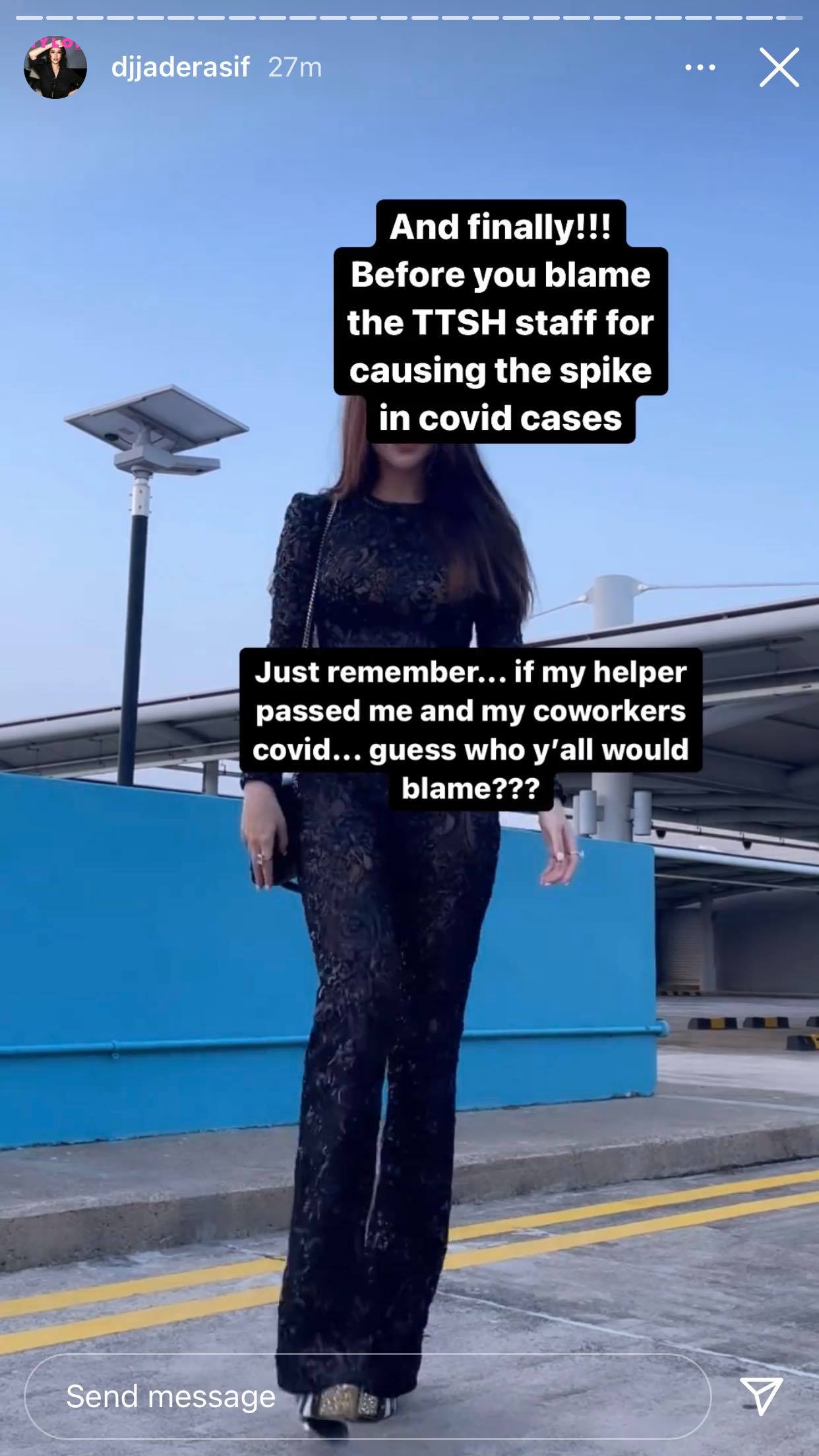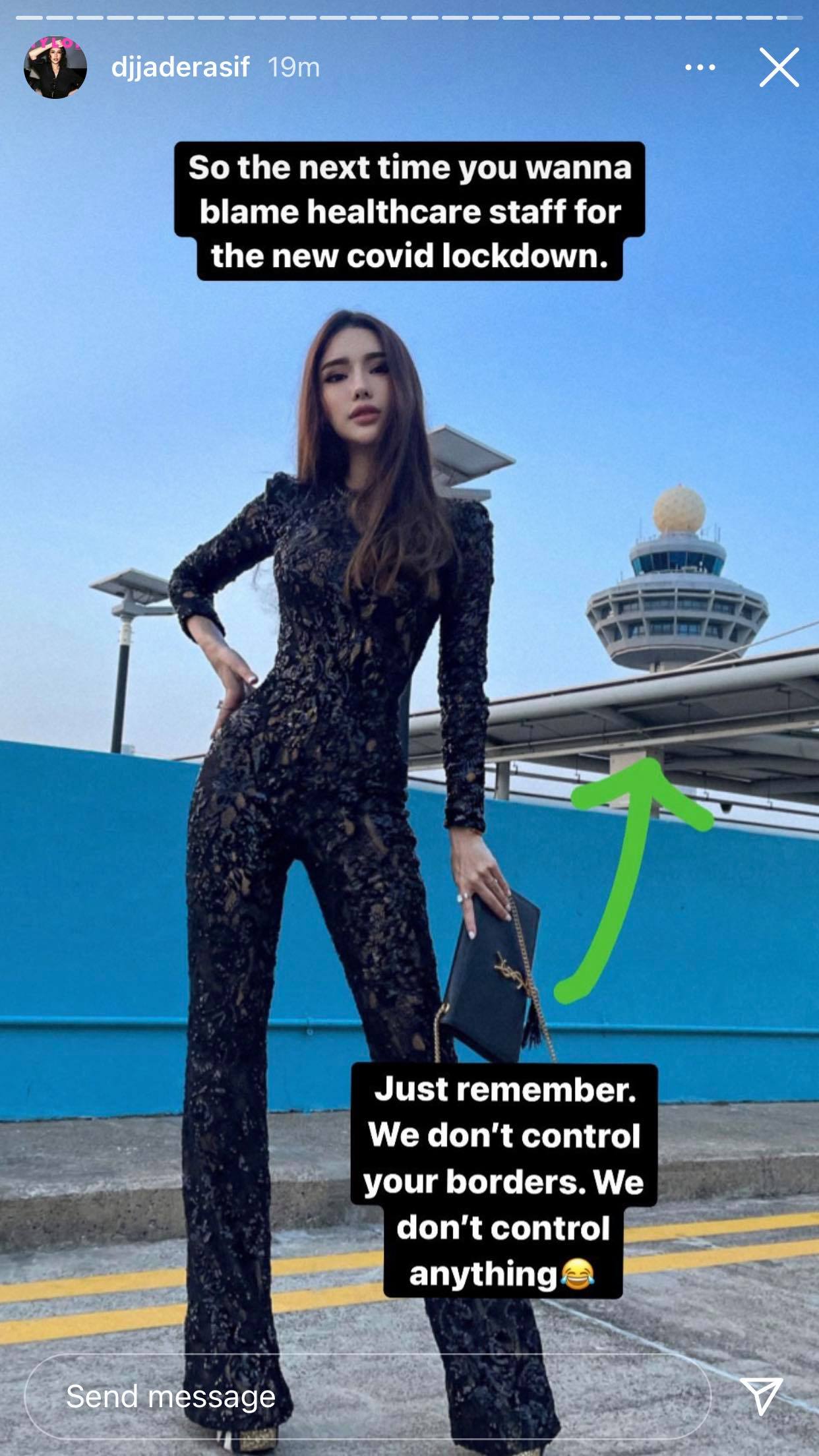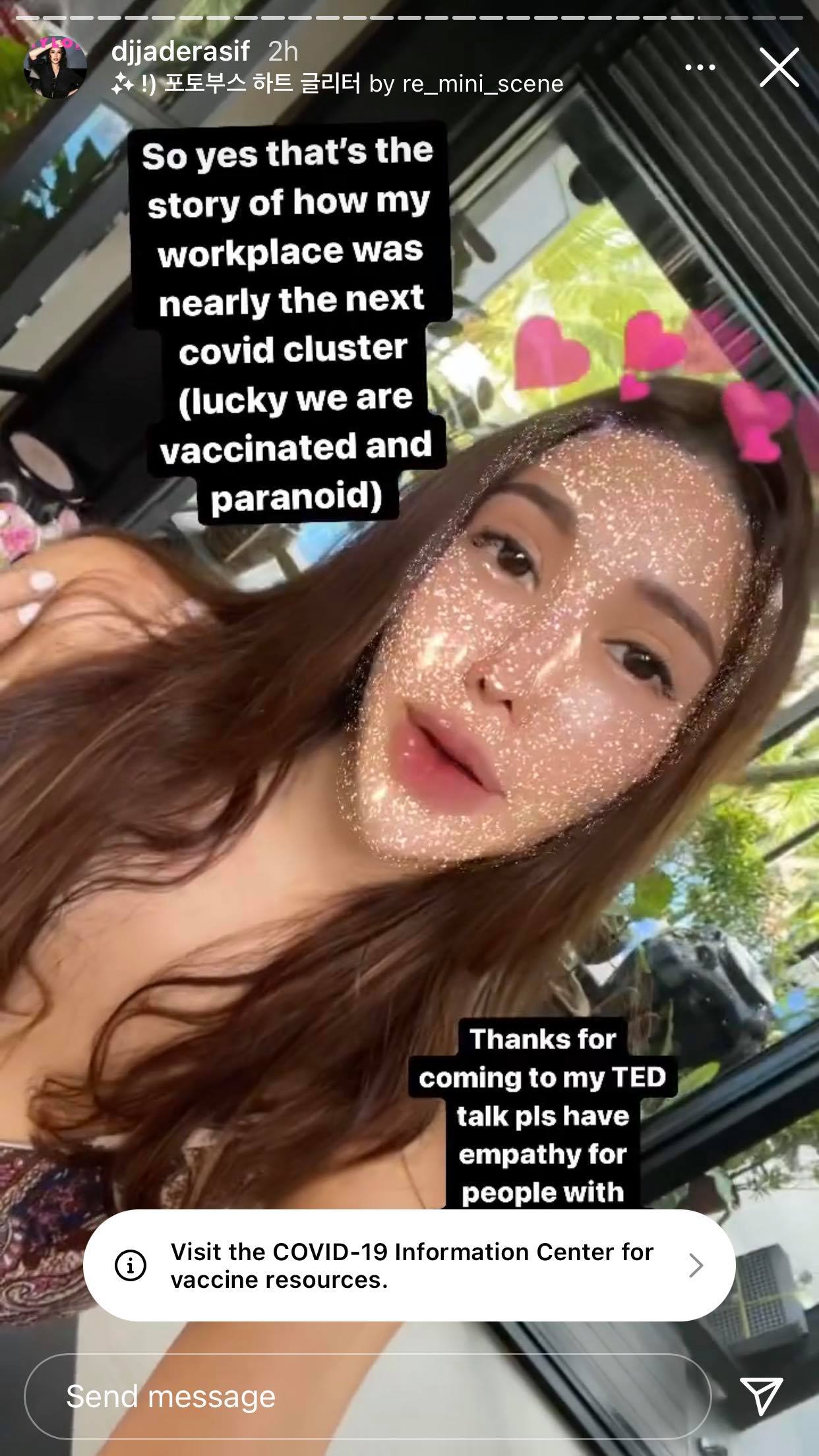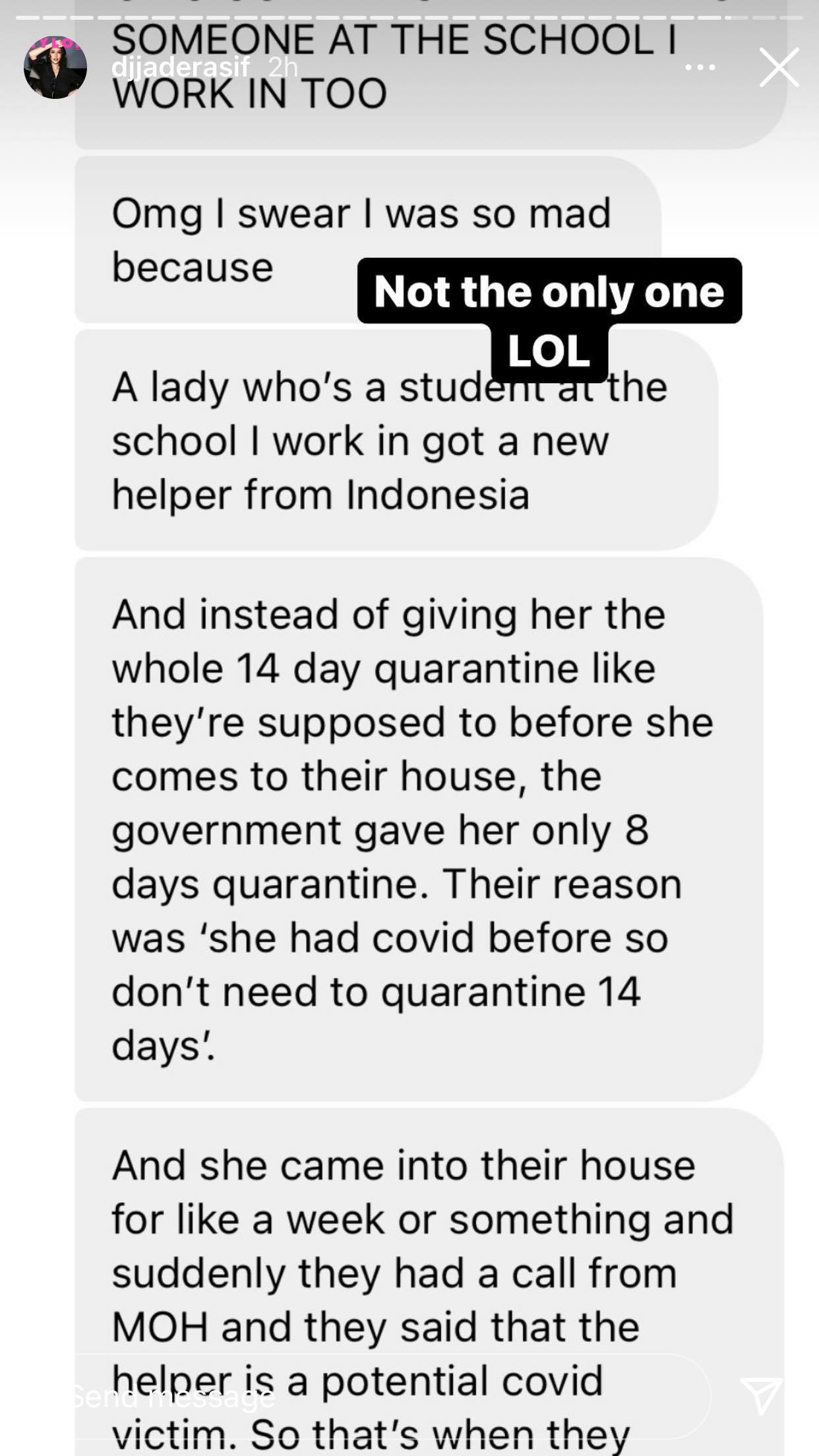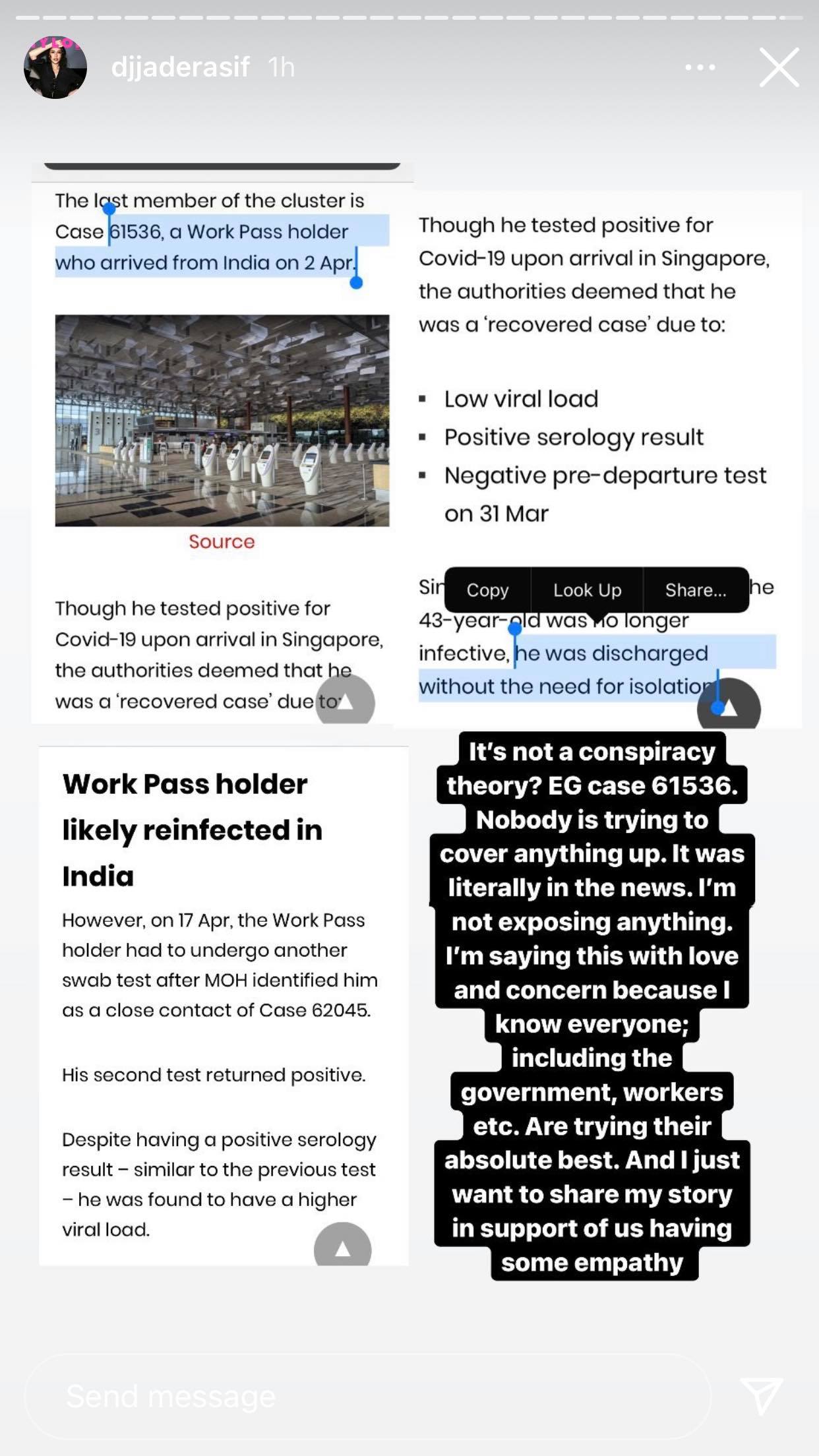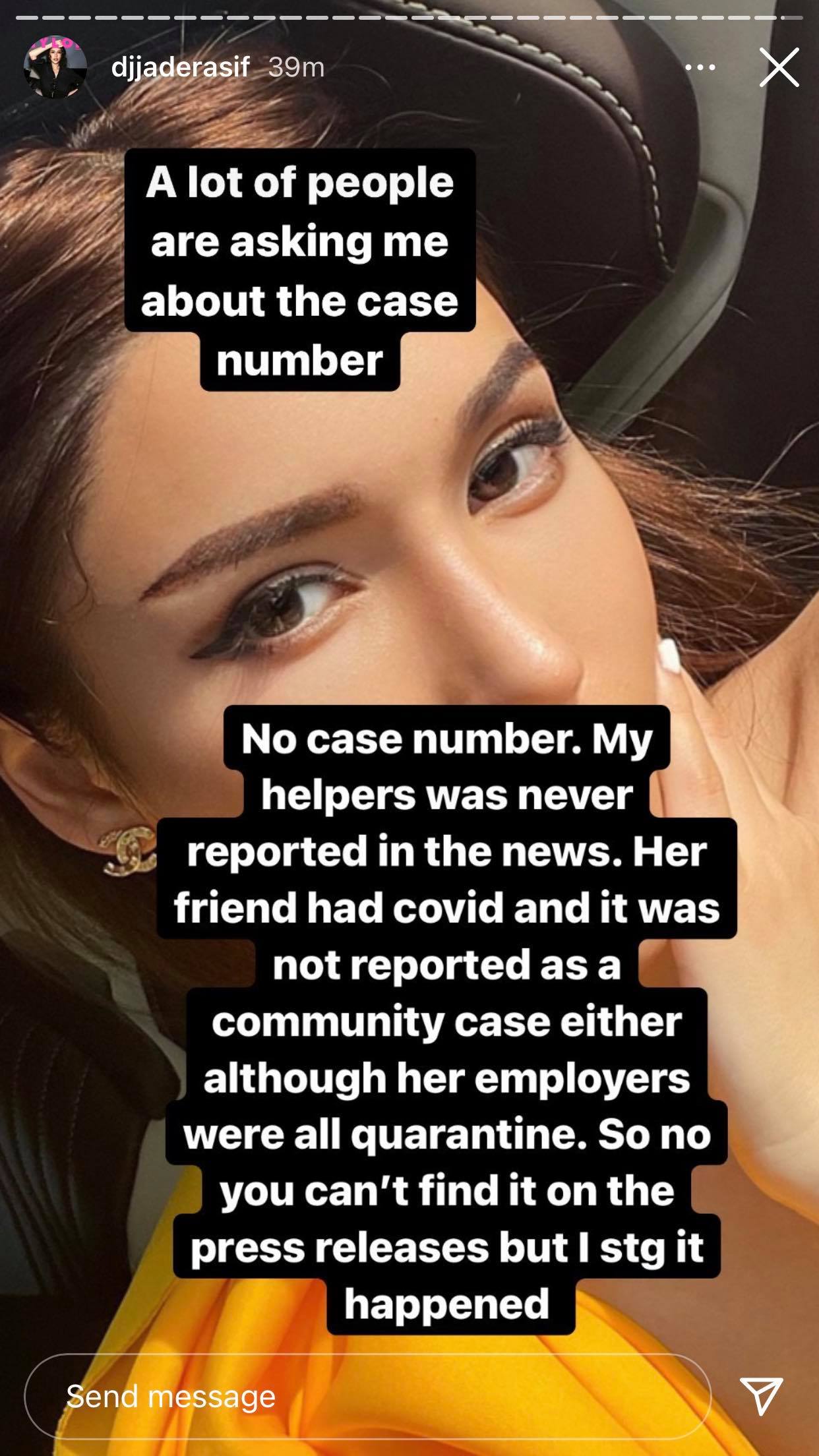 For more information on a domestic helper's SHN process, you can refer to the Immigration and Checkpoints Authority's page here.
Currently, new entry applications for helpers and confinement nannies from higher-risk countries/ regions are no longer accepted.
The criterion includes all countries/ regions, except Australia, Brunei, Hong Kong, Macao, Mainland China and New Zealand.
MOM's response
The Ministry of Manpower (MOM) responded to the case on May 17 night.
MOM apologised for Jade's experience, but said that her account was "inaccurate".
Here are the points the ministry clarified:
The helper tested negative on Polymerase Chain Reaction (PCR) and positive on serology tests on arrival, and was assessed to have recovered from an old infection with antibodies against Covid-19. She was therefore assessed to be safe and allowed to be discharged from Stay-Home Notice (SHN) two days after her arrival.

The helper was tested again about two weeks later because of the worsening Covid-19 situation and a new understanding of the infectiousness of its variants.

No case number was assigned to the helper as she is believed to have tested positive due to the dead viral fragments from an old infection. Such cases are not considered active Covid-19 infections.

Members of Jade's household can continue their daily activities as the helper's risk of a current infection remained low.

Jade and her family was not issued Quarantine Orders (QO), and therefore could not have been investigated for breach of quarantine.

MOM and MOH had contacted the helper's employer on two occasions, with MOM's contact number included in an email. A call was made in the second instance.

The helper was discharged nine days after the subsequent test as she was deemed not currently infectious.

MOM said that they had also reached out to her family when they received an email on a complaint made against the ambulance driver.
In response to the Facebook post, Jade posted in its comments section, accusing MOM of being inaccurate as well.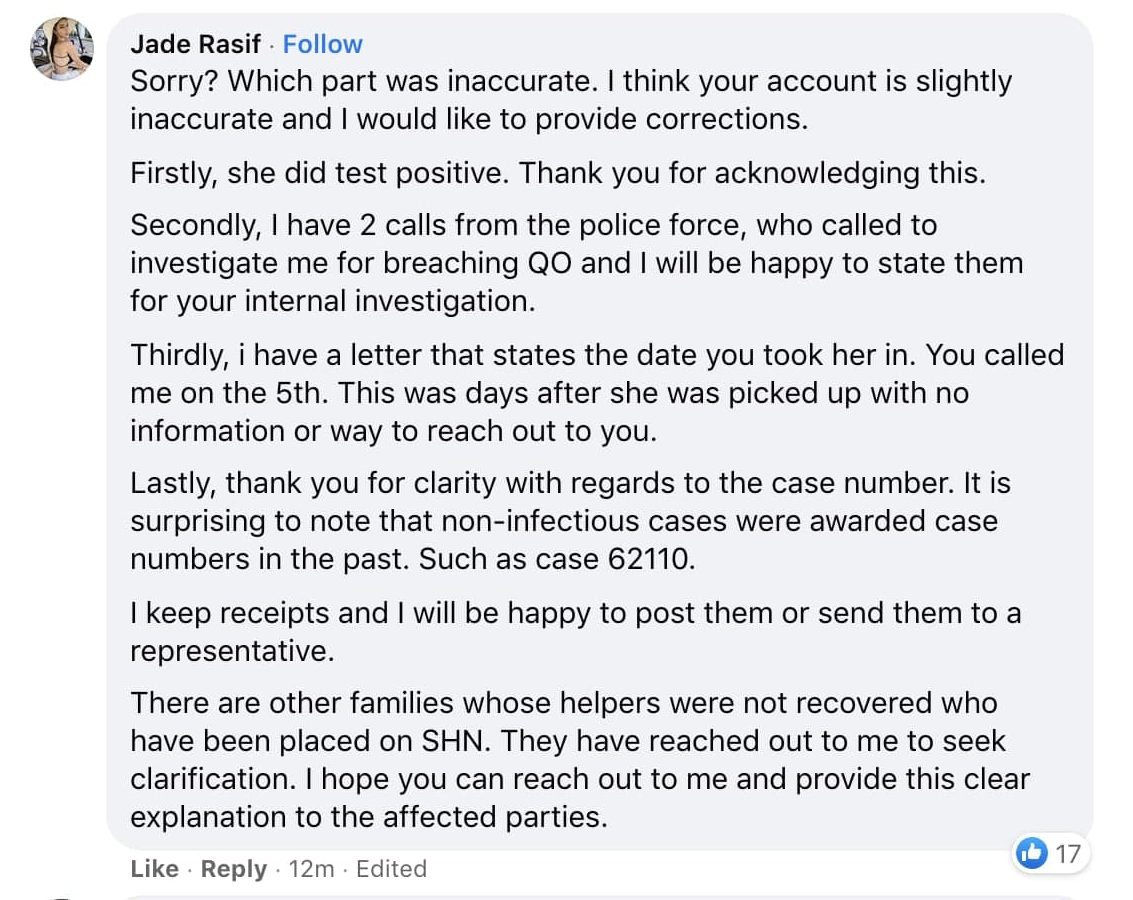 Top image via Jade Rasif's Instagram account
If you like what you read, follow us on Facebook, Instagram, Twitter and Telegram to get the latest updates.