Follow us on Telegram for the latest updates: https://t.me/mothershipsg
The way a person treats service or cleaning staff speaks worlds about their personality.
Letter to her manager
A former cleaner in the U.K. effectively exposed her manager's less-than-stellar behaviour after a letter she wrote went viral on Twitter.
The cleaner's son, a Joe in Southampton, posted a tweet on May 1 celebrating his mother's retirement.
And this is why I love my mum. She's been cleaning banks for 35 years and today walked out with this lovely note left for that awful manager. Happy retirement Mum - always have the last laugh eh! 💚☺️ #Tada pic.twitter.com/u8G73MTPMA

— Joe 😎💫 (@joecousins89) April 30, 2021
His 67-year-old mother, Julie, had worked as a cleaner at banks for the past 35 years.
Various sources reported that the retirement had taken place at HSBC, whereupon Julie left behind a letter for her manager in the hopes of instilling certain life lessons.
Joe described his mother's manager as "awful", and in the letter, Julie refers to an incident where her manager reprimanded or "dressed [her] down".
Here's the message in full:
"Hi ladies tomorrow will be my last clean for HSBC.

I have made up a bucket of ISS cleaning materials for the next cleaner whoever that may be!!

I've left the job Julie after the way you dressed me down in the office it was nothing more than aggressive and cruel but that's a reflection of your character not mine.

So going forward please all of you remember

In a world where you can be anything be kind

Because you are all no better than the cleaner.

Regards, Julie"
Ultimately, Julie urged everyone to treat others with kindness.
HSBC told BBC it could not comment on individual personnel issues but was working to understand what happened.
Shared experiences
As of the time of writing, the tweet has garnered over 12,200 retweets.
Many commiserated with Julie and shared their own experiences of working as cleaners, or working with cleaners in their companies.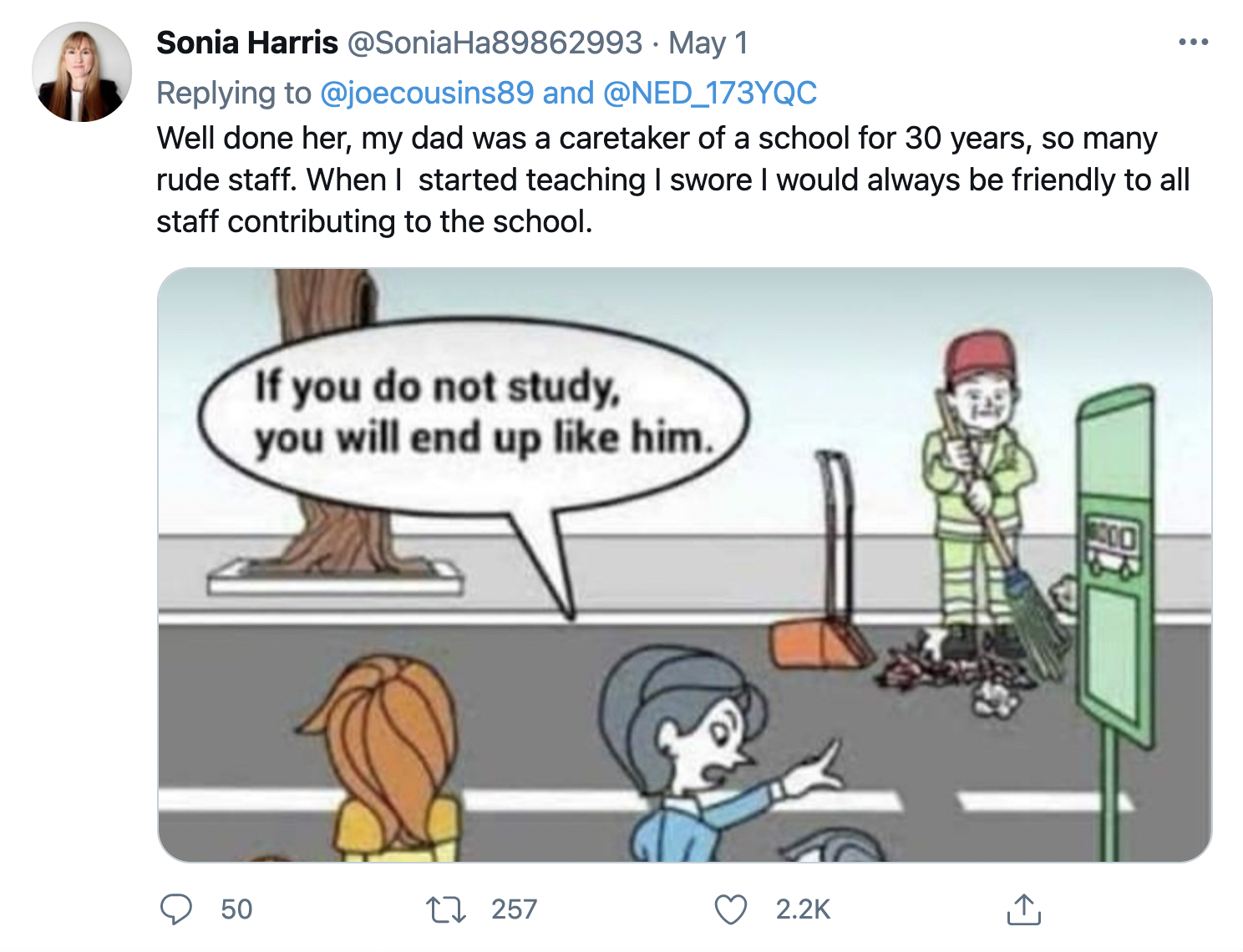 Top photo from joecousins89 / Twitter and Justin Geoffrey / Getty Images (for illustrative purposes)
If you like what you read, follow us on Facebook, Instagram, Twitter and Telegram to get the latest updates.