If you have a credit card, or even a postpaid mobile plan, you'll understand the concept of "buy now, pay later" perfectly.
Essentially, you get to enjoy the benefits of goods and services before you have to pay for them.
Benefits of "buy now pay later" with Grab
PayLater by Grab allows eligible users to make interest-free instalment payments for their purchases, instead of paying in full upfront.
The main benefit of this is flexibility. Having the option to pay later means that you have more options in terms of arranging when, and how you pay for the things you want to buy.
How to use PayLater by Grab
If all this sounds good to you so far, here's a closer look at how Grab's "buy now pay later" service works and how you could use it.
Let's say a new SecretLab chair has just launched, and they have a limited-time promotion where the first 100 buyers will receive a free pair of wireless headphones to go along with their new furniture.
You might have been eyeing the gaming chair and saving up for it since it was announced three months back, in February.
Unfortunately, your target of setting aside S$150 each month for your new chair turned out to be too ambitious, and you've instead only managed to come up with S$100 each month.
You find yourself in this situation:
Cost of the chair: S$450
S$100 saved in Feb.
S$100 saved in Mar.
S$100 saved in Apr.
Total savings: S$300
Shortfall: S$150
Without needing to dip into your other savings (which are best kept aside for a real rainy day), here's how the math could work out for you: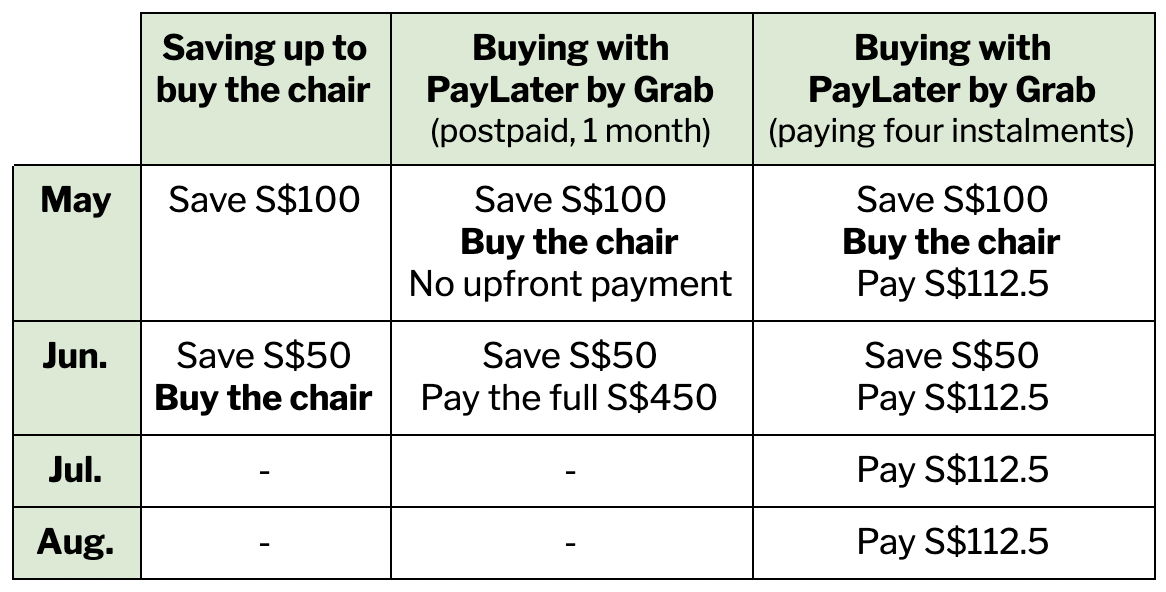 As seen in the example, using PayLater by Grab means that you can buy yourself time to accumulate savings, while being able to make use of the launch promotion.
Besides getting the free gift of wireless headphones, you'll also get to enjoy the use of the new chair right away — which will definitely come in handy now that you've been working from home more often.
And, needless to say, regardless of which option you choose, you'd be paying the same amount of money for the chair, thanks to the interest-free nature of PayLater by Grab.
There's also a promotion from now till May 31, for selected users to get 5,000 bonus points (equivalent to S$10 off Grab rides or GrabFood delivery) for making their first PayLater transaction with a partner site (such as Secret Lab, HipVan, and more).
Find out if you are eligible by clicking here.
What does Grab get out of it?
If you're a typical kiasu Singaporean who tends to scrutinise promotions and offers for hidden T&Cs, you might be wondering how this works for Grab.
You might be thinking that this "buy now pay later" thing was just a ploy to get you deep into debt, so that Grab can then earn by imposing late fees and interest charges on your outstanding payments.
However, that's not the case at all.
To answer those concerns, it's worthwhile to take a look at what happens if/when you inadvertently miss a payment.
If you miss a payment, Grab deactivates your PayLater account, and you will be charged S$10 per missed instalment (capped at S$30 if you miss all three instalments). There are no additional interest fees charged. This means that you don't end up accumulating a massive bill without noticing it.
There are also a number of features within the Grab app which help to ensure that you don't miss payments, such as adding a credit or debit card which will automatically top-up your GrabPay balance, so that you won't miss a postpaid bill or instalments due to insufficient funds.
So, if Grab doesn't want you to miss payments (since it won't be able to earn much at all from late fees), what's the benefit for them?
Basically, Grab's playing a long game.
Grab earns through charging e-Commerce merchants a commission.
Thus, they are most interested in making PayLater by Grab the preferred payment option for customers, so that they can earn commissions on more transactions.
So Grab's goal is to facilitate more successful purchases, where payments are made on time. After all, it's these transactions that would keep customers coming back.
And if PayLater by Grab works out to be the preferred payment option for more customers, more merchants would be attracted to join the platform, which then further increases the options for customers.
Grab is also working on rolling out rewards points for PayLater transactions in the second half of 2021.
New GrabPay Card to earn more points
As shown in the above example, PayLater by Grab works great for big-ticket items like electronics or furniture.
However, there are options for smaller everyday purchases too.
You might already be familiar with GrabPay, which is an e-wallet that stores money, allowing you to pay for Grab rides, GrabFood delivery, and at merchants which accept GrabPay.
All of this allows you to rack up rewards points.
Grab also has a GrabPay Card, which is another way to use GrabPay at merchants, even if they don't accept QR code payments via GrabPay.
This is because the card is offered by Grab and Mastercard, and you can use it for both online and offline purchases.
Which means that you can think of it as something like a Mastercard prepaid card that gets you GrabRewards points, in the same way that you would earn points for spending on Grab rides or GrabFood delivery.
The card is available in both digital and physical forms.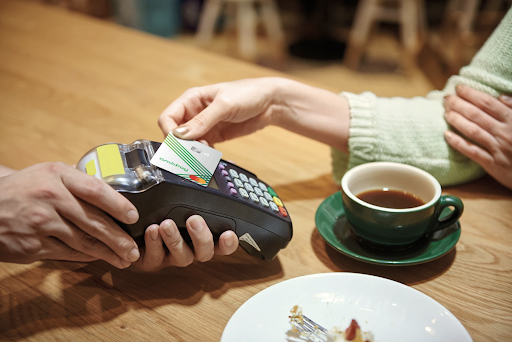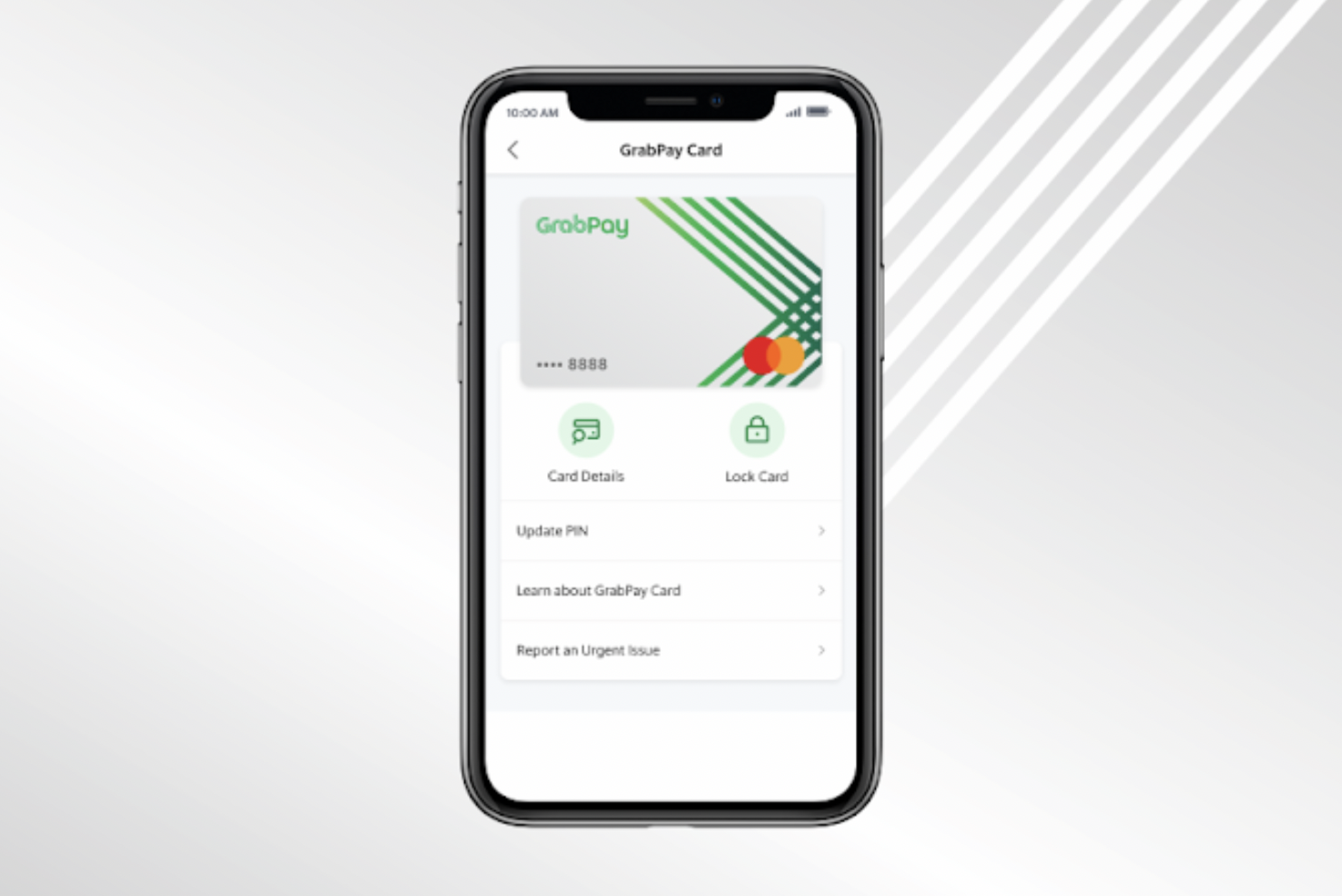 The card is linked to one's GrabPay Wallet, and payments are validated through the familiar 16-digit number, expiration date, CVV code, as well as a one-time password sent to your phone.
Points fanatics will be able to make even more payments through Grab with even greater ease, racking up points on everyday transactions like groceries, meals, and even MRT rides.
Applying for a GrabPay Card can be done in just a few minutes within the Grab app.
4 extra points per S$1 with GrabPay Card payments
On top of that, Grab is also offering 4 additional points for every S$1 spent using your GrabPay Card at selected categories.
If you're a Platinum user, this means that you would earn 10 points for every S$1 spent through your GrabPay Card, instead of the usual, which is 6 points for S$1.
You can then use these points to enjoy various promotions such as a $10 Grab ride voucher with 5,000 points, which works out to a 2% rebate.
You can read more about the promotion here.
Time to start accumulating points.
This sponsored article by Grab made the author want a new office chair for home use.
Top photo by Nigel Chua
If you like what you read, follow us on Facebook, Instagram, Twitter and Telegram to get the latest updates.