A hotel in Singapore informed a Tan Tock Seng Hospital nurse that it could not proceed with the reservation of a room on the grounds that it would expose other staycation guests to "possible risk".
A photo of the email by the hotel addressed to the TTSH nurse was put up on Facebook on May 12, 2021.
The original photo appeared to have been posted as an Instagram Story and a screen shot of which was subsequently reshared on other social media platforms.
Details of the recipient were not included as they appeared to have been cropped out.
The hotel that sent out the email was identified as Hotel G located along Middle Road.
The irony of the email is that it was purportedly sent on International Nurses Day, which fell on May 12.
What hotel told nurse to decline booking
The email addressed to the nurse read:
Good day to you!

Further to tele-conversation earlier, we will not proceed with room reservation due to the possible risk exposed to the staycation guests as you are currently working at TTS hospital and travel to work daily.
TTSH nurse response
In response to the hotel's email, the recipient posted a reply superimposed on the image of the email.
It read:
Eh... G Hotel... Why you discriminate until like that...

The discrimination TTSH staff are experiencing is super real. We are advised to try to segregate from our families but how to when we can't even book a room to stay in?

Treated like the modern day lepers while still serving the same community which shuns us.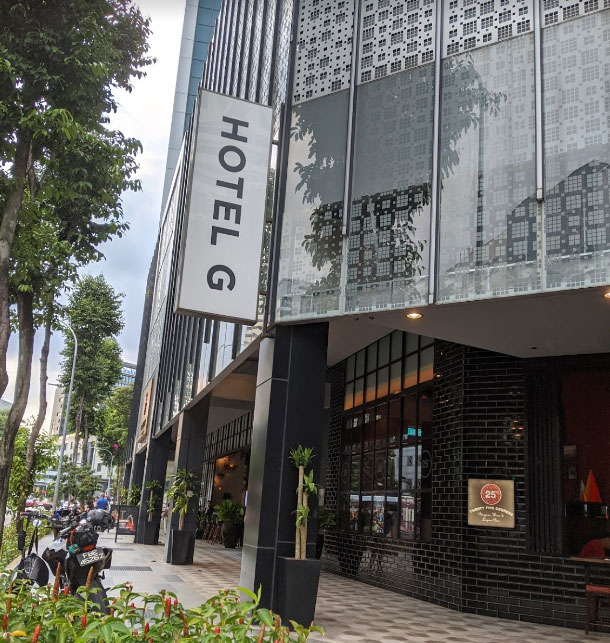 Hotel G responds
In response to Mothership.sg queries, a Hotel G manager confirmed that the email is authentic, but the incident was an "isolated case" and the hotel "sincerely apologises for mishandling this guest communication".
The hotel also said it "does welcome every guest".
The hotel's response said:
Hotel G management is aware of an email correspondence between a guest and an associate of the hotel, who shared inaccurate information on the hotel's booking policy.

Following this isolated case, the hotel sincerely apologises for the mishandling of this guest communication and has already contacted the guest yesterday to clarify the matter.

Furthermore, associates are undergoing thorough retraining to prevent such miscommunication from happening again.

We strongly appreciate the efforts of all healthcare and frontline staff, as well as the community at large, in these unprecedented times.

As a hotel, our primary focus is offering quality service to all our guests.

Please rest assured that Hotel G does welcome every guest to experience the hotel and there has never been any discrimination.
Government working with hotels to provide accommodation
This issue of nurses being shunned at hotels and even when trying to commute via private-hire cars and taxis was brought up in Parliament recently.
Health Minister Gan Kim Yong said this was a "worrisome trend" and one that should not be condoned.
Gan revealed that the Ministry of Health and the multi-ministry taskforce have been working together with hospitals to provide support for affected workers.
They are also negotiating with hotels to provide alternative accommodation to the workers who have been affected, such as those who are working at the front lines and want to live apart from their own families for the time being.
All photos via Google Maps
If you like what you read, follow us on Facebook, Instagram, Twitter and Telegram to get the latest updates.