Follow us on Telegram for the latest updates: https://t.me/mothershipsg
Gojek announced its newest feature today (May 4): GoTaxi, a service that allows local commuters to book taxis directly through the Gojek mobile application.
As part of its "commitment to continuously enhance its offering for users", Gojek said that this new feature will benefit Gojek users and local taxi drivers.
The feature will be rolled out to commuters from next week.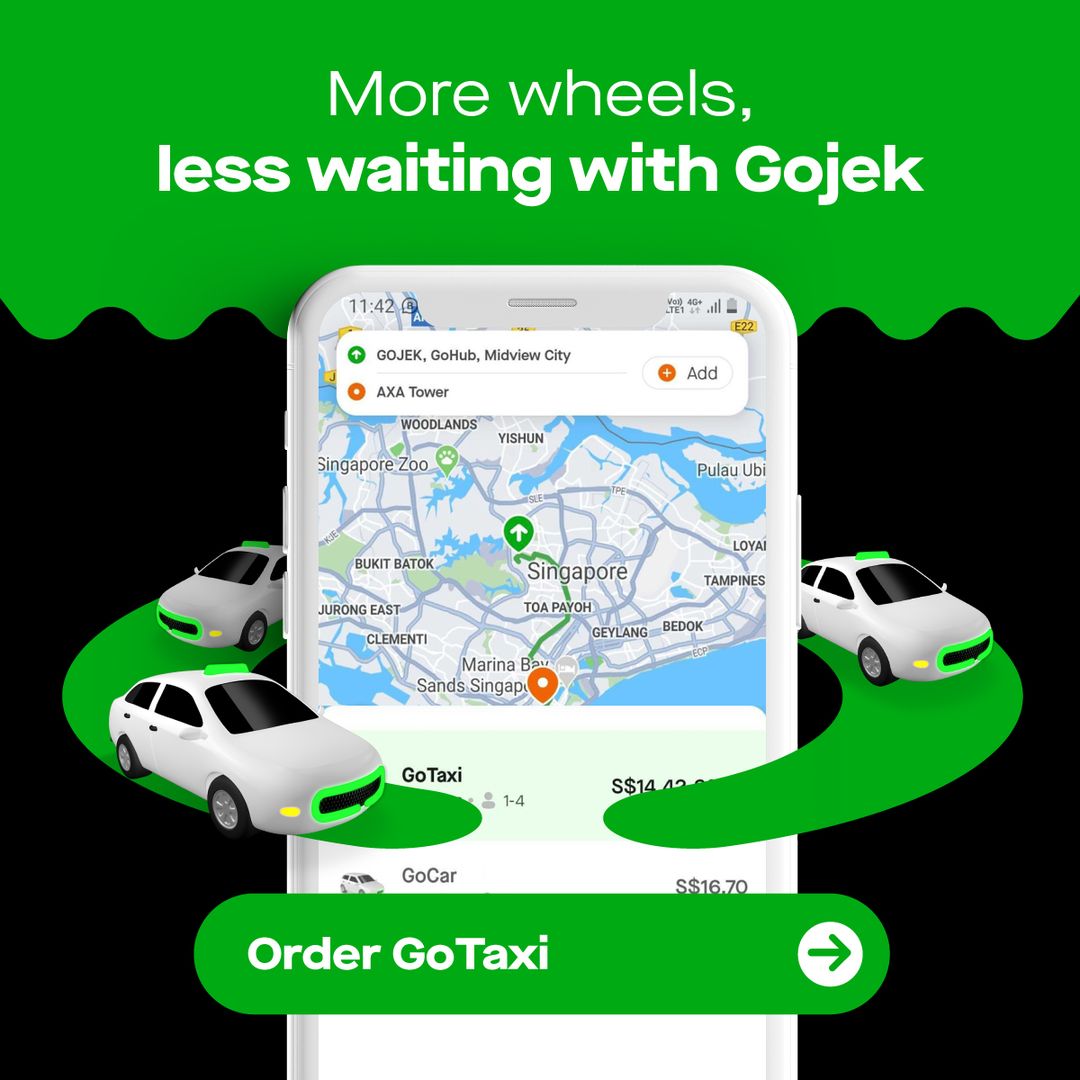 Benefits for commuters
GoTaxi will complement GoCar — Gojek's existing ride-hailing service that matches commuters to private-hire vehicles or taxis.
The ride-hailing tech firm said that GoTaxi will bring commuters greater ride availability, more ride choices and improved waiting times.
The GoTaxi option will match commuters to taxi drivers only.
GoTaxi rides will be charged a metered fare; an estimated fare range will be shown to commuters on the booking page.
Like all GoCar trips, complimentary accident coverage will be provided for all GoTaxi commuters.
GoTaxi will also cater to the unique needs of a diverse range of commuters, like families with children below the height of 1.35m.
Taxis are currently exempt from the requirement for vehicles to have booster seats or child restraints for passengers under 1.35m in height. Private-hire cars which offer booster seats often charge a premium for the service so having a taxi option might end up being cheaper for commuters who are travelling with kids.
GoTaxi will also cater to commuters who use wheelchairs because taxis are equipped to store wheelchairs when they are folded and closed.
Benefits for taxi drivers
In addition, Gojek touted several benefits that the GoTaxi service brings to taxi drivers.
Existing Gojek taxi drivers will have more job options with new metered fare jobs via GoTaxi. This is on top of fixed fare jobs that they can receive via the GoCar service.
Similarly, new Gojek taxi drivers will have additional earning opportunities through on-demand bookings on the Gojek platform in addition to their regular street-hailing jobs.
Taxi drivers on the Gojek platform are also entitled to driver benefits like fuel rebates, earnings protection insurance and subsidised health services.
General Manager of Gojek Singapore, Lien Choong Luen said:
"The launch of GoTaxi will enhance mobility options for our users and increase demand for ride-hailing, which would in turn increase earning opportunities for our drivers, which I'm excited about."
Related stories:
Top image from Nicky Loh/Bloomberg and Gojek Singapore/FB
If you like what you read, follow us on Facebook, Instagram, Twitter and Telegram to get the latest updates.