Those living in the west may have seen a foodpanda delivery rider with a pink Honda ADV 150 motorcycle, wearing a black helmet fitted with cat ears and braids.
Or perhaps she may have appeared on your For You page on TikTok, clad in her foodpanda uniform doing the latest dance trends.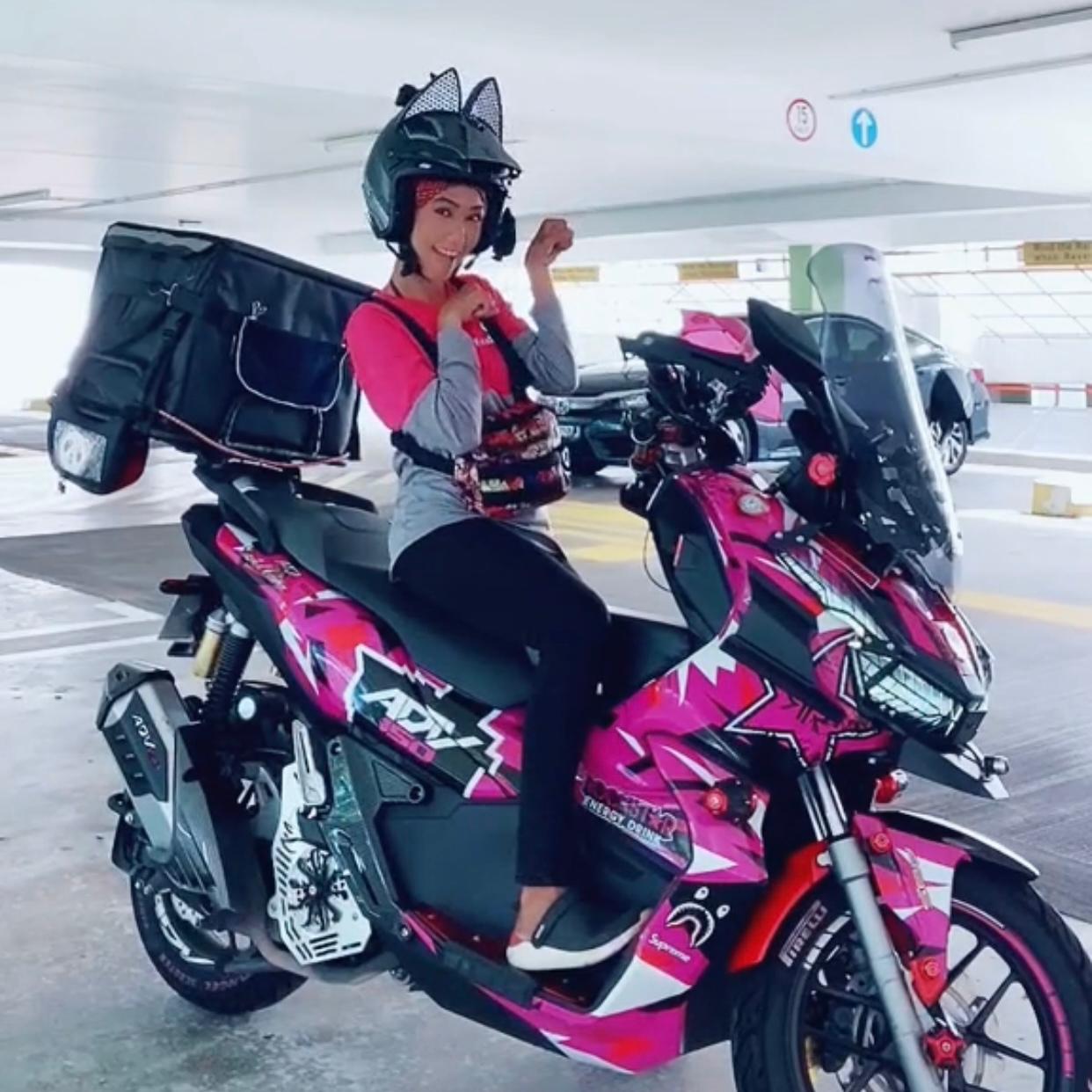 She is 30-year-old Nur Ashikin binte Seman, also known as the "Lady foodpanda Rider".
Over 25,000 TikTok followers
Ashikin owns a TikTok account where she shares snippets of her day as a delivery rider in Singapore, with a growing fanbase of over 25,000 followers.
When asked how she rose to fame on the popular video-sharing platform, even she didn't really know how it happened.
"It was so random, really. One fine day, I had a shift starting in half an hour so I was scrolling through TikTok. And since I was so bored, so let's try this TikTok thing and find out what the hype is about."
So she posted a video of herself and promptly started her shift:
Before she knew it, her phone was buzzing continuously with likes and comments on the video.
She said: "While I was working, my battery almost died twice because of that video!"
Since then, she shared that people have approached her while she is working, recognising her iconic helmet and pink ride.
"I talk to people all the time, so I treat them like my friends."
Working since March 2018
While her account has recently begun to gain traction, Ashikin has been a delivery rider since March 2018.
It was a job that she had taken up out of necessity.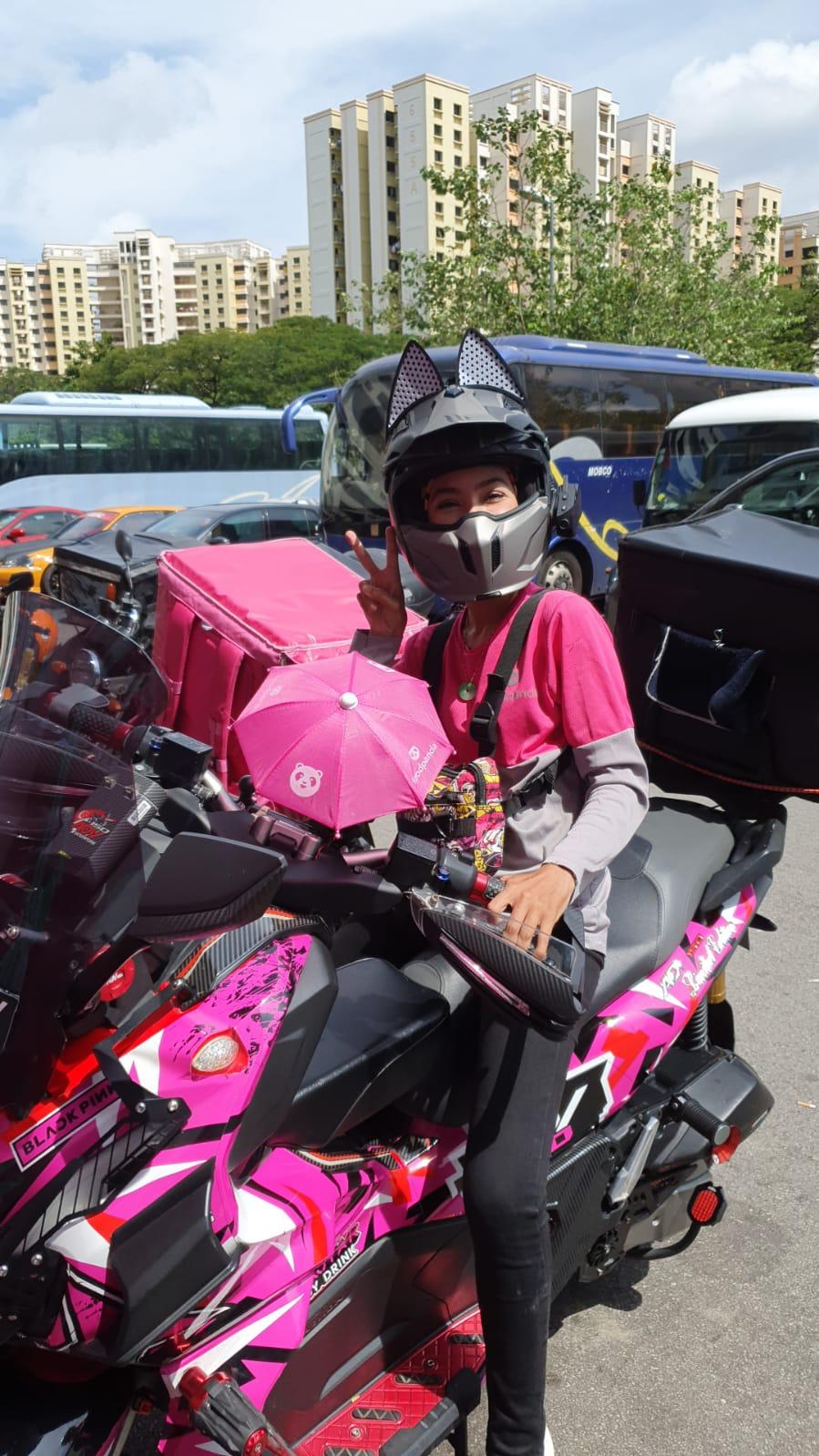 Formerly a stay-at-home-mother for three years, Ashikin told us that after her family was hit with unfortunate "personal problems," she was forced to take on the mantle as the sole breadwinner of the family.
Although she had prior job experiences in the service industry, doing food delivery was an ideal job given the flexibility it provides, especially as a mother to a young child.
Full-time mother
While Ashikin typically takes afternoon shifts that last between four and six hours, she starts off her day very early.
Her daily routine starts at 5am, by preparing her six-year-old son's schoolbag before getting him ready for school.
The working mother savours every moment she can spend with her son before walking him to preschool, where he'd be till the afternoon.
Although it is important for her to work and make a living, it is equally as important for her to be a present parent in her son's life.
"I try to be around as soon as possible. When he's in school, that's when I go out to work," she said.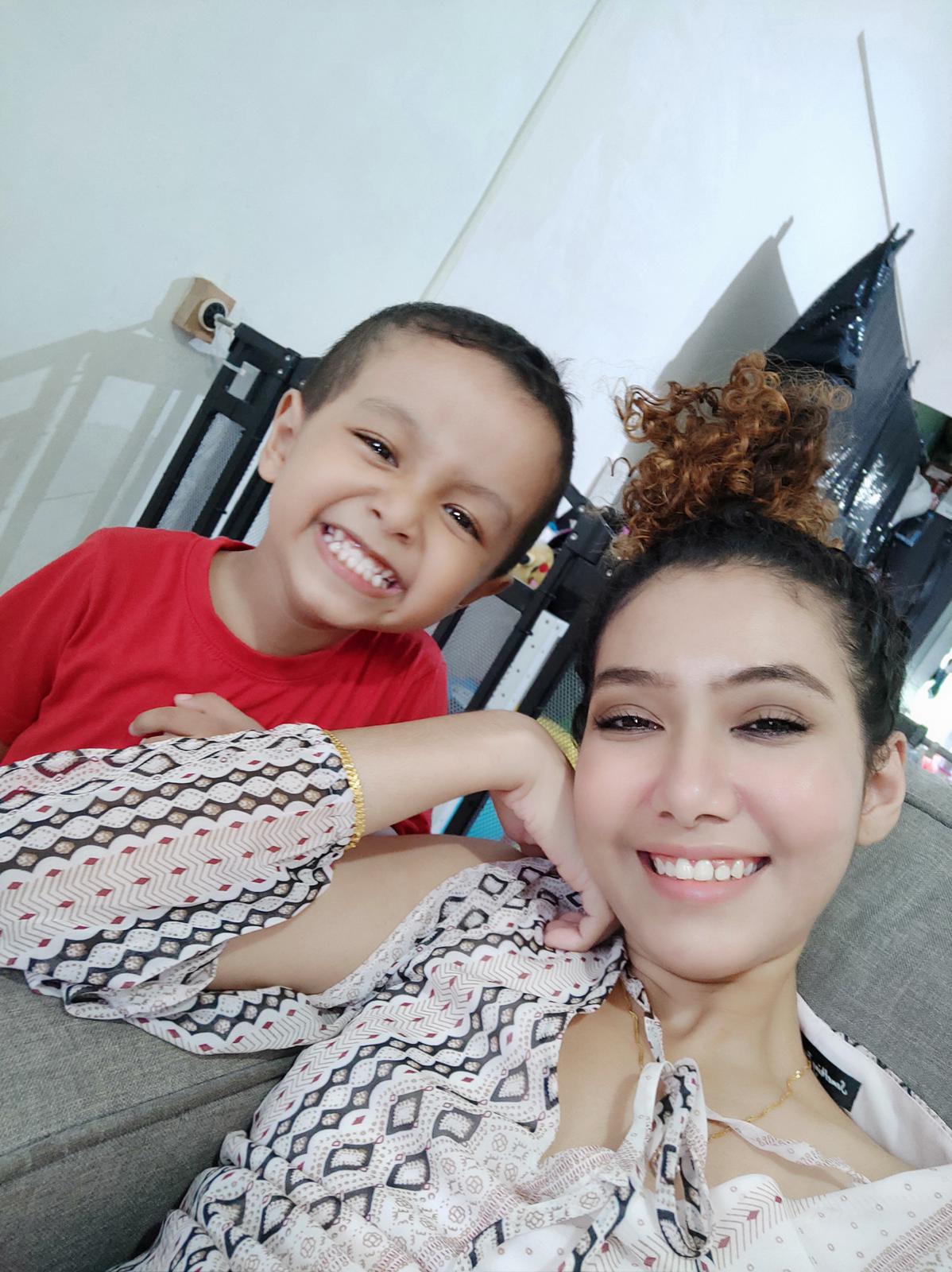 Like most food delivery riders, she began her career by commuting with a personal mobility device (PMD).
Got motorcycle license in two months
Unfortunately, she had to give that up following the ban of e-scooters on Nov. 5, 2019.
Although this was a big hurdle for a lot of food delivery riders in Singapore, Ashikin saw it as an opportune time to upgrade her skills.
She said: "The very next day [after the ban], I enrolled to get a [motorcycle] license at 7am and from 8am onwards, I attended the lessons."
She passed her theory and practical lessons and got herself a motorcycle in less than two months.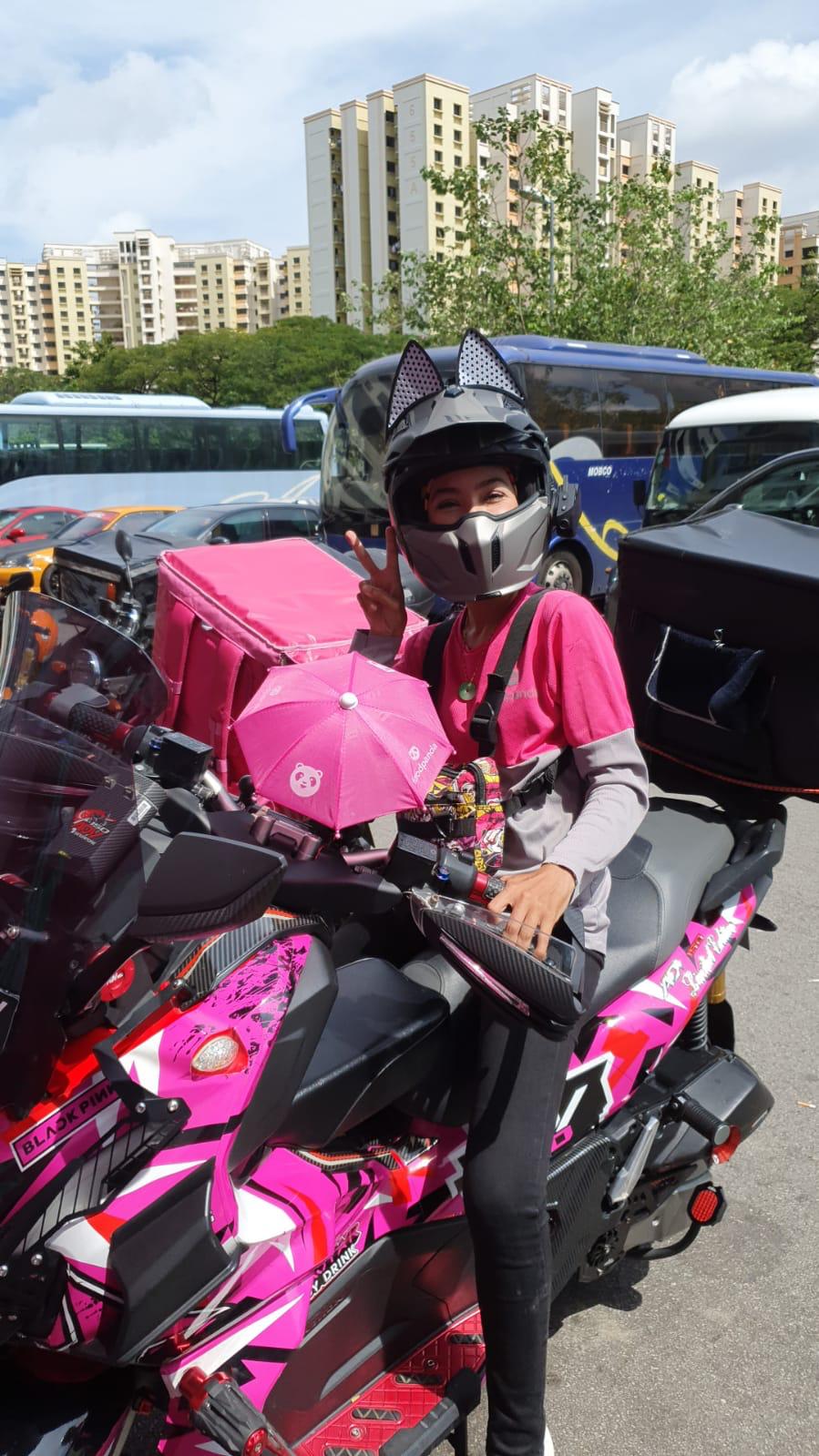 She stressed, however, that getting a motorcycle was necessary for her to carry out her job efficiently in order to provide for her family.
While one would imagine riding around Singapore to deliver food no matter rain or shine to be especially trying during the fasting month, Ashikin shrugged it off and said that it feels like "any normal day".
"It's not really a challenge, except for the sun. You'd get thirsty and it's really hot."
The biggest challenge she's faced in her career so far, however, also happens to be the most memorable customer she has ever encountered.
Only S$50 in bank
Ashikin recalled a bitter-sweet incident where she only had S$50 in her bank account.
The sum was barely enough to fill up her motorcycle with petrol and buy two meals for her ex-husband and her son.
"My petrol was running out and I have to buy food for my family. Obviously, I have to use the petrol to go to work and with the balance, I spent it for my ex-husband's and my son's food... excluding myself."
Almost at her wits' end, she took on one more delivery for the day so that she could cash out her profits for the day.
She remembered telling herself: "Dear God, please give me some rezeki (sustenance) today."
And it seems like God works in mysterious ways.
Upon making the delivery to a customer's house, he told her to wait while he headed in to get something for her.
"When I knocked the door, the uncle just looked at me, paused for  a while and told me to wait for him. I was confused, did I do something wrong? But when he came back, he took out S$50 [from his wallet] and gave it to me."
Son keeps her going
While thoughtful customers like this who brighten her day, it is her son who gives her the strength to keep going on.
In fact, if not for her son, she never would have thought that she would end up having a career in food delivery.
"I have worked in F&B and hotels, but [being in the] delivery line is very unexpected. I never even imagined myself owning a bike!

If I didn't have a son, I don't know where I'd be. Every mother would say that [our] children is the light at the end of the tunnel. He guides me."
And apart from providing for her family, the job also gives her a better understanding as to why her fellow food delivery riders are doing this as well.
"Everybody has their own story on why they do food delivery. If you think your problem is big, there are others who have bigger problems. We're all just doing this to survive."
Top image courtesy of Ashikin binte Seman.
If you like what you read, follow us on Facebook, Instagram, Twitter and Telegram to get the latest updates.