Follow us on Telegram for the latest updates: https://t.me/mothershipsg
As Singaporeans rediscover the wild side of the country, some hikers have strayed off the designated paths in search for remote, scenic sites.
Like this particular fallen tree trunk facing the reservoir in the Central Catchment Nature Reserve:
The picturesque view has drawn many hikers to the spot, with some even walking up to the edge of the tree trunk just to take a photo.
No entry
The National Parks Board (NParks) has since installed "No Entry" signages along Gangsa Trail at sections where many hikers have recently strayed off the designated trail to find this fallen tree trunk.
The signs were put up to remind hikers not to stray off the designated trail, NParks' Group Director of Conservation Lim Liang Jim said in response to Mothership's queries.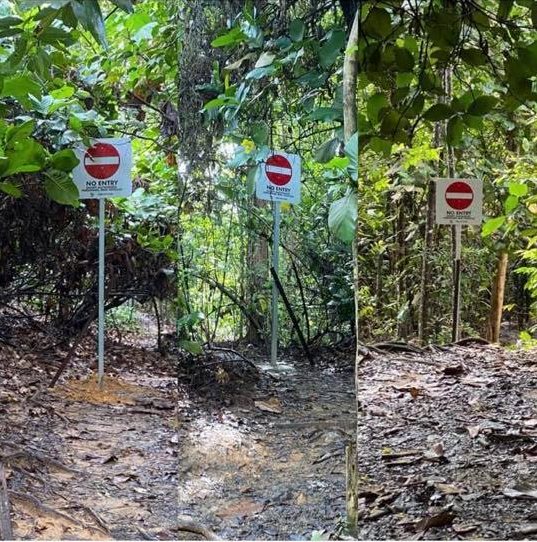 While hikers might be disappointed by this piece of news, there are compelling reasons why you should stay on the designated trails if you love nature.
Going off the trail can be unsafe and causes damage to the pristine environment
Lim explained that going off the trail might cause damage to the forest floor besides the designated trails.
Human activity in these areas can also disturb sensitive wildlife or result in the trampling of plant saplings, some of which could be endangered.
While the damage might not be immediately visible, repeated and frequent trampling on the forest floor will have "incremental effects" that result in the failure of vegetation, Lim said. Consequently, what we leave behind is heavily compacted ground which may take a long time to recover, if recovery can happen at all.
Adding on to that, straying off the designated trail can be unsafe as hikers might run the risk of getting lost or encountering hornets and other wildlife which might act in defence if they feel threatened, Lim added.
There are mopboards indicating designated trails and trail etiquette that visitors can refer to at the entrances of all parks and nature reserves before entering the premises.
Anyone caught straying off designated trails in nature reserves could face a fine of up to S$2,000.

Top image via Facebook and via
If you like what you read, follow us on Facebook, Instagram, Twitter and Telegram to get the latest updates.