With increased safe management measures in place, meeting your friends or loved ones might not be possible at this time.
To let them know that you're still thinking of them (or to avoid being the sixth friend when restrictions loosen), here are eight dessert boxes you can get delivered to their doorstep for S$35 and below.
1. Honey Peach Bakery
Honey Peach Bakery is offering a Stay Home Signature Bundle Box for S$29.90, inclusive of free islandwide delivery.
The box consists of:
Four Cheesecake Shots (Oreo or Speculoos)

Four Macarons (Earl Gray, Chocolate, Cookies n' Cream, Speculoos)

Four Brookies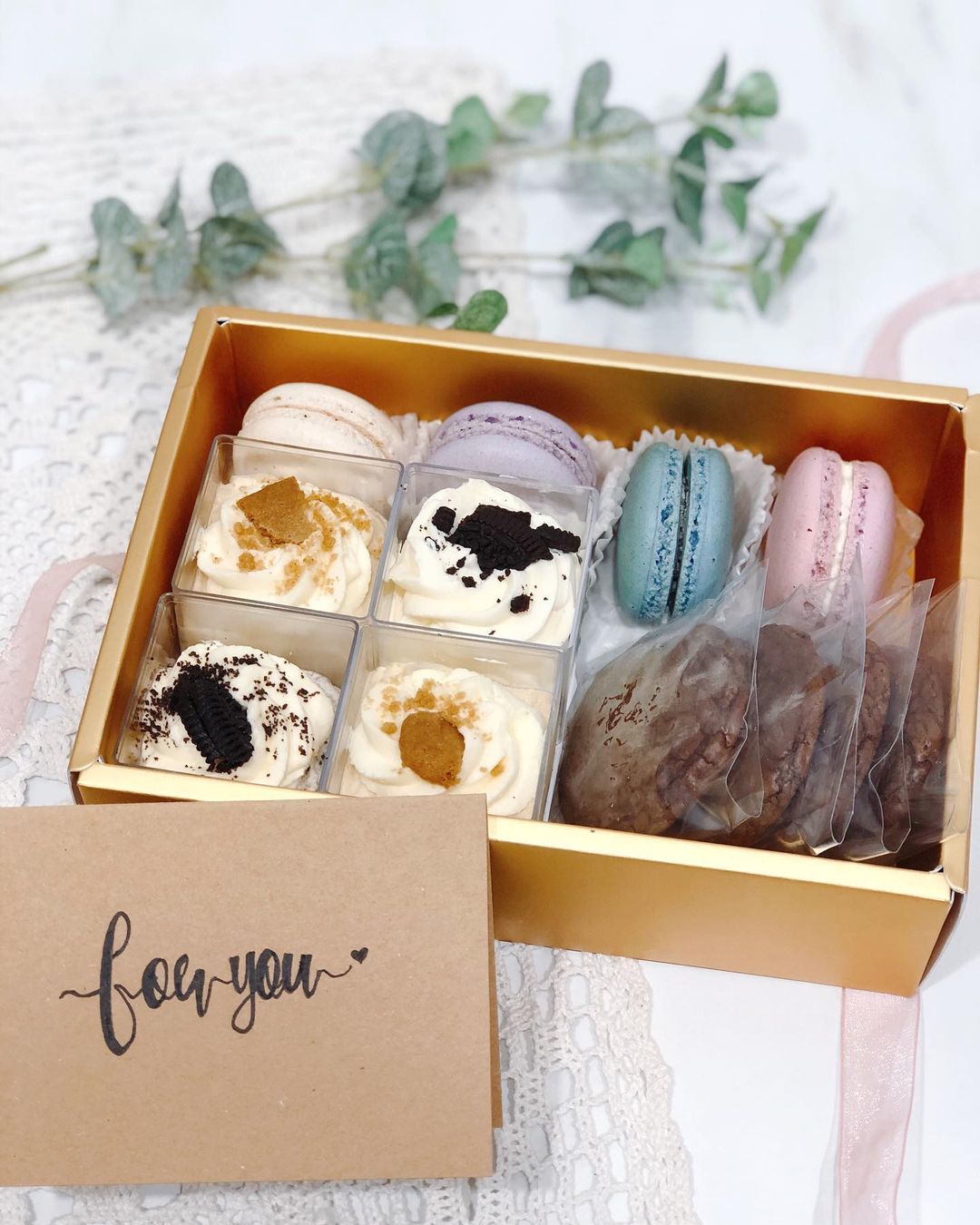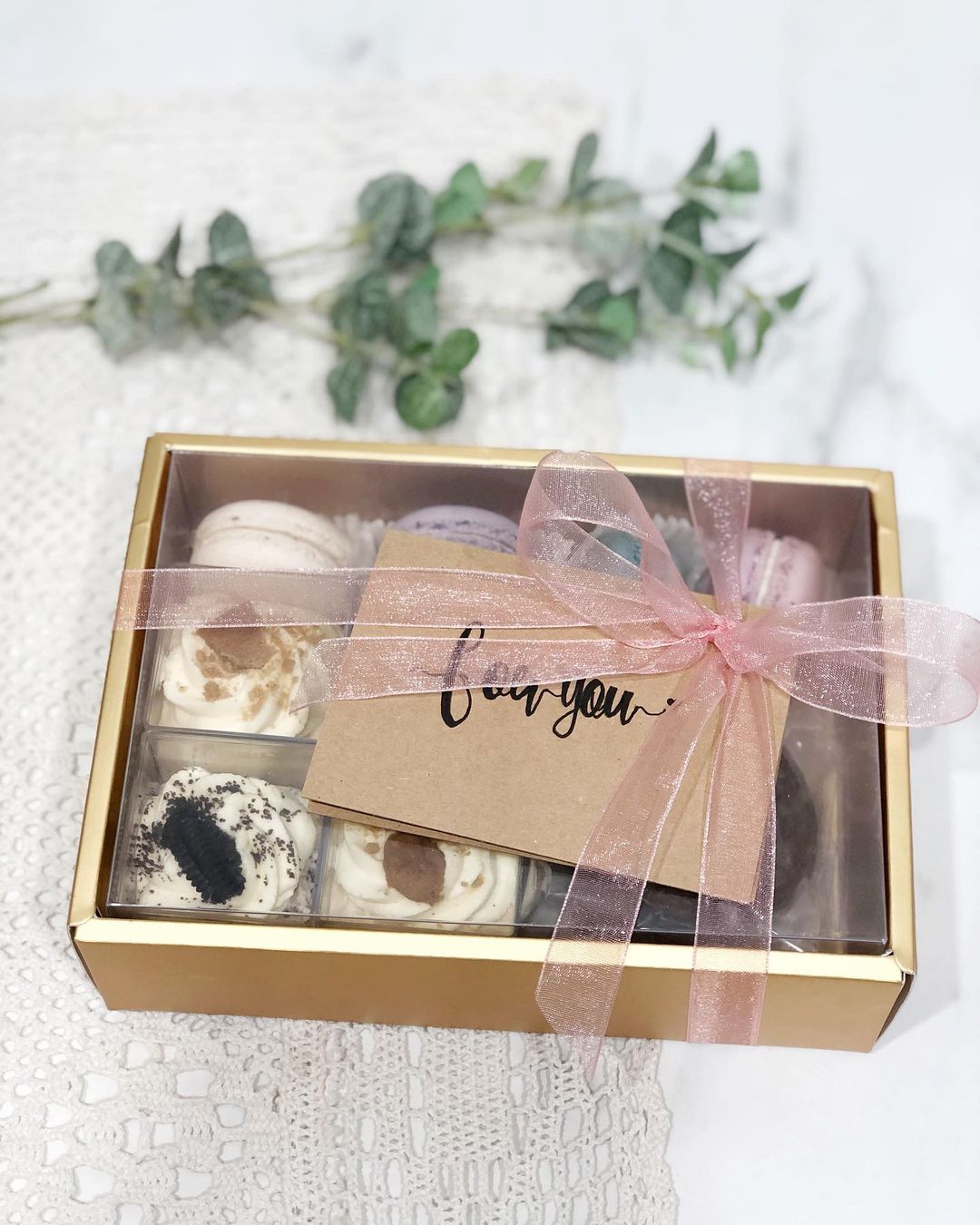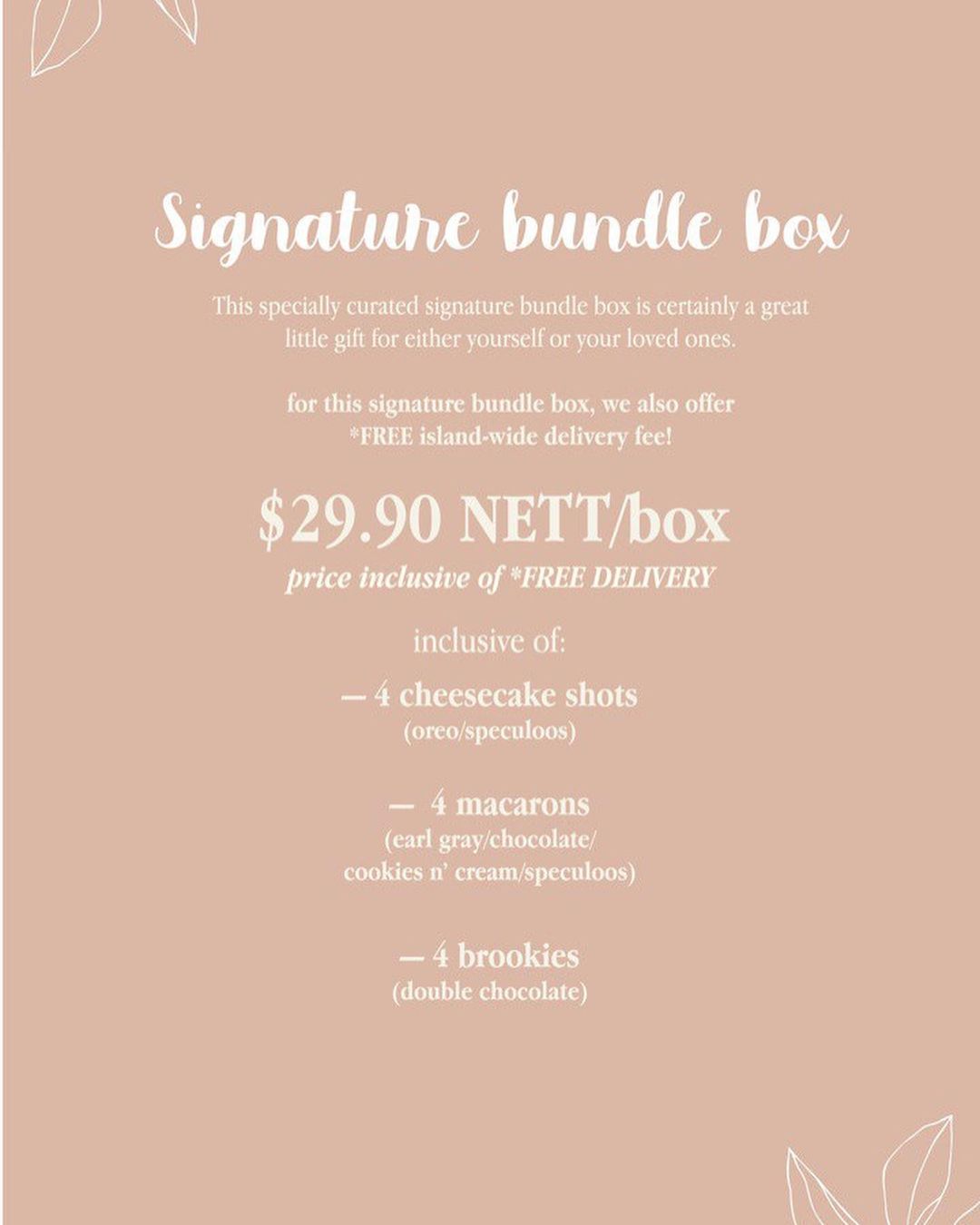 Customers can opt to pay an additional S$1.50 to include a handwritten personalised message tied with a ribbon.
To order, WhatsApp them here or email [email protected]
2. Baking Soba
Baking Soba, a Muslim-owned online bakery, is offering a Fave Pack for S$18.50.
The pack includes:
Three Cinnamon Rolls (Cheese, Cookies n Cream, Cranberry Walnut)

Four Brownies (Fudge, Salted Caramel, Raspberry White Chocolate, Biscoff Cheesecake)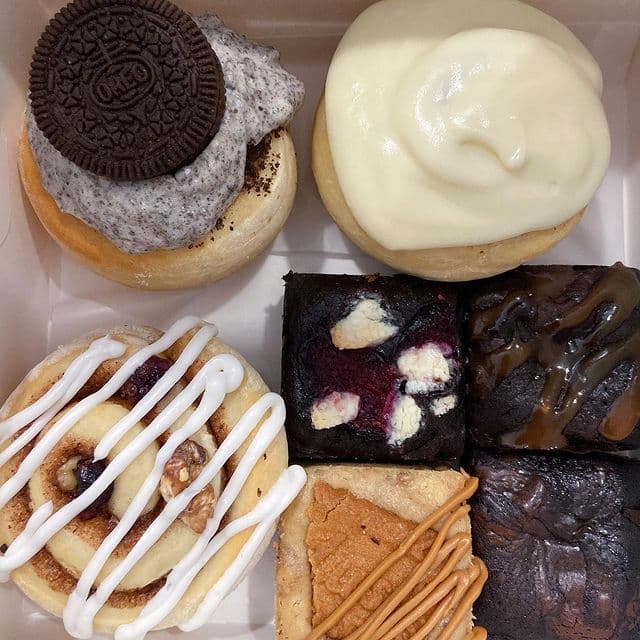 Besides the Fave Pack, they also sell Brownies, Cinnamon Rolls and more.
Delivery fees range from S$5 to S$12 depending on your location.
To order, fill-up the form here.
3. Semi-sweet by DN
Semi-sweet by DN is an online home bakery selling a variety of desserts such as cakes, cookies, cupcakes and macarons.
It is also known for its relatively affordable Bake Sale Boxes, which is priced at S$25 inclusive of delivery.
You'll get:
Red Velvet Cake

Sea Salt Chocolate Brownie

Two Chocolate Chip Cookies

Two Double Chocolate Chip Cookies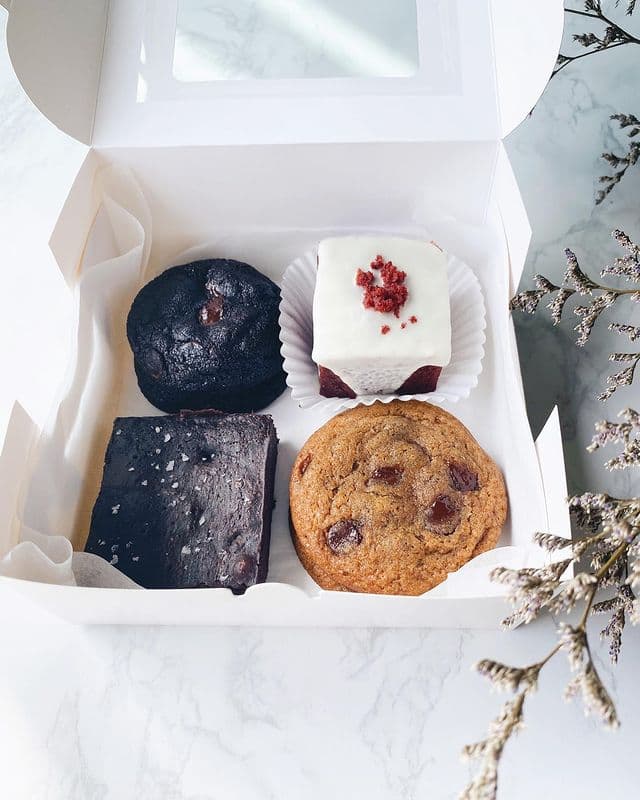 Do note that delivery dates for her Bake Sale Boxes are fixed and that her next bake sale will be on June 2 and 5.
To order, send them a direct message on Instagram with your name, contact number and delivery address.
4. Huarantine
Huarantine is an online bakery specialising in Burnt Cheesecakes and Brownies.
They are offering a Burnt Cheesecake and Brownies Box for S$25, which comes with:
Three Sea Salt Brownies

One Burnt Cheese Pillow
The box also includes a complimentary customised note.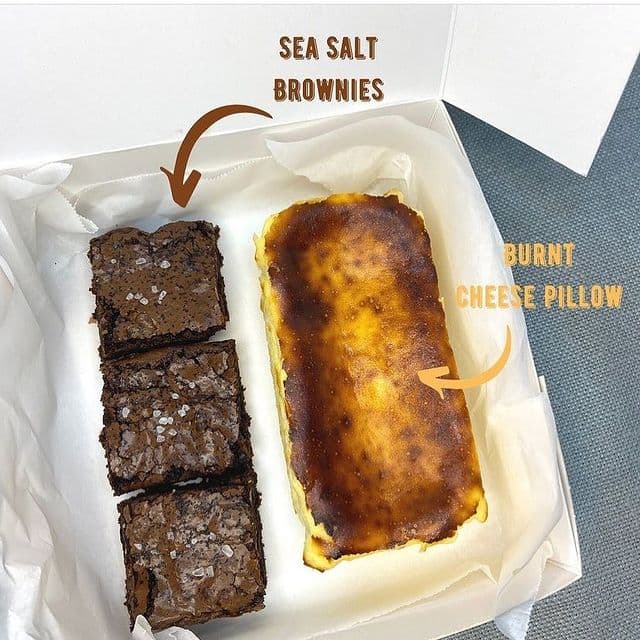 Islandwide delivery is available at an additional fee of S$10.
To order, drop them a direct message on Instagram.
5. The Bake Theory
The Bake Theory offers a variety of seasonal bakes including tarts, cookies, macarons and more.
For June, customers can order a Bake Box filled with assorted bakes for S$25:
Four Earl Grey Lavender Macarons

Two Strawberry Passionfruit Meringue Tarts

Four White Chocolate Black Sesame Matcha Cookies

Four Sea Salt Speculoos Brownies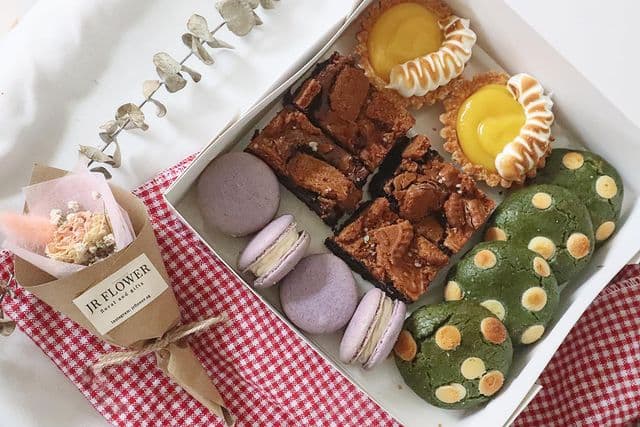 Delivery fees range from S$6 to S$10 depending on your location.
To order, fill-up the form here.
6. Chocolate Anatomy
Chocolate Anatomy is an online bakery offering Omakase bake boxes, which allows customers to customise the type and number of bakes they wish to order.
Fees for islandwide delivery depend on your total order:
Below S$38 spent: S$15 delivery fee

S$38 to S$65 spent: S$10 delivery fee

Above S$65 spent: S$5 delivery fee
To order, drop them a direct message on Instagram.
Here's a photo of some of their Omakase bake boxes:
7. Bakes by Nrulhda
Bakes by Nrulhda is an online baker specialising in stuffed doughnuts.
She offers weekend bake sales featuring boxes filled with 10 Nutella stuffed doughnuts, priced at S$18.
Each doughnut weighs around 45grams and is estimated to be 5cm in diameter.
https://www.instagram.com/p/CPIQeuEhKN1/
Islandwide delivery is available at S$10.
To order, look out for her next bake sale and fill-up the form here.
8. All Things Hainanese
All Things Hainanese specialises in vegetarian-friendly handmade traditional Hainanese snacks.
It is currently offering a Hainanese Gift Set for S$12, which consists of:
Two pieces of Signature Yi Bua

Five pieces of Yibua Mochi

One Bua Art

One tub of Handmade Kaya (100ml)
Each gift set comes with a complimentary gift tag.
Islandwide delivery is available at S$8.
To order, fill-up the form here.
Top photo via @honeypeachsg and @thebaketheorysg on Instagram
If you like what you read, follow us on Facebook, Instagram, Twitter and Telegram to get the latest updates.