An online order is often followed by excitement and anticipation as we wait for our parcel to arrive. The process is made so convenient that we don't even need to leave our homes for our items, big and small, to arrive right at our doorsteps.
However, how often do we think about those who make our shopping so convenient, those who are out on their feet, driving for long hours each day?
37-year-old Nur Syafiq opened my eyes and my heart as she recounted how her husband, a delivery driver, passed away while working.
According to Syafiq, in 2019, her husband was out on a delivery when he passed away from exhaustion and was found dead in his van.
For privacy reasons, Syafiq requested not to disclose the name of her late husband — whom we'll refer to as "M" — nor the name of the company that he worked for.
M left behind his wife and two daughters, who were four and 16 then.
Two years on, Shafiq still gets breathless with anxiety whenever she relives the incident. But she powers through with a mission in mind: To share her story so that delivery drivers like her husband get the respect and empathy they deserve.
Sole breadwinner of the family
M supported his family by working as a delivery driver.
In his 23 years of working as a deliveryman, he delivered all sorts of goods from pizza to groceries to bread and parcels.
Syafiq sometimes accompanied M on his delivery rounds. She either watched the vehicle while he dropped off the delivery items or assisted him with the smaller items from time to time.
It was variety which drew him to the job in the first place, Syafiq said.
"He was the kind that liked to travel places and meet people. He was also very well-versed with the road and maps and does not require a GPS."
He enjoyed the little things that came with the job, like engaging with new people every day, and always being on the move.
But this also meant that he barely had time to rest. And so Syafiq's family treasured the little nuggets of free time they had together.
Syafiq recalled a time when the family was walking and came across a rambutan tree. He stopped and began to talk about his father who loved farming and had a mini plantation at Bedok back in the day.
This remains her favourite memory of her late husband.
The day of the incident
"He asked for a long hug the night before, something he didn't usually do," said Syafiq as she recalled the day M passed on.
Their youngest daughter insisted on following her father in the van that day and kicked up a big fuss when her parents told her not to — something she'd never done before too.
Syafiq said that he was supposed to end his shift at 8pm and come home. Instead, he decided to help a colleague by taking on one more delivery.
Syafiq had been texting M on WhatsApp that evening, but he stopped replying in the middle of their conversation. Worried, she called him and sent SMSes, but there was no response.
She eventually stopped — she didn't want to disturb him while he was on the road — and decided to wait instead.
While she waited for him to come back, she reheated his favourite food — something that had become a routine of theirs. However, Syafiq couldn't help but have a weird feeling in the pit of her stomach.
Later in the night, Syafiq began to nod off, but was awoken by loud and persistent knocking on the door. Personnel from M's company identified her as his wife and brought her down to the hospital.
When she arrived at the hospital, she was ushered into the resuscitation room.
"As I entered the room. I saw him. I told him, 'dah tak kelakar (it's not funny), stop it eh!' I thought it was a prank."
She was in disbelief as her world crumbled before her.
"I checked his eyes, kissed him, pulled his beard, but he didn't wake up. I placed my ear on his chest, I heard a mild heart beat, I called the doctor, they came to check and said, 'No, your husband really passed away already.'

"I had my time alone with him for like an hour where I prayed for him… my kids were at home. I was alone there, but with him. He was getting colder and colder."
When Syafiq's kids finally got to see their father in the mortuary, he was cold and blue. Her youngest daughter had tears trickling down her face as she stood there in silence.
After this traumatic incident, Syafiq wants more people to know how difficult it is to be a delivery driver, in hopes that more will be kind and respect the work they do.
The tedious work of a delivery driver
M once revealed to his wife that he and other colleagues suffered from frequent headaches and felt unwell after a long day of deliveries.
M himself also struggled to get a day off, even when he was feeling unwell.
"He told me to make a polyclinic appointment for the next week as he was feeling unwell. I asked, 'Why next week? Why not now?'

"He said he was unable to take leave. He said he is too tired. He showed me screenshots of his colleagues complaining of headaches and [being] unwell too."
The job itself wasn't easy. Aside from the long hours, it was also physically taxing. Syafiq recalled how a lack of ramps at one of his delivery locations left him with no choice but to unload his trolley and carry 20 boxes, one by one, up a flight of stairs.
Yet, some customers do not always appreciated their hard work, said Syafiq.
Spat in the face
Syafiq recalled times when customers were rude towards M when he was on the job.
Once, a customer spat at his face when he was late for a delivery. On another occasion, a customer kept him waiting outside for a long time even after numerous doorbell rings.
However, M's patience and his dedication to customers were qualities that resonated so strongly with Syafiq that on the day he died, she continued to be accountable to his customers, apologising for the delay in their deliveries.
A few hours after M passed, Syafiq found many angry messages from customers on his phone.
"He wouldn't like this, he wouldn't like this," she recalled saying to herself, as she stood in front of his body in the hospital, reading the messages from his customers.
"My husband was a very trustworthy person. He felt responsible for every item that belonged to his customers. It is part of our religion too… So I apologised."
Despite being newly-widowed and in a state of shock, Syafiq did what she felt her husband would have wanted: She replied to each and every one of his customers who were left waiting.
"Some were impatient and angry as they might have cancelled their plans as they waited for their parcel. One was screaming but sobered down after I told her."
Not all of his customers were impatient, but many texted repeatedly because they wanted to make sure that their items were delivered on time. However, Syafiq thinks that customers should refrain from texting their drivers excessively because they need to focus on the road.
"You are not the only customer they have."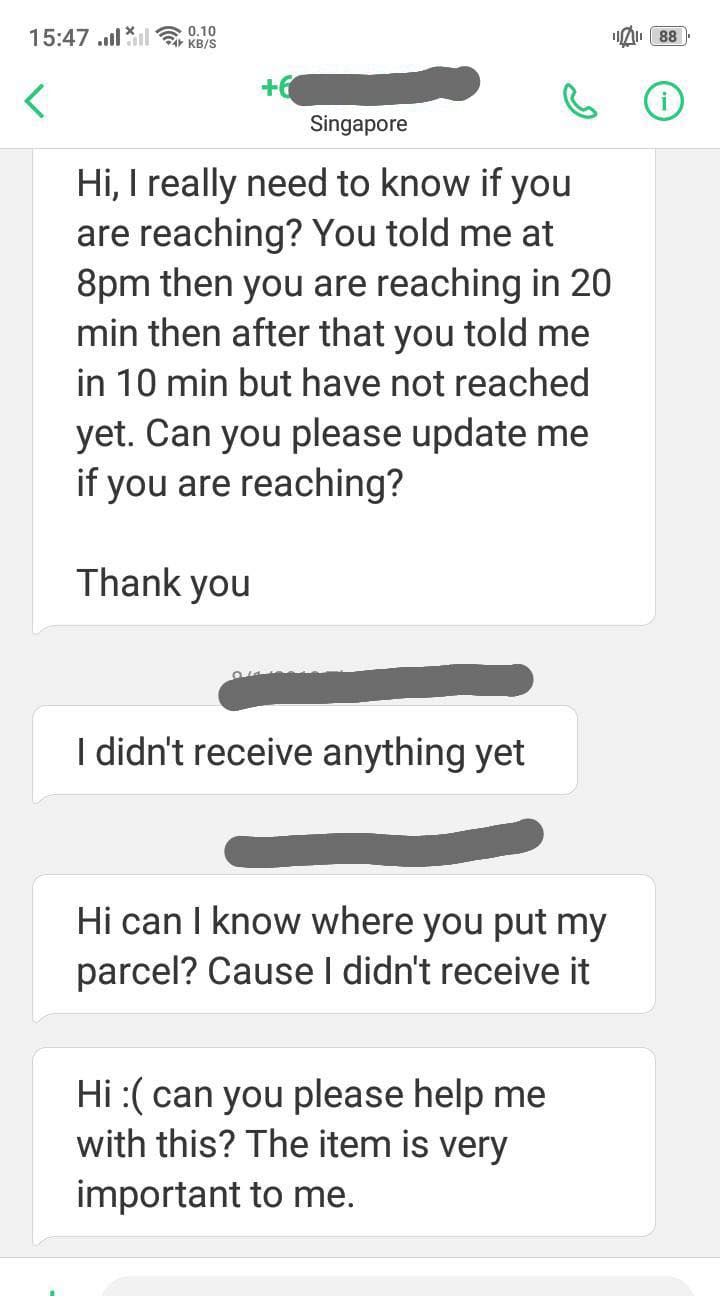 Wants change in the way delivery drivers are treated
The family is still going through a tough time, two years after the incident.
Syafiq still gets panic attacks whenever she's in a vehicle and there are loud knocks on the door, or when she reads about similar accidents.
Thankfully, the Family Services Centre provides counselling for the family and the Al Mukminin Mosque supports them through regular email check-ins and WhatsApp conversations as well as engage them with spiritual courses.
While there is nothing she can do to bring her late husband back, she hopes more can be done for delivery drivers.
"I want to see changes in the system for delivery drivers and riders and i want to share with them the traumas and pains that our family is going through that could have been prevented."
Delivery companies can acknowledge their hard work by offering them better benefits, said Syafiq.
For example, they can have an increased salary and allowances to help cover the costs incurred in the course of their work, like fuel, parking charges, and even loans that they take up to acquire their delivery vehicles.
She also believes that delivery drivers need to have better work-life balance, with ample rest and compulsory lunch and dinner breaks to prevent exhaustion.
Syafiq has also spoken up on Facebook, highlighting suggestions that can make a delivery driver's day a little easier.
For instance, M used to leave a car park before the 10-minutes grace period was up, and re-entered again to continue his deliveries in order not to incur a parking charge. This, noted Syafiq, is practised by other delivery drivers as well.
Thankfully, her concerns reached the Housing & Development Board (HDB) who informed her on May 21 that one of her proposals to increase the car park grace period for delivery drivers was approved and will be implemented.
From May 23, delivery drivers can use loading and unloading bays for quick deliveries, and will be given an extended grace period of 20 minutes at all HDB and Urban Redevelopment Authority (URA) electronic parking system car parks, up from the current 10 minutes.
In response to the news, she exclaimed: "One is settled OMG!"
However, Syafiq believes more can be done for delivery drivers.
Firstly, residential and commercial buildings should offer allow delivery drivers the flexibility to park near delivery points. This would shorten the distance travelled between their vehicle and their delivery location.
In addition, malls and private apartment blocks should allow delivery drivers to park their vehicles closer to lifts and ramps, so that it saves them time and energy when making deliveries.
She also proposes having delivery driver zones, like the ones designated for shared bikes, for drivers to park their vehicles.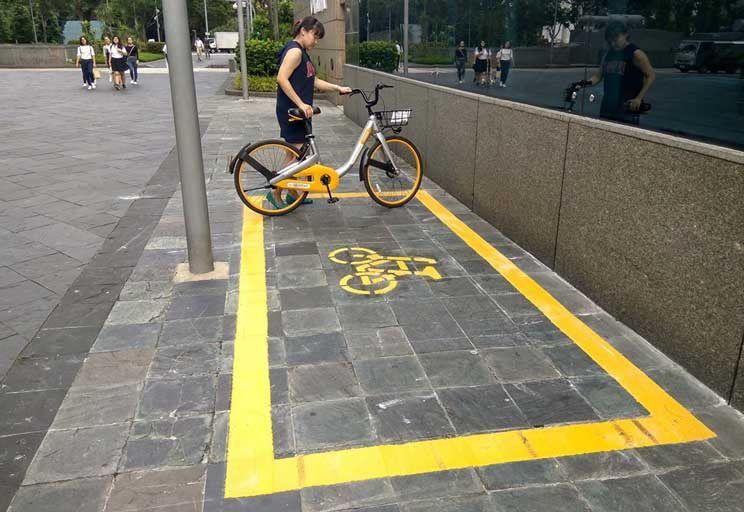 She hopes that the work of delivery drivers will be less taxing, as she doesn't want other drivers to suffer the same fate as her late husband.
"I love them (delivery drivers). I lost someone like them, a very important person to his family and to the society. He is still missed. ... He is the best driver I know."
---
Stories of Us is a series about ordinary people in Singapore and the unique ways they're living their lives. Be it breaking away from conventions, pursuing an atypical passion, or the struggles they are facing, these stories remind us both of our individual uniqueness and our collective humanity.
---
Top image credit Getty Images and Syafiq. Quotes were edited for clarity.
If you like what you read, follow us on Facebook, Instagram, Twitter and Telegram to get the latest updates.