Follow us on Telegram for the latest updates on Covid-19: https://t.me/mothershipsg
Since the start of the roll-out in Singapore, 0.13 per cent of administered Covid-19 vaccine doses have resulted in a suspected adverse event, said the Health Sciences Authority (HSA).
Adverse events are reported by healthcare professionals to HSA when they suspect that it may be associated with the vaccine.
However, this does not necessarily mean that the vaccine has caused the AE.
2,796 suspected AE reports
From more than 2.2 million doses administered between Dec. 30, 2020, and Apr. 18, 2021, there were 2,796 suspected AE reports received,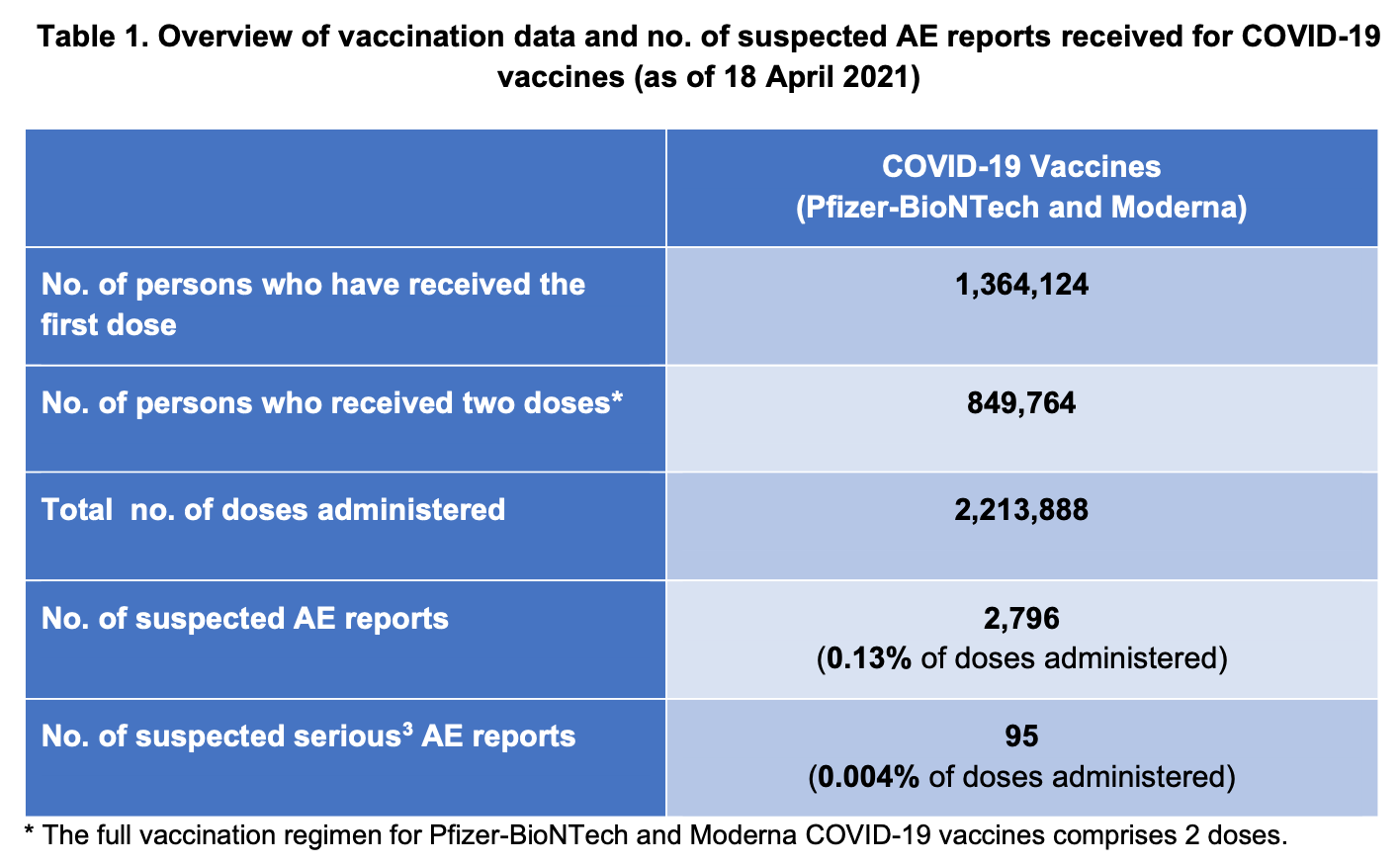 In a press release, HSA said the most commonly reported adverse events were consistent with those observed following typical vaccinations.
This included dizziness, fever, muscle aches, headaches, and allergic reactions like itches, rashes, hives, or facial swelling.
HSA wrote that the most common suspected adverse event reported was rashes, followed by hives and dizziness.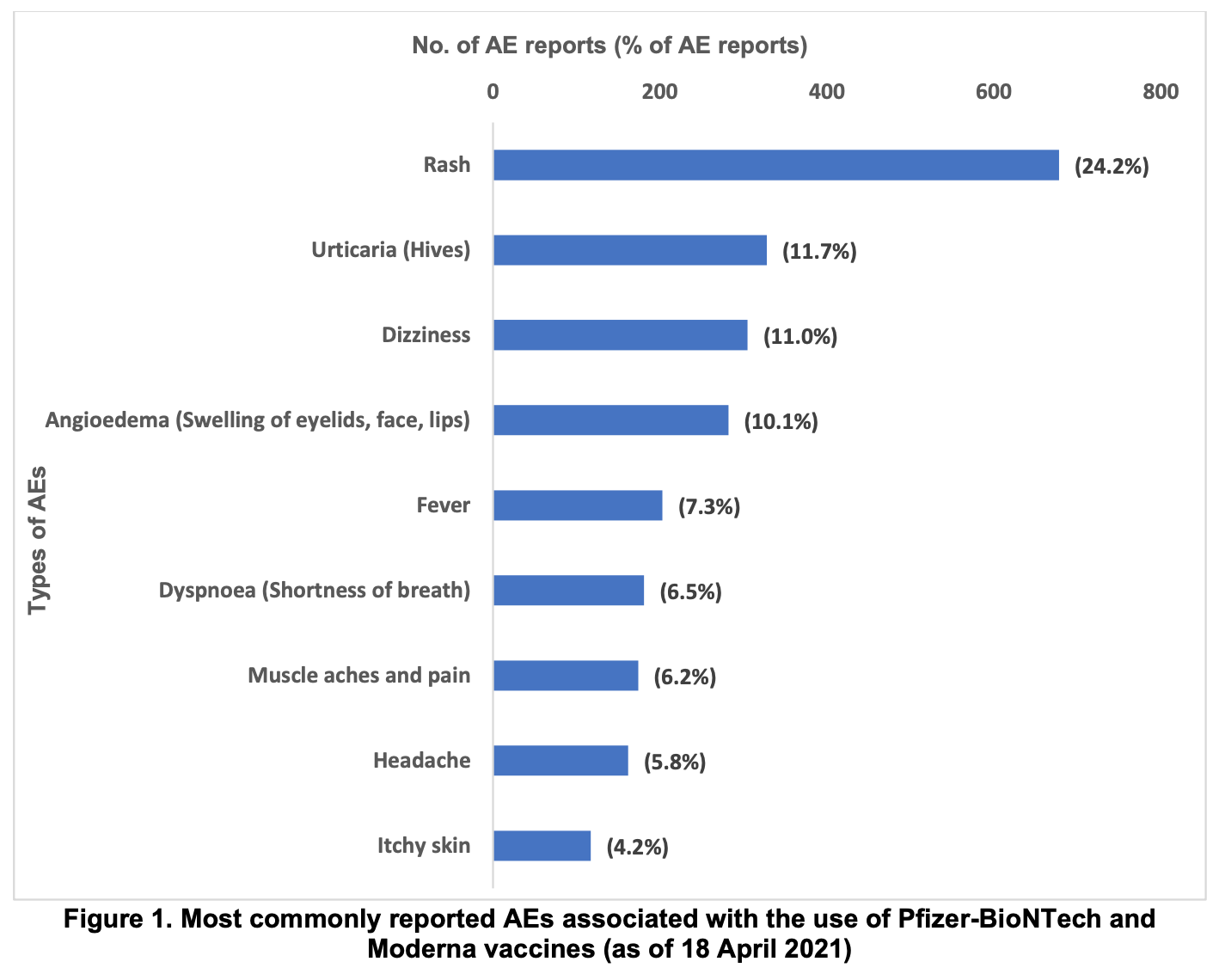 20 cases of Anaphylaxis
Of the 2,796 reports, 95 (or 0.004 per cent of administered doses) were classified as serious suspected adverse events.
Most common amongst the serious adverse events was anaphylaxis — a severe allergic reaction which usually occurs within minutes of the vaccine injection with symptoms such as swelling and constriction of the airways — and other severe allergic reactions (such as breathing difficulty, fast heart rate, increase or decrease in blood pressure).
Only 20 cases of anaphylaxis were reported between December 2020 and April 2021; there were also 20 reports of other severe allergic reactions.
Before receiving the vaccine, individuals are screened for underlying medical conditions that may trigger such reactions. They are also held for observation after the vaccine is administered.
No evidence that vaccines caused heart attacks or strokes
Causality between vaccines and such AEs, based on isolated cases of reactions, remains hard to establish, HSA said.
In some instances, adverse events are related to an underlying or undiagnosed disease or the natural progression of an underlying disease.
One example may be heart attacks and strokes, which HSA noted occur naturally in people regardless of whether they are vaccinated or not.
Vaccinated individuals have also not experienced a greater frequency of heart attacks and strokes to date; there is no evidence that the Covid-19 vaccines used in Singapore can directly cause these events.
In addition, no deaths from heart attacks, strokes or any other causes suspected to be associated with the vaccines have been reported locally.
Benefits outweigh risks: HSA
Anaphylaxis, along with Bell's Palsy, has been classified by HSA as an adverse events of special interest. These have been historically reported as reactions to other vaccines as well.
So far, 25 cases of Bell's Palsy — a condition that causes temporary weakness or paralysis of the facial muscles — have been reported; most are non-serious.
HSA are closely monitoring the occurrence of these adverse events of special interest as well as other serious adverse events.
No cases of unusual blood clots have been reported locally, though they have been reported overseas with other types of Covid-19 vaccines not approved for use in Singapore.
Safety updates on adverse reactions to the Covid-19 vaccine in Singapore will be provided monthly.
HSA wrote that — based on an assessment of the data so far — the benefits of the Pfizer-BioNTech and Moderna Covid-19 vaccines continue to outweigh the known risks in a pandemic.
Photo via Khoo Teck Puat Hospital/Facebook
If you like what you read, follow us on Facebook, Instagram, Twitter and Telegram to get the latest updates.