[Update on May 15 at 2:30pm: This article has been updated to state that Shawn Huang is the sustainability champion for Jurong-Clementi Town Council, in line with an updated media release from the PAP.]
[Update on May 15 at 6:40pm: This article has been updated to state that Don Wee is the sustainability champion for Chua Chu Kang Town Council, following further updates from the PAP.]
In February 2021, the government unveiled the Singapore Green Plan 2030, which was described as a "whole-of-nation movement" to advance Singapore's agenda on sustainable development over the next 10 years.
Now, in support of the Singapore Green Plan 2030, all 15 People's Action Party (PAP) town councils will be enhancing their sustainability plans and efforts, by launching an initiative called "Action for Green Towns".
This initiative is meant to improve sustainability practices within the respective towns, and will work towards making every PAP-managed town "zero waste, energy efficient and greener" by 2025, the party announced on May 15.
Sustainability champions
Each PAP Town Council will have a Sustainability Champion — chosen from its elected Members of Parliament (MPs) — who will the Action for Green Towns taskforce, along with a group of Young PAP representatives.
The taskforce will be led by Chairperson of Jalan Besar Town Council Wan Rizal.
This is the list of sustainability champions:
Ang Mo Kio Town Council: Henry Kwek

Bishan-Toa Payoh Town Council: Chong Kee Hiong

Chua Chu Kang Town Council: Don Wee

East Coast Town Council: Cheryl Chan

Holland-Bukit Panjang Town Council: Edward Chia

Jalan Besar Town Council: Wan Rizal

Jurong-Clementi Town Council: Shawn Huang

Marine Parade Town Council: Tin Pei Ling

Marsiling-Yew Tee Town Council: Hany Soh

Nee Soon Town Council: Louis Ng

Pasir Ris-Punggol Town Council: Sharael Taha

Sembawang Town Council: Poh Li San

Tampines Town Council: Cheng Li Hui

Tanjong Pagar Town Council: Alvin Tan

West Coast Town Council: Rachel Ong
Answering questions from the media, Mountbatten MP Lim Biow Chuan, who is the coordinating chairperson for the PAP town councils, explained why MPs were appointed as sustainability champions:
"Having the MP champion the efforts of sustainability is really our signal that we take this sustainability movement very seriously. Sometimes plans, after being formulated, need to be executed. And if there is no MP in charge of it, the worry is, 'how well will it be executed at the ground?'"
"If we just appoint a staff, then, [execution of plans] may not be so straightforward," said Lim.
In addition, each PAP town council will also have a Sustainability Committee, with a dedicated Sustainability Officer to drive implementation in each town. The committee will then lead and facilitate efforts with stakeholders in respective towns.
According to the PAP, residents will also play a key role in this, and will be involved in the entire process "from feedback and ideation to implementation."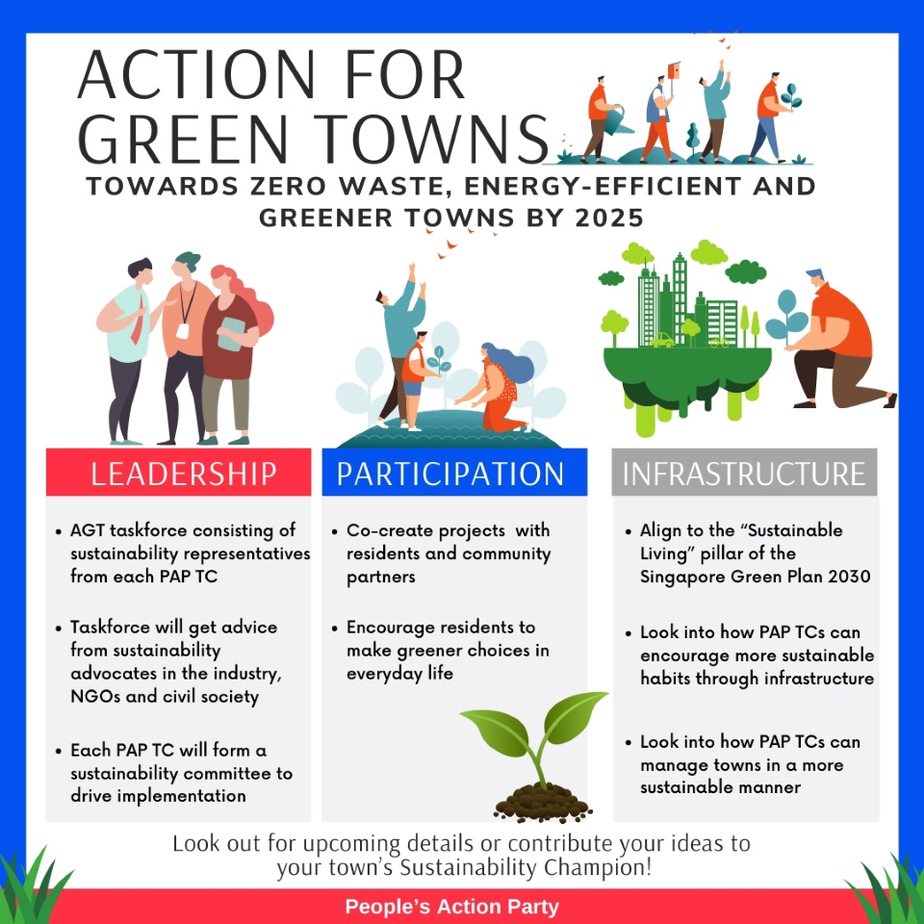 Taskforce will remain mindful of the costs of implementation
The taskforce will begin its work by reviewing all existing sustainability projects across the different town councils, and share the best practices among each towns.
Examples of such initiatives include sustainable energy initiatives, such as conversion to energy-saving LED lamps, as well as water-saving initiatives, such as using water-saving jets for cleaning, among others.
The PAP said that besides learning from one another, there will also be opportunities to scale up suitable local initiatives to "regional or national levels", within the PAP Town Councils.
Asked how the town councils will be funding these initiatives, Lim said that the town councils are normally funded by a combination of service and conservancy fees, as well as government funding.
He said that in this case, the taskforce led by Rizal will explore various recommendations, before deciding how to fund these initiatives.
Lim said that no matter what is implemented, the taskforce will be mindful of the costs, given that excessive costs will be a tax burden on residents.
In addition, Rizal also said that a preliminary "report card" will be released by the end of the year, to summarise the initiatives that have been implemented, and how things can be improved.
The taskforce will unveil more details of its plan by the end of 2021.
Top image via PAP.
If you like what you read, follow us on Facebook, Instagram, Twitter and Telegram to get the latest updates.