Follow us on Telegram for the latest updates: https://t.me/mothershipsg
A 60-year-old woman paid for S$2,400 worth of beauty products at Aqua Mineral, a beauty store at Waterway Point, after allegedly caving in to the hard-selling tactics of its sales personnel.
The woman's daughter, Nurhuda Halim wrote to Mothership in a tip-off about the "aggressive sales tactics" that were allegedly employed by Aqua Mineral salespersons.
Made to stay for over an hour
The incident happened on May 6 at about 4:11pm, Nurhuda disclosed.
According to Nurhuda, her mother had dropped by the mall to withdraw money for Hari Raya activities.
After being stopped by an Aqua Mineral salesperson, she was allegedly held back for over an hour and and was not allowed to leave unless she purchased something.
Nurhuda's mother relented and made an initial payment of S$180.
Eight products and three facial sessions
However, the salespersons allegedly continued to pressure the 60-year-old into making multiple purchases that amounted to a total sum of S$2,400.
In addition to three one-hour facial treatment sessions, the itemised receipt included eight products that ranged from S$120 for a loofah facial soap, to S$1,199.99 for an Aecor Neck beauty device.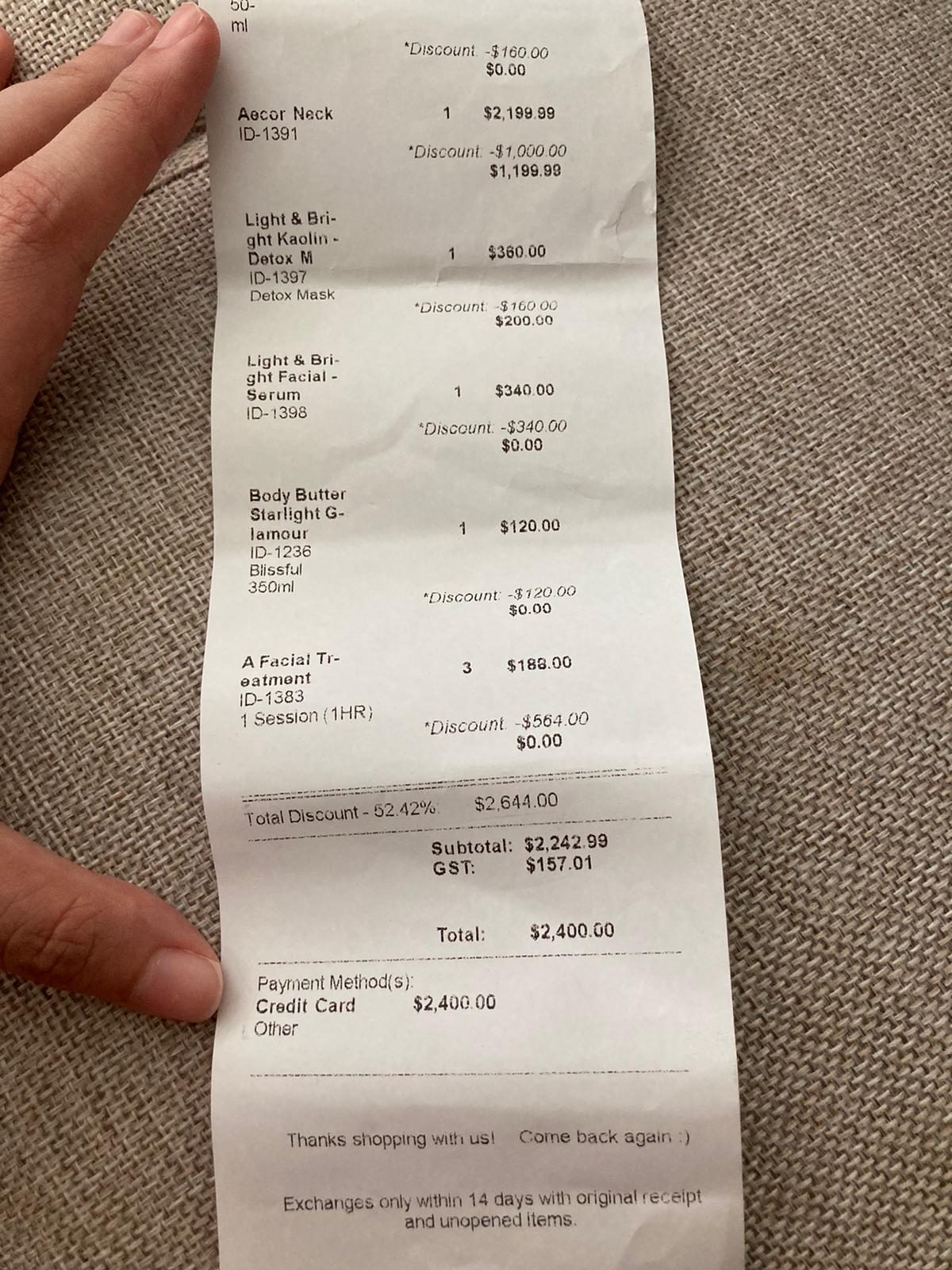 Nurhuda said her mother had tried rejecting the sales personnel numerous times but "eventually caved" as she was unable to leave.
Besides filing a police report, Nurhuda lodged a complaint with Consumers Association of Singapore (CASE) on May 6. She only received a response from CASE on May 11, a day after she received the refund from Aqua Mineral.
Nurhuda had contacted the manager on May 7 after discovering that the store was closed on May 6 when she visited the mall to return the products.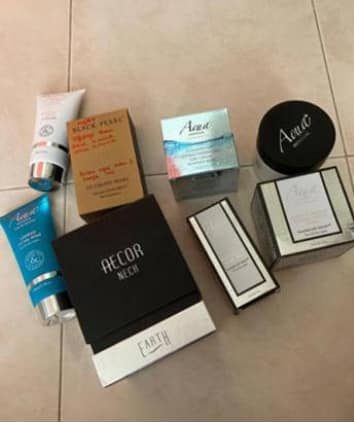 On May 10, she met with two managers from Aqua Mineral to return the products and receive her refund in the form of a cheque.
Nurhuda believed that the shop's staff targeted her mother as she was "alone", and older customers tend to be more "naive and impressionable", which make them easy prey to hard-selling tactics.
She said, it was a very stressful situation to be in and both of them are now relieved that they managed to obtain the refund.
She also added that her mother has learnt to be wary of similar stores.
Apology and refund
In a statement sent to Mothership, an Aqua Mineral spokesperson conveyed their "sincere apologies" and said that they have issued a full refund on May 10.
The spokesperson explained in the statement that Nurhuda's mother had purchased a cleanser and the customer service team recommended additional products for her eyes and neck.
According to Aqua Mineral, she initially agreed to purchasing the products but wished to receive a refund after reconsidering her purchase.
Aqua Mineral has issued a full refund on May 10, in accordance with the company's policy and CaseTrust's five-day cooling off period even though CASE has confirmed that they are not a CaseTrust accredited company.
As the conditions which the products were stored or kept in are unknown, Aqua Mineral will adhere to the manufacturer's rules and not resell or use those products again.
In response to queries by Mothership, a representative of CASE shared that the beauty industry has consistently ranked among the top three industries for customer complaints.
They received 408 complaints about pressure selling in the beauty industry in 2020.
As of Apr. 30, 2021, CASE has received 108 of such complaints this year.
Under the Consumer Protection (Fair Trading) Act (CPFTA), CASE is empowered to invite an errant supplier to enter into a Voluntary Compliance Agreement (VCA) to cease the unfair practices and compensate affected consumers.
Errant suppliers who persist in unfair practices will subsequently be referred to the Competition and Consumer Commission of Singapore (CCCS) for investigation.
Read more

Top images by Nurhuda Halim.
If you like what you read, follow us on Facebook, Instagram, Twitter and Telegram to get the latest updates.