"I not actor lah, but people will comment on the video saying I'm funny, so it means my acting is actually good lah hor", says Cedric Ng.
Clad in his signature blue-collared polo and black berms, the 53-year-old "TikTok Daddy" is as much of a riot in real life as he is in his TikTok videos, which have a seven million following to date.
The spirited superstar is one half of viral prankster duo @daddyming, and with a byline that reads "I love pranking my son", he is no stranger to making people happy.
Ng, who churns out prank videos with his son, Ming Wei, on a regular basis, shares how going on Singapore's rising social media platform, TikTok has helped him "destress" and learn many new things, all while inspiring others and bringing a smile to their faces.
First used TikTok to stay connected with son
Ng first "installed" TikTok in 2019, as a means to keep track of what his son was doing.
Back then, Ming Wei was in Norway for training as a National Taekwondo athlete, and the distance meant that Ng often had no idea what his son was up to.
Downloading TikTok helped him stay connected with his son, so he could "follow" him on his daily training and activities.
His first foray into being featured on TikTok began in May 2020, after Ming Wei returned to Singapore due to the Covid-19 pandemic.
Stuck at home from circuit breaker, Ming Wei made a personal request for Ng to "star" in an upcoming video. Despite being initially reluctant, Ng agreed to support his son.
"I was like oh ok lah, do this one time. Five minutes only right, can, since circuit breaker ending already".
Little did he know their first video, which showed Ng pranking his son with a water balloon and drenching his son, would garner many positive reactions.
Fans loved the wholesome dynamic between Ng and his son, leading to his son to request for him to make an appearance in another video, after just two or three weeks.
The rest is history.
1 million followers in 23 days
Shrugging almost nonchalantly about their success, Ng said, "Honestly, I was like 'this kind youngsters will like meh'?"
As the response picked up however, Ng realised there was indeed a demand for their videos, namely, of him pranking his son.
Eventually, he created his own TikTok account "one random day" in July 2020, under the behest of several fan requests.
In less than a month, his account skyrocketed to 1 million subscribers, with many posting positive responses to Ng's genuine reactions and cheeky shenanigans.
Scrolling the "For You" page for inspiration
Today, his greatest love on TikTok is the "For You" page, which Ng says gives him inspiration on what to do next by regularly pushing content tailored for him.
By scrolling and seeing what other people do, Ng found himself "learning a lot of new things", gaining ideas (and ammo) he could use in pranking his son.
Flour and eggs, for example, were recurring themes Ng found himself weaving into his videos, after noticing that people liked to see mess and chaos, not a predictable story.
He also forwards relevant videos he sees on TikTok to friends and family "for fun", creating conversations with others.
Said Ng, "I forward cute dog videos on TikTok to my neighbour, for example, because she has a dog and I know she will like it. When I see something funny, I'll just forward the video to share the joy."
Looking past the negativity
Speaking candidly about his newfound popularity, Ng waved off suggestions of fame and grandeur, joking instead that with everyone wearing a mask, no one could recognise him anyway.
He added he preferred "lying low", and simply focusing on the task at hand – to create videos that make people laugh.
Said Ng about creating content online,
"Don't get affected by what other people say, because there's definitely going to be a lot of negative comments. Once you get affected, you start to feel low. If people comment, just see see, and think if you can improve or not."
Simple motivations
Ng said that he also continues to be motivated by one singular driving force in each video – be it smashing his son's newly bought Macbook, or tossing a basin full of flour in his son's face.
That is, using his data to make the online space a happier, more positive one for everyone.
This one true north has guided Ng and his son in putting out content on their channel – creating stuff they think people would want to see and take joy in, rather than for their own benefit. Most of it is shot simply in their backyard.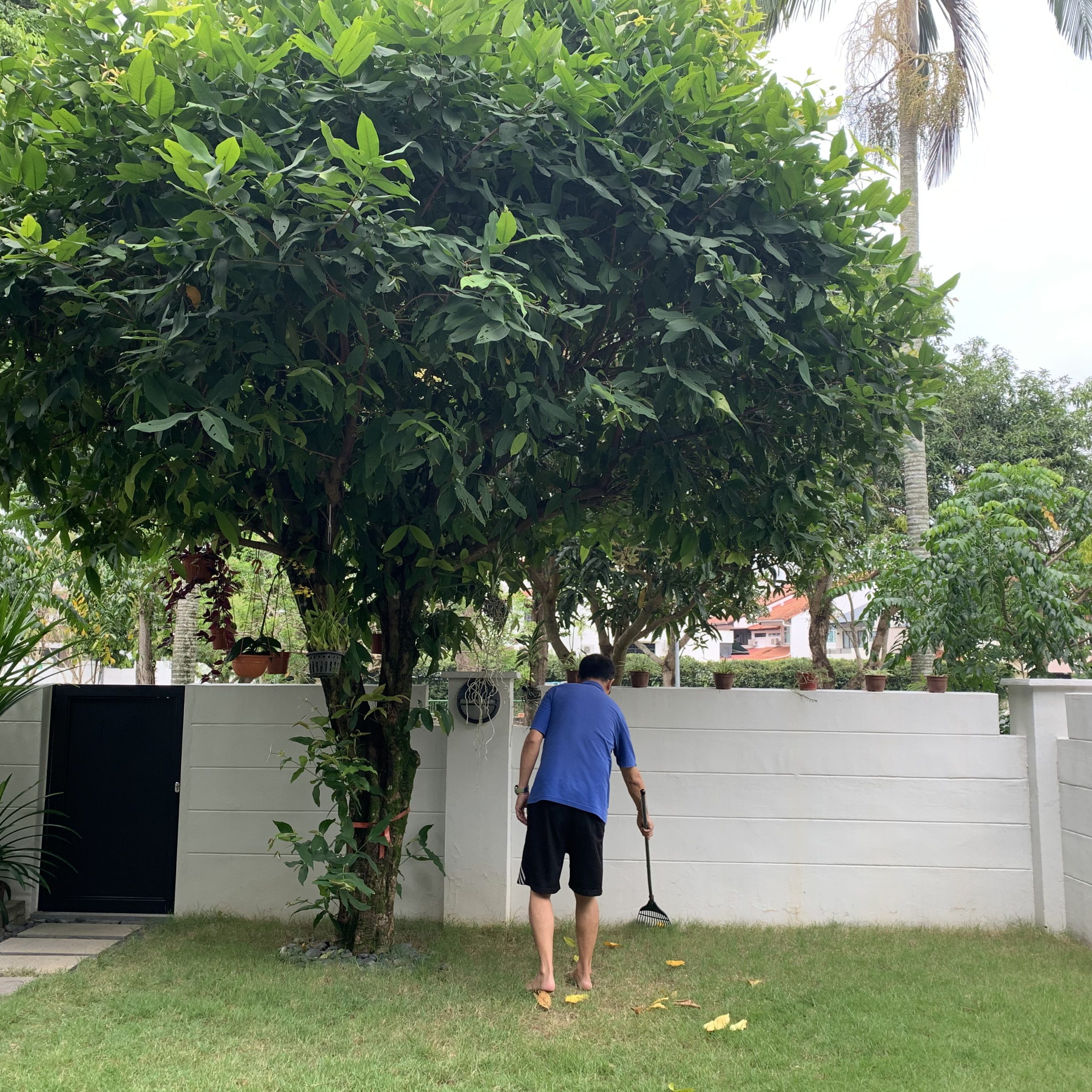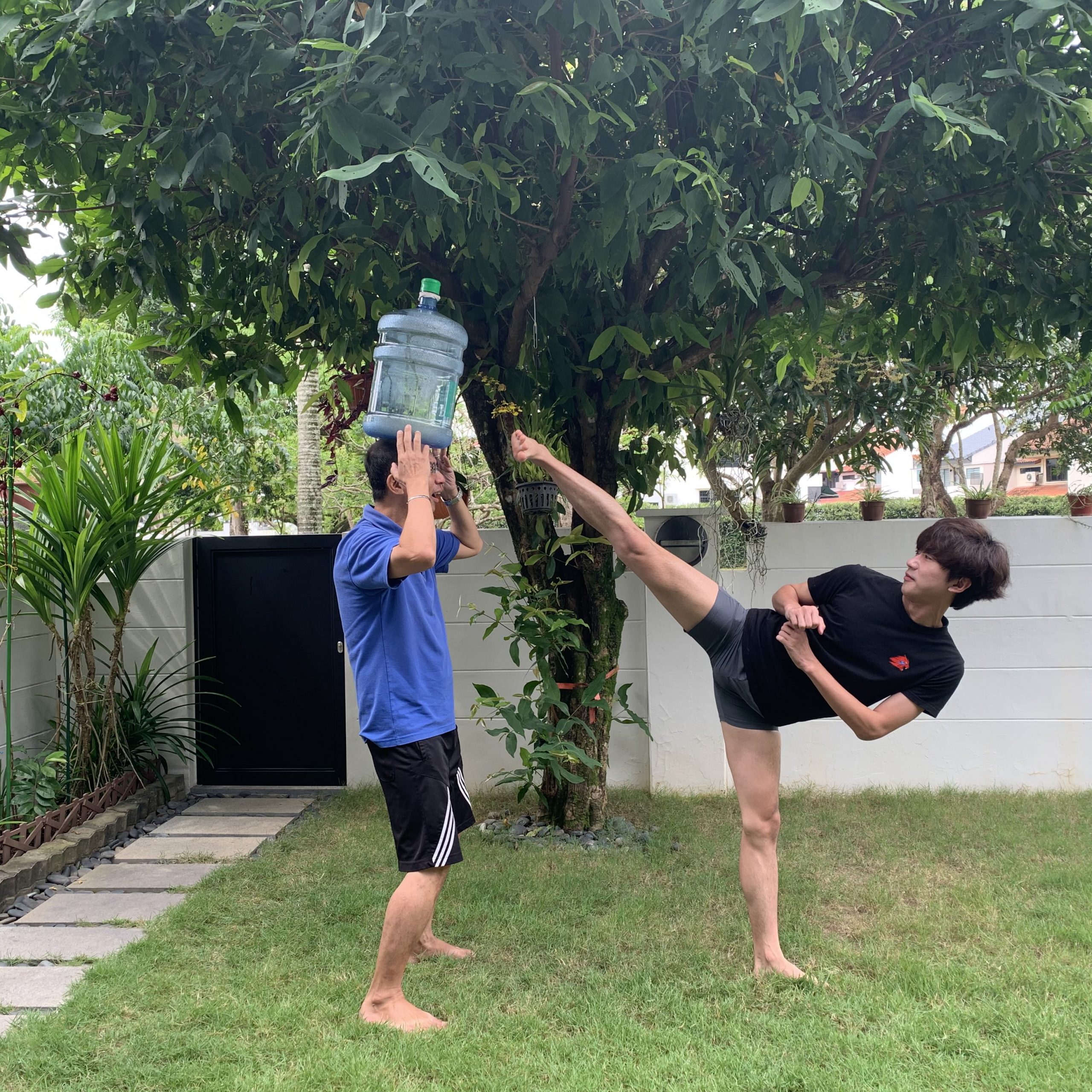 Comments that Ng receives, like "eh your video really brightened up my day", or "my boy is a fan of yours", inspire him to keep going and to constantly change up his content.
Said Ng,
"As long as the content makes people happy, we will keep building up from there. We will continue doing pranks, until one day, no one wants to see.

Because there's so many people following us now, I'm even more committed to doing my best to make people happy."
Numerous benefits of going online
Today, the duo are considered "role models" for many others in using social media for family bonding, as Ng explains that the relationship between him and his son has only grown stronger through the process of making videos.
He elaborates:
"We communicate better. Now, when I see something funny, I forward it to him [my son], so then he will also share things with me, and then there's communication already lah. That's where the bonding comes."
Ng also shared that as he's become more savvy, he enjoys going online as a way to "kill time", like whenever he needs to wait for his wife at the market.
Said Ng, "I sit there and do nothing, so I'll go look at videos lor. Make good use of my data and time. Honestly, when I watch videos online, I also destress lah, because I laugh, then it makes my day again!"
It's a refreshing take in a world where digital detoxes are the norm, and a reminder that going online does not have to be overwhelming.
GOMO by Singtel's #DataForGood campaign
GOMO's #DataForGood is a movement to spread love, kindness and positivity online, like Ng does with his TikTok videos, with the singular purpose of making others laugh and be happy.
By using #DataForGood, GOMO by Singtel believes that we can ultimately encourage a more mentally well Singapore. While it is a common perception that going online is bad for mental wellness, the truth is going offline as a solution is also not the most realistic solution we can all afford.
So, instead of going offline when feeling overwhelmed, GOMO believes in letting the internet help you. People can benefit from going online, especially in this day and age, and it starts by filling the world with content that sparks joy and uplifts the spirit.
It's all about what you do with your data that counts. Join the GOMO fam, and arm yourself with more data (lots of data starting from as low as S$20) to do good today.
This sponsored article made the writer reflect more about the good she could do with all the time she spends online.
All images by Jinghui Lean. All videos courtesy of Cedric Ng and Ming Wei. 
If you like what you read, follow us on Facebook, Instagram, Twitter and Telegram to get the latest updates.