When our boss told us to go for a dining in the dark session at Nox, the first thing that came to mind was: "Yay, free dinner."
So when we entered the unassuming two-storey restaurant that was dimly-lit, we thought to ourselves: "Ok what, not so dark."
For reference, here's what it looked like outside the restaurant at about 6:30pm: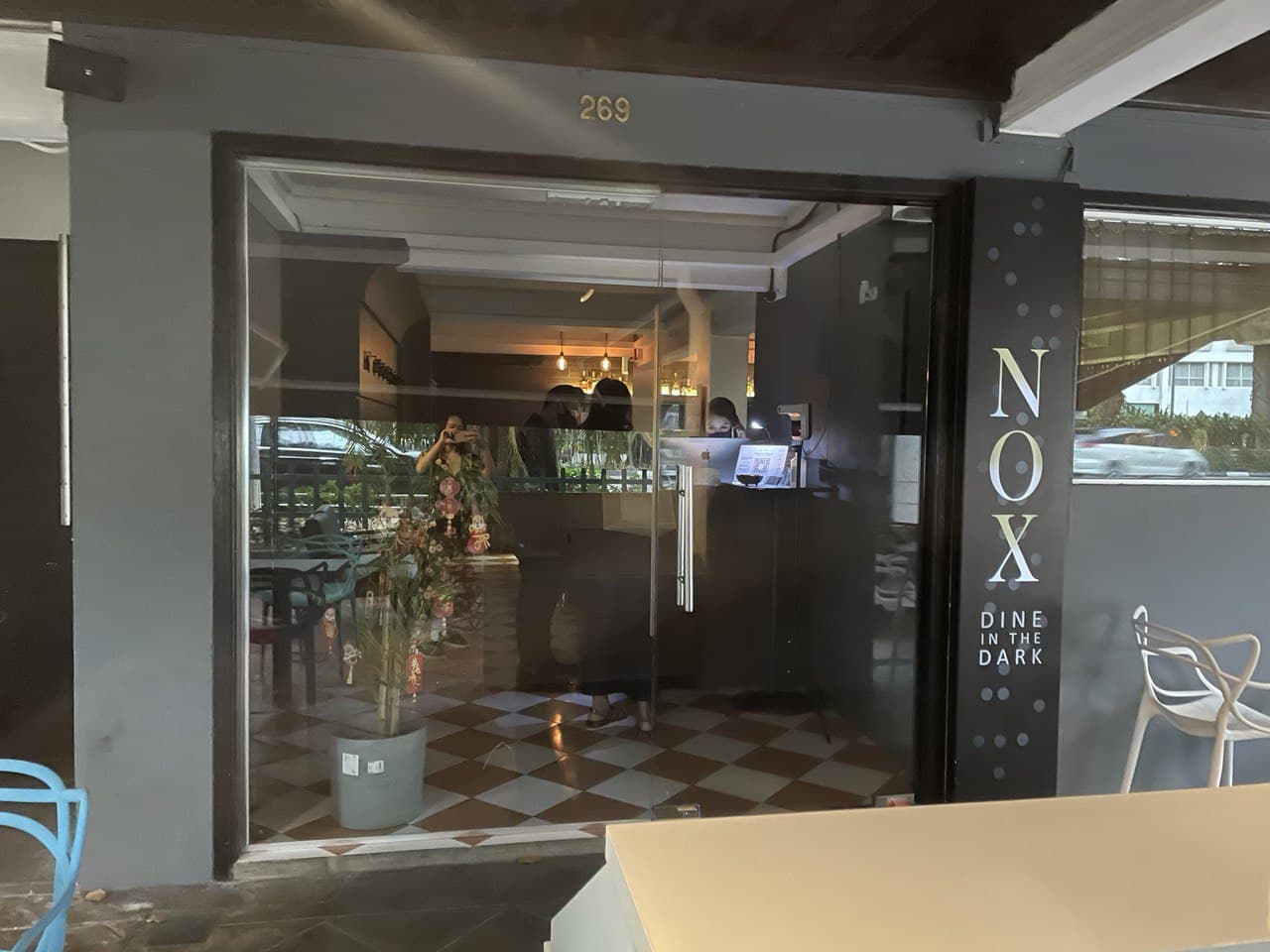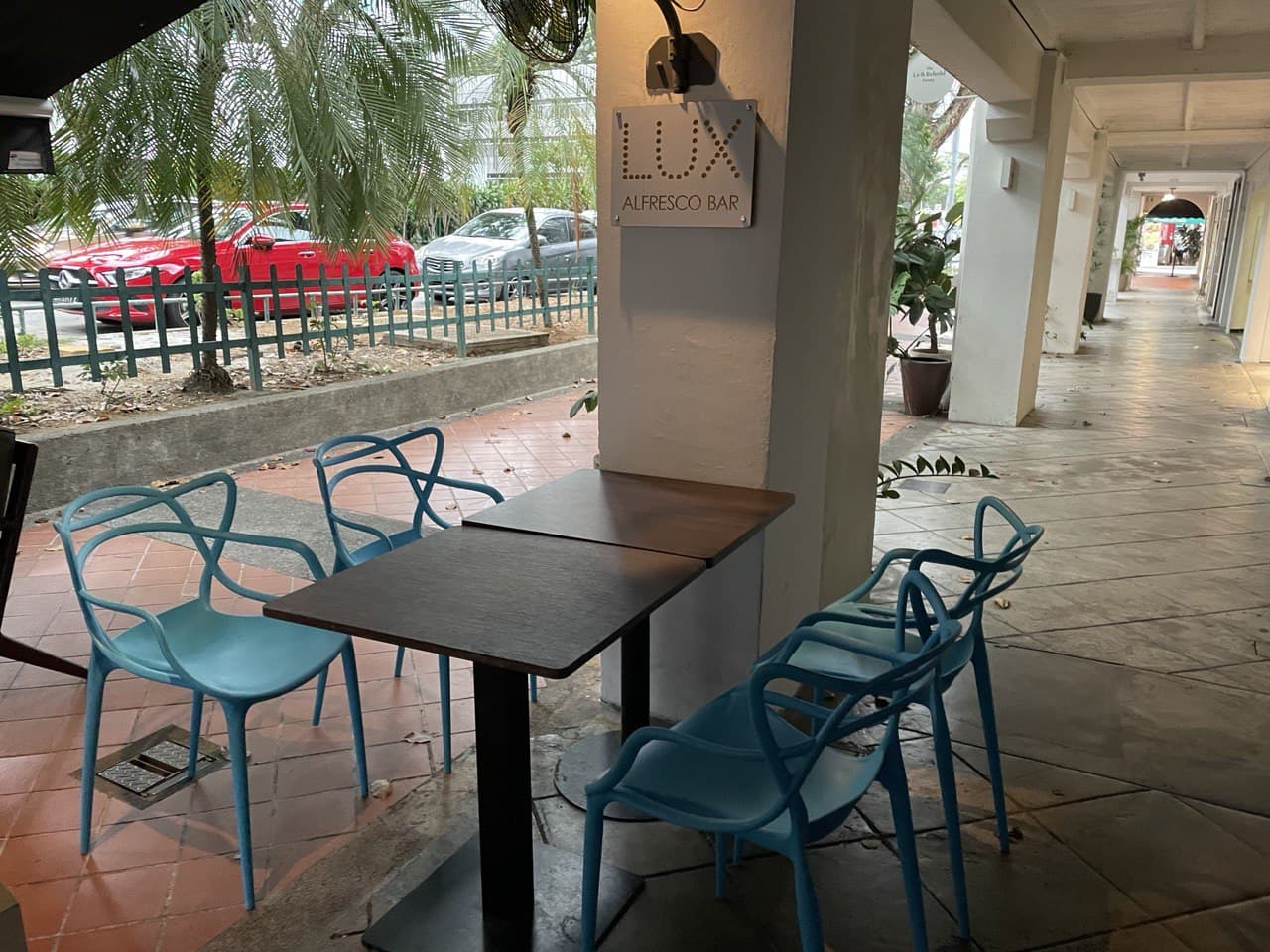 And here's what it looked like inside: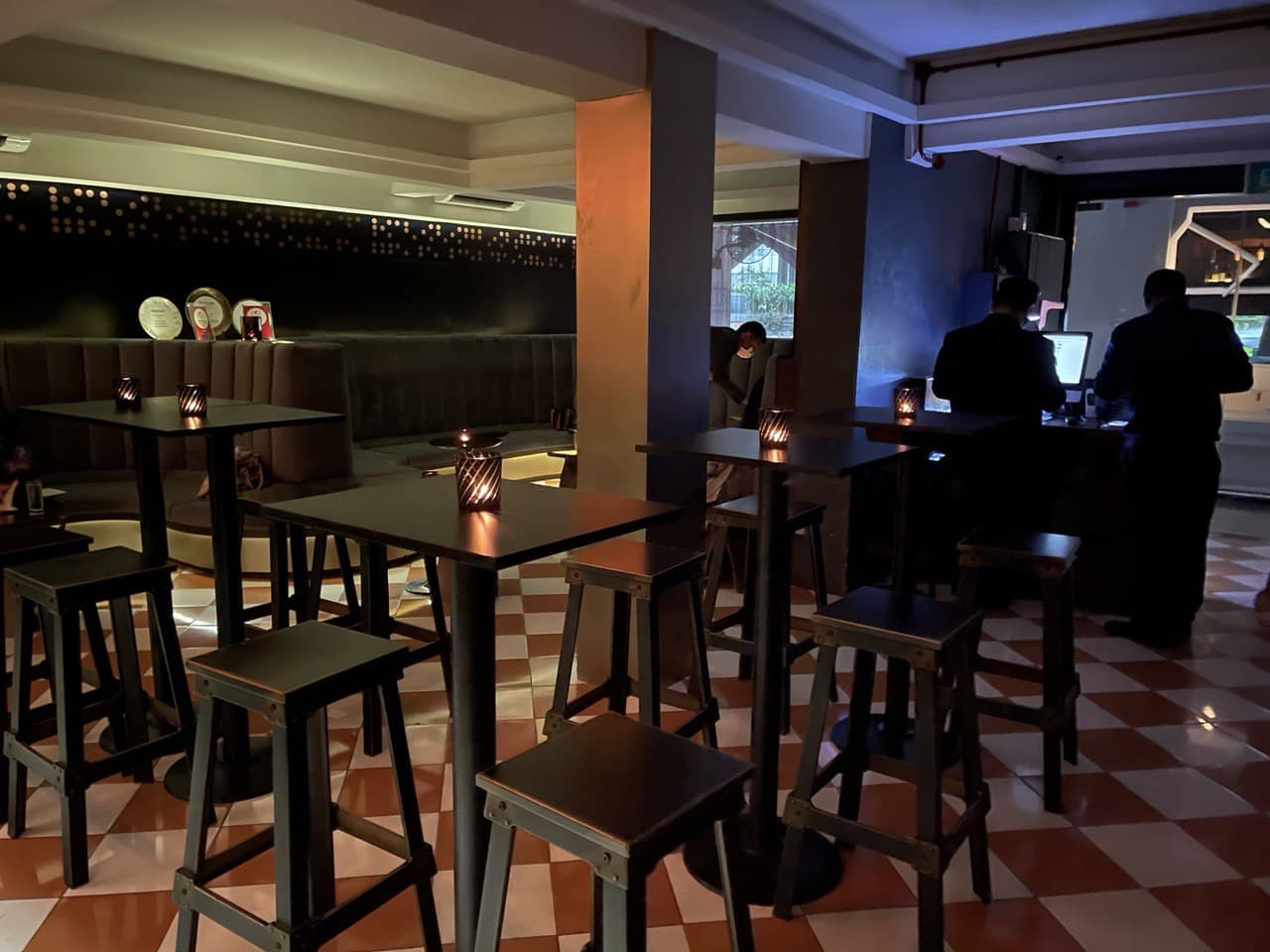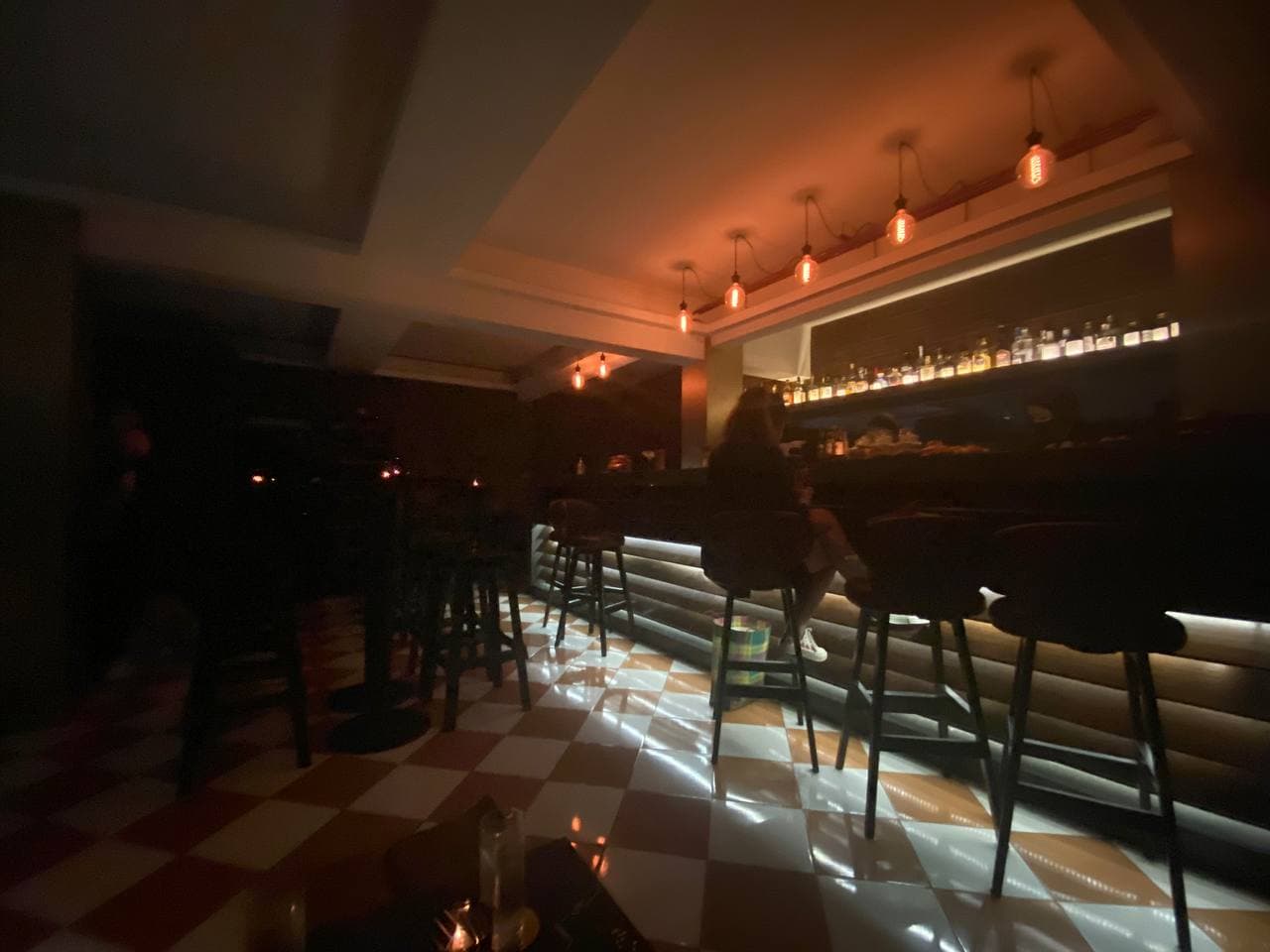 Little did we know, that the first floor was just the bar and lounge area where one can have a drink and indulge in some amuse-bouche before the real dining in the dark starts.
The amuse-bouche (something like a starter) was also the only thing we ate that we got to see that night, so here are some photos: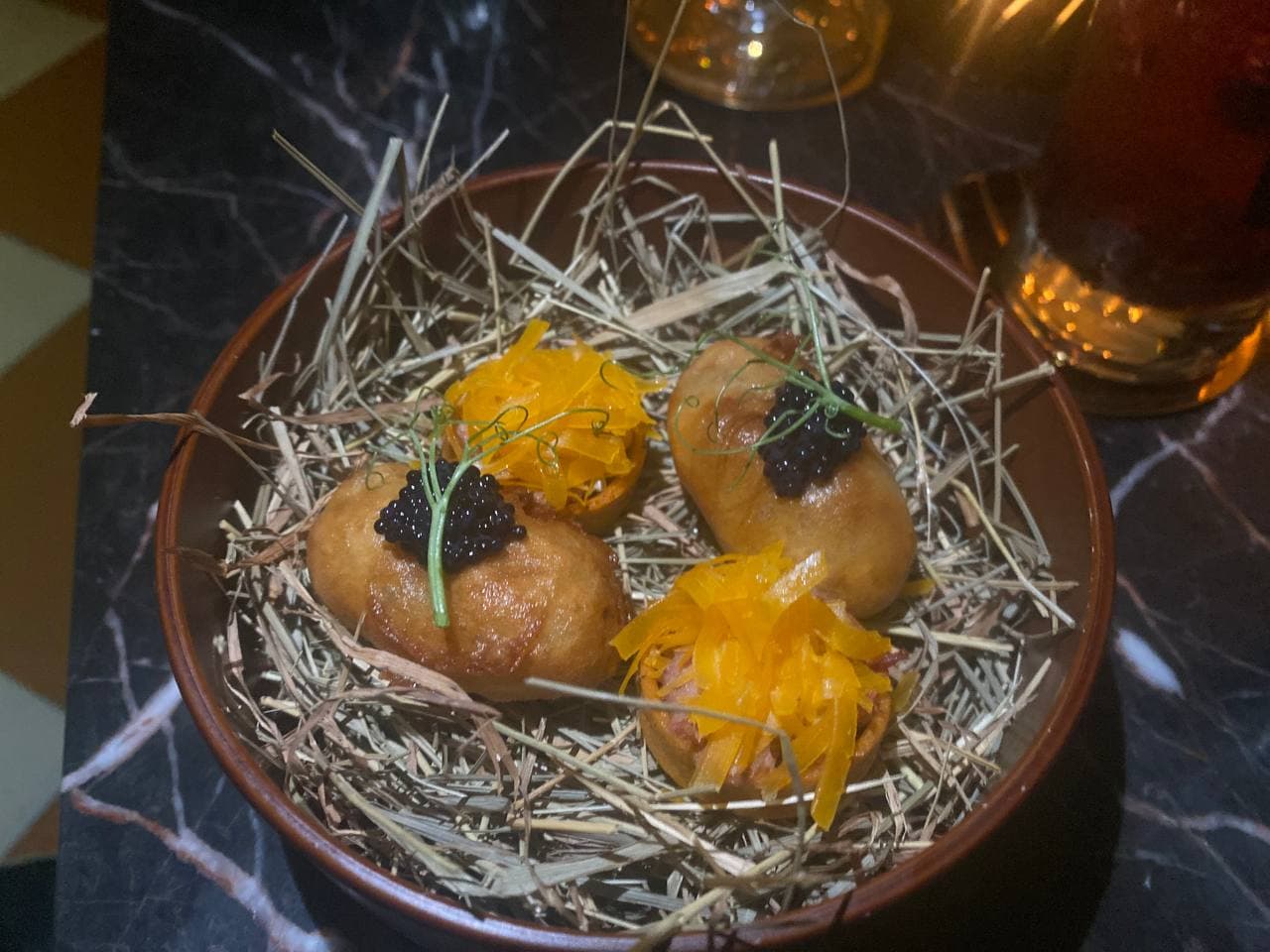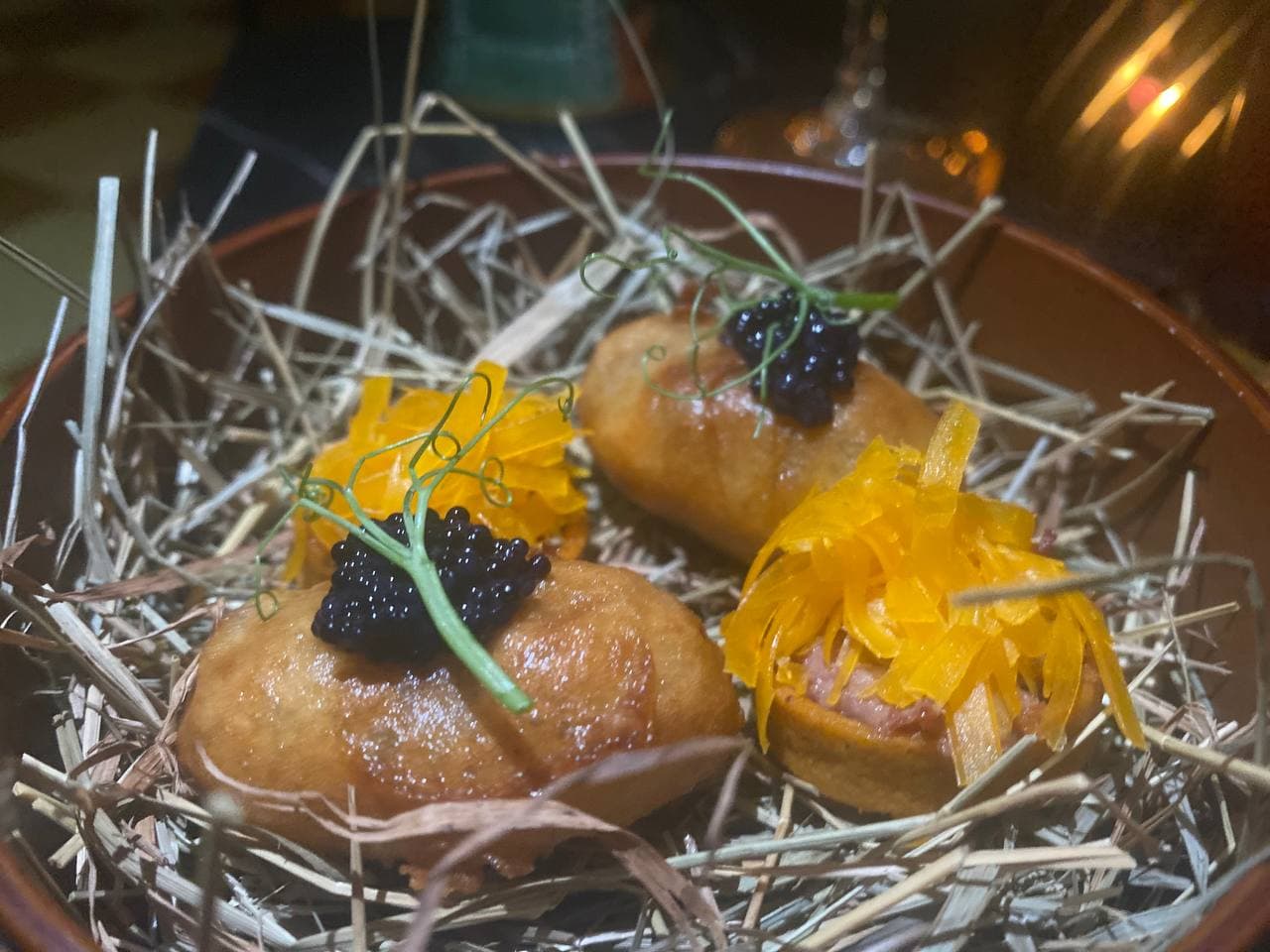 While we were having our amuse-bouche, we were briefed on what to do when the real dinner starts.
Here's what we remembered from the briefing:
It is a three-course meal (appetiser, main course and dessert), of which each course consists of four sample-sized dishes.

Start eating with the dish closest to you and proceed to eat the rest of the dishes in a clockwise manner.

Don't raise your hand if you need something because, well, it's completely dark. Instead, call out for your server's name.
Visually impaired servers
Once we were done with the briefing, we were escorted to the pitch dark room upstairs by a man named Bernard, one of Nox's visually-impaired staff.
We had to put our hands on each other's shoulders as Bernard led us up the stairs and brought us to our table.
It was overwhelming at first since our sense of sight was taken away almost immediately but knowing that my colleague and I had each other brought a sense of comfort.
Besides, we had Bernard who helped to lighten the mood and made sure we were well taken care of.
It also humbled us a little when our especially jovial server said: "Welcome to my world."
Bernard told us that he had a functioning sense of sight until he lost it completely overnight in Aug. 2017 after waking up from his sleep.
Things we did in the dark
Since we weren't allowed to bring our phones, which we would normally use to avoid awkward pauses and human interaction, we had to engage in a conversation the entire time while waiting for our food.
It wasn't that terrible or awkward, and probably a good place to go to on a first date.
Here are some other things we noticed and did in the dark:
We attempted to pour water into a glass, but were too scared to break a glass so Bernard helped us with that and told us that the trick was to listen to the trickling sound of the water.

The servers, who are all visually impaired, made clicking noises every time they were in the dining area so they wouldn't bump into one another.

We also didn't dig our noses or did unsightly things even though the room was pitch dark, because there are still CCTV cameras in the room. And also because we have good dining etiquette.
To make the experience more enriching, we were also tasked to try and remember all the food we tried and see if we got it right.
Here's what we ate:
Appetisers

Main course

Desserts

But in all seriousness, here's what we thought we ate from the three-course meal worth S$88++ and what we really got:
Appetiser
| | | |
| --- | --- | --- |
| What we thought we ate | Verdict | What we really ate |
| Some tomato and cheese salad | Not bad | Caprese salad (Burrata cheese with tomato and balsamic vinegar) |
| Some pasta with crabmeat and shellfish | Nice, but we only managed to scoop one fusilli in the dark | Pan-seared scallops with pasta |
| Mussels | Ok-ok, tastes like mussels | Mussels |
| Some savoury bread pudding with nuts | Interesting in a good way, like dessert but not dessert | Foie gras with nuts and nougat |
Main course
| | | |
| --- | --- | --- |
| What we thought we ate | Verdict | What we really ate |
| Steamed fish and vegetables | Nice | Grilled cod with roasted broccolini |
| Another fish dish, but saltier | Not bad, easy to chew and swallow | Duck confit on a bed of egg mayonnaise and tangerines |
| Chicken chop with mash potato | Ok-ok, like coffee shop Western food | Roasted chicken with smoked mash potato |
| Beef steak | Nice, tender enough to eat in the dark | Wagyu beef steak with yoghurt and beetroot salad |
Desserts
| | | |
| --- | --- | --- |
| What we thought we ate | Verdict | What we really ate |
| Pomelo with shaved ice | Nice, helps to wash down the food | Burnt ginger with pomelo granita |
| Milk pudding topped with granola | Very nice, probably our favourite dessert | Panna cotta with sugar toasties |
| Whipped cream with fruits | Ok-ok, think we ate it wrong | Deconstructed apple crumble with vanilla sponge cake and vanilla cream |
| Vanilla ice cream and brownies | Nice, ice cream tastes like expensive vanilla | Brownies with vanilla ice cream and raisins |
Now we know our tastebuds are 70 per cent reliable, which is actually more reliable than we expect it to be.
On top of the three-course meal, diners can also opt for a wine tasting option (from S$30 for two glasses of wine), a cocktail tasting option (S$50 for three cocktails), or a mocktail tasting option (S$30 for three mocktails).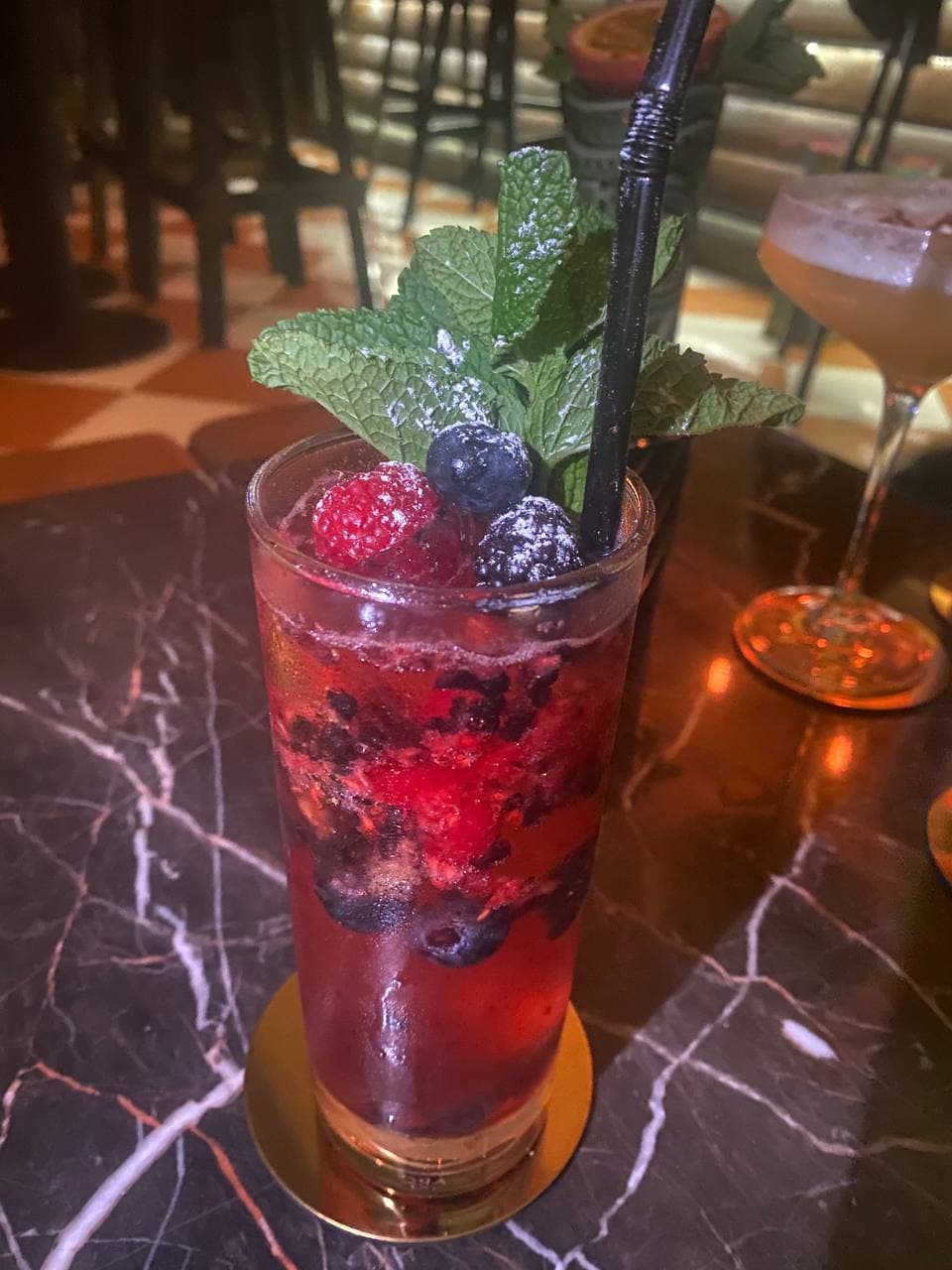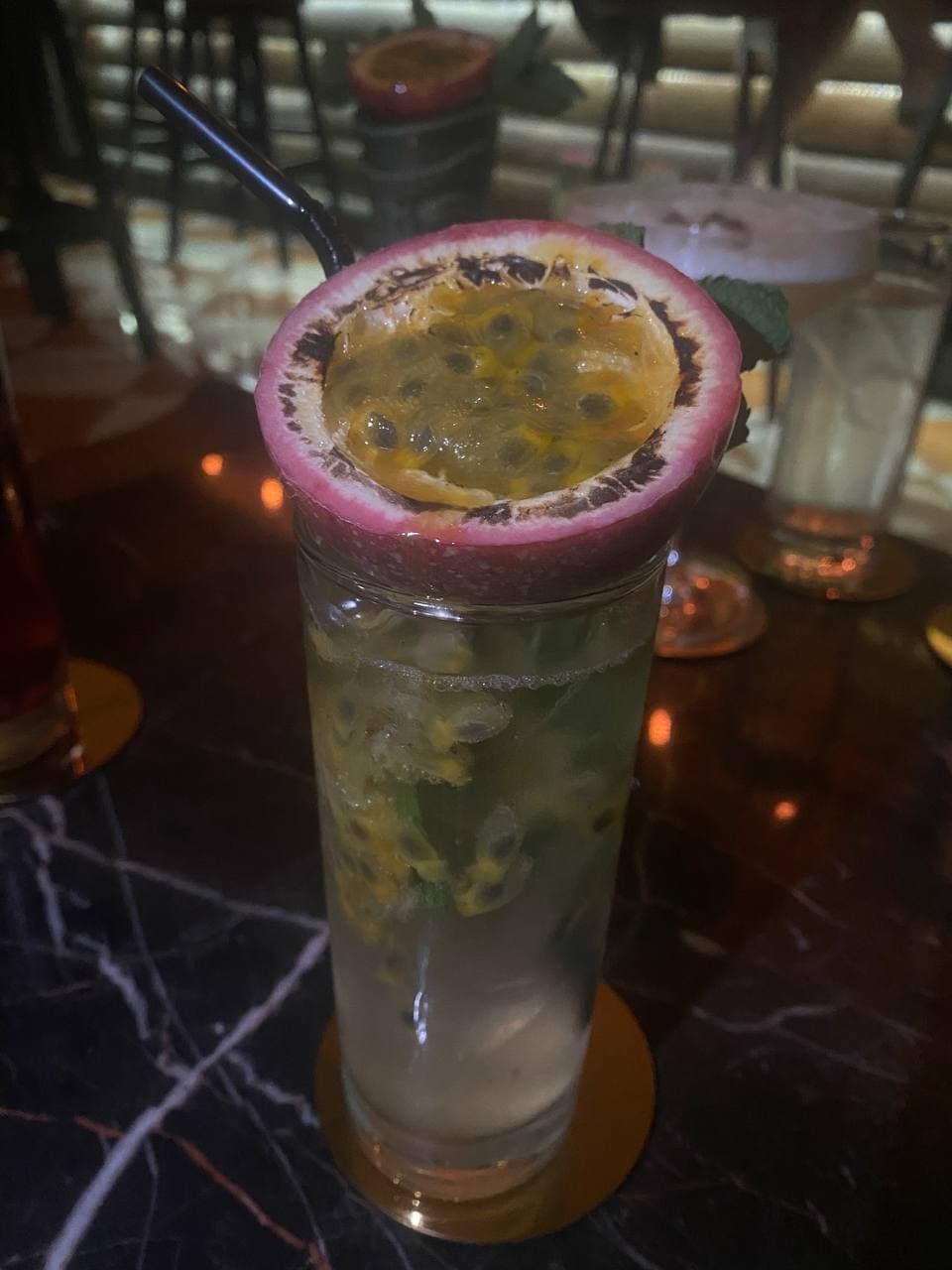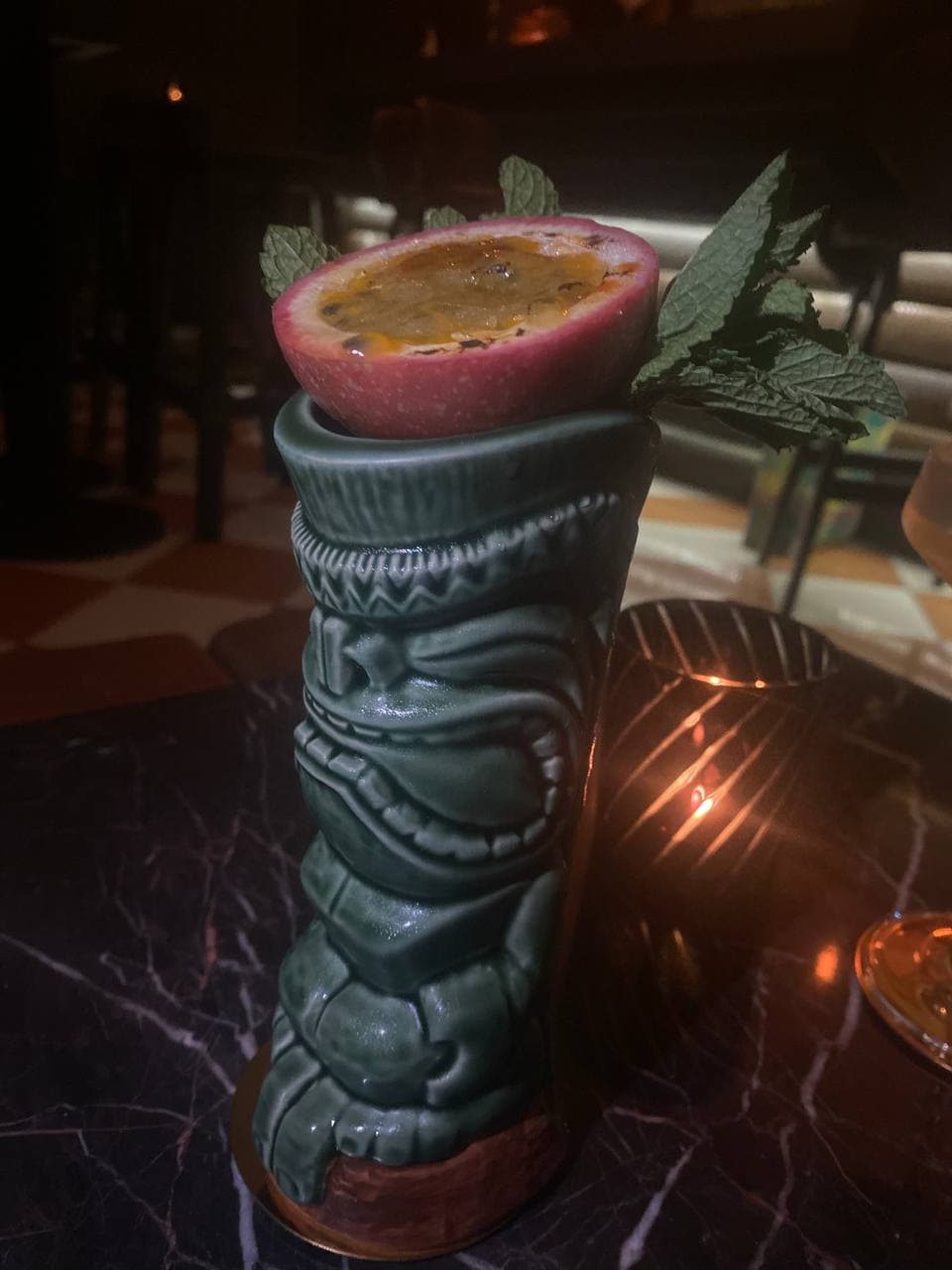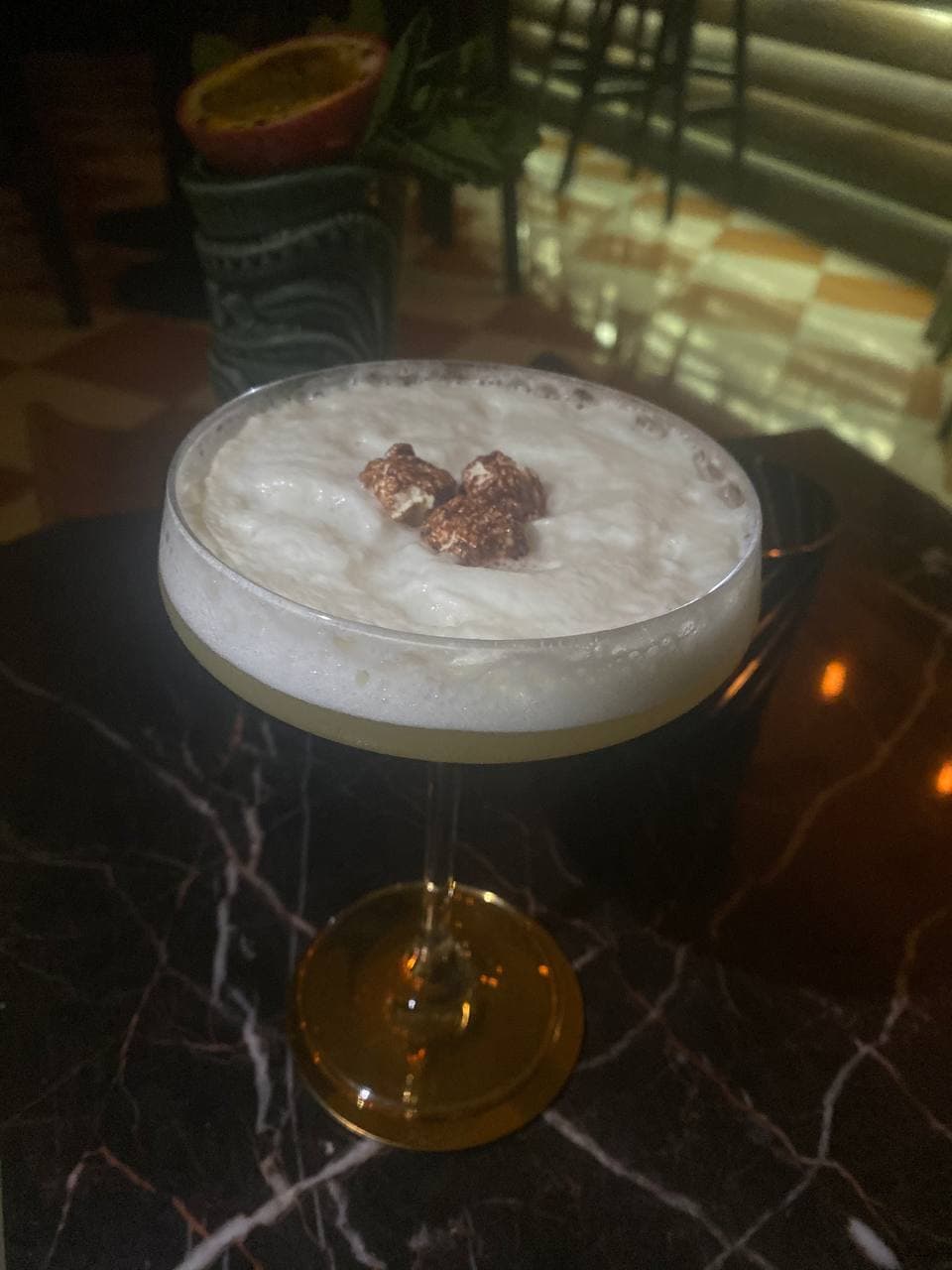 Eye-opening experience
Overall, this was a humbling and fulfilling (emphasis on the "filling" in "fulfilling") experience.
The dinner was about one-and-a-half hours long, but time went by really fast.
While we may be better skilled at stuffing our faces in the dark now, we mainly learned that a simple task, such as having a meal, can be a daunting one for the visually impaired.
And if you think we've spoiled the element of surprise for you by revealing what we ate, Nox changes their menu every two months so you can still challenge your tastebuds.
The restaurant can also accommodate your dietary concerns upon request.
Details
Address: 269 Beach Road Singapore 199546
Opening hours: Tuesdays to Sundays: 6pm to 10pm, closed on Mondays.
For reservations: Book via their website.
Top image from Karen Lui and Fasiha Nazren.
If you like what you read, follow us on Facebook, Instagram, Twitter and Telegram to get the latest updates.