A Malaysian newscaster, Mohd Dhihya Sahlan, has attracted a lot of attention after he went on air wearing what was thought to be a cheongsam meant for women.
During live news broadcast on Chinese New Year
The incident happened on the first day of Chinese New Year (Feb. 12) during a live broadcast on Malaysian news station RTM.
All of the newscasters were seen wearing a traditional Chinese costume to celebrate the occasion.
About half an hour into the news programme, Dhihya, who was reporting live from Sabah, appeared on screen.
Here's what he was wearing: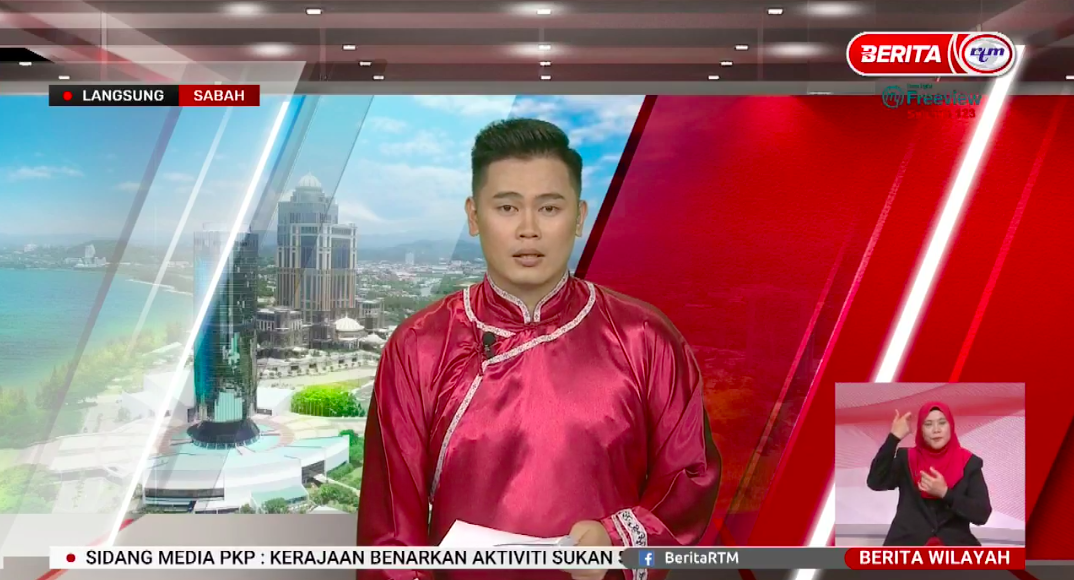 Received criticism
Malaysian actor and radio personality Patrick Teoh had criticised RTM for not checking Dhihya's outfit properly, claiming that he had donned a cheongsam.
Teoh added in a now-deleted Facebook post:
"If this photo is real, then it is another example of the great chasm that now exists in the cross-understanding of cultures in Malaysia.

This is supposedly an RTM TV newsreader dressed up for Chinese New Year. The guy and the station does (sic) not realise that he is wearing a woman's cheongsam!"
Here's Teoh's full post.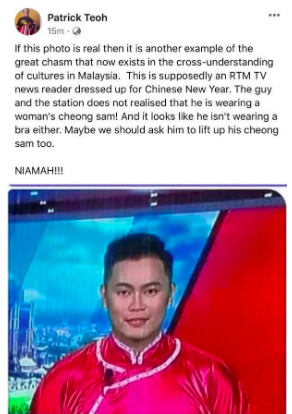 Other Malaysians also poked fun at the supposed blunder, calling RTM "stupid".
Some argued that his attire was appropriate
However, there were a few people who explained that Dhihya was actually wearing an appropriate outfit, and that viewers were mistaken.
RTM says it's actually a samfu
On Feb. 17, an RTM spokesperson said, as reported by The Star, that Dhihya was actually wearing a traditional Chinese outfit called samfu that is worn by men.
The spokesman also said that RTM had referred to its stylist, Jenny Kueh, regarding the traditional costume.
Kueh had explained that the samfu originates from a traditional outfit from the Machu ethnic group in China.
The RTM spokesman added that RTM is "sensitive towards cultural and racial matters" and  would always "countercheck" on these types of issues.
However, the news station admitted that it had picked the wrong size for Dhihya.
RTM had also responded to the criticism that it received from Teoh.
The RTM spokesman said, according to The Star:
"We, at RTM, are a bit upset with Mr Patrick Teoh. A personality like him, being a Chinese ethnic, should have checked his facts before giving a very irresponsible remark like this.

It is a defaming comment. While we welcome criticism, it must be done in a proper manner. Let it be a constructive criticism and not delivered in a rude way."
Top image screenshot from RTM/FB.
If you like what you read, follow us on Facebook, Instagram, Twitter and Telegram to get the latest updates.