Follow us on Telegram for the latest updates: https://t.me/mothershipsg
Arthars Foo's work day — like most people in Singapore — starts at 9am.
And that's where the similarities end, because instead of logging on to a Zoom meeting or squeezing with other commuters on the MRT, Foo sits at his desk and plays video games while people online watch.
The 40-year-old is a full-time streamer, a job that nets him about S$7,000 a month.
To earn that not-insignificant sum, Foo regularly spends about five hours each day playing massive multiplayer online role playing games (MMORPGs) Final Fantasy 14 (FF14) and World of Warcraft (WOW).
During his "peak" periods, those gaming sessions can triple in length; the recent release of a new WOW update saw Foo clocking in a 15-hour stream.
Unfiltered conversations
While I'm not one to indulge in watching gamers online, the appeal of Foo's streams is obvious even from a cursory viewing.
His internet channel — which is a concurrent mix of quest completing, vlogging, and low-brow banter with the audience (who communicate with Foo via a chatroom) — commands viewers' loyalty through Foo's excitable and comical personality.
"I've got this layer of skin that seems to be flabby," said Foo during a December 2020 stream, responding to a regular viewer's question about his ongoing fitness endeavours.
"I did lose weight but on my sides."
Foo stood up and rubbed his stomach in view of the camera.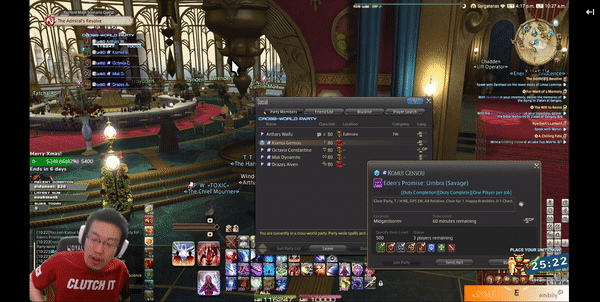 "But abs, I don't think I can get abs…it's just not possible man. Unless I really f*cking pump. Unless I really, really try and go out to build muscles. But I'm just not on that journey. I just want to lose weight."
These unfiltered conversations — often punctuated with Foo suddenly and forcefully raising his voice — are commonplace throughout the streams.
During a recent raid with other players, the frustrated streamer declared that in general, "WOW players don't have common sense".
"It's true, it's true. I'm not shitting on the community," he continued, as other players apparently floundered in their attempt to defeat General Grashaal — the demon boss that stood in the party's way of completing the raid.
This is the content that more than 45,800 people — the number of followers that Foo has on his Twitch channel — signed up for.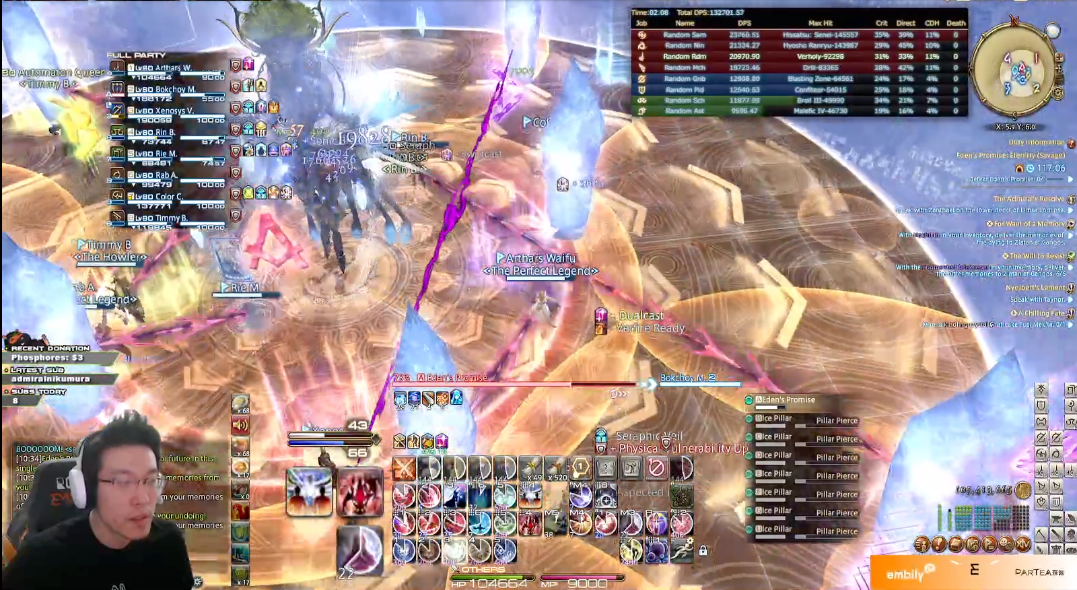 Dragged by his wife into a store
"I have no idea," answered Foo when I asked him what he thought his appeal was.
"Maybe me being me, maybe the personality that I am," he pondered, after a pause.
Foo started streaming in 2015 after his father's death prompted him to take a break from his full-time job of six years in a small IT company.
"I planned for a three-month, six-month break. And during that time of course I was still playing games because I've been playing games for a very, very long time. I've been playing games since I was six, seven years old."
As a means of giving Foo some purpose during the sabbatical, his wife suggested he try his hand at streaming his gaming sessions.
"Would you watch me?" Foo remembered asking her.
"Yeah I will. I think you're pretty entertaining," she replied.
Foo was unconvinced.
Not long after, Foo's wife — a gamer herself — took matters into her own hands.
"She dragged me (into a store) and said, 'I'm going to get you a mic, I'm going to get a webcam, and then you will try it and do it'."
The first stream
"I was extremely nervous," said Foo, recalling his first stream.
About ten friends from a Japanese language class Foo was taking had tuned in to watch him play FF14, lured by the prospect of being able to practice their conversational skills with the gamer through the live chat function.
At the time, live streaming platform Twitch was not "super saturated or super popular yet", Foo explained.
FF14 streams were relatively niche (compared to the immense number of gamers streaming WOW for example), and Foo would only commence his broadcasts every night at about 8pm — a time he described as the silent hour, when many American channels were not streaming.
But these factors combined to steadily grow his audience beyond his circle of friends.
"This is the very important thing about streaming: (your) schedule and consistency. If you're always there — and those people (who tune in to) your time slot always go to that directory and they always see you — at some point… they will check you out."
Eventually, with the encouragement of his viewers, Foo applied for a partnership with Twitch — a way of monetising his streams and allowing people to support his channel through subscription fees.
In April 2016, Foo announced to his followers that he had been successful in his application.
At a crossroads
It wasn't long after his successful application that Foo had to make a decision regarding his career.
He had yet to return to gainful employment since leaving his previous job, and while streaming earned him about S$2,000 per month, it wasn't enough to support his wife and three kids.
Having finished his Japanese language course, Foo received an offer to work for a Japanese company — something he had aspired to for a while.
Thinking back to how he made his decision, Foo explained that his father's passing had left him with an inheritance and some level of financial security.
Furthermore, to walk away from streaming would mean giving up the chance to earn a living from something he genuinely enjoyed.
"As a Singaporean, streaming is a very unconventional thing right? Like everybody around me and my age is already established. They have a career... and I'm sitting here like 'I'm a streamer'.

But I'm thinking that this thing can bring me to the next step, the next level, and be a job that's comparable to a full-time job... I thought that was really exciting."
The one question Foo needed to answer was whether he could forge a financially viable and sustainable career playing video games in Singapore.
The ex-airline stewardess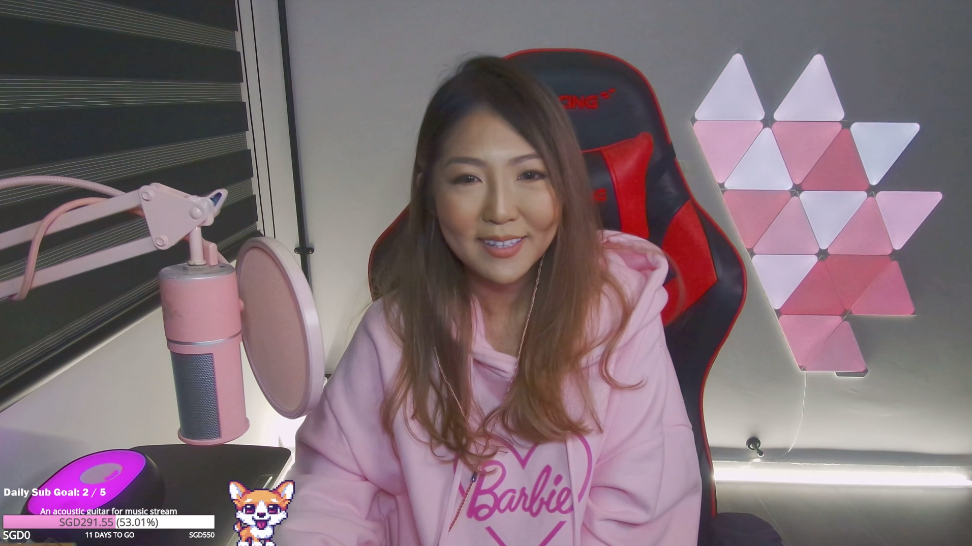 That same question currently faces Shirley Soh, otherwise known to her audience on Twitch as Syeolli.
Soh decided to try her hand at streaming full-time after her previous job as an air stewardess wrapped up during 2020 as international travel ground to a halt.
"It was a 50-50 for me," she said on her decision to try and make a career out of playing video games.
"I really loved flying, but I wanted to game. I really love gaming."
Apart from being able to set her own work hours as a gamer, Soh soon found that another perk was the freedom to express herself as she saw fit.
"I can be myself when I'm streaming, whereas when I was a stewardess I had to maintain a certain professionalism… I had to watch my image."
In one stream, Soh — dressed in a pink Barbie hoodie and talking into a pink microphone with pink lights illuminating the wall in her background — shot the breeze with her viewers before playing the first-person shooter Valorant for 16 hours, all while providing them with a running commentary.
The streaming experience seems rooted in providing viewers with a sense of companionship.
"Different streamers provide different kinds of things," she explained.
Soh — like Foo — said it was her personality, and not her proficiency, that drew viewers in.
"I mean I'm good (at gaming), but not competitive-level good," she said.
E-sports and streaming as a full-time job?
That being said, in the early days of her career as a full-time gamer, Soh admitted that leaving her job as an air stewardess meant she had to take a pay-cut.
She described her current income as sufficient to pay her bills and eat out once in a while.
Nonetheless, Soh does see a future in an industry she described as "growing".
She pointed to increased awareness, government support, and an expanding number of mainstream brands — like Red Bull for instance — throwing their financial muscle behind gaming endeavours.
As with any new field, there will be some who may be initially suspicious of the legitimacy of full-time streaming.
Convincing the parents of today's children that e-sports can be a practical career choice might be one of the bigger hindrances towards seeing the industry take-off here in Singapore.
Soh's parents — whom she described as "very traditional people" — seem to be among the skeptics.
"Whenever they see me in the computer room, they're like 'Huh, you're playing computer games again? Can you please go and get a job?'

They don't see streaming as a job."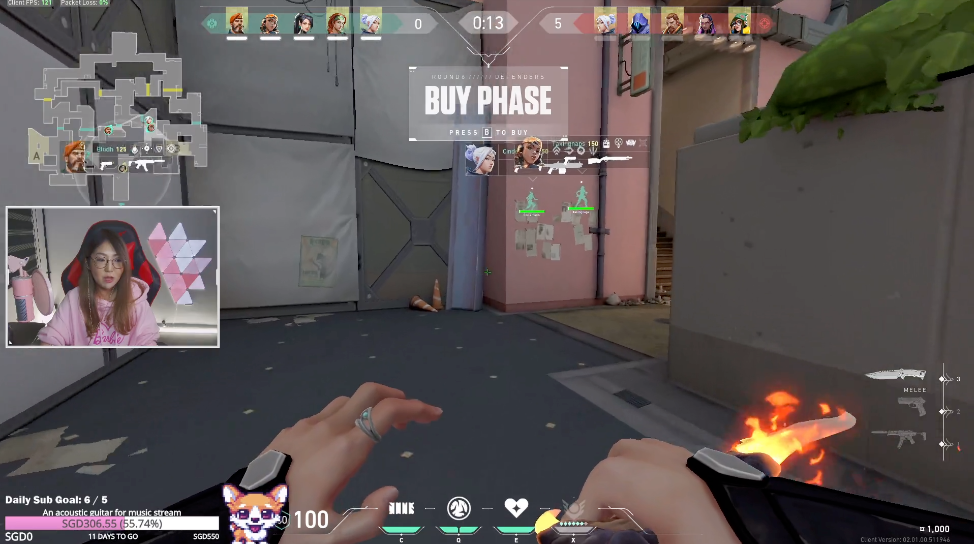 Making his dad proud
Ironically, Foo also believes that his father — whose death kick-started the streamer's career — would have harboured doubts about his chosen line of work.
"My dad always thought that I played too much video games," he said, recalling his days as a student.
"He tried his best to stop me from playing so I would study but that didn't work."
Once he'd determined to go all-in on streaming, Foo set about building revenue streams from sponsorships.
"That's where the money will add up, on top of the Twitch revenue, to eventually becoming (viable as) a full-time job," he explained.
The process, Foo said, was tedious (he sent out countless emails) and difficult, but worth it.
He was recently signed by local e-sports talent agency Emerge Esports, who also represents Soh. Their help in securing sponsors has freed Foo up to concentrate fully on delivering the content that his subscribers pay for.
Today, five years on from his very first stream, the 40-year-old has managed to carve out, from his love of gaming, a job that supports his lifestyle and his family.
"If my dad were here today, I would tell him: 'Hey dad, I know this is not what you would think would happen. But times change.'

Let's just say tomorrow we have a family dinner and he's sitting there. I will be very proud to tell him what I'm doing and I'm pretty sure that he would be very happy to see that."
---
Stories of Us is a series about ordinary people in Singapore and the unique ways they're living their lives. Be it breaking away from conventions, pursuing an atypical passion, or the struggles they are facing, these stories remind us both of our individual uniqueness and our collective humanity.
---
Image courtesy of Arthars Foo
Totally unrelated but follow and listen to our podcast here
If you like what you read, follow us on Facebook, Instagram, Twitter and Telegram to get the latest updates.