Singapore General Hospital (SGH) took to Facebook on Jan. 31 to address reports about an individual who is currently warded at the hospital after receiving the Covid-19 vaccine.
The hospital explained that doctors have conducted "multiple tests" and thus far, there is no evidence that her symptoms are related to the vaccine that she received recently.
SGH also reassured the public that they are taking a cautious approach and will continue to monitor the patient's condition and conduct tests if required.
Woman allegedly hospitalised for five days
SGH's post is likely in response to a Facebook comment by a woman named Charlene Lin, in response to an article about severe reactions to the Covid-19 vaccine.
Lin claims that she has been hospitalised in SGH for five days after receiving the Covid-19 vaccine, but her case has not been reported.
Some of the symptoms she has suffered allegedly include weakness in her legs and dizziness.
According to Lin, she has never experienced any allergies or reactions to medication.
No diagnosis has apparently been made despite visits by multiple doctors, she claimed.
Cost of tests
Lin added that she has asked the hospital about the cost of her tests but has allegedly received no reply.
She also wishes to apply for the New Vaccine Financial Assistance Programme (VIFAP) for Covid-19, which provides financial assistance to those who experience serious side effects relating to the Covid-19 vaccine.
Under this programme, a one-time pay-out of up to S$10,000 will be provided to an eligible individual who is hospitalised and requiring care in the High Dependency or Intensive Care Unit but subsequently recovers from medically significant serious side effects.
They can also continue to concurrently receive support through applicable healthcare schemes like MediShield Life and subsidies at public healthcare institutions.
View the full comment here: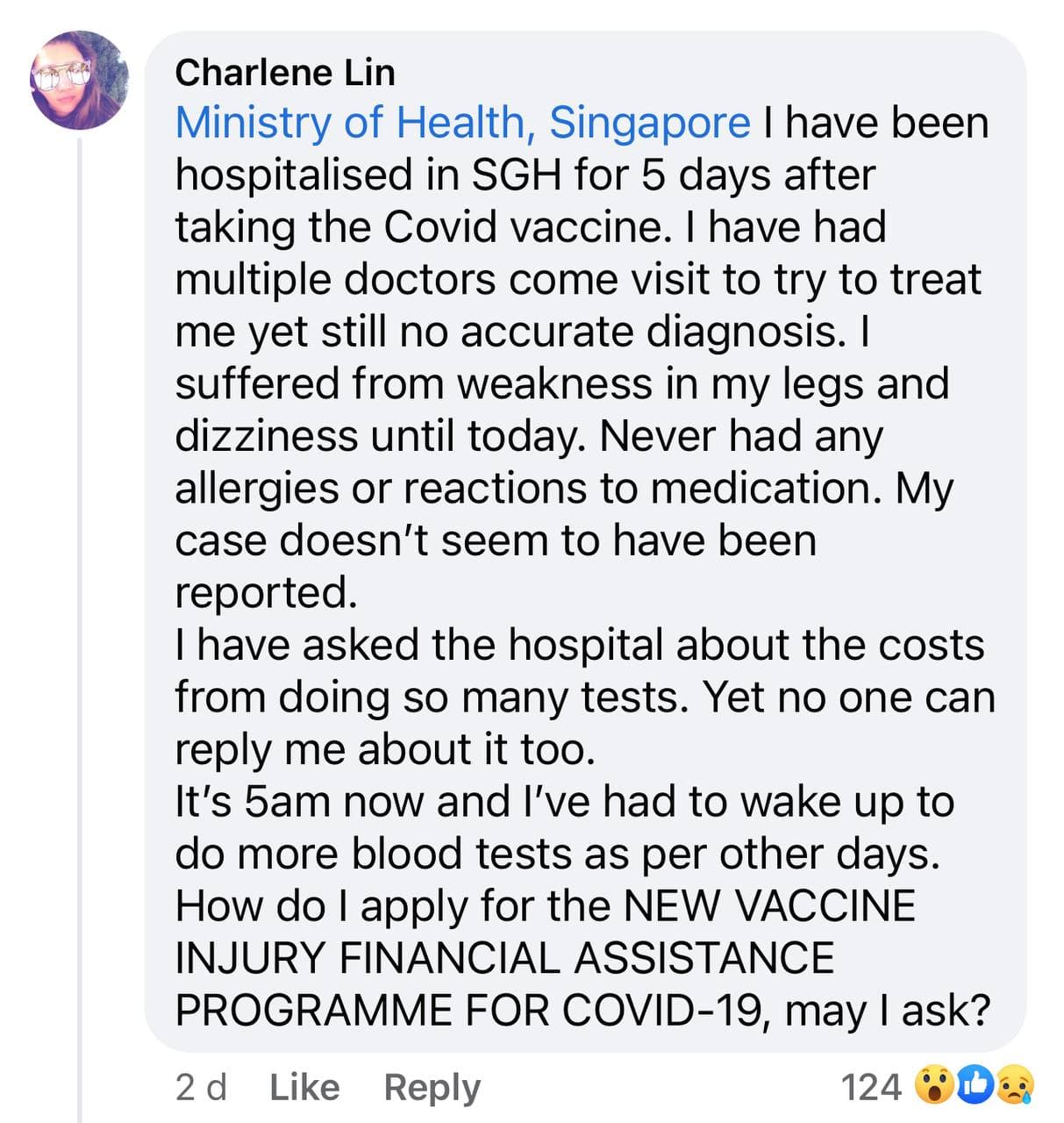 Top photos via Unsplash and Kenny Chua via Google Maps
If you like what you read, follow us on Facebook, Instagram, Twitter and Telegram to get the latest updates.