Edit: A previous version of this article incorrectly stated that Lin lost S$100,000. The number has been rectified.
It started on Facebook.
Lin (not his real name), 49, came to befriend a lady called Jasmine in 2020.
Lin said in a mix of English and Mandarin:
"It started off innocuously. We chatted for at least two weeks before she even started asking questions like if I had a 'side hustle' and whether I'd be keen to invest."
Unbeknownst to Lin, these questions were the spring to a well-oiled trap that would cost him over $50,000, wiping out his life savings.
The investment scam Lin fell prey to lasted two months, from December 2020 to January 2021.
Building trust
Lin, understandably, was almost hoodwinked from the get-go.
Despite never meeting in real life and never having heard her voice, Lin thought Jasmine was a good friend. They would chit-chat about their day and talk about everything under the sun.
In hindsight, said Lin, Jasmine probably cultivated his trust by being patient and reassuring.
It was Jasmine who suggested that Lin first try out a demo investment account free, when he told her that he had no investment experience.
She subsequently encouraged him to open a real account, connecting him with her broker.
The mysterious broker
Jasmine told Lin to download a mobile investment application called MT5.
Her broker, Zhou Jie, helped Lin to set up his account. Zhou was also the one who facilitated all of Lin's monetary transfers for the "investment".
The broker's identity was never verified through video call. Neither did Lin ever hear Zhou's voice.
Over text on Line, Lin was told to provide his personal details (including his NRIC number), and remit a sum of money to a designated bank account.
On Jan. 1, Lin transferred USD$20,000 (S$26,590) to open a "standard membership" account. Standard members, he was told, would receive "trading strategies" which, if followed, would guarantee them a windfall.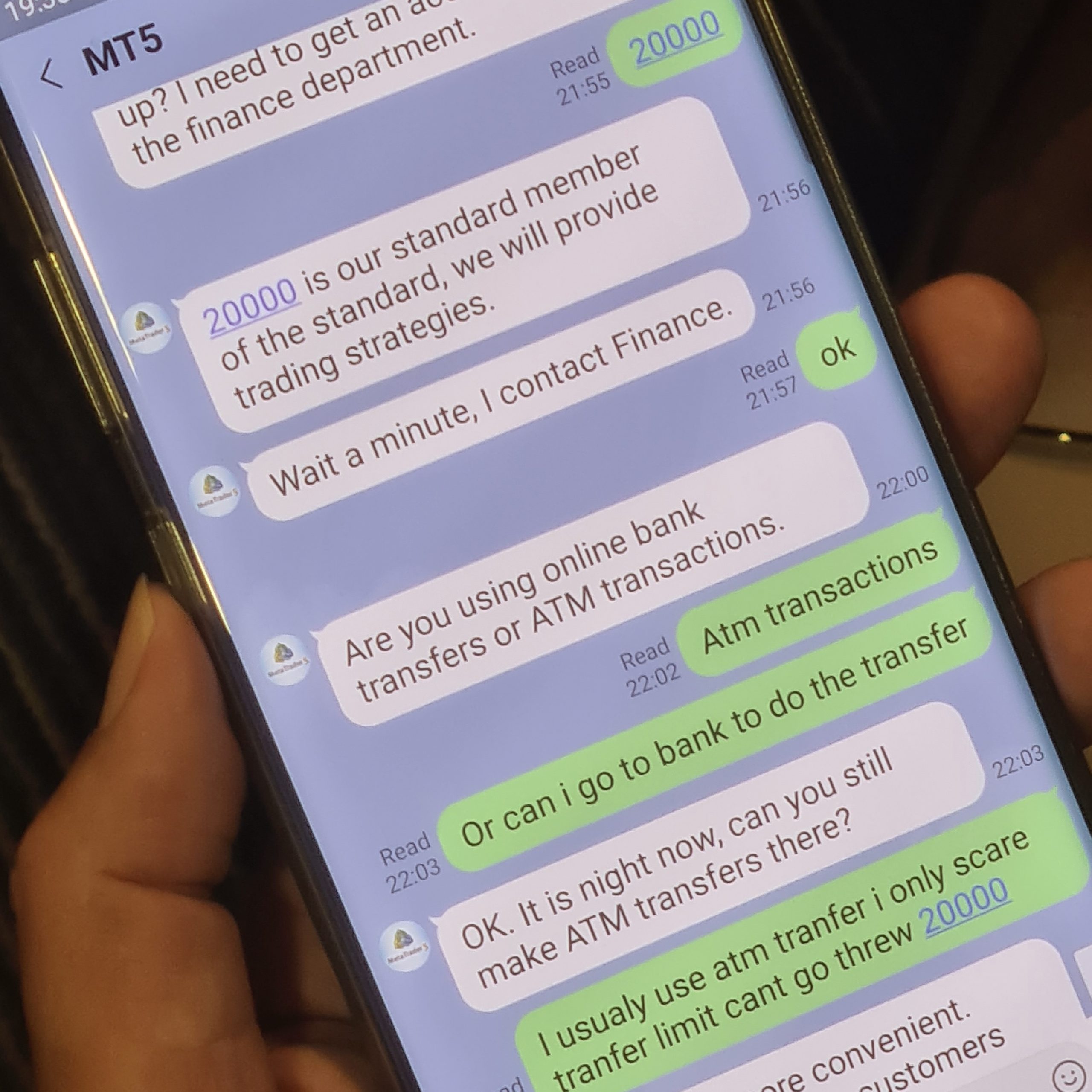 To "trade", the broker gave Lin specific, detailed instructions on the stocks to "buy" or "sell".
These "strategies" came in approximately twice weekly.
All Lin had to do was press the corresponding buttons in the MT5 app as instructed.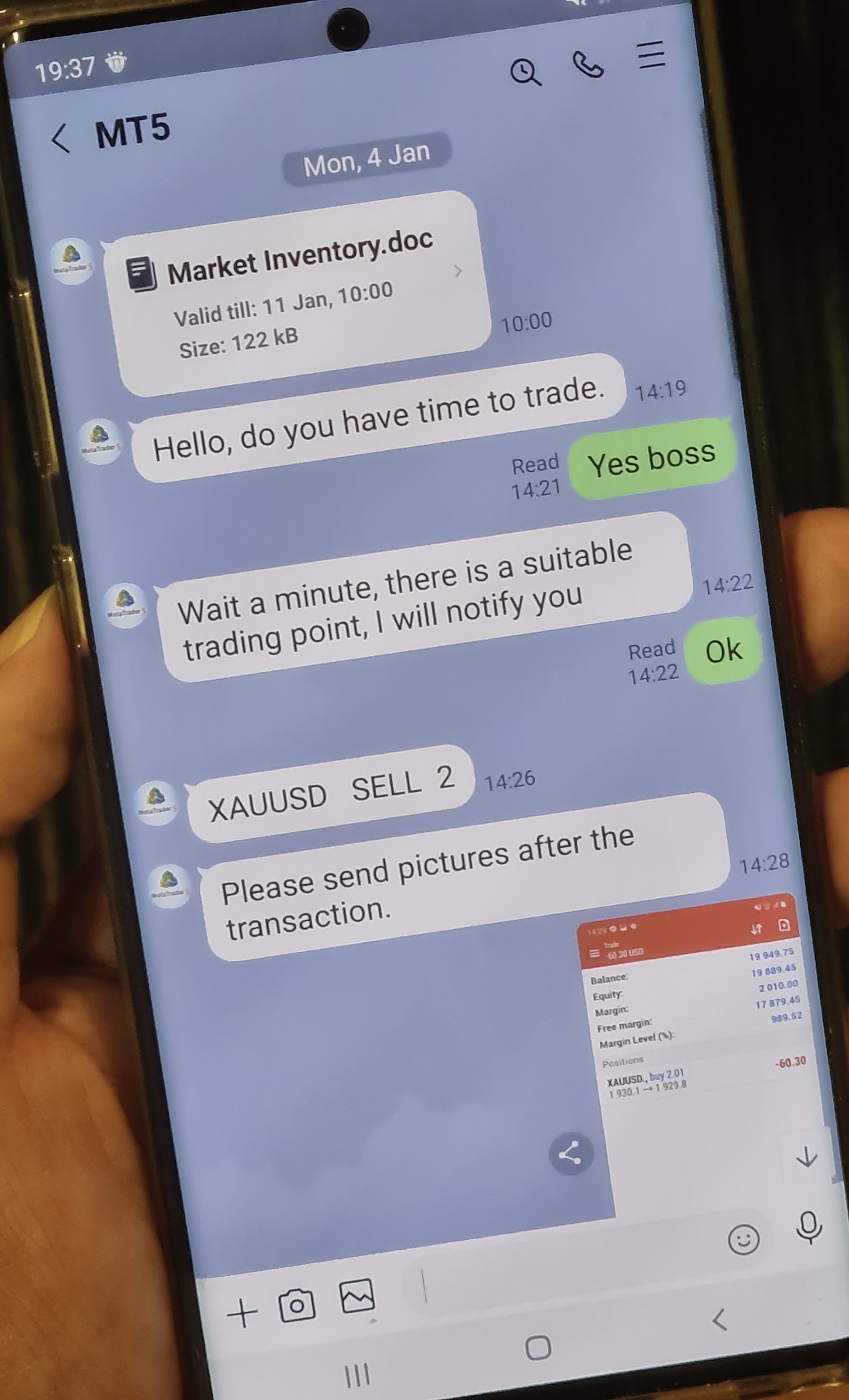 In hindsight, pressing buttons in an app (which was not available on official platforms, by the way) at the instruction of a person whom you have never seen nor heard would raise some alarm bells.
But Lin said that all of his apprehension disappeared when he started seeing his profits grow "in the thousands".
Feeling confident in his "successes" and "ability to trade", Lin did not hesitate when he asked to invest more money. All seemed to be going well, as he pumped in more money and watched as his earnings continued to soar.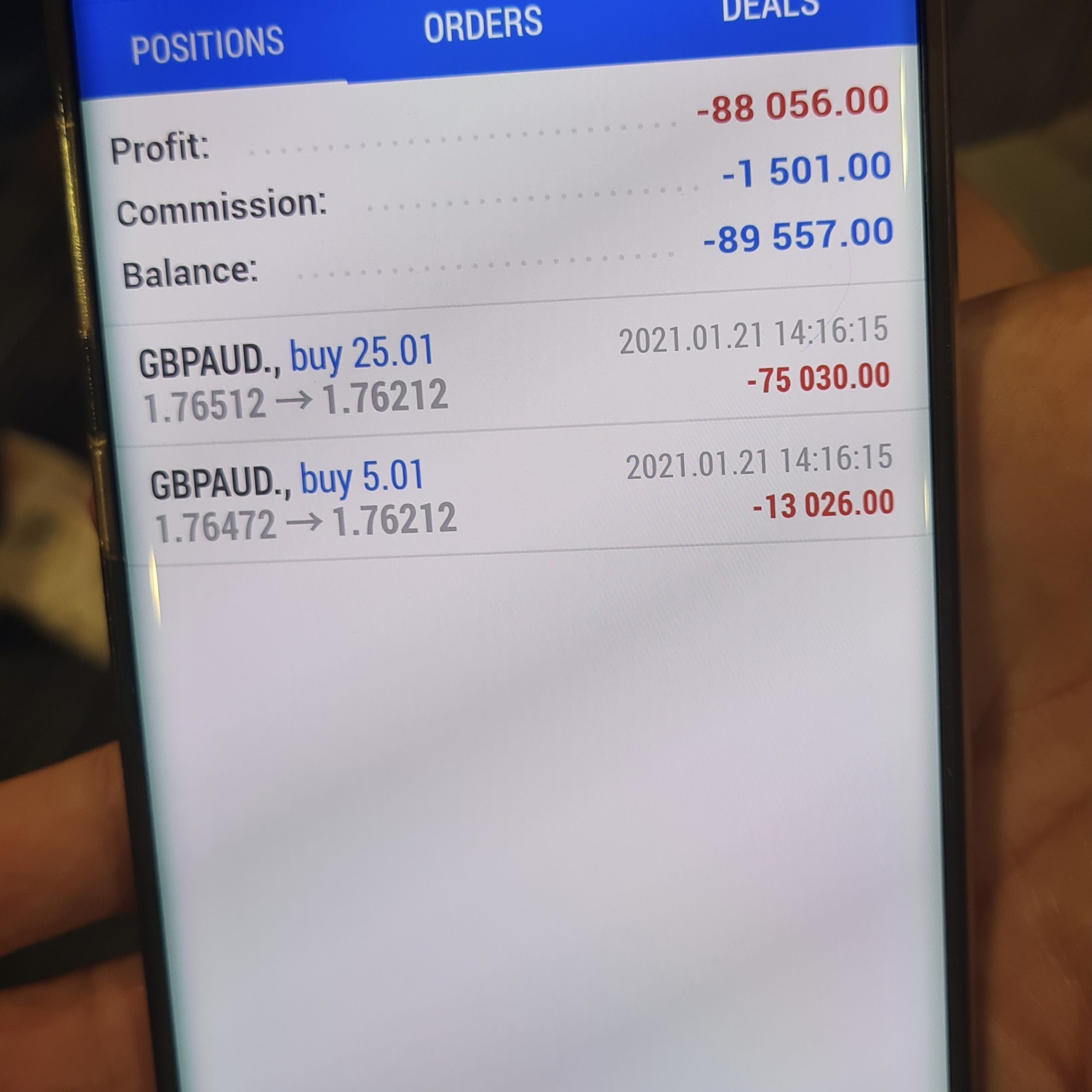 Crash and burn
That was until two weeks ago.
The broker dropped Lin a message, informing him that a trade was going on and asked if he was confident to invest that day. This time, the broker encouraged him to "buy more since you're confident".
Lin acquiesced.
However, within a few minutes of trading, everything changed.
The "lots" that Lin bought took a sudden nosedive.
Lin not only lost all the money he'd invested with MT5, but was told that his account had a deficit of US$40,000 (S$53,000).
Hounded to repay "debt"
Messages to "repay the debt" started coming in.
The broker told Lin that the matter would be transferred to the "legal department for processing" if he did not respond.
Desperate, Lin said he confided in a few of his friends to borrow the cash needed, but even so, it was tough given the large sum.
He also pumped in another S$10,000 that was initially set aside to "top up" his investment balance, essentially cleaning out his savings.
"I was very scared, anxious, and could not eat or sleep," he said.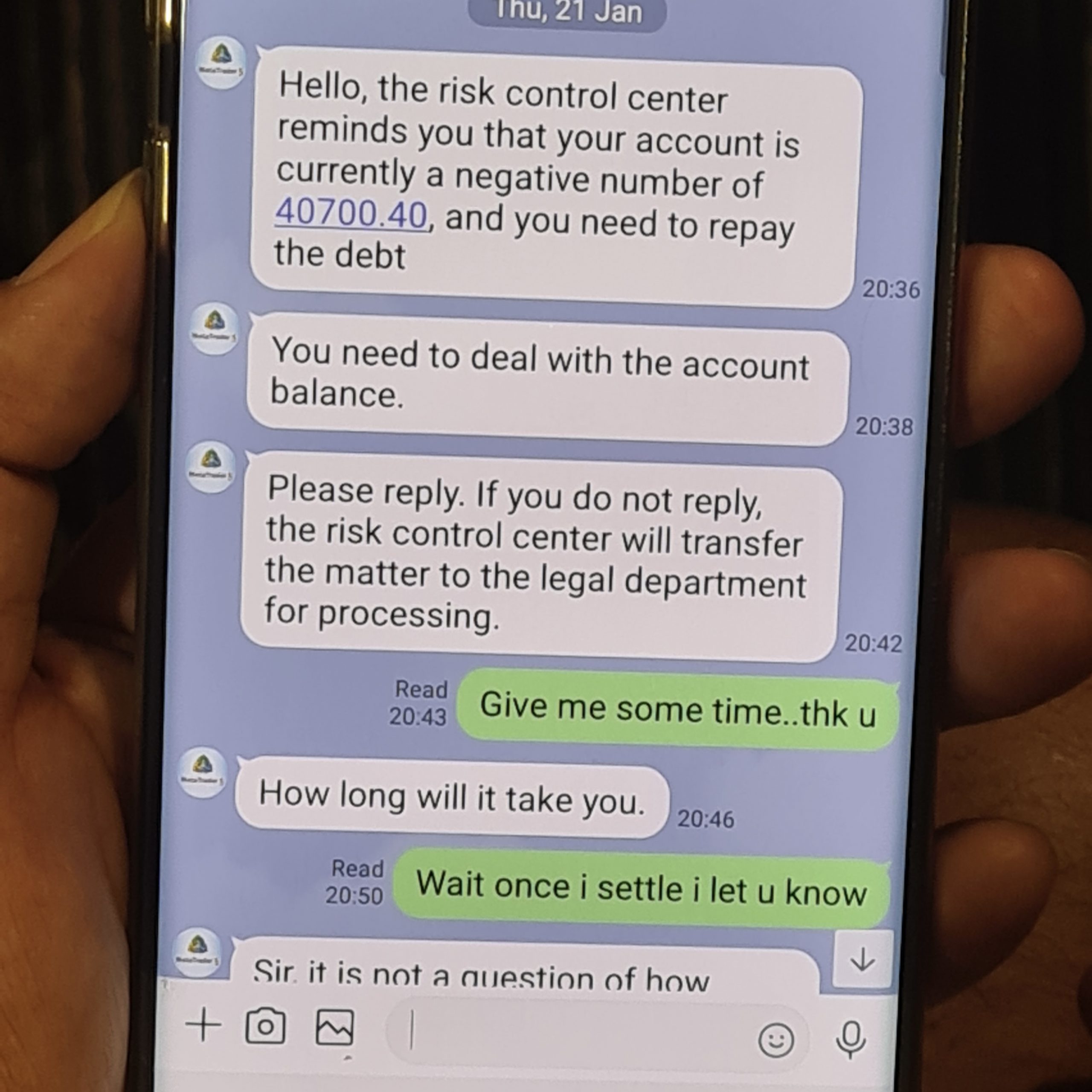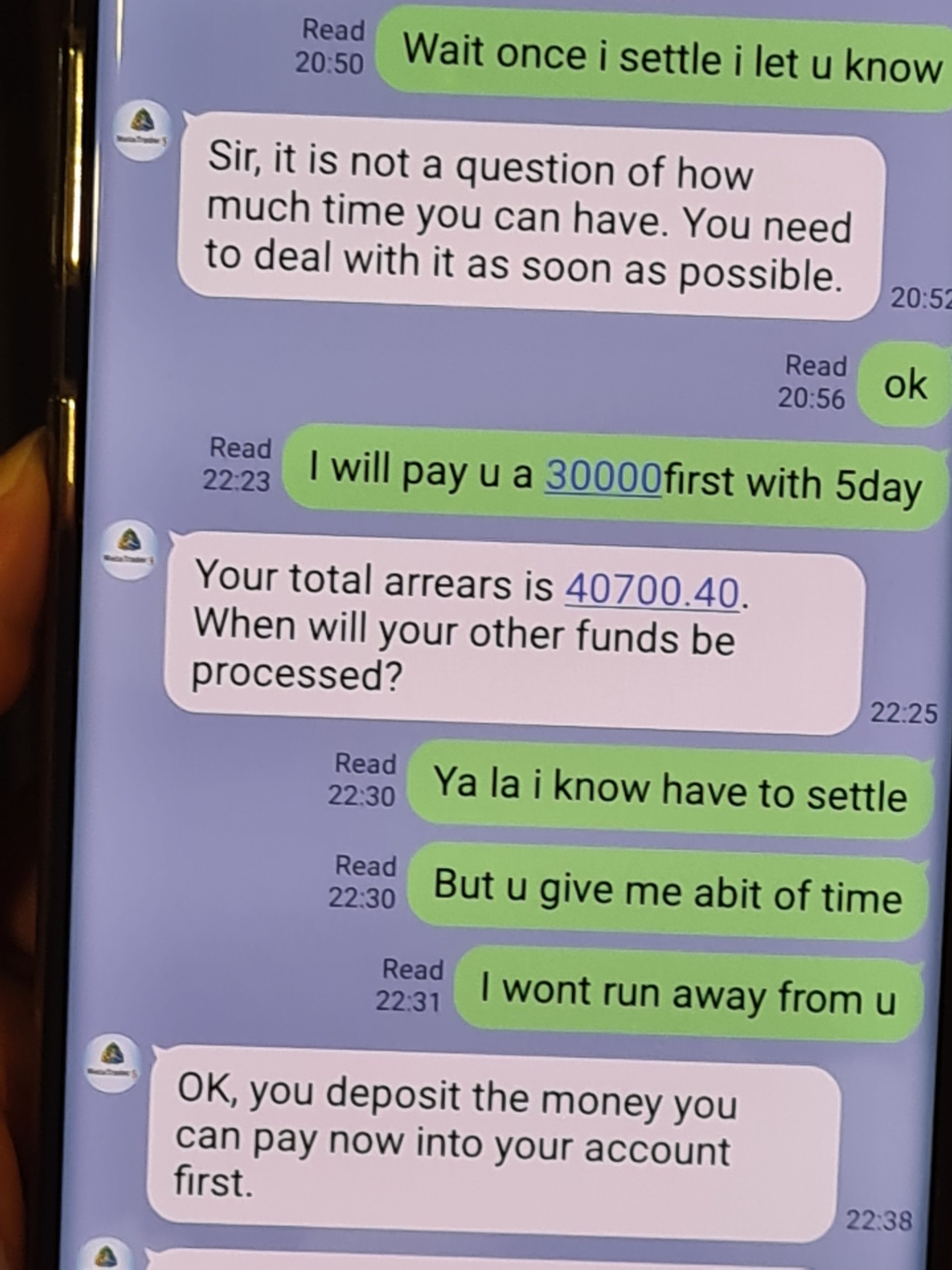 Jasmine offered to help as she'd "gotten him into this", said Lin.
She told him that she transferred USD$20,000 to the broker, although Lin never found out if the transaction occurred.
Lin said:
"I still do not know if she ganged up with the broker, or was sincere in helping me."
The call
Then, on Jan. 28, Lin received a call.
It was the police, informing him that he had made several transfers to a bank account that was linked to a scam.
Lin suddenly connected the dots: He was the victim of a scam — one that was being investigated by the Singapore police.
The police informed Lin that their investigation was part of joint island wide "live intervention" against investment and fake gambling platform scams.
Over three days (Jan. 27-Jan. 29), officers from the Anti-Scam Centre (ASC) of the Singapore Police Force investigated and intervened in 200 scam cases by analysing fund flow of scam victims.
Officers from the Commercial Affairs Department, Criminal Investigation Department, the seven Police land divisions were joined by major banks including DBS, UOB, OCBC, HSBC and Standard Chartered to conduct the operation.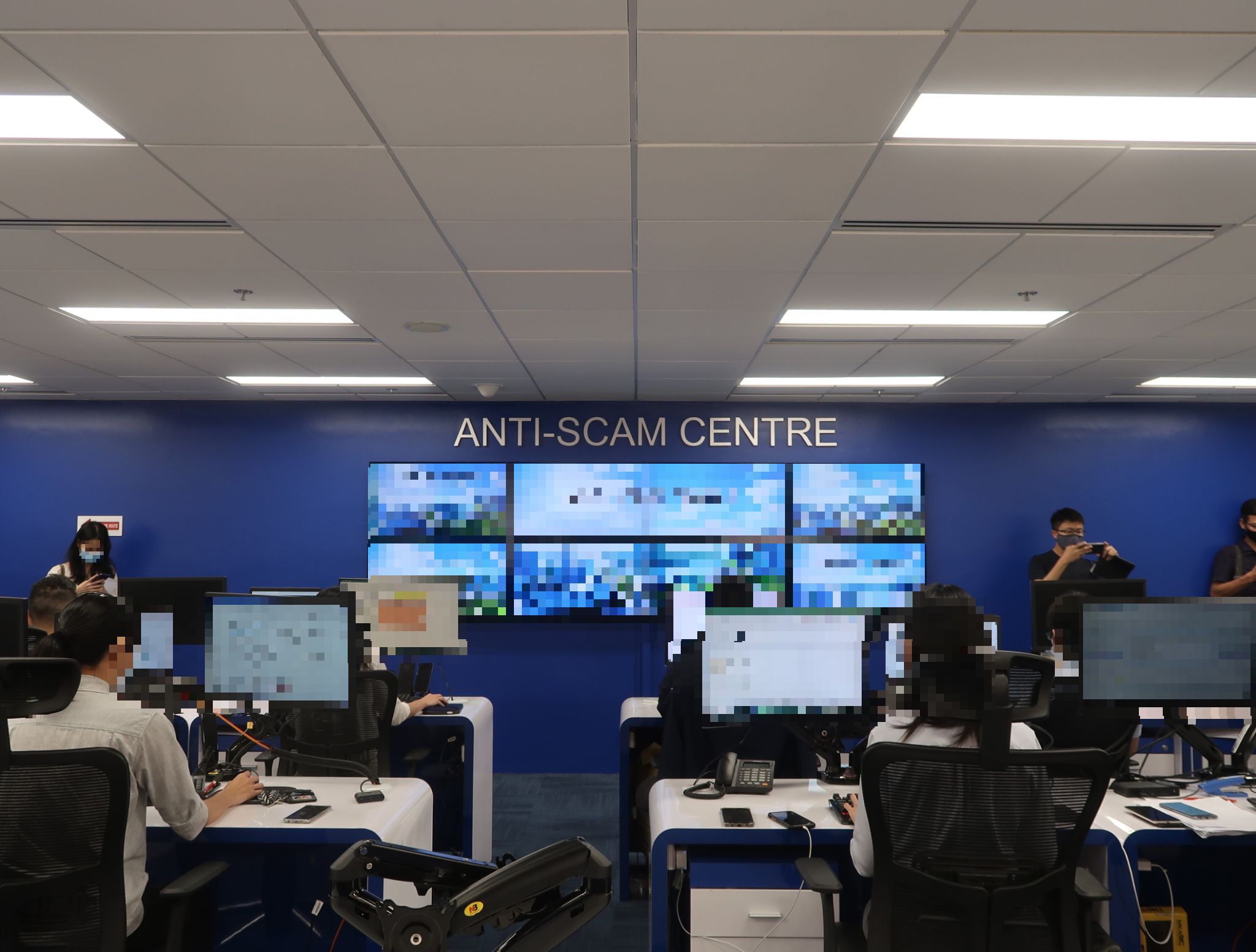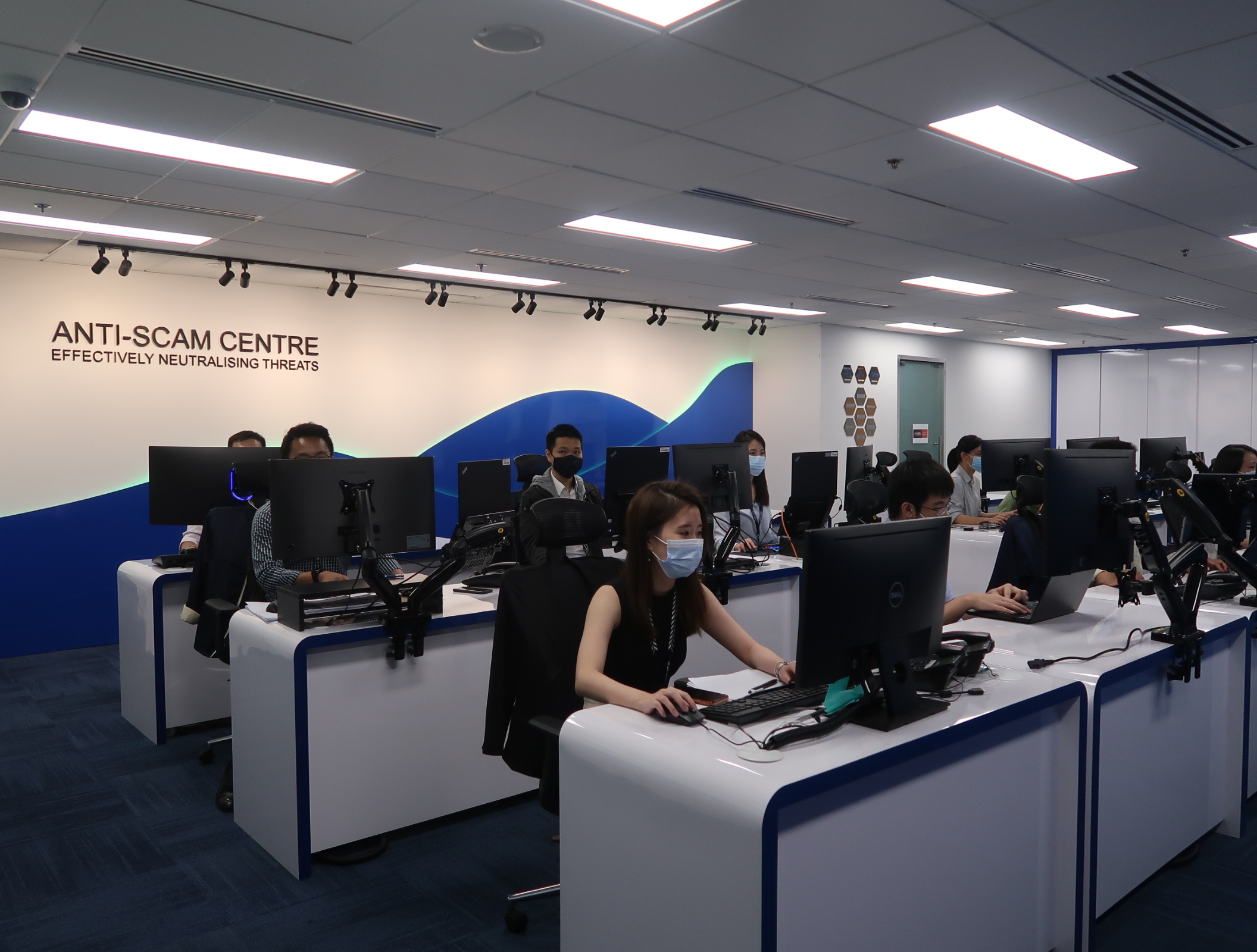 Vanishing act
Today, Lin's MT5 account has been wiped clean.
He cannot access his profile, nor view his "investment balance". He suspects Jasmine might have tipped off the scammers after he let slip that he had made a police report.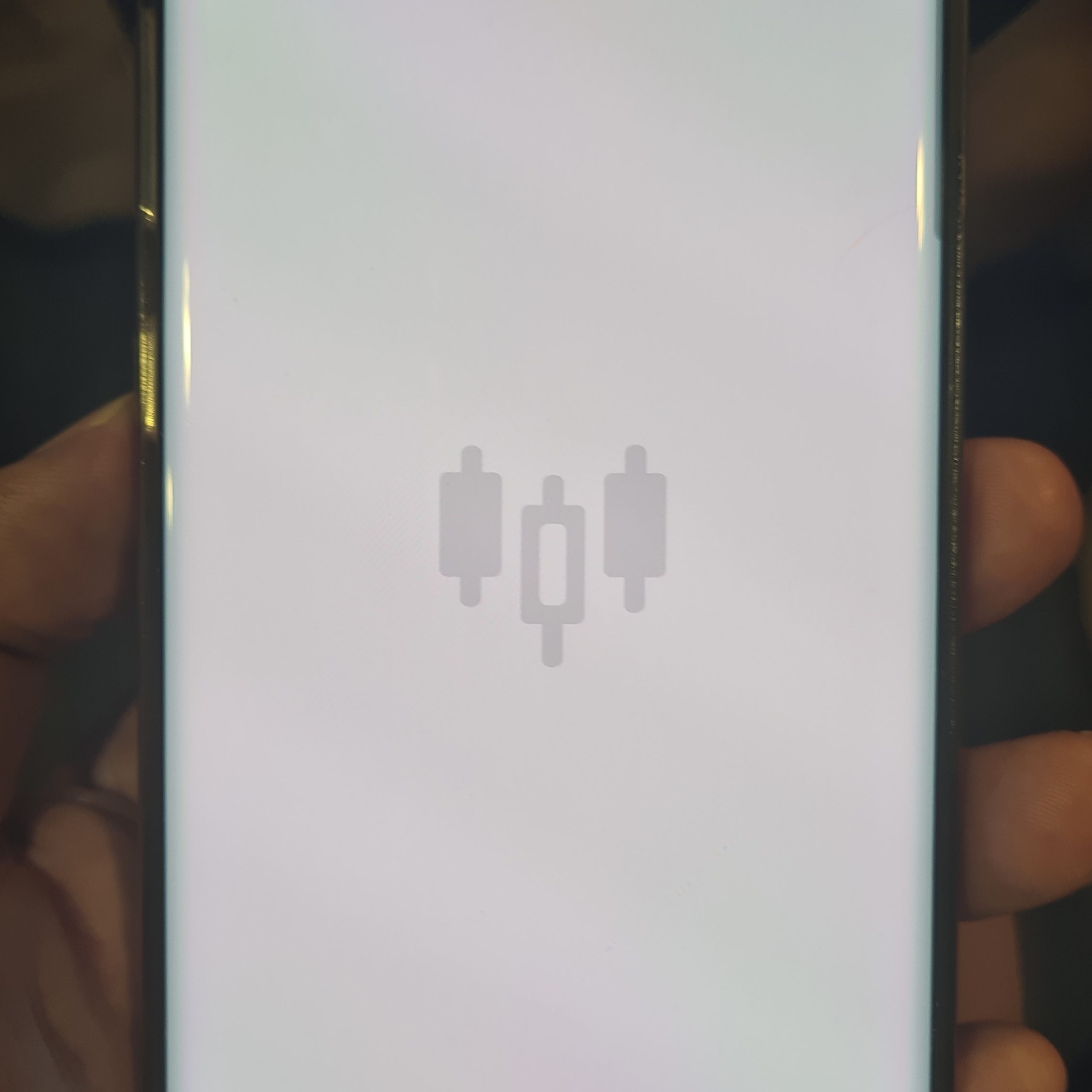 There is a possibility that he might not be able to get back the money — around S$50,000 — that he had lost. Aside from figures on the screen in the MT5 app, Lin has never seen a single cent of his investment in the flesh:
"I thought it [MT5] was a good way to earn some money during Covid-19. Now all the hard-earned money I've saved from over the years is lost. Gone in two to three weeks."
Lin said he has not told his family about the incident, because it was "not something to be proud of".
76 men and 22 women being investigated for scam involvement
According to the Singapore Police, investment scams in S'pore have seen a 126 per cent increase to 1,102 cases, with losses of at least S$69.5 million between 2019 and 2020.
In the same period, fake gambling platform scams have increased more than 1,800 per cent to 299 cases, totalling S$15.4 million in losses.
Through the three-day operation, the police has identified and is investigating 76 men and 22 women for their suspected involvement in 359 investment scams and fake gambling platform scams.
They are suspected to have facilitated the syndicates by opening bank accounts or transferring monies.
Under the Remote Gambling Act 2014, any individual found guilty of engaging in using an unauthorised remote gambling service can be fined up to S$5,000, jailed up to six months, or both.
This includes victims of fake gambling platform scams, who had opened betting accounts, and placed bets on online betting applications or websites.
Under Section 420 of the Penal Code, any individual found guilty of cheating and dishonestly inducing a delivery of property
can be jailed for up to 10 years and fined.
People who open bank accounts to facilitate scams can be found guilty of money laundering under the Corruption, Drug Trafficking and Other Serious Crimes (Confiscation of Benefits) Act. Such individuals can be jailed up to 10 years and fined up to S$500,000.
How to avoid scams
The police also released some tips to help the public avoid being scammed:
Be wary of strangers on any social media or dating platform.

Always check with a licensed financial advisor before making an investment.

Only deal with companies licensed by the Monetary Authority of Singapore (MAS). You can check if a company is blacklisted by the MAS Investor Alert List.

If an entity is based outside of Singapore, check if it is regulated with the respective overseas authority.

Do not engage in services to place bets on illegal online betting sites or applications.

If it sounds too good to be true, it probably is.
For more information on scams, visit www.scamalert.sg or call the Anti-Scam Hotline at 1800-722-6688. Should you have any information on scams, call the Police hotline at 1800-255-0000 or submit information here.
Top image via WebMD and courtesy of Lin.
If you like what you read, follow us on Facebook, Instagram, Twitter and Telegram to get the latest updates.